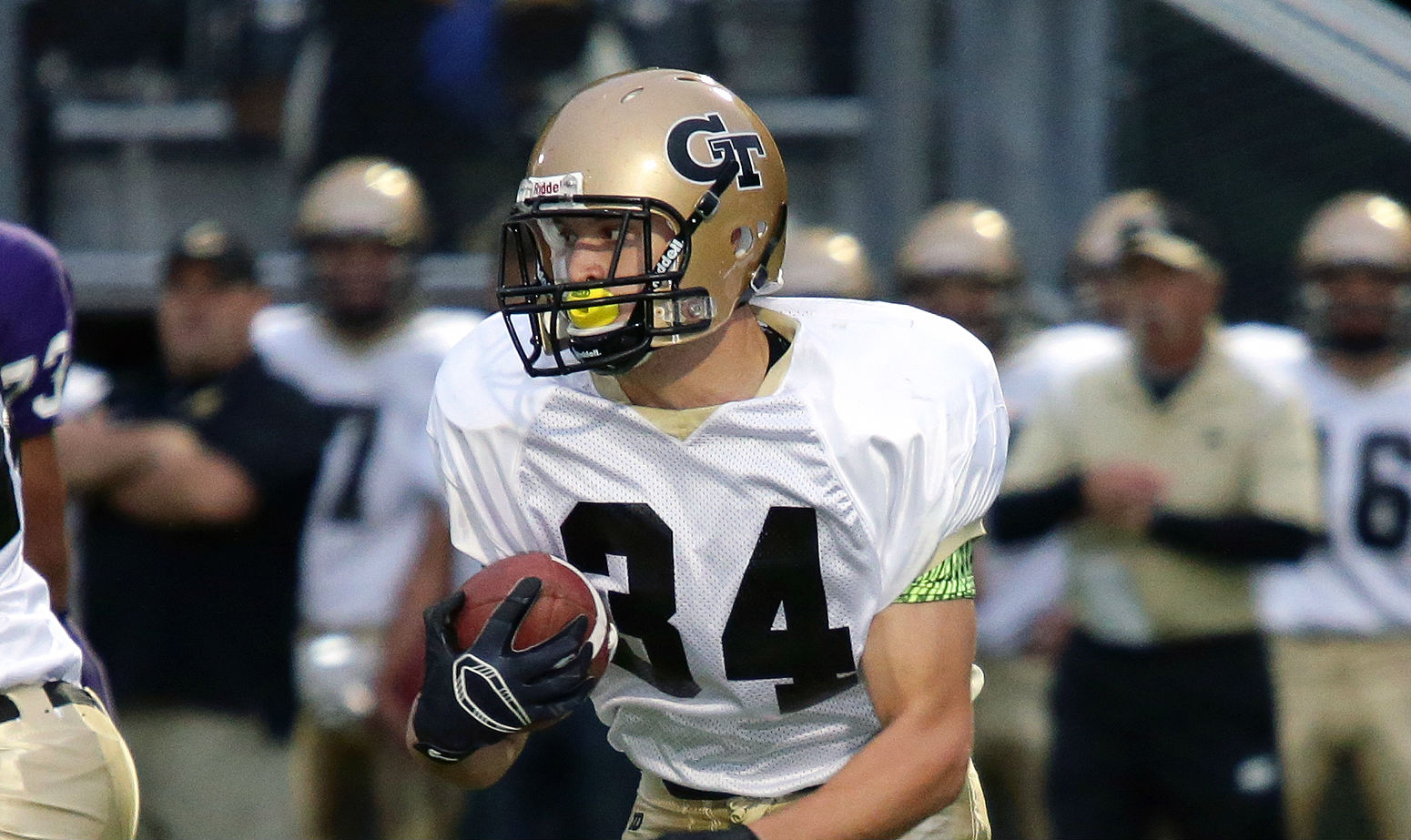 By Rich Rhoades
Rarely has their matchup meant nothing in their Allegheny Mountain League-South Division showdowns. And this year is no different as the Brockway Rovers (4-3 overall, 0-2 AML-South) host the Curwensville Golden Tide (6-1, 1-1).
Their latest clash is one of 13 games on the Week 8 schedule this week in District 9 and all of them are Friday night.
While unbeaten Ridgway stands alone at the top of the AML-South, Curwensville and Elk County Catholic each have a division loss. The Golden Tide, who host Ridgway next week, can stay in AML title contention with a win. Last week's 7-6 win over Kane clinched a Class A playoff berth.
Brockway, meanwhile, needs to win to just keep its Class A playoff hopes alive. The Rovers likely need to win two of their final three games to grab a postseason berth.
Curwensville remains a run-oriented team and this year's version is led by a freshman in Nick Stewart. He ranks second in the district with 1,082 rushing yards and 13 touchdowns. He's scored at least one touchdown in each game with six games of at least 100 rushing yards. Last week, he ran for 140 yards on 35 carries.
Stewart's backfield mate Hunter Johnson has rushed for 426 yards and a team-leading 10 touchdowns.
Brockway's balanced offense has quarterback Braden Martini, who has passed for 683 yards and six touchdowns. Anthony Benson (21 catches, 316 yards, 4 TDs) and Anthony Isabella (22 catches, 311 yards, 2 TDs) are his top receivers. Benson leads the team in rushing with 498 yards and nine scores.
Curwensville has won 10 of 15 meetings against Brockway since both teams joined the AML. The Golden Tide beat the Rovers last year, 42-22, to end a three-game Rovers winning streak.
The Tide's trip to Brockway is one of just three road games on their schedule.
In other games this week:
AML-South
Elk County Catholic (6-1, 1-1) at Kane (5-2, 1-2)
The winner of this game clinches a Class A playoff berth and chances are it'll be a close game since Kane is playing. And it could be low-scoring too.
Amazingly, the Wolves have played three straight games decided by two or less points and two straight single-digit games. Last week, the Wolves lost at Curwensville, 7-6, after beating Brockway at home, 9-7. In week 5, the Wolves lost at Ridgway, 21-20.
Wolves running back John English's 816 yards rushing rank fifth in the district.
Elk County Catholic quarterback Mitchell Smith has rushed for 560 yards and 11 touchdowns while running for 547 yards and 10 touchdowns. Dan Singer (495 yards, 3 TDs) and Noah Werner (480 yards, 3 TDs) are also threats out of the throwback single wing offense. See section below.
AML-North
Coudersport (1-6, 2-1) at Cameron County (3-4, 3-0)
The Red Raiders can clinch the AML-North title with a win over the Falcons, although that does not guarantee them a Class A playoff berth quite yet.
After giving up 35 or more points in three straight games to start the season, the Red Raiders put up 40 or more points in their last three straight wins, including a decisive 43-6 win over Smethport last week.
Smethport 3-4, 2-1) at Port Allegany (1-6, 1-2)
The Hubbers have given up 30 or more points in six of their seven games while Port Allegany settled down some after giving up 39 or more points in its first five games. They come in close in points allowed at 36.3 and 38.4 points per game respectively.
Sheffield (1-6, 1-2) at Otto-Eldred (1-6, 1-2)
Both teams come off their first wins of the season last week. The Wolverines beat Coudersport, 36-3, while the Terrors beat Port Allegany, 29-22
Otto-Eldred lost to Coudersport (23-12) in Week 5 while Sheffield has yet to play Port Allegany.
Sheffield's Adam Higby has thrown for 1,183 yards and 12 touchdowns. Otto-Eldred's Seth Drummond has rushed for 687 yards and five scores.
KSAC
Redbank Valley (6-0) at Moniteau (5-2)
It's the best matchup of the five crossover games this week as the unbeaten Bulldogs trek to West Sunbury. It's the pass-heavy Bulldogs offense led by quarterback Jake Dougherty taking on the run-heavy attack of Moniteau with Josh McBride and Cody Skiver.
Dougherty, in one less game than the other leaders, ranks third in the district with 1,230 yards passing with 19 touchdowns against just three interceptions. He's also completed over 68 percent of his passes (91-of-133) with three guys over 250 receiving yards: Wyatt Hetrick (370), Nick Shoemaker (332) and Conner Shoemaker (253). Seven different receivers have caught touchdown passes.
Dougherty is also the team leader in rushing TDs with seven.
McBride (1,108 yards, 11.5 yards per carry, 11 TDs) and Skiver (830 yards, 10 TDs) rank No. 1 and 4 in the district in rushing for the Warriors.
Karns City (7-0) at Keystone (2-5)
The Gremlins bumped up to No. 6 in the state in the Pennsylvania Football News Class AA rankings. Their balance is impressive. The only players who show up on the stat leaderboards are quarterback Caleb King (640 yards passing, 6 TDs), Reese Barger (6.5 sacks), and Evan Stitt and Tristan Rhoades (each with 3 interceptions)
St. Marys (5-2) at Clarion (6-1)
The Bobcats, ranked No. 5 in Class A by PFN, host the Dutch at Clarion University's Memorial Stadium.
Ian Corbett is third in the district in rushing at 1,075 yards, trailing Curwensville's Stewart by seven yards despite 43 less carries. Corbett, with 20 touchdowns, is gaining 12.8 yards per carry.
The Dutch's T.J. Hogan is No. 6 in the district with 762 yards rushing.
Clarion-Limestone (1-6) at Punxsutawney (5-2)
Chucks quarterback Dakota Thomas, with 907 yards passing and 10 touchdowns, can go over the 1,000-yard milestone this week. His top receiving target, Braxton Giaviadoni, leads the district in receiving yards with 682 yards on 28 catches and eight touchdowns.
District 10 Region 5
Franklin (1-6) at DuBois (5-2)
The Beavers host a Knights team that lost to Bradford, 33-28, in Week 5. DuBois just routed the Owls last week, 55-7.
DuBois quarterback Gabe French is now over 2,000 yards passing for the season at 2,163 yards with 26 touchdowns against six interceptions. With 6,532 career yards, he needs 107 yards to surpass No. 3 Mike DeFilippi on the district's all-time passing yardage list.
French's 72 career TD passes rank fourth in district history, seven shy of Clearfield's Chad Kroell's 79.
Cole Kriner (667 yards, 8 TDs) and Dante Dawson (568 yards, 8 TDs) rank second and fourth respectively in receiving yards.
Conneaut Area (6-1) at Bradford (1-6)
The Owls host Conneaut Area, which beat DuBois, 36-35, in Week 3. Bradford just lost to DuBois, 55-7, last week.
The Owls have lost 15 of their last 18 games dating back to the last game of the 2012 season. One of their three wins was a forfeit awarded last year against Oil City due to the Oilers using an ineligible player.
Mountain League
Clearfield (5-2) at Bald Eagle Area (2-5)
The Bison head to Wingate to play an Eagles squad that lost to Tyrone 42-6 in Week 6. Clearfield just beat Tyrone last week, 26-14.
The Bison have two rushers over 600 yards with Erik Sellers (719 ayrds, 13 TDs) and Seth Caldwell (685 yards). Cody Spaid has passed for 678 yards and six TDs.
Non-Conference
Union (2-5) at Ridgway (7-0)
The Elkers, ranked 10th in the state in Class A by the Pennsylvania Football News, host Union in a non-conference matchup.
Quarterback Ben MacDonald has rushed for 637 yards and 13 touchdowns while throwing for 488 yards and nine scores. Cole Myers has rushed for 542 yards.
The Elkers have been getting it done defensively as well, giving up just 8.9 points per game, ranking only behind Clarion and Karns City.
Union's passing game kept it in the game with Clarion for a half last week as Lane Cicciarelli wound up throwing for 341 yards. With one more game played than Redbank Valley's Jake Dougherty, Cicciarelli is second in the district with 1,379 yards and 13 touchdowns. Cole Morris, who caught 15 passes against the Bobcats for a school-record 194 yards, and Chet Carmichael are third and seventh in the district in receiving yardage with 640 and 419 yards respectively.
The Knights are in a must-win situation to keep their Class A playoff hopes alive.
The Single Wing at ECC
Elk County Catholic first-year head coach Tony Gerg had an idea on how he might be able to turn around his team that was coming off an 0-9 season.
So he jumped on his way-back machine and installed an ancient offensive scheme and it's doing wonders so far for the 6-1 Crusaders.
Enter the Single-Wing offense, the scheme that was developed by one of the fathers of modern-day football Glenn "Pop" Warner. It's an offensive set that uses a direct long snap from center to one of four backs.
Gerg showed players the single wing after last year's season concluded.
"We sat them down and showed them video and asked them what they thought and they were ecstatic," Gerg said on last Friday's Advanced Disposal Friday Night OT Show. "It's been good for us up to this point and it's tough to defend because anyone can throw or pass the ball. It's a throw-back."
So technically, Mitchell Smith isn't a quarterback.
"We laugh when we hear 'quarterback' because typically you don't have a quarterback, just multiple running backs who can run and pass," Gerg said.
The Crusaders average almost 250 yards rushing per game and 92 passing yards per contest. Of the 386 offensive plays, 309 have been runs. Gerg felt that coming into the season, the offense fit his players.
"The personnel is perfect for this, let's try it and do it. I don't do anything without the approval of my kids. They were receptive and it took off from there," Gerg said.
But it's taken some work and there's plenty more work to do.
"I'm not going to lie. Going into the season, you put on paper and it looks good, until you run it, it was a struggle," Gerg said. "The first night before scrimmage what have I done and you second-guess but the kids are proud of what they have. We've gotten a lot of positive feedback. It's been fun and a blast for the kids and myself and the coaching staff.
"There's so much we can do with it and we've only tapped a little bit on what we can do. … Everything we've done with it they've grasped. You have to have smart kids with tenacity to do well and we're lucky enough to have that this year."
Let the headaches begin for future opposing coaches in the playoffs.
The Shootout in Warren
In case you missed it, Warren and Meadville squared off in what wasn't a basketball game last Friday night in Warren. Incredibly, Warren outlasted Meadville, 79-78. To note:
— 22 touchdowns, 2 field goals, 26 kickoffs and no return touchdowns of any kind, interceptions or fumbles included.
— 1,554 total yards. Meadville ran for 600 yards and passed for 199 yards while Warren ran for 428 yards and passed for 327 yards. Individually, Warren quarterback Evan Suppa threw for 327 yards and four touchdowns while Kyle Kulka ran for 333 yards on 25 carries with five touchdowns. Ryan Shattuck caught five passes for 145 yards while D.J. Fehlman caught three passes for 100 yards.
For Meadville, Journey Brown ran for 344 yards and three touchdowns while Tanner Frye passed for 199 yards and three touchdowns, all of it going to Faizon McClure.
— Only two turnovers, both from Meadville.
— Warren led for most of the game with Meadville leading 14-13 and 78-72. Warren's largest lead was 16 points at 36-20 with 5:57 left in the second quarter. The Dragons were up 46-34 at halftime.
— The longest period of time without in scoring was the final 6:33 of the game just after the Dragons took the lead for good.
Warren improved to 2-5 while Meadville dropped to 3-4.
The game summary, as reported by the Warren Times-Observer:
Warren 79, Meadville 78
Meadville 14 20 28 16—78
Warren 26 20 19 14—79
First Quarter
W—Evan Suppa 1 run, 10:10 (Ryan Shattuck kick)
M—Journey Brown 46 run, 9:06 (pass failed)
W—Kyle Kulka 44 run, 6:15 (kick failed)
M—Brown 42 run, 4:22 (Tanner Frye run)
W—Kulka 55 run, 3:12 (kick failed)
W—D.J. Fehlman 78 pass from Suppa, 2:02 (Shattuck
Kick)
Second Quarter
M—Antonio Ferraro 11 run, 11:00 (pass failed)
W—Shattuck 25field goal, 9:06
W—Devin Nowacki 26 pass from Suppa, 5:57 (Shattuck
kick)
M—Ferraro 1 run, 4:25 (run failed)
W—Kulka 3 run, 2:01 (Shattuck kick)
M—Faizon McClure 63 pass from Frye, 0:43 (Brown
run)
W—Shattuck 49 field goal, 0:00
Third Quarter
M—Ferraro 29 run, 9:54 (pass failed)
W—Kulka 43 run, 7:21 (pass failed)
M—McClure 5 run, 4:08 (run failed)
W—Kulka 66 run, 3:51 (kick fail)
M—Ferraro 19 run, 1:23 (Brown run)
W—Shattuck 71 pass from Suppa, 1:11 (Shattuck
kick)
M—McClure 69 pass from Frye, 0:00 (Brown run)
Fourth Quarter
W—Fehlman 54 run, 10:23 (Shattuck kick)
M—Brown 77 run, 9:30 (Frye run)
M—McClure 36 pass from Frye, 9:10 (Brown run)
W—Bailey Pratt 34 pass from Suppa, 6:33 (Shattuck
kick)
———
M W
First downs 27 23
Total Yards 799 755
Rushes-yards 56-600 35-428
Passing 199 327
Comp-Att-Int 5-11-1 13-19-0
Fumbles-Lost 2-1 1-0
Penalties-Yards 2-24 2-25
———
INDIVIDUAL STATISTICS
RUSHING— Meadville, Ferraro 20-162, 4 TD, Brown 18-344, 3 TD, McClure 14-85, 1 TD, Tanner Frye 2-(-1), Isaiah Manning 2-10, Warren, Kulka 25-333, 5 TD, Fehlman 3-64, 1 TD, Suppa 7-31, 1 TD
PASSING—Meadville, Frye 5 of 11, 199 yds, 3 TD, 1 INT, Warren, Suppa 13 of 19, 327 yds, 4 TD, 0 INT
RECEIVING—Meadville, McClure 5-199, 3 TD, Warren-Ryan Shattuck 5-145, 1 TD, Fehlman 3-100, 1 TD, Kulka 1-21, Nowacki 1-26, 1 TD, Pratt 3-46, 1 TD
D9 Shootouts
With 157 points scored, the game blows away anything scored in District 9 since at least 1999. Here are the top scoring games involving games with two District 9 teams over the past 15 seasons:
109: Brockway 55, Otto-Eldred, 54 OT 2013
105: Redbank Valley 68, C-L 37 2013
102: Brockway 74, Otto-Eldred 28 2009
101: Brockway 63, Johnsonburg 38 2010
99: Port Allegany 69, Sheffield 30 2012
96: Keystone 56, Brockway 40 2009
95: DuBois 69, Punxsutawney 26 2014
95: Brockway 63, Keystone 32 2008
95: Karns City 60, Keystone 35 2009