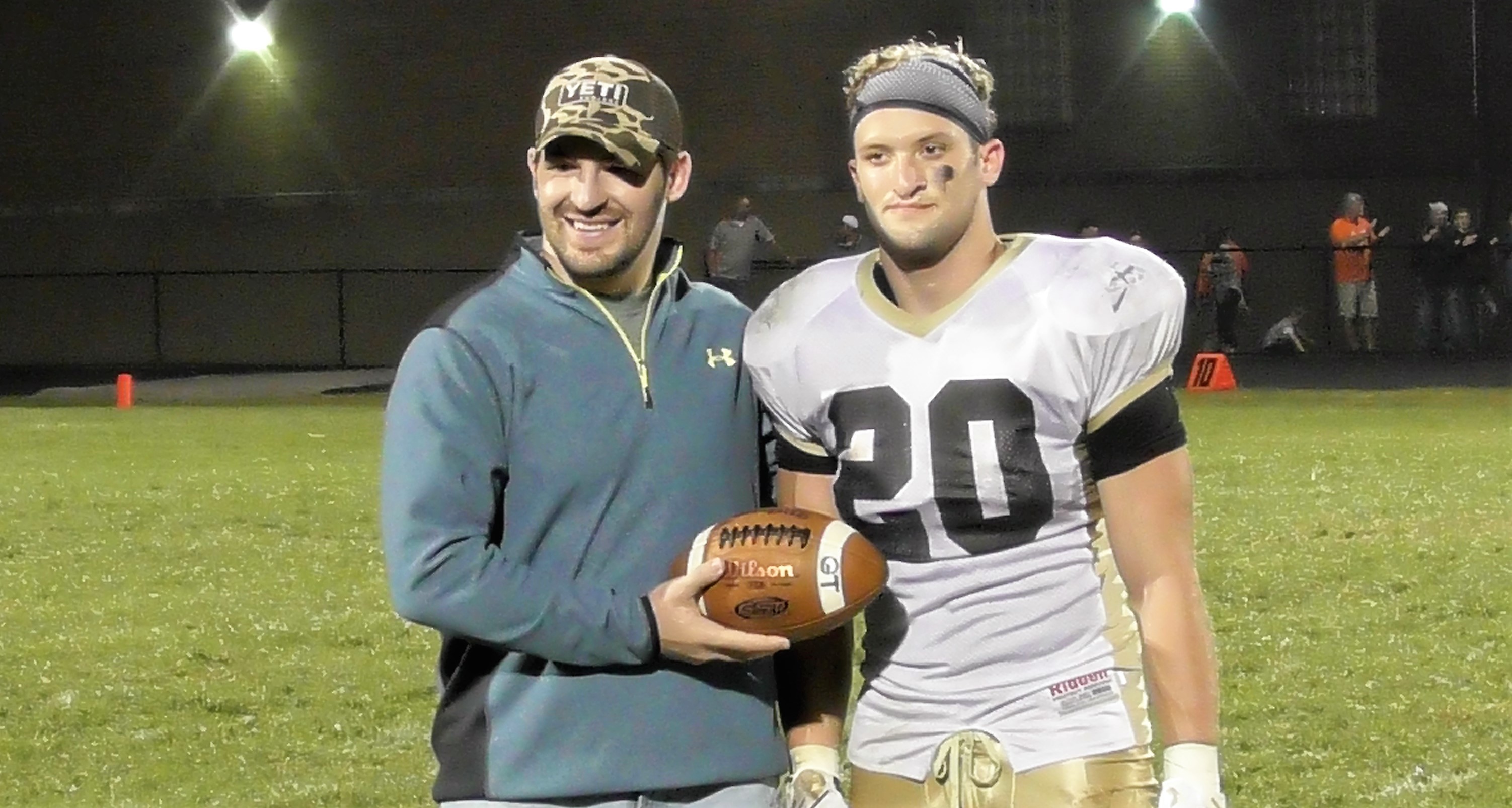 Click here for additional District 9 recaps from Friday night
By Scott Shindledecker
PORT ALLEGANY, Pa. — Curwensville senior running back Nick Stewart became District 9's all-time leading rusher Friday night as he led the Golden Tide to a 56-13 win over Port Allegany.
(Cover photo: Nick Stewart is congratulated by Nick Sipes, the former Curwensville running back whose District 9 rushing record Stewart broke Friday night.)
Stewart carried 17 times for 228 yards and five touchdowns.
Stewart eclipsed former Golden Tide star Nick Sipes when he scored on a 70-yard touchdown run on the first play from scrimmage in the third quarter to give his team a 36-6 lead.
"I'm feeling amazing," Stewart said. "Looking up to those guys, looking up to Nick (Sipes) and Alex (Holland), it's amazing to do that, but I gotta thank my line, my wide receivers, my quarterback.
"None of this is possible without them. Without 11 on the field, you're not winning the game and you're not running the ball, so I want to thank everyone on the team for supporting me and the coaches for even letting me run the ball," Stewart said.
Curwensville head coach Andy Evanko congratulates Stewart after his record-breaking run.
Stewart entered the game with 5,817 yards and his 228 put him at an unofficial 6,045 yards. Stewart is believed to be the 29th back in Pennsylvania to run for more than 6,000 yards.
Sipes had held the all-time district rushing mark with 5,963 yards. He was at the game to present a game ball to Stewart to commemorate the record, as the late Aaron Cantafio, of Brockway, was at the game when Sipes broke the record the Rover held.
Golden Tide assistant coach Chris Folmar, speaking on behalf of head coach Andy Evanko, talked about what Stewart's record-breaking night meant.
"We knew we were gonna get a great effort from Port and we did. This honors our tradition of running the football," Folmar said. "Seventeen years ago, we said we were gonna run the ball and to have the top three rushing leaders in the district is really something.
"We're very happy for Nick because he works so hard in the offseason, he's earned everything he has accomplished and we're blessed to have kids like him in our program," Folmar said. "Having Nick make the trip to the game is really enjoyable for all of us. He would have made it from anywhere for this."
Sipes is a physician's assistant, working with Dr. Spencer, of State College.
Stewart sat out the Tide's first game, a 38-8 win over Cameron County, before returning to the lineup and rushing for 283 yards on 27 carries with six touchdowns in wins over Smethport (48-0) and Sheffield (56-8).
Last week, Stewart passed No. 2 rusher and another former Tide runner Alex Holland (5,734).
Stewart ran for 2,030 yards and 25 TDs last year, 1,872 yards and 24 TDs as a sophomore and 1,632 yards and 18 TDs as a freshman. He's carried the ball 816 times in his career.
Friday, Stewart had 95 yards on 14 carries. He needed 147 yards entering the game to break the record, but his 70-yard scoring burst early in the second half suddenly ended the record chase.
Stewart added four other TD runs of 10, 16, 7 and 56 yards.
The Gators (0-4) have struggled in 2017, but they had the first points of the game when Bryce Baker ripped off a 75-yard kick return to open the game with a score.
But Curwensville came right back on the ensuing kickoff when Noah VonGunden returned it 75 yards to the Port 8-yard line.
Stewart picked up four yards before Blake Passarelli scored on a 4-yard run.
Quarterback Bryce Timko hit Stewart for the two-point play and Curwensville led for the rest of the way.
Stewart capped the Golden Tide's next two drives with touchdowns, the first 10 yards, the second at 16.
Junior kicker Madison Weber drilled both to make it 22-6.
After forcing a punt, the Tide got the ball back and this time, quarterback Bryce Timko hit Avery Francisco on a swing pass and the back raced to the right pylon and slid in to make it 29-6 late in the first half.
In the third quarter, the Tide got off to a hot start as Stewart ripped off the 70-yard scoring run.
On Port's initial possession of the third, a bad snap resulted in a fumble that Timko recovered at the 5. Two plays later, Stewart went in for another TD to make it 43-6.
Another turnover set the Tide up for a quick TD. Caleb Bloom recovered a bad pitch and on the very next play, Josh Terry caught a 41-yard scoring pass from Timko. Weber's PAT kick made it 50-6.
The Tide added their final score late in the third when Stewart raced in from 56 yards out to make it 56-6.
The Gators scored for the second time when Treyton Stiles caught a short pass from QB Jarod Mahon and torched the defense for a 55-yard TD.
The Gators didn't quit, but it didn't stop them from dropping their fourth straight game of the season and 15th overall. Port has been outscored 216-37 so far.
Next week, Curwensville, ranked sixth in the Allegheny Grille of Foxburg District 9 Football Rankings will take on top-ranked Kane.
CURWENSVILLE 56, PORT ALLEGANY 13
Score by Quarters
Curwensville 22 7 27 0 – 56
Port Allegany 6 0 0 7 – 13
Scoring Summary
First Quarter
P – Bryce Baker 75 kick return (pass failed), 11:48.
C – Blake Passarelli 4 run (Nick Stewart pass from Bryce Timko), 10:50.
C – Nick Stewart 10 run (Madison Weber kick), 4:15.
C – Nick Stewart 16 run (Weber kick), 0:41.
Second Quarter
C – Avery Francisco 17 pass from Bryce Timko (Weber kick), 3:32.
Third Quarter
C – Nick Stewart 70 run (Weber kick), 11:42.
C – Josh Terry 41 pass from Timko (Weber kick), 8:03.
C – Nick Stewart 56 run (kick failed), 11:42.
Fourth Quarter
P – Treyton Stiles 55 pass from Jarod Mahon (Bryce Baker kick), 10:23.
TEAM STATS
CP
First Downs 19 5
Rushes-Yards 37-312 22-54
Comp-Att-Int 11-16-0 3-9-0
Passing Yards 148 70
Total Yards 460 124
Punts-Avg. 0-0 5-33.8
Fumbles-Lost 2-1 2-2
Penalties-Yards 5-35 8-70
INDIVIDUAL STATS
Rushing – Curwensville: Nick Stewart 17-228, Blake Passarelli 7-51, Bryce Timko 5-28, Avery Francisco 2-6, Noah Von Gunden 3-(-7), Zach Holland 1-3, Duane Brady 1-2, Nick Holbert 1-1. Port Allegany: Treyton Stiles 5-23, Devon Smoker 5-17, Wyatt Dean 2-1, Jarod Mahon 5-12, Ethan DeBockler 2-7, Eli Petruzzi 1-3, Scott Fuller 1-0, Team 1-(-9).
Passing – Curwensville: Bryce Timko 11 of 14, 138 yards, 2 TD; Lincoln Giuffre 0 of 2. Port Allegany: Jarod Mahon 3 of 9, 70 yards, 1 TD.
Receiving – Curwensville: Josh Terry 3-74, Noah Von Gunden 4-37, Nick Stewart 2-8, Avery Francisco 1-17, Zach Holland 1-2. Port Allegany: Treyton Stiles 1-55, Eli Petruzzi 2-15.