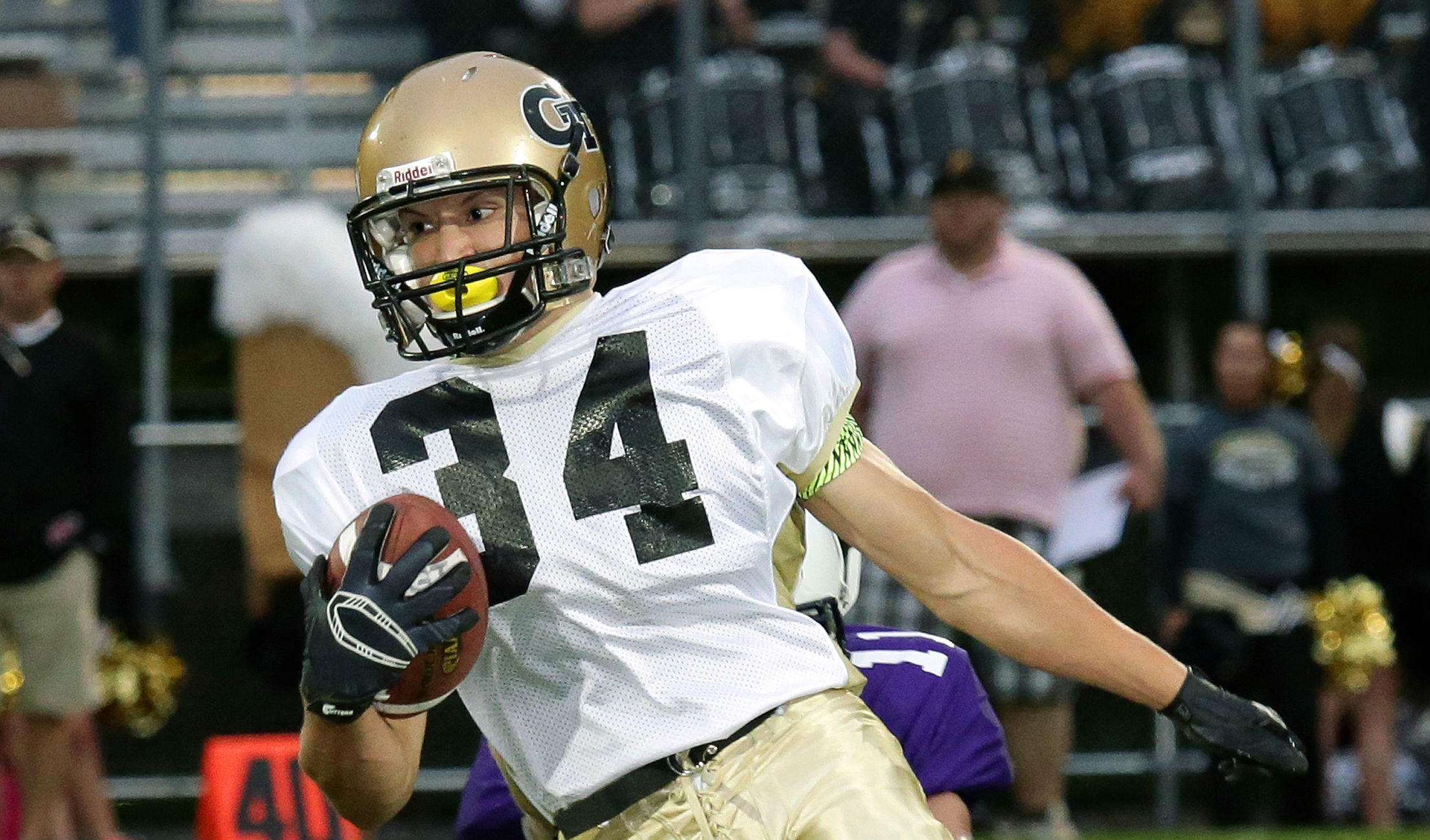 CLARION, Pa. – For three years, Curwensville's Nick Stewart has been the model of consistency at running back, and that didn't change Friday night when he ran for 320 yards and five touchdowns while becoming just the sixth rusher in D9 history to top 4,000 career yards.
With that performance, Stewart is the D9Sports.com District 9 Football Player of the Week for Week 1 of the 2016 season with a special mention to Stewart's offensive line which was opening gaping holes for the junior running back in a 41-21 Golden Tide win over visiting Smethport.
Stewart now has 4,047 career yards, which ranks sixth in D9 history and is only 402 yards behind Kyle Cathcart for fifth.
Watch Stewart's highlights from this week.
Joining Stewart in being honored on the Week 1 Honor Roll are 15 additional players.
The Player of the Week and Honor Roll honors will continue through the conclusion of the regular season.  
D9SPORTS.COM PLAYER OF THE WEEK
Nick Stewart – Curwensville: 18 carries, 320 yards, 5 touchdowns; Became the 6th player in District 9 history to top 4,000 career yards – Curwensville 41, Smethport 21
D9SPORTS.COM HONOR ROLL  
Kyle Kirk – Bradford: 8 of 23 passing, 187 yards, 3 touchdowns; Ran for a touchdown in overtime – Coudersport 36, Bradford 34, overtime
Hunter  Miller – Brockway: 9 of 10 passing, 249 yards, 4 touchdowns; Ran for a touchdown – Brockway 56, Sheffield 9  
Spencer Miller – Clarion: 10 of 18 passing, 192 yards, 4 touchdowns, 2 interceptions – Clarion 41, Punxsutawney 0
Ty Burford – Clarion: 5 catches, 90 yards, 3 touchdowns – Clarion 41, Punxsutawney 0
Mike Macefe – Clarion-Limestone: 22 carries, 143 yards rushing, 1 touchdown – Clarion-LImestone 20, Union/A-C Valley 18
Isaac Rumery – Clearfield: 6 of 13 passing, 131 yards, 2 touchdowns; 17 carries, 67 yards – Clearfield 21, Penns Valley 7  
Aaron Wolfinger – Coudersport: 8 of 10 passing, 173 yards, 2 touchdowns; 12 carries, 60 yards, 1 touchdowns – Coudersport 36, Bradford 34, overtime
Braden Paulinellie – DuBois: 25 of 45 passing, 335 yards, 3 touchdowns, 3 interceptions; 23 carries, 160 yards, 1 touchdown – Conneaut 34, DuBois 33
Kyle Hopson – DuBois: 7 catches, 173 yards, 2 touchdowns – Conneaut 34, DuBois 33
Reed Williams – Kane: 11-for-15 passing, 258 yards, 4 touchdowns – Kane 42, Otto-Eldred 7
Jacob King – Karns City: 11 of 17 passing, 233 yards, 4 touchdowns – Karns City 49, Brookville 0
Dalton Anderson – Moniteau: Dalton Anderson – Moniteau: 3 catches, 179 yards, 2 touchdowns; 1 carry, 5 yards – St. Marys 26, Moniteau 25
Chance Nagy – Moniteau: 4 of 9 passing, 221 yards, 3 touchdowns; 11 carries, 59 yards in varsity debut – St. Marys 26, Moniteau 25
Matt Marconi – St. Marys: 30 carries, 120 yards, 1 touchdown – St. Marys 26, Moniteau 25
Gavin Hawk – Union/A-C Valley: 8 catches, 142 yards, 2 touchdowns; 3 carries, 15 yards – Clarion-Limestone 20, Union/A-C Valley 18
2016 PLAYERS OF THE WEEK
Week Zero: Braden Paulinellie, DuBois
Week One: Nick Stewart, Curwensville
Week Two:
Week Three:
Week Four:
Week Five:
Week Six:
Week Seven:
Week Eight:
Week Nine: