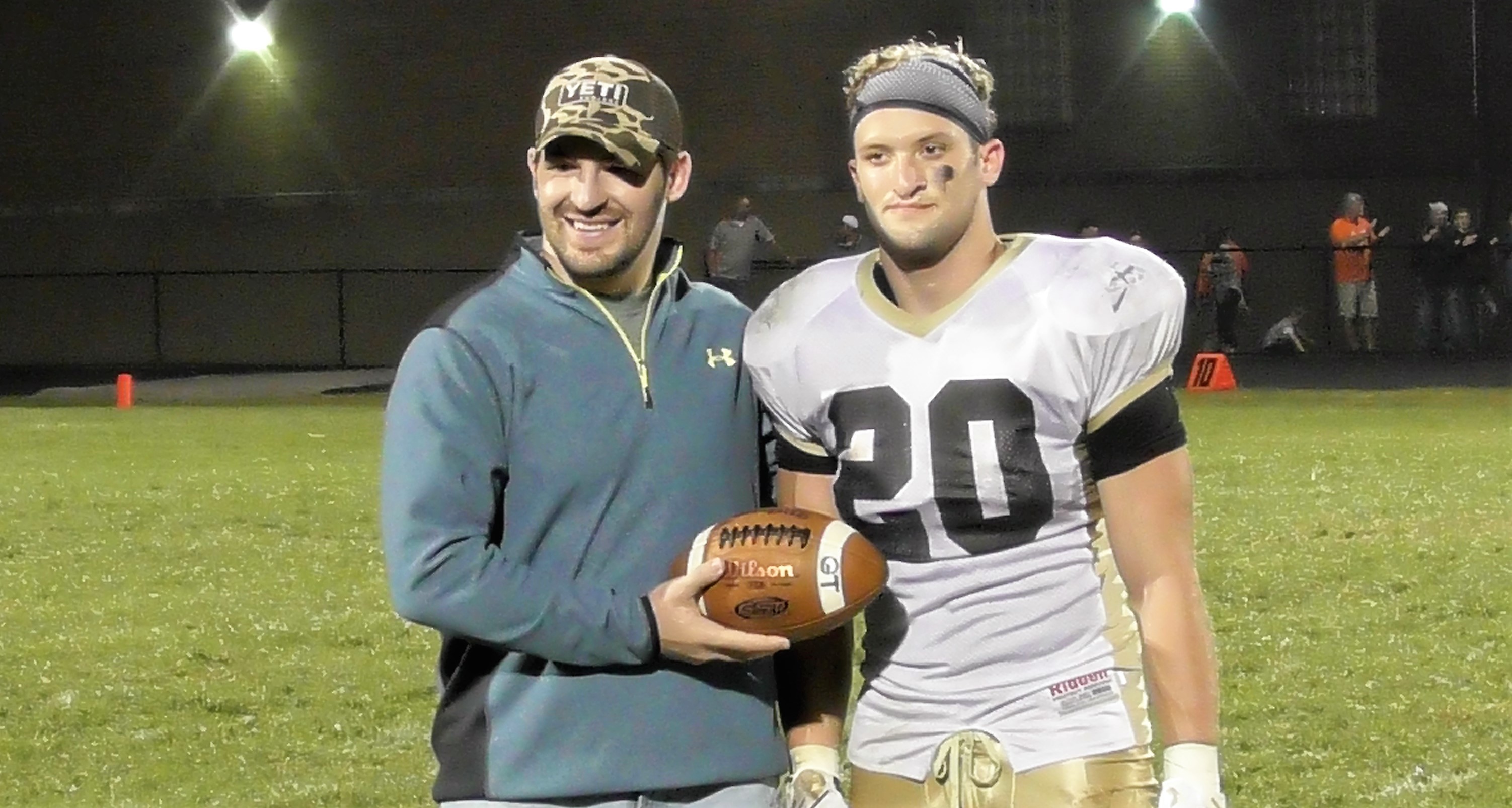 SHIPPENVILLE, Pa. – Running into history, Curwensville's Nick Stewart is the Week Three 2017 D9Sports.com District 9 Football Player of the Week.
Stewart became District 9's all-time leading rusher Friday night surpassing former Curwensville great Nick Sipes when he rushed for 228 yards and five touchdowns in the Golden Tides 56-13 win at Port Allegany. With the 228 yards, Stewart now has 6,045 career yards, the first District 9 running back to eclipse the 6,000-yard mark. He is believed to be the 29th running back in Pennsylvania High School football history to go over 6,000 career yards rushing.
Joining Stewart in being honored are 15 players on the District 9 Honor Roll including Ridgway's JJ Epley, who scored the first touchdown of his career Friday night.  
The Player of the Week and Honor Roll honors will continue through the conclusion of the regular season.  
D9SPORTS.COM PLAYER OF THE WEEK
Nick Stewart: Curwensville: 17 carries, 228 yards, 5 touchdowns; Became the all-time leading rusher in District 9 history with 6,045 career yards. He is the first D9 running back to eclipse the 6,000-yard mark and is believed to be the 29th running back in Pennsylvania High School football history to reach 6,000 career yards. – Curwensville 56, Port Allegany 13
D9SPORTS.COM HONOR ROLL
Dylan LeCates – Brockway: Intercepted 2 passes on defense; 2 carries, 32 yards, 1 touchdown; 1 catch, 28 yards – Brockway 41, Smethport 6
Donny Pattison – Bradford: 8 carries, 73 yards, 1 touchdown; 5-for-10 passing, 43 yards, 1 touchdown; Intercepted a pass on defense – Bradford 27, Otto-Eldred 8
John Frank – Brookville: Had 3 sacks and also caused a safety while helping Brookville record its first shutout in seven years – Brookville 36, Punxsutawney 0
Jack Krug – Brookville: 19-for-24, 250 yards, 3 touchdowns, 2 interceptions – Brookville 36, Punxsutawney 0  
Cabe Park – Brookville: Had 2 sacks, including a sack-strip-fumble caused that he recovered and returned 29 yards for a touchdown while helping Brookville record its first shutout in seven years – Brookville 36, Punxsutawney 0
Colton Rapp – Clarion: 6 carries, 106 yards, 2 touchdowns; 2 catches, 26 yards, 2 touchdowns – Clarion 61, Keystone 6
Isaac Rumery – Clearfield: 10 carries, 87 yards, 1 touchdown; 22-for-36, 313 yards, 3 touchdowns, 1 interception – Huntingdon 45, Clearfield 27
Jared Green – Coudersport: 5-for-7 passing, 43 yards, 1 touchdown, 1 interception; Ran for a 2-point conversion – Coudersport 14, Elk County Catholic 12
Matt Miller – DuBois: 16-for-26, 251 yards, 2 touchdowns – DuBois 38, Oil City 19
Ange Costanzo – Kane: 8 carries, 114 yards, 3 touchdowns; 1 catch, 23 yards – Kane 63, Cameron County 0
Erik DeLong – Kane: 10 carries, 127 yards, 3 touchdowns – Kane 63, Cameron County 0
Dalton Beham – Karns City: 8 carries, 150 yards, 3 touchdowns 0 Karns City 61, St. Marys 6
Cody Wise – Moniteau: 20 carries, 93 yards, 1 touchdown; Made 11 tackles on defense with an interception – Moniteau 18, Union/A-C Valley 8
Clint Thurston – Redbank Valley: 16 carries, 193 yards, 4 touchdowns – Redbank Valley 40, Clarion-Limestone 14
JJ Epley – Ridgway: Scored his first career touchdown on a 27-yard run – Ridgway 58, Sheffield 6
2017 PLAYERS OF THE WEEK
Week Zero: Jack Krug, Brookville
Week One: Clint Thurston, Redbank Valley
Week Two: Sawyer Drummond, Otto-Eldred
Week Three: Nick Stewart, Curwensville
Week Four:
Week Five:
Week Six:
Week Seven:
Week Eight:
Week Nine: