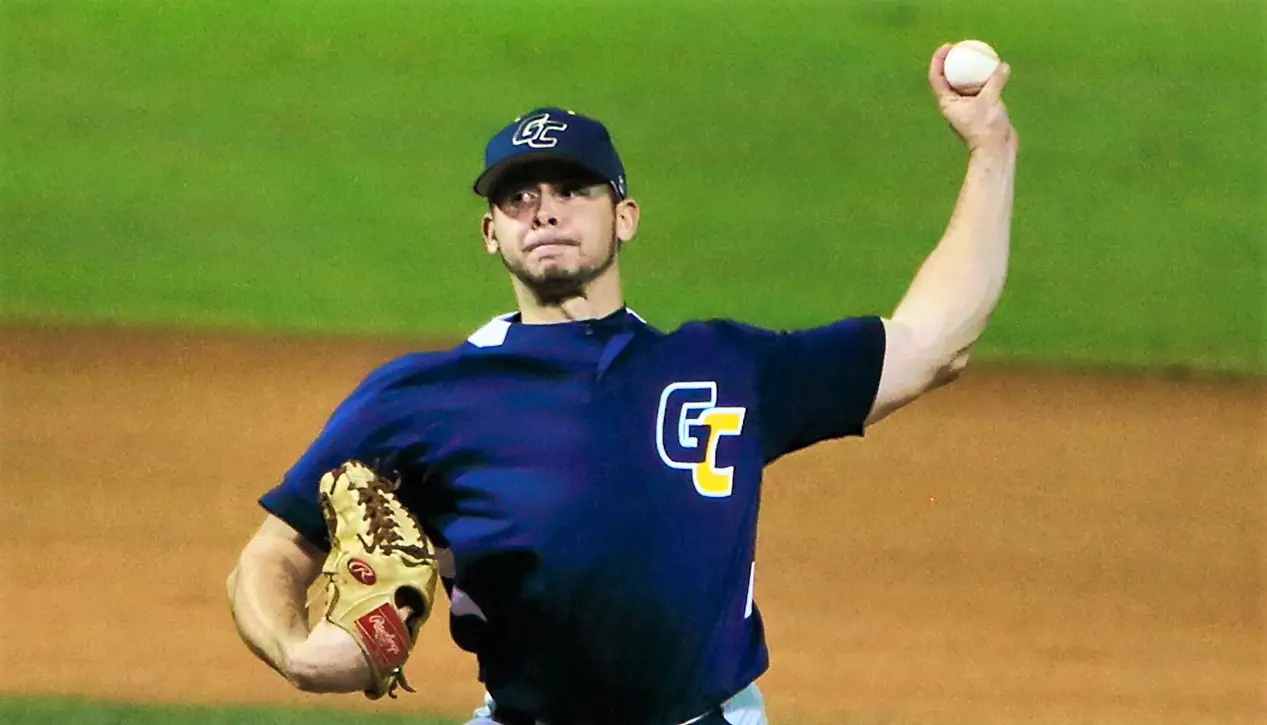 SENECA, Pa. – Meeting at a local restaurant last week with Cranberry graduate Dylan Cyphert, he seems calm, cool and relaxed for someone whose life could have a dramatic change in the next few weeks.
(Cover photo by Dave Cyphert)
Cyphert, a 2015 graduate of Cranberry, is an unassuming 6-foot, 195-pound young man who has a special gift. He can throw a fastball that reaches 95 miles per hour with his left hand while routinely "sitting", to use the baseball vernacular, in the low 90s.
And that has caught the attention of Major League teams heading into the June 12-14 amateur draft.
Cyphert's journey to this point has been a unique one, to say the least.
Coming out of Cranberry, where he helped the Berries to the second round of the PIAA playoffs as a junior, there was some thought he might be drafted then. And if not, he was committed to play at Penn State.
His name wasn't called during the 2015 draft, and Cyphert decided Penn State wasn't for him so he decided to go to Pitt instead. But that didn't work out either, and, before ever throwing a collegiate pitch, he transferred again, this time to Gulf Coast State College, a junior college in Panama City, Fla.
He readily admits that his path has been a unique one, and he takes responsibility for all the movement while at the same time saying the decision to go to Gulf Coast State College was the best one he ever made.
"Going to junior college was the best thing I ever did," Cyphert said. "The competition was pretty good, and it definitely prepares you for Division 1 and professional baseball."
Cyphert's numbers at Gulf Coast this year weren't eye-popping – 5-3 in 13 starts with a 4.57 ERA and 40 walks in 63 innings of work. But he also struck out 71, which is a strikeout rate of 10.19 per nine innings, and again there is that fastball that reaches the mid-90s.
"I'm still learning to harness 95," Cyphert said. "I think that had something to do with the inconsistency this year. I'm trying to get more of a feel of the speed. I don't think (the wildness) was mechanical."
Cyphert said he had to learn to pitch while at Gulf Coast.
"In high school, I threw hard but that's all I had to do," Cyphert said. "In college, you have to mix it up and throw your off-speed pitches."
According to Cyphert, he has filled out information for 15 Major League teams in preparation for the draft and has said he has heard good things about where he could possibly be drafted but doesn't want to put any pressure on himself by guessing what round he might be taken in or if he will be taken at all. He does know this, he is more prepared to play professional baseball than he was two years ago.
"Out of high school, if it would have happened, I wasn't ready," Cyphert said. "I am way more confident and prepared for the possibility now."
Even if he is drafted, Cyphert isn't 100 percent sure if he will sign, after all, he has the scholarship to Alabama in the SEC.
"It may depend on the money offered somewhat," Cyphert said. "But, if the opportunity is there, I would like to take it. But I also have Alabama."
Things became a little more complicated with the Alabama situation for Cyphert May 24 when the Crimson Tide let go of first-year head coach Greg Goff after one season.
The firing, according to AL.com, came one day after the Tuscaloosa News reported Goff tried to revoke scholarships in violation of NCAA rules.
"I'm in a wait-and-see situation," Cyphert said while acknowledging that if he does go Division 1 next season he might seek a release from his commitment to Alabama. "It depends on who they hire as a coach. They could hire someone even better than the guy they had."
Cyphert said the coaching situation at Alabama makes it more likely that he would sign a pro contract if drafted.
"I now kind of want to sign more," Cyphert said. "But again, it could depend on who Alabama hires. That's always an option, too."
According to Cyphert, he had talked to many players who have made the jump from the college ranks to professional baseball including Clarion High School graduate Jon Kemmer of the Fresno Grizzlies (Houston Astros Class AAA), who he stays in touch with, as well as former Gulf Coast teammates.
"They (the former Gulf Coast players) tell me it's basically the same as it is here (at Gulf Coast State) but with wood bats until you reach the upper levels of the minors," Cyphert said. "But it's definitely more of a job. More goes into it. You are watching more video and doing more prep work. It's a full-time job at that point."
Cyphert also has an invitation to play in the most prestigious college summer league in the country, the Cape Cod League, this summer where he has a temporary contract with the Cotuit Kettleers – Cape teams usually don't give out full contracts to draft-eligible players until they know they would have their full services during the season, which runs from June 14 through Aug. 13.
"I am really excited about the opportunity," Cyphert said. "It's a great opportunity. There's a lot of good competition there. Many big leaguers have played in that league."
Cyphert said the opportunity came about because his advisor knows the Cotuit coach well and the Kettleers were in need of left-handed pitching.
"It's really hard for a junior college player to get in that league," Cyphert said. "I'm honored."
While Cyphert would love to play for Cotuit he also didn't sound disappointed if he was drafted high and had a chance to go to the pros either where he would have an opportunity to join a strong list of former District 9 alums who have made their mark in pro ball including the likes of Sparky Lyle, Joe Beimel, Jim Pittsley and Devin Mesoraco in the majors and Kemmer, Matt Righter, Brad Frazier, Jesse Bosnik and others in the minors.
"It's an achievable goal," Cyphert said. "If they can do it then I have a really good chance of achieving that too. It's cool to fall into that category because they are all really good players."