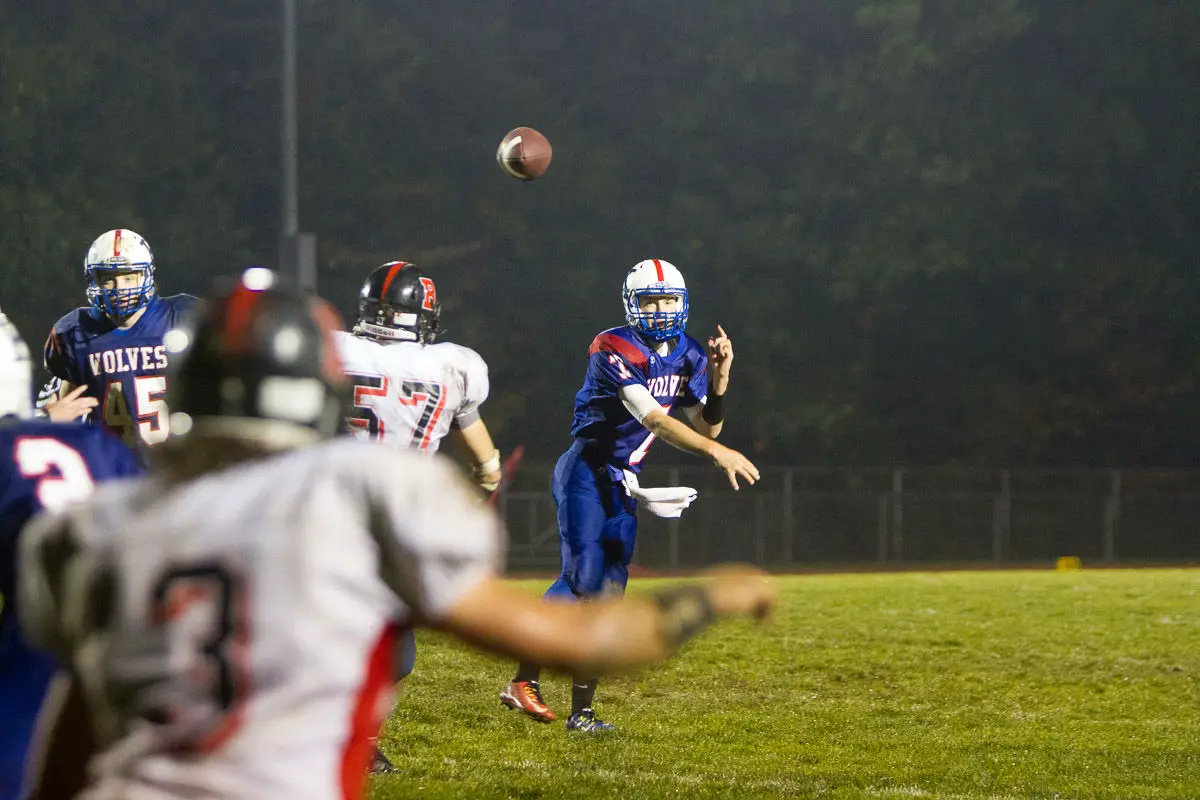 Photo info: Kane quarterback Jack Kocjancic, shown here during a game earlier this year, threw two touchdown passes in the Wolves' loss to Sharpsville Friday night. (Photo by Shawn Murray)
By Rich Rhoades
SLIPPERY ROCK — Hanging in there against a tough Sharpsville squad, the Kane Wolves had the ball with a first down at their own 45 trailing 13-6 with 6:17 left in the first half.
But by halftime, Sharpsville led 37-6.
The District 10 Class A champion Blue Devils scored 24 points in the final 4:49 of the first half on their way to a 30-point second quarter and 50-14 rout of the District 9 champion Wolves in their PIAA quarterfinal matchup Friday night at a frigid Mihalik-Thompson Stadium at Slippery Rock University.
Sharpsville (11-3) owned the line of scrimmage and limited the Kane running game to just 21 yards on 29 carries. Next up in next week's PIAA semifinals for the Blue Devils is WPIAL champion Clairton, which routed District 5's Berlin, 52-24.
The Blue Devils got two touchdowns apiece from Greg Popatak, Khaliq Ragster and Tyrin Peavy, who ended the first half with an 80-yard interception return.
Kane's season ended at 9-4.
"I thought our guys fought hard through the end obviously, but (Sharpsville) had a lot of weapons and it's no discredit to our guys. They did their jobs," Kane head coach Todd Silfies said. "It was a very good football team we just played."
The Wolves couldn't get their running game going as Sharpsville bottled up the Wolves' 1,400-yard rusher John English for 23 yards on 16 carries. Stuffing the run and limiting the Wolves to just 40 yards on 22 first-down plays, Sharpsville forced Kane into predictable situations.
"We wanted establish our running game. We didn't. They did," Silfies said. "If one team gets their running game going and the other team doesn't, it's easier to tell who's going to win the football game."
Wolves quarterback Jack Kocjancic completed 16 of 39 passes for 187 yards and two touchdowns, connecting on a 26-yarder with Davis Gardner in the second quarter and a 22-yarder with Tyler Rolick in the third quarter.
The Wolves punted on their first four possessions of the game with just one first down before finding the end zone after Sharpsville jumped out to a 13-0 lead. After the ensuing kickoff following Sharpsville's second score, the Wolves needed just four plays to score on Gardner's 26-yard TD reception from Kocjancic that started with a quick out-pass. Kocjancic hooked up with Gardner on a 34-yarder one play before the touchdown.
"I thought Davis did a great job tonight," Silfies said. "He stepped in for (injured) Shane (Rolick) tonight. He's a special athlete. We have to more years with him. He stepped up on both sides of the ball, I thought."
The momentum appeared to be swinging Kane's way when the Wolves stopped the Blue Devils on downs at the Wolves' 45, but it didn't last long. The Wolves wound up punting, but it wound up going the wrong way. Dayne Smith, Sharpsville's 6-foot-5 senior, blocked Dillon Mattis' kick and Popatak picked up the loose ball and dashed 25 yards to the end zone to put the Blue Devils up 19-6 with 4:49 left in the half.
The play kick-started a big run as Ragster ran for touchdowns of 1 and 4 yards in Sharpsville's next two possessions, the second one coming with 29.2 seconds on the clock.
The Blue Devils weren't finished. With Kane trying to make something happen with six seconds on the clock with the ball at its own 46, Kocjancic threw deep and his pass was picked off by Peavy. After a circuitous return that officially went for 80 yards but much more than that, Sharpsville led 37-6 at halftime.
"You can't put it on one play," Silfies said of the blocked punt starting the run. "It was a great play by them as was everything. That's a great football team. Obviously, they're a physical athletic team with a bunch of different kids who can do a bunch of different things and they showed that tonight."
The Wolves actually had the ball most of the second half — 39 plays from scrimmage to Sharpsville's 12 — and started with two long drives. They recovered an onside kick to start the second half, but stalled on downs at the Sharpsville 20. Kocjancic's 22-yard TD pass to Rolick capped an 11-play, 59-yard drive to make it 37-14 with 1:16 left in the third quarter.
"That was a nice throw by Jack and a great play by Tyler on that," Silfies said.
However, Sharpsville eventually got to the PIAA's Mercy Rule running clock with two fourth-quarter scores. Quarterback Luke Henwood threw a 46-yard TD pass to his brother Nick on the second play of the fourth quarter and three plays after Nick Henwood intercepted Kocjancic, Peavy ran one in from 11 yards out to set the final score and start the running clock with 8:27 remaining.
Kane loses 12 seniors to graduation — Mattis, Kocjancic, English, Bryden Jordan, Logan Zuzek, Devon Gregg, James Lingenfelter, Ryan Swanson, Andrew Peterson, Matt Cecchetti, Griffin Greenawalt and Colton Lawson.
"It was a great year obviously for our seniors, obviously," Silfies said. "It's a special group of kids who came in my first year as 10th-graders and embraced everything we tried to re-establish in the program and I can't say enough about the 12 who leave us tonight."
SHARPSVILLE 50, KANE 14
Score by Quarters
Kane             0    6    8   0   – 14
Sharpsville 7    30  0   13 – 50
First Quarter
S – Greg Popatak 2 run (Nick Henwood kick), 6:52.
Second Quarter
S – George Keck 7 run (kick blocked), 10:09.
K – Davis Gardner 26 pass from Jack Kocjancic (kick failed), 8:12.
S – Greg Popatak 25 blocked punt return (pass failed), 4:49.
S – Khaliq Ragster 1 run (pass failed), 3:10.
S – Khaliq Ragster 4 run (kick failed), 29.2.
S – Tyrin Peavy 80 interception return (kick blocked), :00.
Third Quarter
K – Tyler Rolick 22 pass from Jack Kocjancic (John English pass from Jack Kocjancic), 1:16.
Fourth Quarter
S – Nick Henwood 46 pass from Luke Henwood (run failed), 11:42.
S – Tyrin Peavy 11 run (Nick Henwood kick), 8:27.
K                    S
First Downs                 12                     16
Rushes-Yards              29-21              34-192
Passing Yards             187                   134
Comp-Att-Int             16-39-2            6-12-0
Total Yards                 208                  326
Punts-Avg                   7-26.1              3-41.3
Fumbles-Lost             1-1                    1-1
Penalties-Yards         6-37                 4-28
INDIVIDUAL STATISTICS
Rushing – Kane: John English 16-23, Tyler Rolick 4-12, James Lingenfelter 5-13, Jack Kocjancic 4-(-27). Sharpsville: Khaliq Ragster 8-64, George Keck 14-63, Greg Popatak 9-39, Tyrin Peavy 2-15, Nick Henwood 1-11.
Passing – Kane: Jack Kocjancic 16-for-39, 187 yards, 2 TDs, 2 Ints. Sharpsville: Luke Henwood 5-for-11, 127 yards, 1 TD; Greg Popatak 1-for-1, 7 yards.
Receiving – Kane: Davis Gardner 6-89, Tyler Rolick 2-29, John English 3-25, James Lingenfelter 2-26, Logan Zuzek 2-14, Devon Gregg 1-4. Sharpsville: Mitchell Fyffe 3-51, Nick Henwood 1-46, Greg Popatak 1-30, Dayne Smith 1-7.
Interceptions – Sharpsville: Tyrin Peavy, Nick Henwood.
Sacks – Sharpsville: Chris Mueller, Mitch Swartz.
Kick Returns – Kane: Tyler Weidenhoff 4-137, Tyler Rolick 3-59.
Punt Returns – Sharpsville: Nick Henwood 1-22, Tyrin Peavy 1-12.
Punting – Kane: Dillon Mattis 6-183 (long 49). Sharpsville: Greg Popatak 2-88 (long 52), George Keck 1-36.
Blocked Punt – Sharpsville: Dayne Smith.