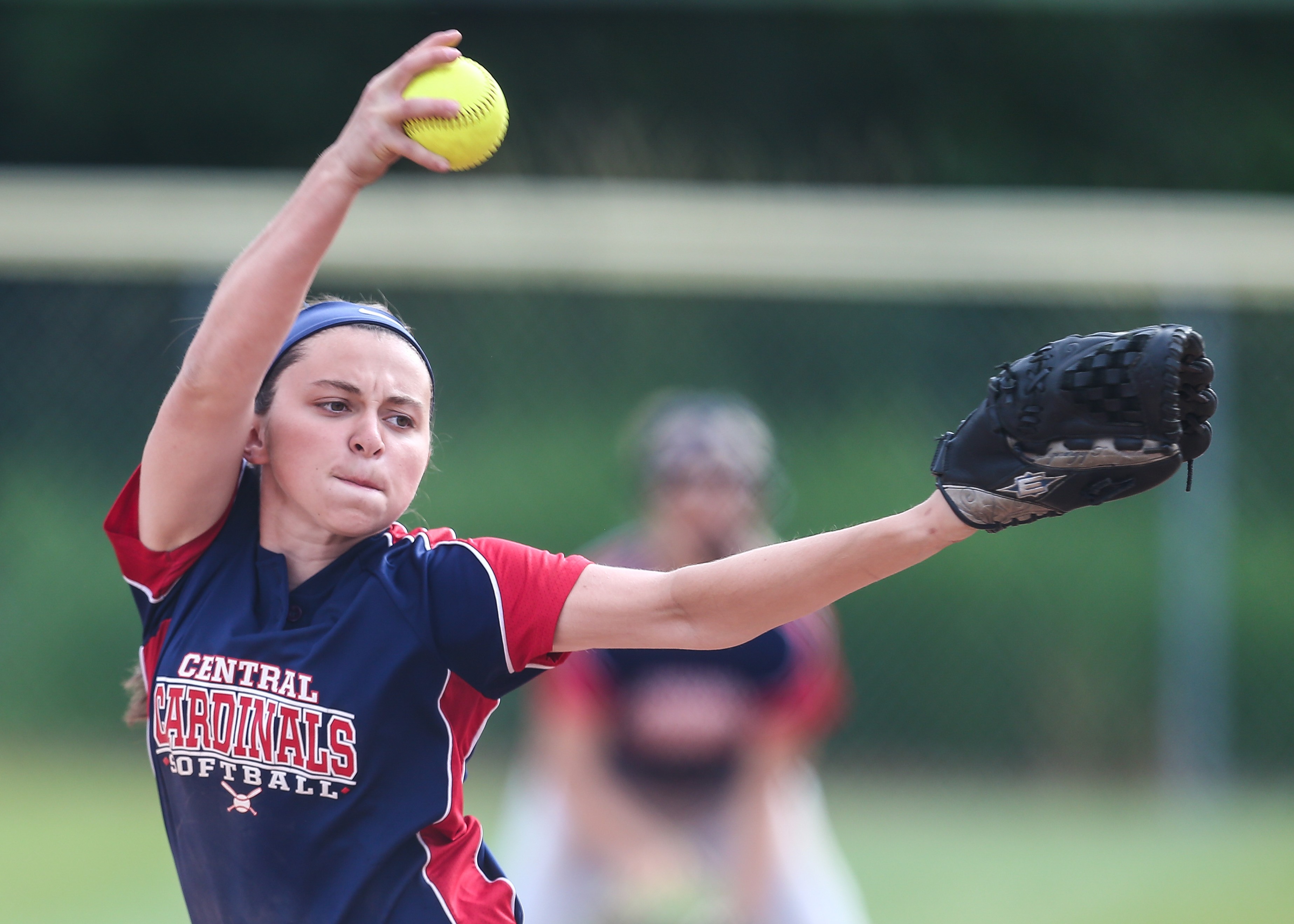 May 31 District 9 Class 1A softball semifinals.
(Cover photo of Riley Assalone. Photo by Mike Schnelle. Check out more of Schnelle's work here)
DUBOIS CENTRAL CATHOLIC 7, ELK COUNTY CATHOLIC 4
BROCKWAY, Pa. – Thanks in part to a four-run third inning, DuBois Central Catholic will get a chance to defend its District 9 Class 1A softball title after a 7-4 win over Elk County Catholic in the semifinals at Brockway High School.
The Lady Cardinals (20-1) are in the championship game for the third time in four years and are looking for their third title since 2014.
They got back to the championship contest thanks to an opportunistic offense that took advantage of small ball and a key ECC error in the four-run third.
With the game tied at one, No. 9 hitter Sabrina Spencer led off the inning by trying to bunt her way on, and it worked when third baseman Michelle Gerber threw the ball away allowing Spencer to go to second.
Macey Hanes then sacrificed Spencer to third, and she scored the go-ahead run on a Jordy Frank groundout.
Winning pitcher Riley Assalone then kept the inning alive with a double, and Ashley Wruble walked before Shayleigh Gulvas doubled both of them home before advancing to third on a wild pitch and scoring on a passed ball to make it 5-1 DCC.
Two more Lady Cardinals runs in the fourth pretty much sealed the deal.
Frank singled home Hanes ending Emily Evers day in the circle for ECC (14-8) before Frank stole third and then scored on a groundout by Assalone.
ECC tried to rally in the sixth using some two-out lightning to score three times.
With two outs in the inning, Evers, Maggie Dinsmore and Josie Smith had back-to-back-to-back singles off of Assalone before Gerber cleared the bases with a double to left.
Assalone, though, got Rosina Nero to pop out ending the threat before striking out the first two batters in the seventh.
It looked like Jenna Weisner was going to keep ECC's hopes alive when she singled to center, but she was out on the base paths to end the game.
Assalone got the win going the distance allowing four runs, three earned, on seven hits. She struck out 13. She was also 1-for-3 at the plate with a double, a run scored and an RBI.
Alyssa Bittner paced the DCC offense going 2-for-3 with an RBI, while Gulvas had the two-run double and also scored a run. Wruble, who walked, twice added a pair of runs scored.
Evers took the loss going 3 ⅓ innings allowing seven runs, three earned, on seven hits and three walks. Smith relieved and went 2 ⅔ scoreless giving up a hit.
Smith was also 2-for-3 with a double and two runs scored, while Evers was 2-for-3 with a double and a run scored. Gerber also went 1-for-3 with the double and three RBIs.
DCC, which qualified for the PIAA playoffs will take on Coudersport in the title game at 4 p.m. Thursday at St. Marys High School.
ECC will play Clarion in the consolation game at 4 p.m. at Brockway with the winner moving into the PIAA playoffs and the loser's season ending.
COUDERSPORT 4, CLARION 2
ST. MARYS, Pa. – In a game that featured a 74-minute rain delay, Coudersport scored three times in the fifth after the delay to break a one-all tie and beat Clarion, 4-2, to advance to the 1A title game for the first time since 2009 and for just the second time in school history.
Macy Gleason's two-run homer to center with one out in the fifth broke the tie, and Madison Smith added an insurance marker with an RBI single later in the inning.
The insurance run made things a bit easier for Coudersport, especially after Clarion cut into the lead in the sixth.
Carly Best led off the inning with a double before going to third on an Alexis Constantino single. Maya Thornton followed by lifting a fly ball to center to score Best cutting the Lady Falcons lead to 4-2.
Sadie Rudesyle then followed with a walk to put runners on first and second, but Smith struck out Kate Constantino and got Sydney Kiser to pop up to end the threat.
Shaelyn Black then relieved Smith in the seventh and set down the Lady Cats in order to preserve the win.
The game was suspended after three because of lightning and didn't resume for over an hour.
When it did resume, Coudersport struck first with two outs in the fourth when Smith singled and her courtesy runner, Claudia Miller, scored on a double by Stephanie Fry.
Clarion tied the game in the fifth when Kate Constantino led off with a single and scored on a triple to right by Kiser.
But Coudersport game up with a big defensive play on a bunted grounder hit by MacKenzie DiTullio, as Smith threw out Kiser trying to score from third.
Smith was 2-for-3 with an RBI for Coudy, which is looking to go three-for-three in ball sports titles this year. The Lady Falcons won the Class 1A volleyball title in the fall and then followed that up by taking home the Class 2A basketball title in the winter.
Smith also got the win going six innings allowing two runs on five hits and two walks while striking out two. Black picked up the save striking out one in her inning of work.
Kiser was 2-for-3 with a double and an RBI for Clarion.
Rudesyle took the loss going six innings allowing four runs, all earned, on eight hits and a walk while striking out three.
Coudersport, which qualified for the PIAA playoffs with the win, takes on DuBois Central Catholic in the title game at 4 p.m. Thursday at St. Marys High School.
Clarion faces Elk County Catholic in a winner-goes-to-the-PIAA playoffs, loser-goes-home consolation game at 4 p.m. Thursday at Brockway High School.