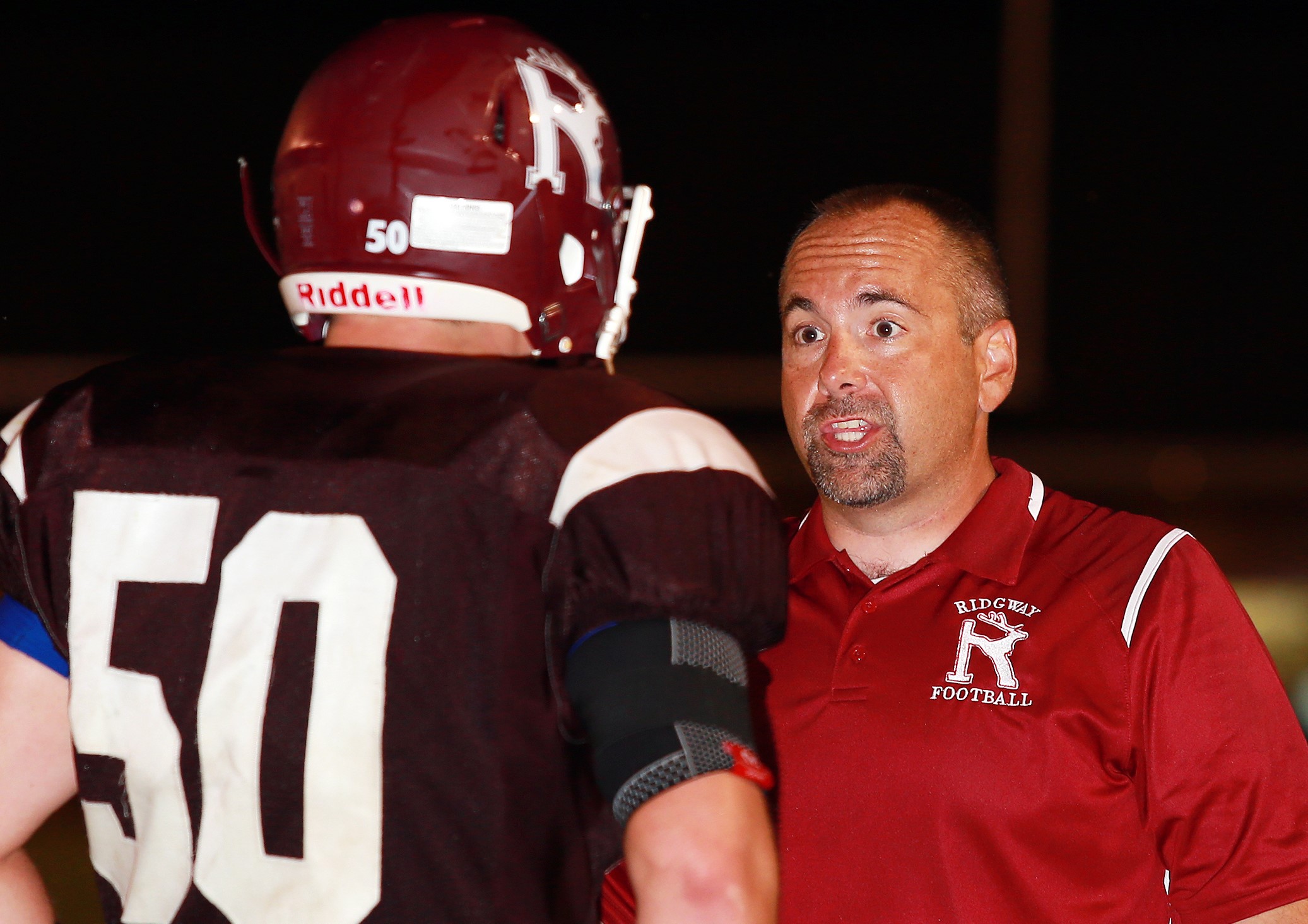 DuBOIS — It's a District 9 Class 1A football doubleheader Saturday at DuBois' E.J. Mansell Stadium where four teams — Ridgway, Curwensville, Elk County Catholic and Clarion-Limestone — make up a unique semifinal field.
Ridgway head coach Mark Heindl takes his top-seeded Elkers to Saturday's semifinal matchup with Curwensville. (Photo by Paul Burdick)
The first game kicks off at 1 p.m. with No. 2 seed C-L meeting No. 3 seed Elk County Catholic while top-seeded Ridgway plays no. 4 seed Curwensville at 6 p.m.
The expansion of the football classifications from four to six in the PIAA this year created some movement in D9 and opened up opportunities. Curwensville is the last team to win a title among the foursome in 2010 and it's the Tide's eighth trip to the Class 1A semifinals since the small-school class was expanded to as many as eight teams in 2004.
Although the Elkers didn't have to win to get there, it's Ridgway's first trip to the semifinal round since back-to-back losses to Clarion-Limestone in 2002 and 2003. The Lions haven't been to the semifinals since the last year they made the playoffs in 2005 while Elk County Catholic is making its third trip to the final four since 2004.
As far as titles go, C-L hasn't won one since 2003, Ridgway since way back in its only championship run in 1989 while ECC hasn't won a title. The only time the Crusaders played for a championship was 1995 when they fell to Smethport.
Here's a closer look at Saturday's games:
Elk Co. Catholic (7-3) vs. Clarion-Limestone (8-2), 1 p.m.
It's the fourth time these teams have met in the postseason with the Lions winning two of the first three matchups, including the last two in 2004 (27-6) and 1998 (27-20) while the Crusaders won in the 1995 semifinals, 7-6.
Both teams won quarterfinal games at home last week, the Crusaders 21-14 against Redbank Valley and the Lions 26-16 over Otto-Eldred. Both ended playoff droughts with it being the first Lions' playoff win since 2005 and the Crusaders' first win since 2012.
The Lions average 371 yards per game — 220 rushing, 151 passing — offensively with senior Mike Macefe (236-1,620, 21 TDs) leading the running game and quarterback Brenden Makray (105-for-201, 1,660 yards, 17 TDs, 11 Ints.) running the passing game. Macefe has had two straight 200-yard games and carried the ball a career-high 32 times against Otto-Eldred. Makray  hasn't thrown an interception in four straight games while throwing 10 TD passing over that stretch.
Also for the Lions are Makray's top receiving threats Sam Leadbetter (33-638, 7 TDs), Riley Hummell (37-543, 4 TDs). Hummell (65-391, 3 TDs) and Chris Peace (55-379, 2 TDs) are also threats running the ball.
Defensively, Macefe (10.7) leads the Lions in tackles per game with Hummell (6.9), Justin Goodman (6.4) and River Young (6.4) following him. Young leads the team with 12 sacks while Leadbetter has seven interceptions.
For the Crusaders, senior Nate DaCanal leads the single-wing offense as a two-way threat (76-for-166, 1,211 yards, 10 TDs, 10 Ints.) passing and rushing (85-451, 6 TDs), ranking third on the team on the ground. He's coming off a career-high 279-yard passing game in the win over Redbank Valley.
Jared Braun (93-630, 9 TDs) and Dan Stauffer (93-630, 6 TDs) are the leading rushers. Brad Dippold (29-422, 6 TDs), Braun (15-325, 1 TD) and Eric Gerber (14-259, 2 TDs) are DaCanal's top receivers.
ECC's defense has Ryan Heary (10.0), Stauffer (9.7) and lineman Joe Kucenski (8.7) as the leading tacklers. Kucenski led the Crusaders with 4 1/2 sacks against the Bulldogs and his 10 1/2 sacks for the season leads the team.
Curwensville (6-4) vs. Ridgway (8-2), 6 p.m.
The top-seeded Elkers haven't won a playoff game since 1999 when they topped Coudersport 14-0 in what was a quarterfinal game in a normally four-team setup. Four days later, the Elkers lost 40-14 to eventual champion Cameron County.
Since 1999, the Elkers have gone 0-6 in the playoffs, their last game a loss to Union as the top seed in 2014.
This year's edition of the Elkers has been a stingy, tough defensive team with nothing pretty on the offensive end. They're giving up just 8.4 points per game — the Elkers rank only behind Kane in defensive scoring in D9 and 18th in the state overall — with six shutouts. They yield just 137 yards — 94 passing, 43 rushing — per game.
One of those shutout wins came against Curwensville in their regular AML-South matchup on Oct. 7 in a 28-0 win in Ridgway. The Elkers led 21-0 by halftime and limited the Golden Tide's Nick Stewart to a career-low 44 yards on 21 carries.
The Elkers' defense is led by linebacker Joey Elinski, their top tackler at 8.7 stops per game. Safety Neil MacDonald (8.1) and lineman Justin Kasmierski (6.9) round out the top three. Kasmierski has 10 sacks while lineman Max Cowan is second with seven sacks.
Offensively, the Elkers average a modest 262 yards — 215 rushing, 47 passing — with MacDonald (132-870, 9 TDs) leads the running game along with two-way threat Johnny Mitchell, the quarterback (32-71, 451 yards, 6 TDs, 7 Ints.; 96-424, 8 TDs rushing), and Jacob Zimmerman (58-252, 2 TDs). Mitchell's top receivers are Josh Raubenstrauch (9-125, 3 TDs) and Zimmerman (5-111, 1 TD).
Curwensville, as usual, relies heavily on its running game led by the junior Stewart. The Tide average 266 of their 327 yards per game and most of it comes via Stewart, who leads the district with 1,984 yards on a workhorse-like 263 carries (26.3 carries per game) with 25 touchdowns. Throw in his 184 yards on 11 receptions and Stewart accounts for 66.4 percent of the Tide's yards from scrimmage.
The last three games, Stewart has carried the ball 101 times for 704 yards, including 252 yards on 29 carries in last week's win over Coudersport. He's scored 27 of the team's 42 touchdowns.D
Also for the Tide, quarterback Bryce Timko (37-88, 576 yards, 7 TDs, 3 Ints.) runs the passing game. His other leading receivers are Zach Marshall (10-232, 2 TDs) and Eli Jacobs (10-105, 2 TDs).
Jacobs (5.7), Matthew Carter (5.6) and Stephen McClure (5.0) lead the Tide defense in tackles per game. Stewart and McClure each have a team-high five sacks while Noah Von Gunden has a team-best four interceptions.