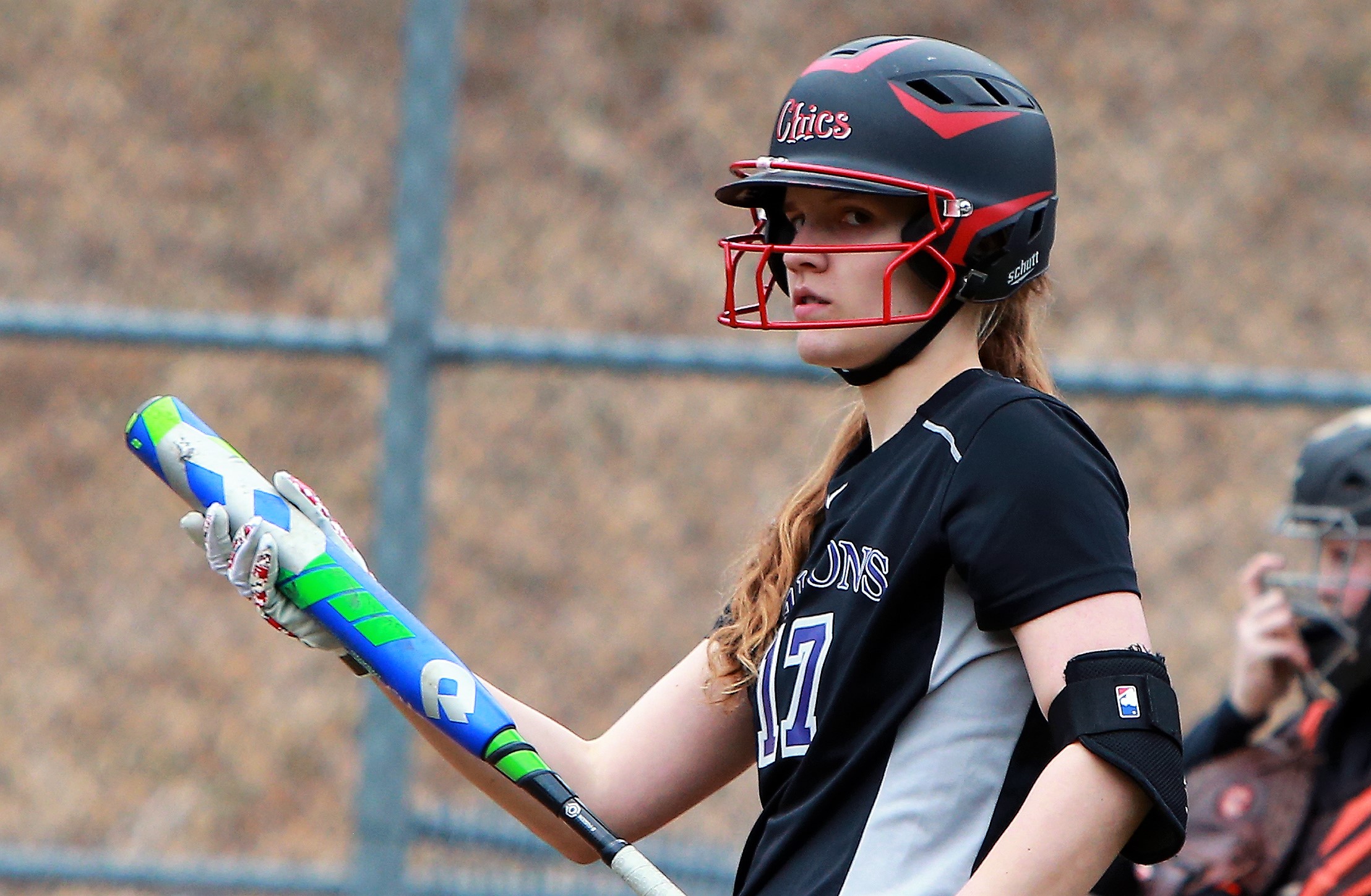 May 24 District 9 Class 1A softball quarterfinals recaps.
(Cover photo: Shaelyn Black, Coudersport)
COUDERSPORT 12, OTTO-ELDRED 2, 5 INNINGS
COUDERSPORT, Pa. – Shaelyn Black went 3-for-3 with a double, triple, home run and six RBIs to lead second-seeded Coudersport to a 12-2, five-inning win over visiting and seventh-seeded Otto-Eldred.
Black had a two-run double, a two-run triple and two-run home run in the victory that also saw Emma Powell end the game in the fifth with a two-run double.
EmmaRae Easton chipped in with a pair of RBIs for the Lady Falcons, who also got a double and three runs scored from Joplin Osgood and an RBI from Chelsey Streich.
Harley VanScotter was 2-2 with a double and a solo home run for Otto-Eldred, while Kirsten Renninger added an RBI.
Madison Smith got the win allowing two runs on three hits and four walks while striking out five.
Alyssa Shelander took the loss giving up 12 runs on seven hits and three walks while striking out one.
Coudersport takes on Clarion in the semifinals at 4 p.m. Tuesday at St. Marys High School.
CLARION 12, CAMERON COUNTY 0
EMPORIUM, Pa. – Cora Zerfoss and Maya Thornton combined to go 8-for-10 with five runs scored and five RBIs, as sixth-seeded Clarion rolled to a 12-0 win over third-seeded Cameron County in Emporium.
Zerfoss, hitting leadoff, was 4-for-5 with a double, an RBI and four runs scored, while Thornton went 4-for-5 with a home run, a run scored and four RBIs.
Carly Best added a 3-for-5 day with a double, three runs scored and two RBIs, while Alexis Constantino was 2-for-5 with a run scored and an RBI and Sydney Kiser 3-for-5 with and RBI.
Clarion had 17 hits in the game and scored twice in the first and twice in the second before putting the game away with a five-run sixth and a three-run seventh.
Cameron County, meanwhile, managed just one hit off Sadie Rudesyle, who went seven innings and struck out 15.
Alyvia McKimm had the Lady Raiders lone a hit, a double.
Laila Smith took the loss allowing 12 runs, nine earned, on 17 hits and four walks while striking out five.
Clarion faces Coudersport in the semifinals at 4 p.m. Tuesday at St. Marys High School.
ELK COUNTY CATHOLIC 8, SMETHPORT 4
ST. MARYS, Pa. – Using a six-run second inning, fourth-seeded Elk County Catholic topped visiting fifth-seeded Smethport, 8-4, at Benzinger Park in St. Marys.
Jenna Weisner had a bases-loaded, bases-clearing double in the second to give the Lady Crusaders a 3-2 lead and Brandi Clyde and Josie Smith added RBI singles in the inning while Maggie Dinsmore had a sacrifice fly.
Weisner was 2-for-4 with the double, a run scored and three RBIs, while Clyde went 3-for-3 with a walk, a run scored and an RBI. Hannah Barnett scored a pair of runs for ECC as well.
Abbey Woodard and Olivia Goodwill were both 2-for-4 with a double apiece for Smethport. Woodard scored twice, while Goodwill had two RBIs and a run scored.
Michelle Gerber got the win allowing four runs on 10 hits and a walk while striking out six.
Emily Treat suffered the loss giving up eight runs, six earned, on eight hits and five walks while striking out six.
ECC will take on DuBois Central Catholic, a 12-1 winner in five innings over A-C Valley Tuesday, in the semifinals at 4 p.m. Tuesday at Brockway.