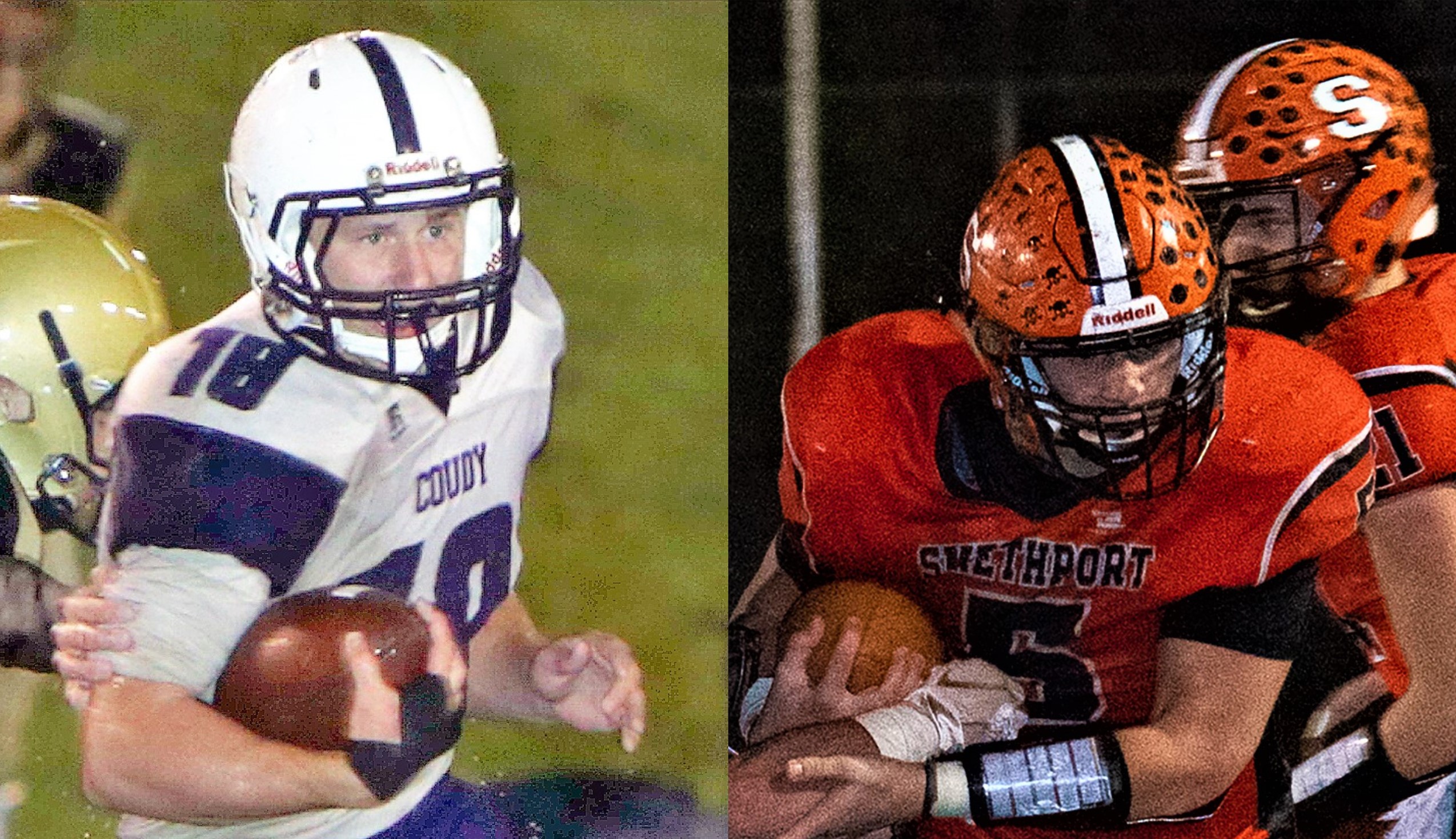 KARNS CITY, Pa. — If the District 9 Class 1A Championship game comes anywhere close to the drama the last time Coudersport and Smethport met with a title on the line, it'll be another classic.
— Note: The game was originally scheduled for Friday at Bradford High School's Parkway Field but was moved to Mansell Stadium in DuBois Saturday before being moved to 4 p.m. Monday at Karns City.
That was 24 years ago when longtime head coach Paul Simcoe's Falcons held on for a 21-20 win over Smethport for the 1994 Class 1A crown in St. Marys, stuffing the Hubbers on a two-point conversion with 52 seconds left on the clock.
It was Coudersport's first of four district titles — the other three in 2001, 2005 and 2006 — and at that point was considered a huge win considering Smethport had won three D9 titles from 1990-92 with a PIAA Championship game appearance in 1992.
The Hubbers did rebound, however, and won Class 1A titles in three of the next four years — 1995, 1996 and their last one in 1998. And this year, the resurgent Hubbers turned in their first unbeaten season since 1998 along with winning their first playoff game in the 20 years since that last memorable run.
Coincidentally, the Hubbers edged the Falcons 21-20 in the regular-season finale to secure the first-ever Small School North championship. And if the rematch comes close to that game's drama, it'll also be one to remember.
So it'll be the 11-0 Hubbers taking on the 7-4 Falcons, who locked up in a good one back on Oct. 19 in Smethport. Coudersport led 20-7 with just under six minutes left before the Hubbers scored twice within 59 seconds to take the lead.
But it wasn't totally over as Smethport fumbled away the ball on an interception return and had to hold off the Falcons in the red zone to preserve the one-point win.
Hubbers quarterback Grant Ognen completed 10 of 16 passes for 191 yards and two touchdowns while Alex Sanderson caught seven passes for 142 yards and both of those TDs. For Coudersport, Stephen Kelly ran for 123 yards on 21 carries.
While the Hubbers went through the regular season unscathed with two straight 28-0 playoff wins over Union/A-C Valley and Curwensville, the Falcons started 3-0 then lost four of six games. But after the loss to the Hubbers, the Falcons avenged two straight regular-season losses in the playoffs, routing Redbank Valley (52-7) and Clarion-Limestone (22-12) last weekend.
The Hubbers 303 yards per game offensively — 215 rushing, 88 passing. Their two senior running backs anchor the run-first attack with Blake Kinner (136-1,280, 13 TDs) and Nathan Hollowell (156-819, 12 TDs). Ognen has thrown for 814 yards (58-for-118) and 10 TDs against four interceptions.
Sanderson (27-374, 4 TDs) and Bryent Johnson (18-251, 5 TDs) are Ognen's top receiving targets.
Kinner (6.8), Dale Burdick (5.6) and Braedon Johnson (5.0) lead the Hubbers defense in tackles per game. Kinner has a team-high 7.5 sacks.
The Falcons are more run-oriented at 314 yards per game — 256 rushing, 58 passing, featuring Kelly's 1,416 yards on 179 carries with 23 TDs. Quarterback Keck (33-for-72, 639 yards, 7 TDs, 3 Ints.) is also a running threat with his 479 yards second behind Kelly. John Minor (10-306, 3 TDs) is the team's leading receiver.
Defensively, Eli Ayers (7.5), Brandt Kightlinger (4.5), Keck (4.4) and Travis Gleason (4.2) lead the Falcons in tackles per game. Gleason has nine sacks while Minor leads the unit with four interceptions.
The Smethport-Coudersport winner advances to the PIAA quarterfinals next week against District 10 champion Farrell, who crushed Shade Sunday.