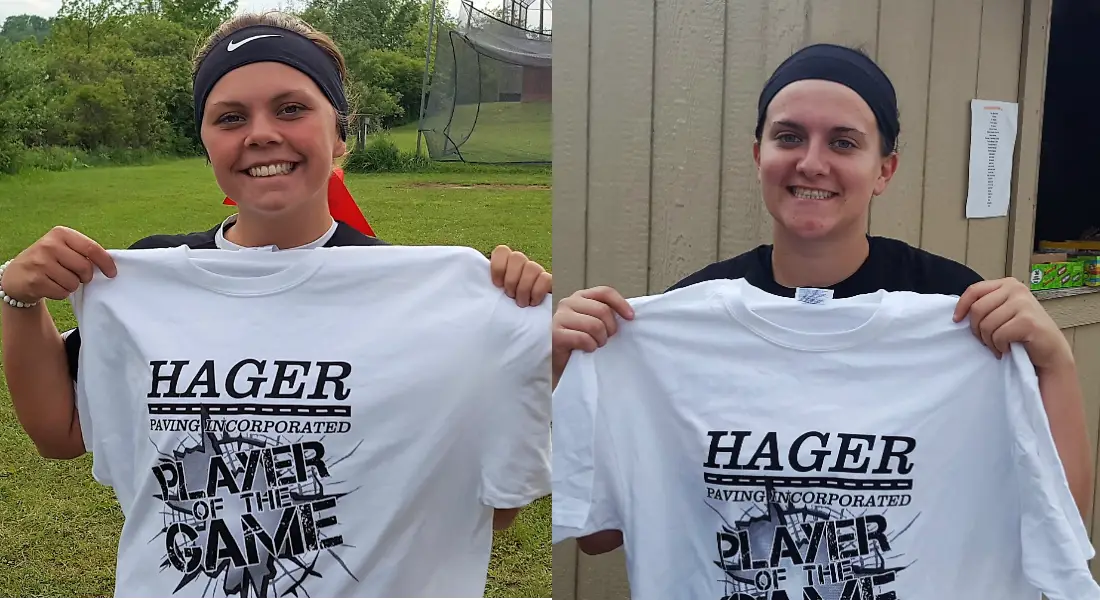 May 24 District 9 Class 2A softball semifinal recaps.
(Cover Photo: Sara Hull (left) and Kennedy DeMatteis (right) of Moniteau)
MONITEAU 10, REDBANK VALLEY 0
Listen to the game:
WEST SUNBURY, Pa. – Moniteau won its 57th straight game against a District 9 opponent while moving into its fourth straight District 9 Class 2A title game with a 10-0, five-inning victory over visiting Redbank Valley in the semifinals.
The Lady Warriors, who are looking for their fourth straight championship, haven't lost a game to a D9 opponent since falling 12-0 in five innings to Curwensville in the semifinals exactly four years ago (May 24, 2013). They will meet Cranberry in a rematch of last year's championship game won by Moniteau, 4-0, at 4 p.m. Wednesday at Clarion-Limestone.
The semifinal win was a combination of great pitching and an offense that took advantage of six Redbank Valley miscues.
Kennedy DeMatteis mowed down the Lady Bulldogs allowing two hits while striking out eight in five shutout innings. She retired the final 10 batters she faced.
Meanwhile, the Moniteau offense scored six unearned runs against Redbank Valley's Alyssa Burkett, who gave up 10 total runs on 11 hits and two walks, one intentional, while striking out one.
Eight different Lady Warriors scored runs and all 10 players who saw action had a hand in the victory.
Sara Hull and Kristina DeMatteis both drove in a pair of runs with Kristina DeMatteis going 2-for-3 with a double and three runs scored and Hull finishing 2-for-3 for a run scored. Megan Hepler was also 2-for-3 with an RBI and a run scored for Moniteau.
Hull talked about the victory.
Kaia Rearick had a one-out double in the first for Redbank Valley, and Becca Kunselman added an infield single in the third.
CRANBERRY 7, JOHNSONBURG 6
SENECA, Pa. – Bree Swartzfager sent Cranberry back to the District 9 Class 2A title game for the second straight year when she doubled home Emily Duncan in the bottom of the seventh inning to give Cranberry a 7-6 win over visiting Johnsonburg.
Emily Duncan started the rally by singling to right, Swartzfager then doubled to left to win the game.
The game-winning double capped off a comeback from a two-run deficit going to the bottom of the sixth for Cranberry.
The Berries trailed 6-4 after a three-run Johnsonburg sixth inning but tied the game with a pair of runs of its own in the bottom of the inning.
Jenna Huegel singled home Swartzfager, who had walked. Huegel then scored on a hit by Rachel McCauley.
The game was scoreless until the the fourth when Johnsonburg took a 1-0 lead on a Hannah Park single. The Ramettes then made it 3-0 in the fifth on an error and a groundout by Park.
But Cranberry scored four times in the bottom of the fifth to take its first lead of the game.
Libby Kiefer had an RBI single to make it 3-1 before a McCauley groundout made it 3-2. Malliah Schreck then had a run-scoring groundout before Andrea Watson's two-out single but the Berries in the lead.
Johnsonburg took the lead in the sixth tying the game on a Maddie Herzing double followed by an error that gave the Ramettes the lead and a passed ball that made it 6-4.
McCauley was 3-for-4 with a double and two RBIs. Huegel was also 2-for-4 with a double, an RBI and two runs scored, while Kiefer was 2-for-3 with a double and an RBI and Schreck went 2-for-3 with a walk, an RBI and a run scored.
Britnee Thorwart was 2-for-3 with a double and two runs scored for Johnsonburg, while Maria Jones was 2-for-3 with a walk and Skylar Sherry 3-for-4 with a double and a run scored.
Watson got the win in relief of Barcinas going three innings allowing five runs on seven hits and two walks while striking out two. Barcinas pitched four innings allowing one run on two hits and five walks while striking out three.
Jones took the loss in relief of Sherry going 1 ⅓ innings allowing two runs on four hits. Sherry gave up five runs on five hits and seven walks while striking out three.
Cranberry will meet Moniteau in the title game at 4 p.m. Wednesday at Clarion-Limestone.