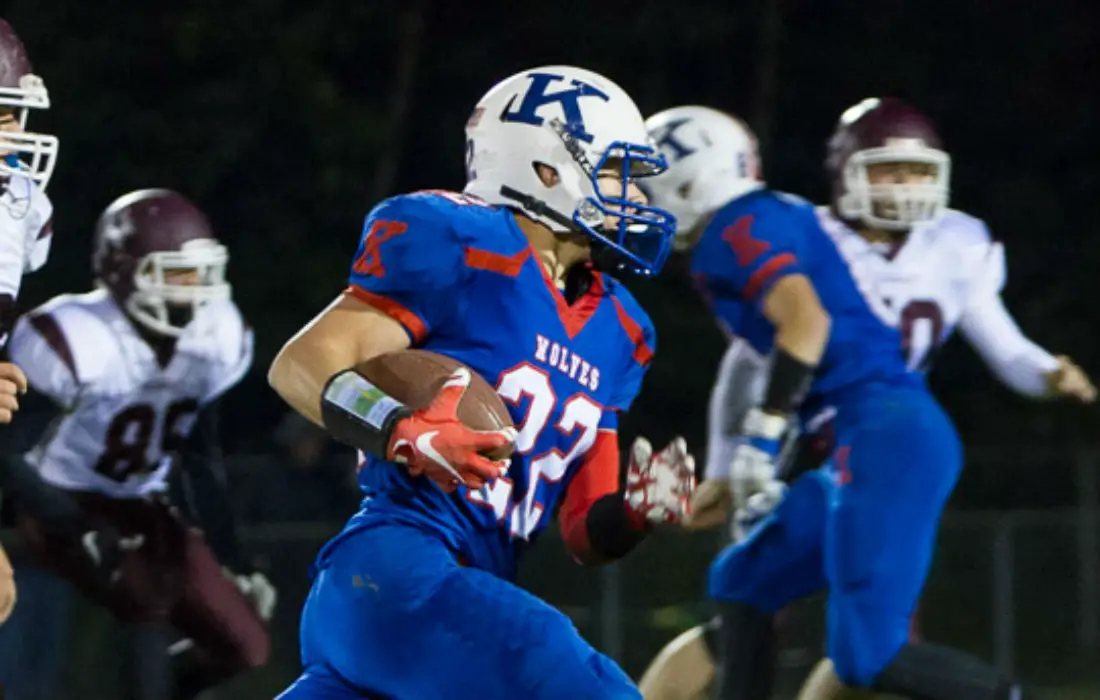 LIVE AUDIO FOR GAMES
Curwensville vs. Kane – WDDH • WXYZ • WOKW
Brockway vs. Redbank Valley – Explore On-Line Radio (Pregame starts at 5 p.m.)
PREVIEW STORY 
DuBOIS — The District 9 Class A semifinals will make its home at E.J. Mansell Stadium Saturday. At 1 p.m., the Kane Wolves take on the Curwensville Golden Tide while the 6 p.m. game features the Brockway Rovers and Redbank Valley Bulldogs.
The winners advance to next week's championship game at a site and time to be announced.
Between the four teams, some history notes:
Since the Class A playoffs were expanded to eight teams in 2004, semifinal appearances (12 seasons):
Curwensville                   7
Brockway                        5
(Rovers turned Class A in 2011 and have been in the semifinals every year since)
Redbank Valley            4
Kane                               3
(Wolves were Class AA in four of last 12 seasons)
District Titles:
Brockway                       5             (Class AA: 2010, 2005, 2003, 2002, 1987)
Curwensville                 3            (2010, 2004, 2000)
Redbank Valley            2             (Class AA: 1996, 1992, plus 1991 unopposed)
Kane                               2            (2014, 2007)
All-Time D9 playoff Records
Curwensville                  14-10            .583
Brockway                        17-13            .567
Kane                                10-8            .556
Redbank Valley             9-13            .409
Curwensville (8-3) vs. Kane (10-0), 1 p.m.
Listen Live: WDDH • WXYZ • WOKW
Stats: Curwensville Kane
Schedules: Curwensville Kane
Last meeting: Kane 35, Curwensville 6 (Week 7, Oct. 16)
At Kane, the Wolves' Shane Rolick ran for three touchdowns and threw a TD pass to lead the Wolves past the Tide. He ran for 119 yards on 16 carries. Tyler Rolick ran for a touchdown and 74 yards. For Curwensville, Hunter Johnson scored the Tide's lone touchdown on a 2-yard run late in the first half. He finished with 39 yards on 10 carries while Nick Stewart ran for 80 yards on 20 carries. Quarterback Jakob Terry completed 8 of 20 passes for 74 yards.
Outlook: The defending Class A champion Wolves have beaten Port Allegany three times this year and now they'll need to beat Curwensville for a second time. The Tide will have to figure out a way to move the ball against the Wolves this time around, considering they were held to 167 yards of offense in their first meeting. While Tyler Rolick is over 1,200 yards rushing, his brother Shane just went over 1,000. Those two have combined for over 2,200 yards and 31 rushing touchdowns. Curwensville's Nick Stewart season-low rushing game came against the Wolves with his only other sub-100-yard game the following week in an 81-yard effort against Brockway. Otherwise, he's been over 100 six times and 200 three times, including last week's 221-yard performance against Clarion. Quarterback Jakob Terry has thrown for 1,500 yards and 20 touchdowns, over half the yardage going to receiver Quamone Newkirk who has 13 of those TD catches.
Brockway (9-2) vs. Redbank Valley (8-2)
Listen Live: Explore On-Line Radio brought to you by ExploreClarion.com (Pregame starts at 5 p.m.)
Stats: Brockway Redbank Valley
Schedules: Brockway Redbank Valley
Last meeting: Brockway 28, Redbank Valley 14 (First round, last year)
At New Bethlehem, after both teams scored touchdowns in their first two possessions, the Rovers pulled away for the win. Anthony Benson ran for a pair of 2-yard fourth-quarter touchdowns to clinch the win for the Rovers. Benson ran for 99 yards on 20 carries and scored three touchdowns while Anthony Isabella ran for 70 yards on 15 carries. The Bulldogs got two touchdown passes from Jake Dougherty to Nick Shoemaker.
Outlook: The KSAC-Small champion Redbank Valley Bulldogs rebuilt their offense quite well after losing four-year starting quarterback Jake Dougherty. Senior Connor Shoemaker has played well at QB, throwing for 971 yards and 16 touchdowns. But the big emerging factor has been the running game featuring Wyatt Hetrick. With just 79 carries for the season, including 47 in the Bulldogs' last two games, he's at 784 yards and he also leads the team in receiving with 31 catches for 590 yards. Hetrick's 1,874 all-purpose yards (return yards included) is a team record. He's returned two kickoffs for touchdowns and on defense leads the team in tackles (68) and interceptions (5). Meanwhile, the Rovers have withstood key injuries and adjusted on the fly. After losing Anthony Isabella to a knee injury in Week 4, the Rovers have looked to quarterback Hunter Miller and running back Mark Latuska to shoulder much of the offensive load. Miller has thrown for 958 yards and 10 touchdowns while running for 623 yards and three scores. Latuska has 859 yards and 14 touchdowns. Defensively, three juniors lead the team in tackles with Quinn Lundberg (70), Latuska (69) and Hunter Antonuccio (66). The Rovers got an emotional lift last week with the return of Mike Martino last week. Martino is back from a knee injury he originally suffered in a 7-on-7 game ironically in New Bethlehem over the summer. He's cleared only to long snap on kicks.