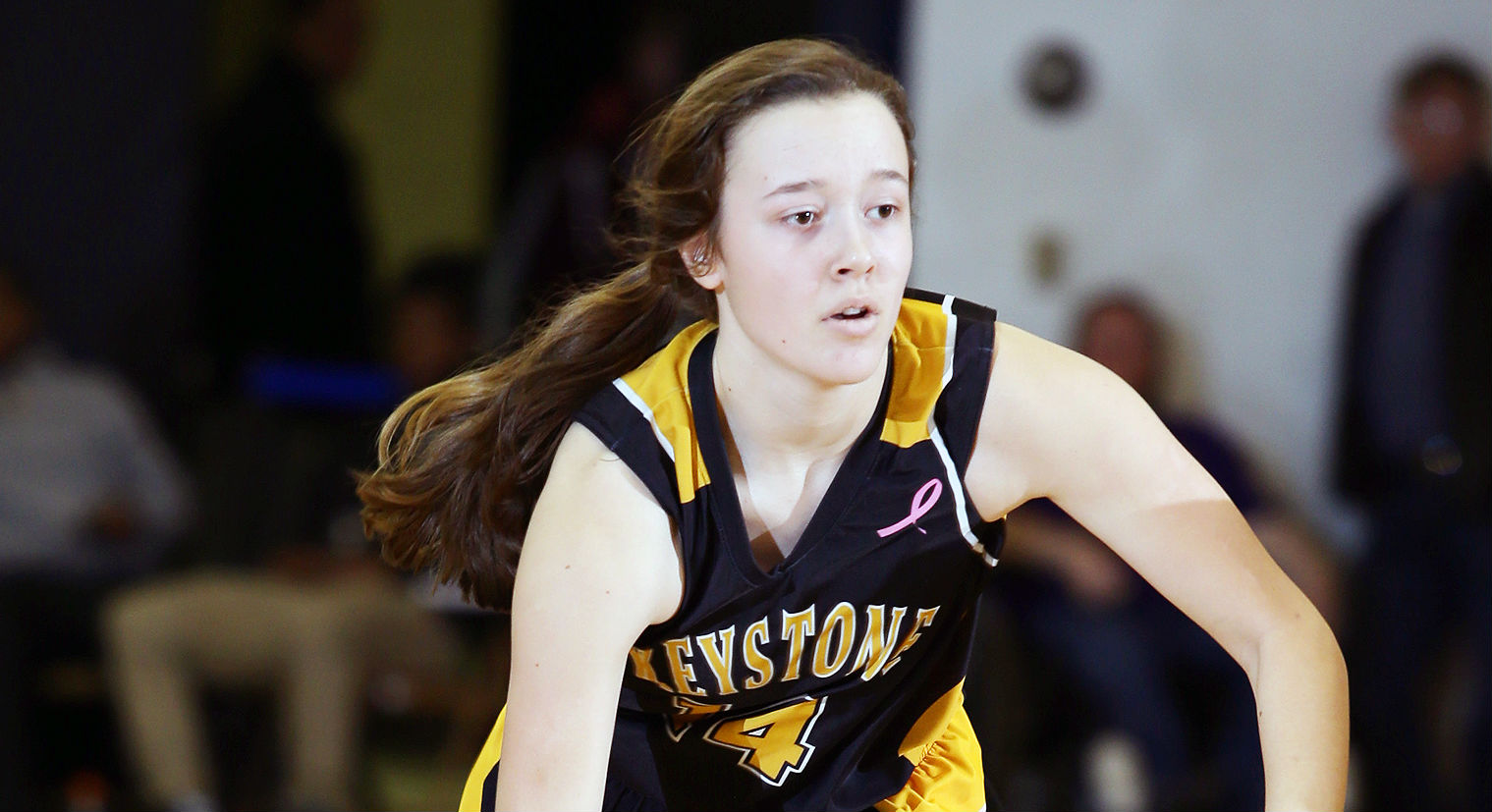 By Chris Rossetti
CLARION, Pa. – Plenty of intrigue surrounds the District 9 Class A girls' championship game Saturday between 11th-seeded Elk County Catholic and fourth-seeded Keystone.
Tip-off for the title game is set for 6 p.m. at Clarion University's Tippin Gym.
ECC (13-12) is the upstart Cinderella.
The Lady Crusaders didn't even qualify for the AML playoffs – a tournament that takes four of the eight AML teams – and entered the postseason two games under .500 at 10-12.
But three straight wins over higher seeds – No. 6 Otto-Eldred (55-36), No. 3 Northern Potter (47-41) and No. 2 North Clarion (46-43, OT) – not only has ECC playing for a D9 title but also has the Lady Crusaders in the PIAA playoffs.
Keystone (17-7), meanwhile, has quietly gone about its business all year overshadowed by fellow KSAC South team Karns City and KSAC North champion North Clarion, both 20-win teams.
But the Lady Panthers, despite low numbers, have gone an impressive 11-1 vs. Class A schools this year including playoff wins over DuBois Central Catholic (56-47) and top-seeded Coudersport (52-37 in the semifinals).
ECC, which started the year 8-4 before losing 8 of 10 prior to the three straight playoff wins, has been involved in a ton of close games this season.
The Lady Crusaders have had 12 games decided by seven points or less including four one-possession games. Most didn't go ECC ways, as it is just 4-8 in the 12 games decided by seven or fewer points and 2-2 in the one-possession games.
Keystone has also been involved in a lot of close games – 9 decided by seven or fewer points – but the Lady Panthers have won most of them going 7-2 in those contests including 3-2 in one-possession games.
Both squads are young and well balanced with only one senior on both teams but seven players (4 on ECC and 3 on Keystone) averaging at least 6.5 points per game.
ECC is led by 5-foot-11 junior forward Reilly Herzing, who averages 11.6 ppg. Herzing had a double-double in the overtime semifinal win over North Clarion with 10 points and 12 rebounds.
The Lady Crusaders also get 8.7 ppg from Cassidy Cunningham, 7.8 ppg from Josie Smith and 6.6 ppg from Mackenzie Cashmer.
Keystone has three players averaging in double digits paced by sophomore Taylor Geer, who scores 13.8 ppg. Geer is coming off a pair of super playoff games. She had 15 points and 17 rebounds in the semifinal victory over Coudersport and 21 points and 19 rebounds in the quarterfinals against DCC.
Amber Hess, Keystone's lone senior, adds 13.3 ppg, while sophomore Josselin Geer – no relation to Taylor – chips in 11.8 ppg.
GAME NOTES – Keystone is in the Class A title game for the third time in the last five years. The Lady Panthers beat Clarion in 2012 and lost to the Lady Cats in 2014 … ECC is back in the championship game for the first time since winning back-to-back titles in 2009 and 2010 … This is the seventh straight season the D9 A title game has featured at least one KSAC team. The last one that didn't was in 2009 when ECC beat Coudersport. The D9 A title has been won by a KSAC team in each of the last four years with Keystone winning in 2012, Clarion in 2013 and 2014 and Venango Catholic last year … This is the first title game that hasn't featured Clarion since 2011 when Coudersport beat Union … Keystone is making its fifth title-game appearance looking for its third championship. The Lady Panthers won the 1978 Class AA title over ECC, 52-40, and also lost the AA title to Port Allegany in overtime in 1987 … ECC has won five D9 titles (1980 in Class AA and 1987, 1989, 2009, 2010 in Class AA). This is the 11th title-game appearance for the Lady Crusaders … This is the second straight year the 11th seed has made the finals. Last year, Clarion fell to fifth-seeded Venango Catholic, 35-22 … ECC was the top seed in the Class A tournament last year but lost to Venango Catholic, 50-39, in the semifinals … This is the first time Keystone and ECC have met in 10 years, since ECC beat Keystone, 59-40, in the 2006 D9 Class A quarterfinals … Both teams are in the PIAA playoffs. The winner plays the fifth-place team out of the WPIAL (District 7), Winchester Thurston, while the loser takes on the third-place team out of District 6, Bishop-Guilfoyle.
KEYSTONE AND ELK COUNTY CATHOLIC D9 CHAMPIONSHIP GAME HISTORY    
KEYSTONE
2014 – Clarion 63, Keystone 42 (Class A)
2012 – Keystone 39, Clarion 25 (Class A)
1987 – Port Allegany 58, Keystone 57, OT (Class AA)
1978 – Keystone 52, Elk County Christian 40 (Class AA)
ELK COUNTY CATHOLIC
2010 – Elk County Catholic 38, West Forest 34 (Class A)
2009 – Elk County Catholic 65, Coudersport 53 (Class A)
2005 – Union 59, Elk County Catholic 49 (Class A)
2002 – Karns City 58, Elk County Catholic 38 (Class AA)
1989 – Elk County Christian 49, Coudersport 44 (Class A)
1987 – Elk County Christian 47, Karns City 35 (Class A)
1983 – Moniteau 56, Elk County Christian 41 (Class AA)
1982 – Brookville 37, Elk County Christian 34 (Class AA)
1980 – Elk County Christian 37, Ridgway 35 (Class AA)
1978 – Keystone 52, Elk County Christian 40 (Class AA)