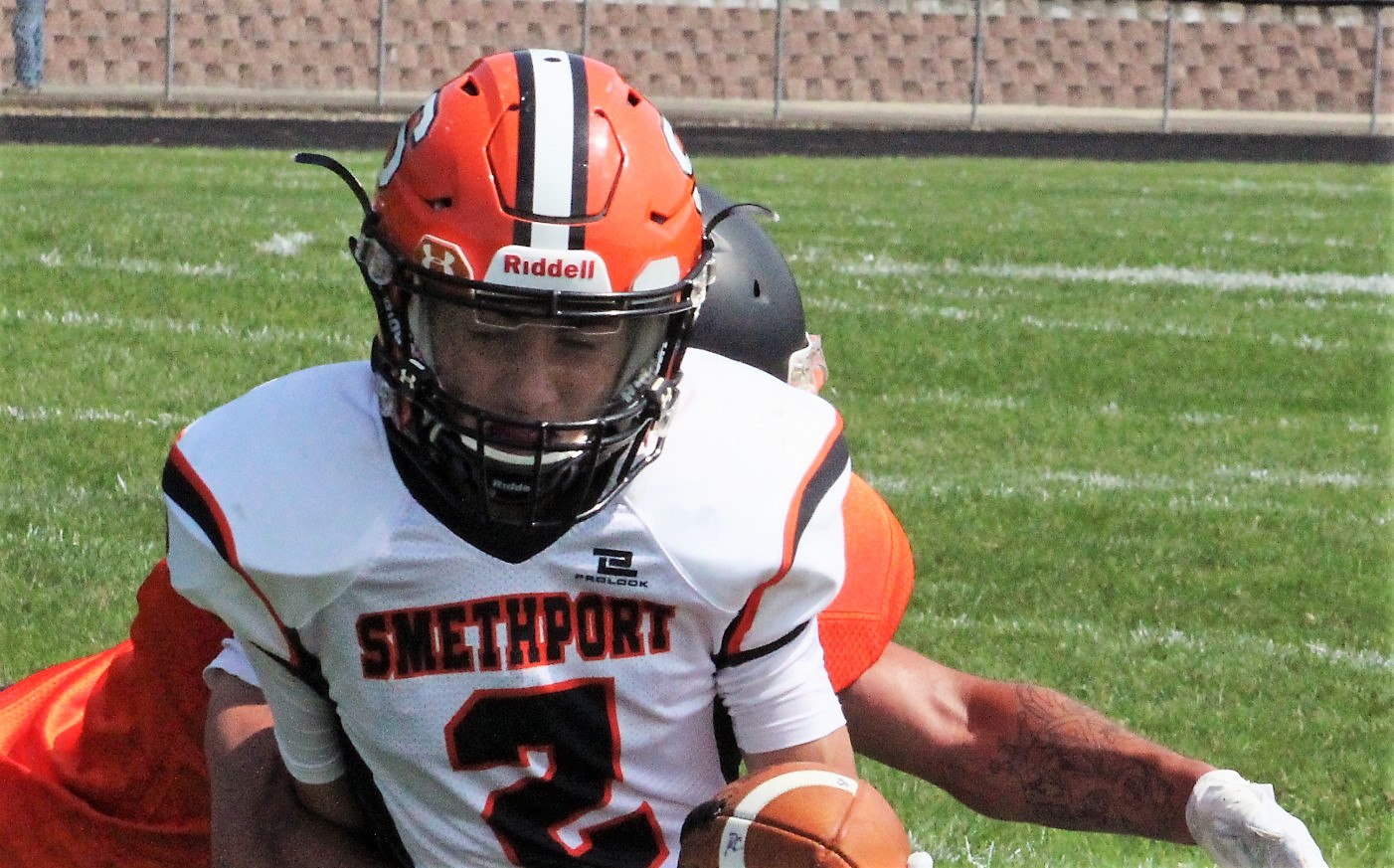 Let the playoffs begin.
(Photo by Kyle Yates www.facebook.com/YatesPhoto)
Seven games involving District 9 teams are on the docket including four Class 1A quarterfinal games, one Class 2A preliminary round matchup and two District 6-9 Class 4A Sub-Regional semifinal games. All but Bradford's trip to Bald Eagle Area High School to play Bellefonte on Saturday are scheduled for Friday night.
Smethport's Bryent Johnson helps lead the Hubbers into Friday's District 9 Class 1A playoff opener at home against Union/A-C Valley. (Photo by Paul Burdick. Check out more of Burdick's work here)
All but two games — the Bradford game and Smethport's matchup with Union/A-C Valley — are rematches from the regular season.
The unbeaten Hubbers (9-0), the top-seeded Class 1A team, opens at home against the No. 8-seeded Falcon Knights (4-6).
After winning six district titles in the 1990s, Smethport looks to end a playoff win drought that's 20 years long with the Hubbers' last win coming over Clarion-Limestone in a 28-14 victory in the 1998 Class 1A Championship game. Since then, they've gone 0-5 with losses in 1999, 2001, 2010, 2012 and 2013.
Senior running backs Blake Kinner and Nathan Hollowell lead the Hubbers. Kinner (87-910, 11 TDs) is nearly 1,000 yards for the season with Hollowell (114-587, 8 TDs) actually getting more carries. Quarterback Grant Ognen (57-for-113, 797 yards, 10 TDs, 3 Ints.) throws enough to be dangerous. Alex Sanderson (25-336, 4 TDs) and Bryent Johnson (18-251, 5 TDs) are his top receivers.
It's the first-ever playoff appearance for the co-operative (merged) Union/A-C Valley program. The Falcon Knights are led by running backs Nolan Cumberland (91-480, 5 TDs) and Jonathan Powell (43-214, 2 TDs), quarterback Luke Bowser (47-for-128, 703 yards, 7 TDs, 10 Ints.) and receivers Tanner Merwin (13-246, 3 TDs) and Caden Rainey (11-242, 1 TD).
In the other Class 1A games, all of them rematches from the regular season, it's Curwensville (6-4) visiting Elk County Catholic (7-2), Redbank Valley (7-3) hosting Coudersport (5-4) and Otto-Eldred (5-5) visiting Clarion-Limestone (8-2).
The lone Class 2A game has Clarion (6-4) hosting Moniteau (6-4).
Both Class 4A Sub-Regional semifinal games involve three D9 teams. It's a rematch between DuBois (4-6) and unbeaten Clearfield (10-0) as the two meet in Clearfield Friday night while the Owls (6-4) head to Wingate to play Bellefonte (8-2) Saturday at 5 p.m.
Here's a closer look at this week's other playoff games:
CLASS 1A
Curwensville (6-4) at ECC (7-2)
Back in the season-opener in August, the Crusaders dealt the Golden Tide a 34-14 loss in Curwensville. The rematch will be at Dutch Country Stadium in St. Marys.
In the first game, the Crusaders outgained the Tide 350-150 as Stephen Bobby ran for 173 yards on 28 carries with three touchdowns. Bobby has kept up that impressive pace as he's rushed for 1,177 yards and 20 touchdowns in nine games. He leads an offense averaging 245 per game on the ground. Hunter Cashmer (44-293, 4 TDs) and John Wittman (16-282, 3 TDs) have gotten carries. Quarterback Mason McAllister (43-for-97, 710 yards, 8 TDs, 10 Ints.) leads the passing game with Alex Breindel (11-194, 2 TDs) his top receiver.
Curwensville's run-first offense is led by Blake Passarelli (157-759, 7 TDs), who ran for 87 yards on eight carries with a touchdown against ECC. Cole Bressler (93-553, 8 TDs) and Avery Francisco (57-316, 4 TDs) also come out of the backfield. Quarterback Noah VanGunden (48-for-116, 679 yards, 6 TDs, 5 Ints.) and receiver Jake McCracken (19-232, 3 TDs) lead the passing offense.
Both teams' last playoff games were losses to Ridgway in the district final. Last year, the Tide fell to the Elkers, 9-7, in the Class 1A final while ECC, not a playoff team last year, fell to Ridgway in the 2016 final, 42-13.
Coudersport (5-4) at Redbank Valley (7-3)
Three weeks ago on the same field in New Bethlehem, the No. 3 seed Bulldogs rallied from a 27-21 deficit in the third quarter by scoring 20 unanswered points for a 41-27 win. That ended a three-game losing streak for the Bulldogs, who have won three straight.
Hunter Wiles ran for a career-high 207 yards and three touchdowns last week's 54-27 win over the Chucks. He's up to 801 yards and eight TDs for the season.
Other key players for the Bulldogs are running backs Hunter Buzard (21-216, 4 TDs) and Travis Crawford (80-378, 5 TDs). Quarterback Keaton Kahle is a dual threat, ranking third on the team with 470 yards and four TDs. Kahle (104-for-175, 15 TDs, 6 Ints.) stands at 1,376 yards passing for the season. Ethan Hetrick (33-472, 7 TDs), Buzard (20-403, 3 TDs) and Hunter Martz (40-362, 4 TDs) are the top receivers.
Coudersport had a week off since losing 21-20 to Smethport in a game that decided the Small School North title. Senior Stephen Kelly has rushed for 1,071 and 17 TDs. Quarterback Hayden Keck, who's thrown just 53 passes, has completed 22 for 431 yards. He's also rushed for 369 yards and nine TDs.
In their first meeting, the Bulldogs outgained the Falcons, 450-313. Kahle threw for 191 yards and two TDs while rushing for 59 yards. Ethan Hetrick caught nine passes for 111 yards and Wiles ran for 165 yards on 22 carries with three touchdowns. Kelly ran for 170 yards and all four touchdowns for the Falcons.
It's the second time these teams have met in the playoffs. The Bulldogs beat the Falcons, also at home, back in 2015 with a first-round 24-16 win.
Otto-Eldred (5-5) at C-L (8-2)
The first time the teams met in Duke Center back on Sept. 29, the Lions blasted their way to a 74-34 win over the Terrors. Despite scoring 44 points in the first half, the Lions didn't pull away and turn on the Mercy Rule running clock until scoring the game's final 30 points.
In a 593-yard performance, Austin Newcomb ran for 265 yards and scored five touchdowns. That sounds just about right lately for the Lions junior, who is up to 2,172 yards rushing with 28 touchdowns on the ground and 36 overall. That's over half of the Lions' 63 TDs.
Ayden Wiles has rushed for 979 and 16 touchdowns. Quarterback Colby Himes as thrown for 986 yards and 11 TDs, five of them to Newcomb who also leads the team with 23 catches for 553 yards.
The Terrors had to hold off winless Cowanesque Valley 28-24 last week to secure a playoff berth. Sophomore Cole Sebastian (148-for-243, 1,829 yards, 20 TDs, 13 Ints.) can get over 2,000 passing yards for the season. He's also the second-leading rusher at 317 yards behind Coltin Gietler (68-337, 4 TDs).
Sebastian's top receivers are Chris Connelly (29-513, 3 TDs), brother Chase Sebastian (33-467, 7 TDs) and Gietler (16-199, 2 TDs).
It's the second playoff meeting between the teams. The Lions beat the Terrors also at home, 26-16, in the 2016 quarterfinals.
CLASS 2A
Moniteau (6-4) at Clarion (6-4)
The fourth-seeded Bobcats' late-season stumble with four straight losses is historic, considering that they haven't lost that many in a row since 1993. They'll try to right the ship in their preliminary round matchup with No. 5 seed Moniteau.
Last year's defending Class 2A champion beat Moniteau in the second game of the year, 34-14. The Bobcats outgained the Warriors, 350-276, as Cutter Boggess ran for 103 yards on 15 carried with a touchdown. Quarterback Archer Mills completed 9 of 14 passes for 179 with four TD strikes, three of them to Sam Minich, who caught four passes for 91 yards.
For the season, the Bobcats are quite balanced with Mills (90-for-142, 1,181 yards, 14 TDs, 7 Ints.) and the passing game pretty much balancing a running attack that has five different runners over 200 yards, led by Logan Minich (87-490, 5 TDs), Sam Minich (45-336, 5 TDs) and Boggess (81-323, 2 TDs). Sam Minich (46-752, 12 TDs) is Mills' top receiving target.
The Warriors haven't won a playoff game since their 17-6 decision over St. Marys in the 2015 Class 2A semifinals. They've won three in a row since back-to-back losses to Brookville and Brockway. In the loss to Clarion, quarterback Chance Nagy completed 5 of 15 passes for 64 yards with an interception while running for 67 yards on 12 carries. Cody Wise ran for 108 yards on 15 carries with a touchdown.
Nagy has thrown for 430 yards with two TDs and eight interceptions while running for 636 yards and eight TDs. Wise is over 1,000 yards now, with 1,189 yards and seven TDs.
CLASS 4A
DuBois (4-6) at Clearfield (10-0)
The Beavers and Bison meet in the postseason for the first time since 1993 when both were Class 4A teams. The Beavers beat the Bison back-to-back years, 14-10 in 1993 and 28-20 in 1992 and after their last title in 1995 in a win over Punxsutawney, the Beavers have won one playoff game, a District 6-9 semifinal victory over Hollidaysburg in 1996. Since then, they've dropped 13 straight playoff games.
They'll have to reverse their season-opening 28-3 loss to the Bison, who outgained the Beavers 304-263. The Beavers' win over Brookville last week led to them accepting the No. 4 seed for the District 6-9 Sub-Regional playoffs.
Beavers quarterback Eric Schneider ran for 221 yards on 32 carries with a touchdown last week against the Raiders. He's up to 722 yards for the season. He's completed 37 of 75 passes for 361 yards as Alex Kovalyak (64-for-138, 1,024 yards, 8 TDs, 8 Ints.) has also taken snaps.
Dylan McCluskey, who booted three field goals last week, has rushed for 394 yards and six TDs. Tight end Chase Husted (39-594, 3 TDs) is the top receiver.
Clearfield, which completed its first unbeaten regular season since 2013 and ninth overall in program history, is gunning for its first Sub-Regional title since that 2013 season when it reached the PIAA quarterfinals. The Bison have lost four of six playoff games since, including twice in the championship game.
Senior quarterback Isaac Rumery has turned in a strong season so far, throwing for 2,080 yards on nearly a 70 percent completion rate (97-for-139) with 24 touchdowns against just two interceptions.
Rumery, now with 6,689 career passing yards, went by Smethport's Mike DeFilippi (1999 senior year, 6,648 yards) on the district's all-time list and has a chance to become the fifth D9 quarterback to reach the 7,000-yard milestone. The top four are Port Allegany's Matt Bodamer (10,948), Brockway's Derek Buganza (9,752), and DuBois' Matt Miller (8,048) and Gabe French (7,940).
Rumery has also rushed for 418 yards and seven TDs while ranking sixth on defense in tackles per game.
Brett Zattoni (125-780, 11 TDs) and Caleb Freeland (98-723, 17 TDs) lead a balanced Bison running game as part of an incredibly efficient and balanced offensive attack — 2,282 yards rushing and 2,143 yards passing this year. Jake Lezzer (38-857, 8 TDs) and Taye Lynch (34-771, 12 TDs) are the leading receivers.
Bradford (6-4) vs. Bellefonte (8-2), at Bald Eagle Area H.S.
It's a Saturday at 5 p.m. kickoff for the No. 3 seed Owls, who face the No. 2 seed Red Raiders, who've been trying to get on their own newly-turfed field this fall, but will play on the turf at nearby Bald Eagle Area High School in Wingate.
The Owls haven't won a playoff game since winning back-to-back district titles in 2006 and 2007. They've lost three since, including last year's 35-13 playoff loss to Johnstown.
They'll try to rebound from last week's 40-0 loss to Oil City. Senior running back Donny Pattison (151-1,414, 17 TDs) leads the Owls' run-oriented offense. Jaren Ambrose (78-608, 9 TDs) and Derek Sunafrank (53-374, 3 TDs) also get carries.
Bellefonte's losses came in back-to-back weeks to Clearfield (49-21) and Penns Valley (42-27) and it's won three in a row since. The defending sub-regional champs are mostly a running team with 1,000-yard rusher C.J. Funk (156-1,363, 16 TDs) leading the way. Quarterback Kyle Myers (76-for-134, 906 yards, 11 TDs, 2 Ints.) is also the team's second-leading rusher with 495 yards and three TDs.
Trey Bauman (31-423, 4 TDs) and Noah Badger (28-367, 7 TDs) are the leading receivers