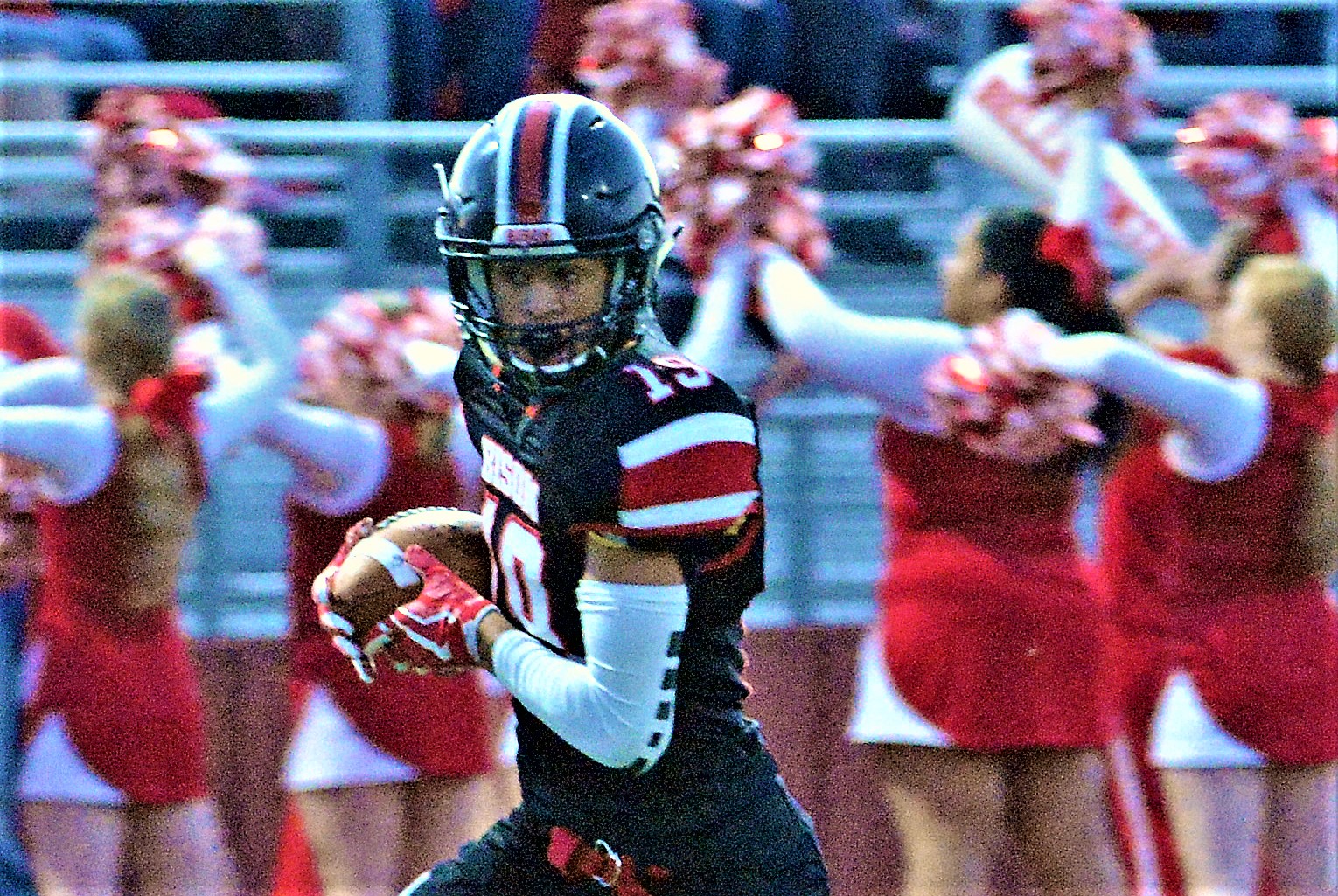 With just three of the 13 games on this week's District 9 football schedule featuring two teams with winning records, the list of games to watch is obviously short.
(Taye Lynch helps lead the Bison into their battle of unbeatens at Bald Eagle Area Friday night. Photo by Logan Cramer III)
That list is headed by a battle of 7-0 teams in the Mountain League as the Clearfield Bison travel to Bald Eagle Area. The other two have Bradford (4-3) hosting Clarion (6-1) in the Large School Division and Coudersport (5-2) traveling to Redbank Valley (4-3) in a Small School Division crossover matchup.
In the Mountain League, it's just the Bison and Eagles at the top with perfect records, BEA at 6-0 and Clearfield at 5-0. Bellefonte and Penns Valley are tied for third at 3-2.
The two share four common opponents thus far. Clearfield has beaten Penns Valley (56-42), Central-Martinsburg (42-14) and Huntingdon (42-21) and Tyrone (35-7) last week. BEA has done the same to Penns Valley (49-28), Central-Martinsburg (54-28), Tyrone (35-0) and Huntingdon (30-7).
Bison quarterback and Penn State commit Isaac Rumery broke Chad Kroell's school record for passing yards and became a member of the 6,000-yard passing club in D9. Now at 6,102 yards, he trails Port Allegany's Matt Bodamer (10,948), Brockway's Derek Buganza (9,752), DuBois' Matt Miller (8,048) and Gabe French (7,940), and Smethport's Mike DeFilippi (6,638). Kroell was at 6,088 yards.
For the year, Rumery has completed 79 of 114 passes for 1,493 yards with 16 touchdowns and one interception. His main receiving targets are Jake Lezzer (33-717, 7 TDs) and Taye Lynch (24-472, 7 TDs). The Bison, scoring 42.7 points per game, aren't just a passing team and have rushed for more slightly more yards than passing as Brett Zattoni (97-559, 7 TDs), Caleb Freeland (74-504, 12 TDs) and Rumery (58-366, 6 TDs) share the workload on the ground.
BEA, which has scored two points less than the Bison, run a dynamic offense as well with a bit more passing as junior Jaden Jones (101-for-151, 1,684 yards, 20 TDs, 7 Ints.) runs the unit. He has four receivers over 300 yards — Gage McClenahan (22-410, 4 TDs), Kaden Bittinger (21-385, 5 TDs), Mathew Reese (20-322, 2 TDs) and Nick Turner (17-317, 4 TDs).
Blake Roberts (66-473, 5 TDs), McClenahan (50-324, 3 TDs) and Jones (58-206, 6 TDs) are the leading rushers.
Clearfield's seven-game winning streak over BEA was snapped last year when the Eagles won 25-22 on their way to a 4-7 season. The Bison have won 16 of 19 against the Eagles since 1996.
In Bradford, the Bobcats try to rebound from their first loss last week to Ridgway and take on the Owls. In their 28-15 loss to Ridgway, the Bobcats gave up more points than the previous four games. Offensively, the Bobcats are led by quarterback Archer Mills (63-for-98, 958 yards, 13 TDs, 5 Ints.), running backs Logan Minich (75-414, 4 TDs), Sam Minich (34-293, 4 TDs) and Cutter Boggess (59-253, 2 TDs). Sam Minich (31-588, 10 TDs) is team's top receiver.
The Owls, who lost to Ridgway 28-7 earlier this year, won their second straight game in a 34-14 win over Punxsutawney last week. They average over 300 yards per game rushing, led by Donny Pattison, who went over 1,000 yards last week. He's at 1,026 yards on just 98 carries (10.5 per attempt) with 13 touchdowns. Jaron Ambrose (56-527, 7 TDs) also has solid numbers out of the backfield.
The Bulldogs and Falcons meet for the first time since the 2015 Class 1A playoffs when the Bulldogs won the first-round matchup at home, 24-16. Coudersport, after routing Otto-Eldred last week, is looking to keep its momentum going as next week's showdown with unbeaten Smethport will decide the Small School North Division title.
Running back Stephen Kelly ran for 179 yards on 28 carries in the win over the Terrors and he's up to 778 yards and 12 touchdowns for the season. Redbank Valley will certainly have to deal with a Falcons offense that's thrown the ball just 32 times in seven games.
For the Bulldogs, who beat Otto-Eldred 31-8 earlier this year, they'll try to stop a three-game slide. Keaton Kahle (72-for-124, 926 yards, 8 TDs, 6 Ints.) is second on the team in rushing at 328 yards with three TDs. Hunter Wiles (68-429, 2 TDs) is the leading rusher while Hunter Martz (30-302, 3 TDs), Hunter Buzard (22-263, 1 TD) and Ethan Hetrick (17-231, 3 TDs) are the top receiving targets.
In other games in the Large School Division, first-place Ridgway (7-0) hosts Karns City (3-4), St. Marys (0-7) travels to Moniteau (3-4), Brookville (4-3) treks to Kane (1-6) and Brockway (5-2) hosts Punxsutawney (2-5).
The other Small School games have unbeaten Smethport (7-0) hosting Keystone (3-4), Clarion-Limestone (5-2) hosting Port Allegany (1-6), Sheffield (0-7) traveling to Elk County Catholic (5-2) and Union/A-C Valley (3-4) visiting Cameron County (1-6) on Friday night. The only Saturday game this week has Otto-Eldred (3-4) hosting Curwensville (5-2).
DuBois (2-5) hosts Meadville (0-7) in a District 10 Region 7 game.
Here's a closer look at this week's other games:
Large School
Karns City (3-4) at Ridgway (7-0)
After winning the battle of unbeatens in last week's 28-15 decision at Clarion, the Elkers return home and host the Gremlins.
Once again, the defensive effort of the Elkers shone through in last week's key win as they still won despite just 171 yards of offense against the Bobcats, who managed 207. Daunte Allegretto intercepted two passes and he's up to six picks for the season. Robert Briggs had 11 tackles and leads the team at eight stops per game. Damon Kelley added a sack to his team-leading total of nine.
Offensively, the Elkers are led by quarterback Paul Gresco (59-for-85, 782 yards, 9 TDs, 2 Ints.) and running backs Evan Furlong (57-355, 3 TDs), Gabe Watts (40-332, 5 TDs), Jake Wickett (50-316, 6 TDs) and Cole Secco (28-263, 2 TDs). Austin Green (12-192, 4 TDs) and Isaac Schloder (14-147) are the top receivers.
After losing four of their first five games, the Gremlins have posted 96 points in routs of St. Marys and Kane (43-7) last week. Hunter Jones had his fourth 100-yard rushing game of the season with 103 on 17 carries and he's up to 781 yards on 104 carries with 10 touchdowns for the season.
Quarterback Anthony Kamenski has completed 39 of 86 passes for 526 yards with four TDs and four interceptions.
Punxsutawney (2-5) at Brockway (5-2), 7:30 p.m.
The Rovers ended a two-game losing streak with a 31-12 win at home against Moniteau last week. Brockway did most of its damage in the air last week as quarterback Peter Downer (64-for-142, 1,121 yards, 10 TDs, 5 Ints.) went over 1,000 passing yards for the season. Tyler Serafini (128-679, 1 TD) and Jon Wood (44-289, 2 TDs) lead the Rovers' running game.
Punxsutawney has lost three straight, including 34-14 last week to Bradford. Quarterback Dylan Ishman threw for a season-high 239 yards against the Owls, putting him over the 3,000-yard milestone at 3,163. He's up to 845 yards for the season, completing 69 of 146 with 10 TDs and six interceptions. Carter Newcome (31-382, 3 TDs) and Alex Gianvito (15-203, 4 TDs) are his top receivers. Connor Giavedoni (53-230, 1 TD) leads the Chucks' running game.
Brookville (4-3) at Kane (1-6)
The Raiders head to Kane in their first meeting with the Wolves since the 2012 and 2013 playoffs, both of them at Kane. Not annual foes since the 1950s, the Raiders haven't won in Kane since a 15-0 win back in 1956.
The Raiders saw quarterback Jack Krug return and play a half in last week's win at St. Marys. He threw for 307 yards and five touchdowns. Cabe Park caught six passes for 286 yards and four touchdowns, upping his season totals to 44 catches for 1,044 yards and 15 TDs. Bryan Dworek (36-429, 3 TDs in 4 games) and Ian Thrush (18-460, 7 TDs) complete a trio of dangerous receivers for the Raiders.
Kane, coming off a 43-7 loss to Karns City, had Jake Alcorn filling in for Zuke Smith at quarterback and he ran for 79 yards on 18 carries while going 3-for-12 for 11 yards passing. Aiden Hulings ran for 52 yards on 16 carries.
St. Marys (0-7) at Moniteau (3-4)
The Warriors return home trying to stop a two-game losing streak from road trips to Brookville and Brockway last week. Despite running for a season-high 334 yards against the Rovers, four turnovers helped derail things in a 31-12 loss. Quarterback Chance Nagy ran for 180 yards and Cody Wise added 96. Those two lead the running game with Wise at 584 and Nagy at 504 while completing 30 of 77 passes for 378 yards to go along with two TD passes and seven interceptions.
St. Marys got out of the gate against Brookville well enough, but couldn't keep up with the shootout start in a 63-32 loss. Jackson McClain ran for a career-high 161 yards on 18 carries. For the year, the Dutch running game is led by Devin McGrath (63-300, 2 TDs) and Cody Ritter (65-293, 1 TD). Quarterback Todd Taylor has completed 44 of 92 passes for 521 yards with five TDs and three interceptions.
SMALL SCHOOL CROSSOVER
Keystone (3-4) at Smethport (7-0)
The Hubbers prep for next week's divisional showdown with Coudersport by hosting the Panthers. Smethport breezed by Cameron County last week in a 56-6 win as Blake Kinner ran for 150 yards on just five carries. For the year, he's up to 782 yards on just 64 carries with 10 TDs. Nathan Hollowell had 405 yards rushing going into the Red Raiders game and ran for his seventh touchdown of the season.
Keystone lost 12-8 to Union/A-C Valley last Thursday night at home. The Panthers are led by quarterback Isaak Jones (61-for-123, 1,061 yards, 10 TDs, 8 Ints.; 53-269, 4 TDs rushing), running back Nick Weaver (72-312, 4 TDs) and Jayden Blazosky (18-290, 3 TDs).
Port Allegany (1-6) at C-L (5-2)
The Lions host the Gators, who are coming off their first win of the season in last week's 30-12 win over Sheffield. The Lions lost Austin Newcomb to an injury in the second quarter in last week's loss to Elk County Catholic and his status isn't certain. He's rushed for 1,247 yards and 13 TDs while teammate Ayden Wiles is up to 651 yards and 11 TDs.
The Gators went into last week's game with 36 points scored and scored all of last week's points in the second quarter. Quarterback Trey Ayers threw two TD passes to Isaac Smoker while Josh Rees ran for 155 yards on 28 carries. Ayers completed 12 of 23 passes for 123 yards.
Sheffield (0-7) at Elk County Catholic (5-2)
The Crusaders look for their fifth straight win, coming off a big 26-16 win at C-L last week and they can sew up the Small School South title next week at Keystone. They'll face the Wolverines, who dropped a 30-12 decision at Port Allegany in a battle of winless teams last week.
The Crusaders have given up just four touchdowns in the past four weeks while Sheffield has managed just 30 points all season, 12 of them last week. Stephen Bobby is the Crusaders' workhorse out of the backfield. He's run for 875 yards on 149 carries with 14 TDs. Mason McAllister has thrown for 521 yards and five TDs.
Steve Lojewski threw a 61-yard TD pass to Cade Smead and Christian Richetti ran for a score in the Wolverines' loss to the Gators.
Union/ACV (3-4) at Cameron County (1-6)
The Falcon Knights are looking for their third straight win against the Red Raiders, who have scored 18 points this year. It would be the first three-game winning streak in the third year of the co-operative.
Quarterback Luke Bowser (30-for-88, 458 yards, 5 TDs, 7 Ints.), running back Cumberland (68-317, 5 TDs) and receiver Tanner Merwin (10-173, 2 TDs) lead the Falcon Knights.
Connor Nolan threw a TD pass to Nick Peters for the Red Raiders' lone score last week in their loss to Smethport.
Curwensville (5-2) at Otto-Eldred (3-4), Saturday, 6:30 p.m.
It's another Saturday night special in Duke Center between teams going in the opposite directions. The Tide won their third straight game in last week's 37-21 win at home against Redbank Valley while the Terrors dropped their third straight in a 47-6 loss to Coudersport, which lost 14-6 at home to Curwensville two weeks ago.
The Tide ran for a season-high 243 yards last week, which is a good sign for them considering they've only thrown 78 passes in seven games. Blake Passarelli ran for a career-high 135 yards on27 carries with three TDs. He's up to 492 yards and five TDs for the season with Cole Bressler nearby at 405 and four TDs.
Otto's only touchdown against Coudersport came on Colton Gietler's 81-yard kick return. It was limited to just 43 yards of offense, including minus-7 yards rushing. Cole Sebastian went into the game with 1,276 yards passing and 16 TDs while leading the team in rushing with 208 yards.
District 10 Region 7
Meadville (0-7) at DuBois (2-5)
The Beavers try to end a three-game losing streak at home against the winless Bulldogs, who have given up 50 or more points in their last two games to Oil City (58-8) and Franklin (55-34). The Beavers lost to Oil City (55-12) three weeks ago after beating Franklin (28-25).
Since beating the Beavers in their epic 107-90 scoring-fest in early 2015, the Bulldogs have beaten the Beavers 52-26 and 55-21 since. But this year looks to be different as the Bulldogs can't buy a win. They also lost 18-12 to Fort LeBoeuf, which just beat the Beavers 18-10 last week.
Meadville runs mostly, with seven different runners going for 100 or more yards, led by Keveaun McCray's 378 yards on 35 carries.
In six games at quarterback, the Beavers' Alex Kovalyak is nearing 1,000 yards for the season, completing 60 of 128 passes for 948 yards with seven touchdowns and six interceptions. Dylan McCluskey (66-294, 4 TDs) and Eric Schneider (65-280) are the team's top rushers. Chase Husted (32-462, 2 TDs) is the leading receiver.