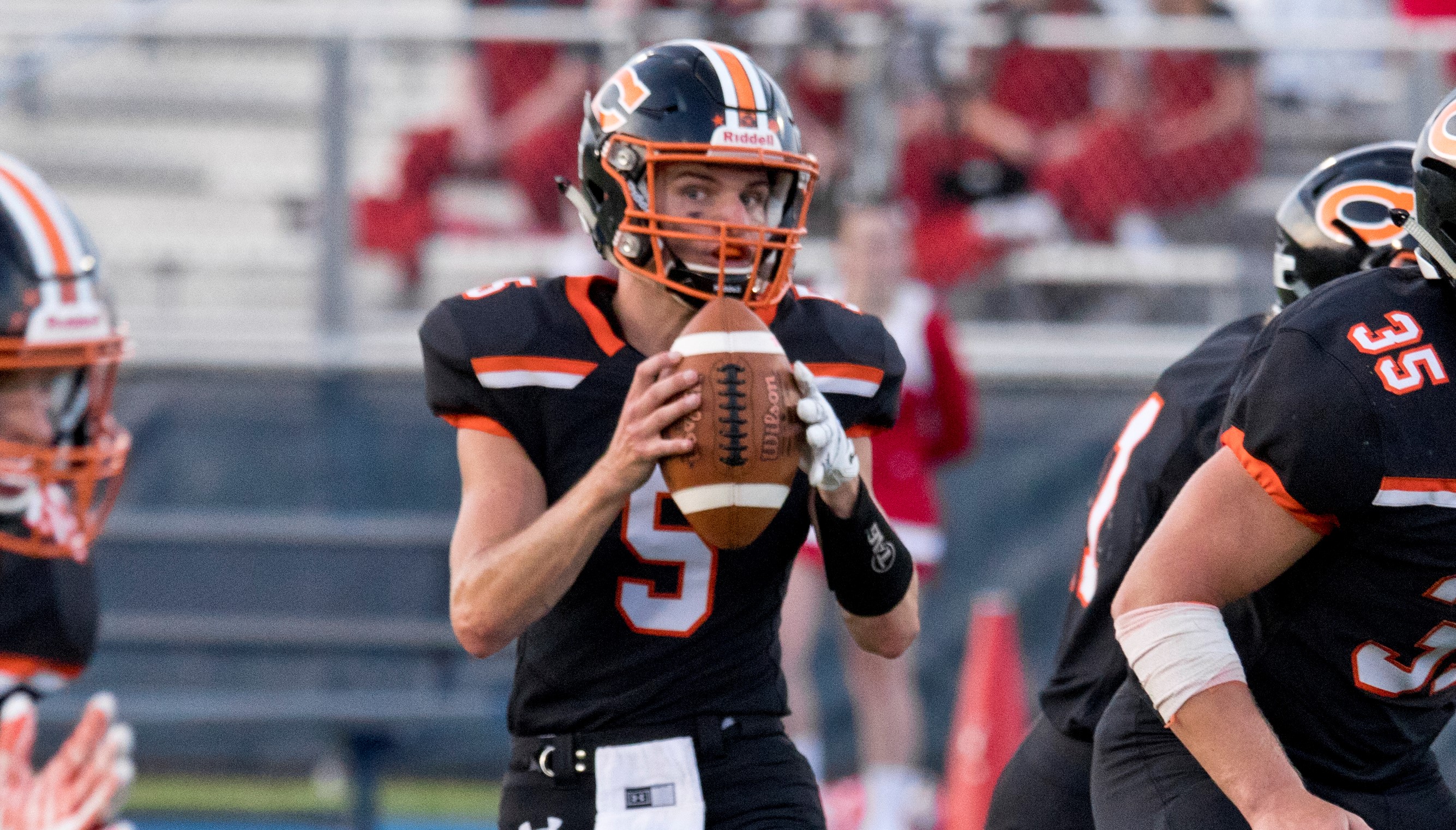 It's an undefeated battle at the top of the Large School Division standings Friday night at Clarion University's Memorial Stadium.
Clarion's Archer Mills helps lead the Bobcats into their Friday night showdown with fellow unbeaten Ridgway. (Photo by Kyle Yates www.facebook.com/YatesPhoto)
And it's a showdown of two reigning District 9 champions as well as Clarion hosts Ridgway. Both teams head into the game sharing 6-0 records with a two-game lead over third-place Brockway.
The Bobcats won last year's Class 2A title while Ridgway won the Class 1A crown and the new PIAA cycle now has the Elkers up a class this year.
So while the playoff matchups are coming, the battle for the division title may come down to this one. Not that either remaining schedule is a cakewalk as the Elkers host Karns City and travel to Brookville after this week to finish divisional play while the Bobcats travel to Bradford and host Brockway.
The Bobcats put their 18-game regular-season winning streak on the line against the Elkers, who are off to a strong start as well.
For Clarion, it's a fairly balanced offense at 349 yards per game — 202 rushing, 147 passing — as quarterback Archer Mils (52-for-77, 840 yards, 13 TDs, 3 Ints.) has been efficient. Logan Minich (59-374, 3 TDs), Sam Minich (29-270, 4 TDs) and Cutter Boggess (59-253, 2 TDs) make up most of the running game. Sam Minich is also the top receiving threat at 25 catches for 495 yards and 10 of Mills' 13 TD passes.
Defensively, Camden Boggess (7.8), Sam Minich (7.5) and Nick Porcello (7.0) are the leading tacklers for a Bobcats unit that's given up seven touchdowns in their six games. Boggess and Porcello each made three sacks while Mills has three interceptions.
The Elkers have very similar offensive numbers, averaging 358 yards per game — 221 rushing, 137, passing — with a quarterback that's put up nearly the same numbers as Mills in junior Paul Gresco (53-for-72, 724 yards, 9 TDs, 2 Ints.). And it's four backs sharing carries with Evan Furlong (49-325, 2 TDs), Gabe Watts (33-310, 3 TDs), Jake Wickett (41-267, 6 TDs) and Cole Secco (28-263, 2 TDs). Isaac Schloder (14-147, 2 TDs), Furlong (12-76) and Austin Green (10-180, 3 TDs) are the top receivers.
Furlong (8.2), Ryan Briggs (7.5) and Damon Kelley (6.5) lead the Elkers in tackles per game. Kelley has a team-high eight sacks while Daunte Allegretto has four interceptions.
Like Clarion, the Elkers have given up seven touchdowns in six games.
They share four common opponents and are strikingly similar results. The Bobcats have beaten Moniteau (34-14), Punxsutawney (40-6), St. Marys (42-0) and Kane (35-7). The Elkers have beaten Moniteau (36-14), Punxsutawney (42-16), St. Marys (42-0) and Kane (34-6).
Thursday Night Football: Union/ACV at Keystone
It's Autumn Leaf Festival week and although the Keystone Shortway Athletic Conference was dissolved in football, there will still be a Thursday night matchup tonight between former KSAC foes.
Keystone (3-3) hosts Union/A-C Valley (2-4) in a Small School South Division matchup with a 7 p.m. kickoff. While neither team is in the divisional title race, both are still trying to bolster their records to land in the District 9 Class 1A and 2A playoffs.
In Class 1A, the Falcon Knights currently hold the eighth and final playoff spot in the points standings. However, they'll likely need a .500 record or close to it when it comes to accepting the bid.
Keystone, even though it's playing a Class 1A schedule, is a Class 2A team and it's sitting in the No. 6 spot in a playoff field that could include up to all eight teams in Class 2A. But, it's likely that the Panthers will need at least another win to bolster their postseason resume. They too can elect to accept or decline a playoff berth.
Quarterback Luke Bowser (27-for-77, 416 yards, 4 TDs, 7 Ints.), running back Nolan Cumberland (60-311, 5 TDs), receiver Tanner Merwin (9-153, 1 TD) and Caden Rainey (512 all-purpose yards) lead the Falcon Knights.
For Keystone, quarterback Isaak Jones (51-for-100, 840 yards, 10 TDs, 5 Ints.) is also the second-leading rusher (43-240, 3 TDs) behind Nick Weaver (51-245, 4 TDs). Jayden Blazosky (17-252, 3 TDs) is the team's top receiver.
On to Friday
With the exception of the Thursday night Union/ACV at Keystone game and Saturday's Sheffield at Port Allegany game, the rest of the schedule is Friday night. In other Large School games, Moniteau (3-3) travels to Brockway (4-2), Punxsutawney (2-4) hosts Bradford (3-3), Brookville (3-3) visits St. Marys (0-6) and Karns City (2-4) hosts Kane (1-5).
The Small School schedule is entirely divisional this week with a key game in the North Division with Otto-Eldred (3-3) visiting Coudersport (4-2). The Falcons are 3-0 in divisional play while the Terrors are 2-1. Unbeaten Smethport (6-0) visits Cameron County (1-5).
In the South, the top four teams in the division match up against each other as Clarion-Limestone (5-1), the lone unbeaten team in divisional play, hosts Elk County Catholic (4-2) while Redbank Valley (4-2) travels to Curwensville (4-2).
In the Mountain League, first-place Clearfield (6-0) visits Tyrone (4-2) while in District 10 Region 7, DuBois (2-4) heads to Erie County to face Fort LeBoeuf (4-2).
Here's a closer look at this Friday's games:
MOUNTAIN LEAGUE
Clearfield (6-0) at Tyrone (4-2)
Rumery on verge of record, milestone
Bison senior quarterback Isaac Rumery committed to Penn State earlier this week. He's having another strong season, completing almost 69 percent of his passes (66-for-96) for 1,303 yards with 14 touchdowns against just one interception. He's also run for 327 yards and six TDs.
Rumery is poised to get over 6,000 career passing yards this week. He stands at 5,912 with 66 career TD passes. That gets him to within 176 yards of tying the all-time leading Bison passer and fellow Penn State recruit Chad Kroell.
Overall, Rumery looks to be the seventh D9 quarterback to reach the 6,000-yard milestone. Here is the all-time leaderboard.
Rumery has help on the offense with running backs Brett Zattoni (79-476, 5 TDs) and Caleb Freeland (66-433, 11 TDs), and receivers Jake Lezzer (28-658, 7 TDs) and Taye Lynch (20-406, 6 TDs).
Tyrone started 4-0 before losing two straight to Bald Eagle Area (35-0) last week and Bellefonte (31-14) two weeks ago. The Bison beat Bellefonte, 49-21, last week.
Quarterback Denver Light (56-for-111, 795 yards, 9 TDs, 2 Ints) and running back Zac Albright (114-598, 5 TDs) lead the Golden Eagles offense.
LARGE SCHOOL
Moniteau (3-3) at Brockway (4-2)
The Rovers look to end their two-game losing streak at home against the Warriors, who beat Bradford 12-7 at home two weeks ago. Brockway dropped a 34-13 at Bradford last week.
The Rovers' running game is led by Tyler Serafini (115-668, 1 TD). Quarterback Peter Downer (52-for-117, 901 yards, 8 TDs, 5 Ints.) is close to going over 1,000 yards for the season.
Cody Wise (76-487, 2 TDs), quarterback Chance Nagy (52-324, 6 TDs) and Nick Martino (67-222, 4 TDs) pace the Moniteau running game.
These teams haven't met in the regular season since Brockway left the KSAC after the 1998 season. Their last matchup came in the 2009 Class 2A playoffs when the Rovers beat the Warriors, 37-20.
Brookville (3-3) at St. Marys (0-6)
The Raiders head to Elk County to face the Flying Dutchmen, who haven't won a game since beating the Raiders back in 2016, or 17 straight losses.
Sophomore Robert Keth nears 1,000 yards passing going into what could be his fourth start while starter Jack Krug appears to be nearing a return to the lineup from his broken collarbone injury suffered in the team's second game against Brockway. Keth has thrown for 964 yards, completing 57 of 93 passes with 10 touchdowns and five interceptions.
The Raiders' top receivers are Cabe Park (38-772, 11 TDs), Bryan Dworek (29-323, 1 TD), Ian Thrush (18-460, 7 TDs) and Kyle MacBeth (11-108).
Dutch quarterback Todd Taylor (26-for-76, 420 yards, 3 TDs, 2 Ints.) and running back Cody Ritter (59-236, 1 TD) lead the team's offense.
Kane (1-5) at Karns City (2-4)
The Gremlins are coming off a much-needed rout of St. Marys last week to stop a three-game losing streak. Hunter Jones continues to run well, leading last week's charge with 144 yards on 18 carries.
For the season, Jones has rushed for 678 yards on 87 carries with eight touchdowns.
The Wolves, 35-7 losers at Clarion last week, beat Punxsutawney 22-0 for their lone win two weeks ago. The Gremlins beat the Chucks, 42-22, in their second game of the year.
Karns City beat Kane, 49-21, the last time these teams met in 2013 Class 2A Championship game.
Bradford (3-3) at Punxsutawney (2-4)
It's the first matchup between these former District 9 League rivals since 2007, the last year of the league and the Owls won that one, 49-13.
The Owls are coming off a solid 34-13 win over Brockway, ending a two-game losing streak. They racked up 361 yards on the ground against the Rovers, led by Donny Pattison's 194 yards and Jaron Ambrose's 140 yards. For the season, Pattison (80-817, 11 TDs) is averaging over 10 yards per game as he nears the 1,000-yard mark. Ambrose (43-349, 5 TDs) has good numbers as well as the second option. Quarterback Nathan Blauser (22-40, 350 yards, 3 TDs, 2 Ints.) did not play in last week's game.
The Chucks have lost two straight, including last week's 42-16 rout by Ridgway. They're led by quarterback Dylan Ishman (48-for-105, 8 TDs, 5 Ints.), Connor Giavedoni (45-227, 1 TD) and receiver Carter Newcome (19-257, 1 TD).
SMALL SCHOOL NORTH
Otto-Eldred (3-3) at Coudersport (4-2)
The Falcons are at home against the Terrors trying to keep pace with Smethport in divisional play. Both are 3-0 with the Terrors at 2-1.
Both teams are coming off losses. The Falcons lost their second game in three weeks with a 14-6 setback at home against Curwensville while the Terrors were outgunned 74-34 at home against C-L.
Stephen Kelly scored the Falcons' lone touchdown in last week's loss to the Tide. He went into the game as the team's top rusher with 531 yards.
For Otto-Eldred, the Terrors put up some big passing numbers against the Lions, but couldn't stop C-L's running game. Cole Sebastian (106-for-161, 1,276 yards, 16 TDs, 8 Ints.) threw for 270 yards and four TDs. His top receiver Cameron Magee (29-311, 6 TDs) left the game early with an injury. He's also found four other receivers with double-figure catches, led by his brother Chase Sebastian (22-288, 5 TDs) and Chris Connelly (19-379, 2 TDs).
The Terrors have beaten the Falcons the last two games, 24-8 last year and 24-14 in 2016.
Smethport (6-0) at Cameron County (1-5)
The unbeaten Hubbers roll into Emporium Friday night against the Red Raiders, coming off another solid victory with a 20-7 decision at home against Redbank Valley.
Running backs Blake Kinner (60-633, 8 TDs) and Nathan Hollowell (90-401, 6 TDs) lead the Hubbers offense.
The Red Raiders, meanwhile, were shut out four the fourth straight game and have gone scoreless in 16 straight quarters. They've scored just one touchdown all season in a 58-6 loss to Curwensville in their second game.
Sheffield (0-6) at Port Allegany (0-6), 2 p.m. Saturday
It's a battle of winless teams as the Gators and Wolverines clash in Port Allegany.
Sheffield has been blanked in its last three games and four of its six games overall and have scored just two touchdowns all year, taking a 12-quarter scoreless streak into the game. Port Allegany has scored 24 of its 36 points in a 42-24 loss to Keystone with two touchdowns in its other five games, including a game-opening TD in last week's 34-6 loss at Union/ACV.
The Gators have lost eight straight, the Wolverines 16.
SMALL SCHOOL SOUTH
Elk Co. Catholic (4-2) at C-L (5-1)
The first-place Lions try to hold their spot by themselves against the Crusaders.
Lions junior Austin Newcomb is on a tear as he's coming off his D9Sports.Com Player of the Week performance in last week's 74-34 win at Otto-Eldred. Newcomb amassed 410 all-purpose yards with five TDs and for the season he's rushed for 1,170 yards on 129 carries, caught 18 passes for 378 yards and has scored 18 of the team's 37 TDs and half of the Lions' 260 points.
The Lions also have running back Ayden Wiles (85-580, 10 TDs) and quarterback Colby Himes (35-for-70, 705 yards, 9 TDs, 2 Ints.) helping lead the offense.
For the Crusaders, it's running back Stephen Bobby (114-717, 12 TDs).
Redbank Valley (4-2) at Curwensville (4-2)
These teams last met in last year's Class 1A semifinals where the Golden Tide won, 47-13, in DuBois.
Running backs Blake Passarelli (83-257, 2 TDs), Cole Bressler (52-333, 3 TDs) and Avery Francisco (40-231, 4 TDs) lead the Golden Tide while the Bulldogs are led by quarterback Keaton Kahle (64-for-105, 825 yards, 8 TDs, 5 Ints.), who also ranks second in rushing (40-322, 2 TDs). Hunter Wiles (59-412, 2 TDs) is the top rusher. Hunter Martz (22-256, 4 TDs) is the leading receiver.
Both teams lost to unbeaten Smethport by the same 20-7 score.
It's only the second regular-season meeting between the teams since 1963.
DISTRICT 10 REGION 7
DuBois (2-4) at Fort LeBoeuf (4-2)
The Beavers head to Waterford to face their second Bison foe of the season. This one is a Region 7 matchup as the Bison had their four-game winning streak snapped by General McLane last week in a 35-7 loss.
The Bison also beat Franklin (42-20) and Warren (59-38). The Beavers lost to General McLane (41-12) while beating Franklin (28-25) and Warren (31-8) as well.
DuBois has dropped two straight, including a 21-14 loss at home to Royal Imperial Collegiate last week. The Beavers are led by quarterback Alex Kovalyak (49-for-103, 6 TDs, 4 Ints.), running backs Eric Schneider (61-284) and Dylan McCluskey (63-280, 4 TDs), and tight end Chase Husted (26-358, 2 TDs).