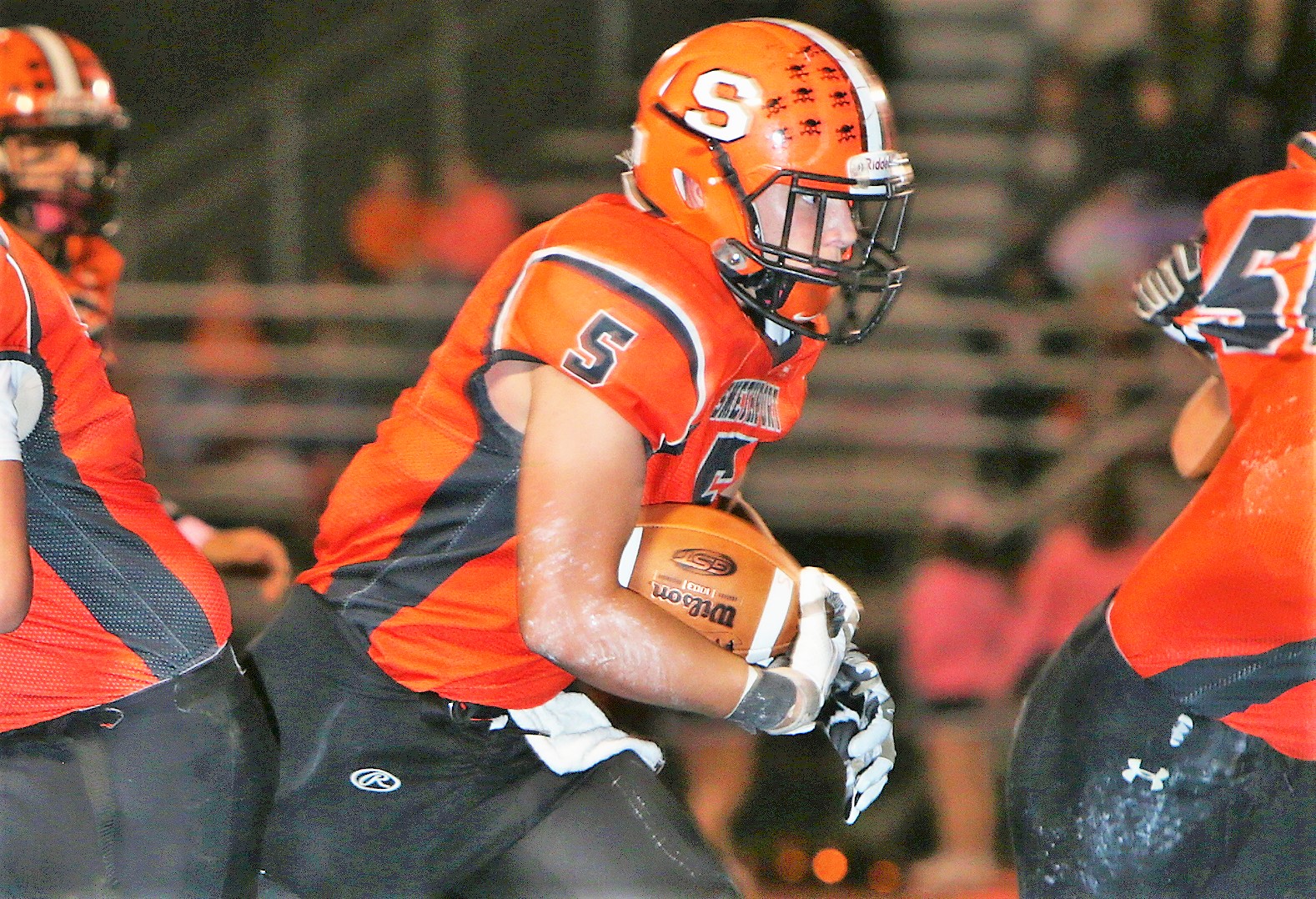 It's a big showdown up north that's the headliner matchup as Smethport puts its unbeaten record up against arch-rival Coudersport to determine the first Small School North Division title.
Nathan Hollowell helps lead the unbeaten Hubbers into their Small School North showdown Friday at Coudersport. (Photo by Paul Burdick. Check out more of Burdick's work here)
While the Hubbers are 8-0, the Falcons are 5-3 with all three losses coming to South Division foes. But both are 4-0 in the North going into their final division game Friday night in Coudersport.
It's almost been two decades since the Hubbers have been this good. They're 8-0 for the first time since 2001, using a strong running game with the senior duo of Blake Kinner and Nathan Hollowell, and shutdown defense that's giving up just eight points per game and 10 or more points in a game just once.
Kinner and Hollowell, who both went over 100 yards in last week's 37-0 win over Keystone, weigh in at 862 and 671 yards respectively out of the backfield with a combined 19 touchdowns.
Quarterback Grant Ognen has thrown for eight TDs and went into the Keystone game with 504 yards passing.
Coudersport tries to bounce back from last week's 41-27 loss at Redbank Valley, which scored the final three touchdowns to pull away with the win. The Falcons started the year 2-0, but have alternated wins and losses since.
The Falcons routed Otto-Eldred, 47-6, two weeks ago. Smethport beat Otto-Eldred 22-20 for its fifth win and followed that with a 20-7 win at home against Redbank Valley.
It's a run-heavy approach as well for the Falcons, who average 272 yards per game on the ground and they've thrown just 44 passes all season. Stephen Kelly (109-945, 16 TDs) is primed to hit the 1,000-yard milestone. Quarterback Hayden Keck has rushed for 363 yards and eight TDs.
This is the 111th meeting between the Hubbers and Falcons with Smethport leading the matchup, 60-46-4. Coudersport had a seven-game winning streak against Smethport in 2010 and the Falcons have won five of the last eight, including the last three. Last year, the Falcons beat the Hubbers, 30-12.
In other interesting matchups in the final weekend of divisional play across the district, newly crowned Large School Division champion Ridgway (8-0) travels to Brookville (5-3). In another Large School game, Clarion (6-2) hosts Brockway (6-2) in what will help shake out the Class 2A playoff seedings.
In the Small School South, Elk County Catholic (6-2) travels to Keystone (3-5) looking to clinch the division title. If the Crusaders stumble in Knox, Clarion-Limestone (6-2) could win the title if it wins at Curwensville (6-2). The Lions and Tide are also vying for playoff positioning in Class 1A.
In other games on the 13-game schedule, 12 of them of Friday, it's Bradford (5-3) at Karns City (3-5), Moniteau (4-4) at Punxsutawney (2-6) and Kane (1-7) at St. Marys (0-8) in the Large School Division. In the other Small School South game, Redbank Valley (5-3) visits Union/A-C Valley (4-4) at A-C Valley. The other Small School North games have Cameron County (1-7) at Port Allegany (1-7) and Sheffield (0-8) hosting Otto-Eldred (3-5) Saturday afternoon at 1:30 p.m.
Also, DuBois (3-5) visits Hollidaysburg (4-4) in a non-league matchup while unbeaten Clearfield (8-0) hosts Philipsburg-Osceola (1-7).
PLAYOFF OUTLOOK
With two weeks to go on the schedule for most teams, here is a look at the playoff picture for the four classes with D9 teams involved:
Class 1A
Up to eight of the 11 teams in the district could populate an eight-team bracket and that could happen. For sure, Cameron County (1-7), Port Allegany (1-7) and Sheffield (0-8) are out of the mix. In the seventh and eight spots are Union/ACV (4-4) and Otto-Eldred (3-5) and how they finish will determine if they fill out the bracket. The Falcon Knights are underdogs in their final two games, so a record below .500 would certainly put them on the bubble on whether the school accepts a berth. The Terrors, however, are favored in their final two games.
At the top of the seeding standings is Smethport (8-0, 1,060), followed by C-L (6-2, 820) and Curwensville (6-2, 820), which face each other this week, Elk County Catholic (6-2, 780), Redbank Valley (5-3, 680) and Coudersport (5-3, 610).
With the exception of Otto-Eldred (at Cowanesque Valley next week), the regular-season schedule ends this week for the other playoff contenders from the Small School North. If there are less than eight teams in the bracket, Smethport might be playing their final game before two weekends without games.
Class 2A
Up to eight teams can qualify assuming teams accept playoff berths and there are only eight teams in the field, so it's doubtful that an eight-team bracket will show up in two weeks. Kane (1-7) and Keystone (3-5) are doubtful to accept berths, but Karns City (3-5) might need to win out before accepting any trip to the postseason.
At the top of the playoff standings is Ridgway (8-0, 1100 points), followed by Clarion (6-2, 770) and Brockway (6-2, 770), Brookville (5-3, 660) and Moniteau (4-4, 520). This week's Bobcats/Rovers winner will help setting the top part of the seedings.
Class 3A
Both of D9's teams in the District 5-8-9 Sub-Regional setup — Punxsutawney (2-6) and St. Marys (0-8) — will finish under .500. Bedford (4-4), Westinghouse (3-5), Perry (3-5) hold the top three spots with the Chucks tied with Somerset for the fourth spot.
Class 4A
Up to four of the six teams in the District 6-9 setup qualify for the postseason and D9's Clearfield is safely in the mix and holds the top spot in the point standings (8-0, 1,060 points) ahead of D6's Bellefonte (6-2, 720), D9's Bradford (5-3, 570) and DuBois (3-5, 400).
THIS WEEK'S SCHEDULE
Here's a closer look at the rest of this week's schedule:
LARGE SCHOOL
Ridgway (8-0) at Brookville (5-3)
The Elkers head to Brookville as the division champion looking to finish out a perfect division schedule. Ridgway allows just 182 yards per game defensively with a crazy-good plus-19 turnover ratio. Daunte Allegretto has seven of the team's 12 interceptions.
Ridgway has yielded just 514 yards passing all year and Raiders quarterback Robert Keth threw for 424 last week in their win over Kane. Offensively for the Elkers, quarterback Paul Gresco (71-for-102, 943 yards, 11 TDs, 2 Ints.) runs the offense. The Elkers' leading rusher is Gabe Watts (51-381, 6 TDs) with Jake Wickett (59-325, 6 TDs) and Cole Secco (37-285, 2 TDs) getting carries.
With starter Jack Krug likely out for the year, Keth is the starter. He's thrown for 1,501 yards and 18 touchdowns in 5 1/2 games at QB, completing 79 of 123 passes. The receiving trio of Cabe Park (47-1,111, 16 TDs), Bryan Dworek (47-751, 8 TDs in five games) and Ian Thrush (21-508, 8 TDs) are putting up big numbers.
Brockway (6-2) at Clarion (6-2)
It's an interesting matchup with playoff positioning at stake in Class 2A between teams going in opposite directions at the moment. The Bobcats, after winning six straight games to start the season, have dropped games to Ridgway and Bradford. Brockway has won two straight after dropping back-to-back games to Ridgway and Bradford.
Logan Minich (79-419, 4 TDs in six games) leads the Bobcats' running game with quarterback Archer Mills (71-for-113, 1,014 yards, 13 TDs, Ints.) now over 1,000 yards passing. His top receiver is Sam Minich (34-602, 10 TDs).
The Rovers have running back Tyler Serafini (137-841, 2 TDs) closing in on 1,000 yards. Quarterback Peter Downer (75-for-157, 1,264 yards, 14 TDs, 5 Ints.) has been solid. His top receiver is Josh Solnosky (14-300, 5 TDs).
Bradford (5-3) at Karns City (3-5)
It's an important game for the Gremlins, who visit Titusville next week for their final regular-season game, if they're searching for .500 to take a playoff berth in Class 2A.
After starting 2-3, the Owls have won three straight and running back Donny Pattison (115-1,132, 15 TDs) has led the way, rushing for 509 yards and seven TDs during that stretch. Jaren Ambrose (65-553, 8 TDs) and Derek Sunafrank (49-363, 3 TDs) also get carries. Sunafrank is back after missing three games with an injury.
Running back Hunter Jones (114-825, 10 TDs) leads the Karns City offense.
Moniteau (4-4) at Punxsutawney (2-6)
The Warriors look to close the schedule strong starting with a trip to play the Chucks. They snapped a two-game slide with a win at St. Marys.
Moniteau has two rushers over 600 yards, with Cody Wise (112-790, 4 TDs) and quarterback Chance Nagy (79-612, 7 TDs), who's passed for 430 yards in the Warriors' run-heavy offense.
Punxsutawney's Dylan Ishman (69-for-146, 845 yards, 10 TDs, 6 Ints.) nears 1,000 yards passing. His top receiver is Carter Newcome (31-382, 3 TDs) while Alex Gianvito (59-294, 1 TD) leads the team in rushing.
Kane (1-7) at St. Marys (0-8)
The Flying Dutchmen try to avoid their 20th straight loss while the Wolves look to build on their best offensive performance of the season in last week's 57-38 loss to Brookville.
For the Wolves, Jake Alcorn and Aiden Hulings each ran for over 100 yards against the Raiders as they scored their season high point total after coming into the game with just 75 points for the season.
St. Marys also scored its season-high points in a loss to Brookville two weeks ago. Devin McGrath (68-303, 2 TDs) and Cody Ritter (66-292, 1 TD) lead the Dutch running game with quarterback Todd Taylor (54-for-112, 652 yards, 5 TDs, 5 Ints.) taking the snaps.
SMALL SCHOOL SOUTH
Redbank Valley (5-3) at Union/ACV (4-4), at A-C Valley
After a big bounce-back win over Coudersport, the Bulldogs travel to Foxburg to face the Falcon Knights who might be playing for the playoffs. They have the Bulldogs and unbeaten Ridgway left on schedule. Meanwhile, the Bulldogs finish with Punxsutawney next week, so two wins to finish out their schedule could help positioning in the seedings as well.
Quarterback Keaton Kahle (88-for-150, 1,117 yards, 11 TDs, 6 Ints.; 62-378, 4 TDs rushing) and Hunter Wiles (90-594, 5 TDs) lead the Bulldogs out of the backfield. Ethan Hetrick (26-342, 4 TDs), Hunter Martz (36-346, 4 TDs) and Hunter Buzard (23-299, 1 TD) Kahle's top receiving targets.
For Union/ACV, it's quarterback Luke Bowser (39-for-101, 628 yards, 7 TDs, 8 Ints.; 22-103, 7 TDs rushing), running back Nolan Cumberland (73-358, 5 TDs), and receivers Tanner Merwin (13-246, 3 TDs) and Caden Rainey (8-181, 1 TD).
Elk Co. Catholic (6-2) at Keystone (3-5)
The Crusaders can clinch the Small School South with a win at Keystone, along with bolstering positioning in the Class 1A playoffs.
ECC's Stephen Bobby (155-965, 17 TDs) is closing on 1,000 yards rushing, leading the Crusaders' run-heavy offense. Quarterback Isaak Jones (66-for-139, 1,131 yards, 10 TDs, 9 Ints.; 258 yards, 4 TDs rushing), leading rusher Nick Weaver (72-312, 4 TDs) and receiver Brandon Kapp (16-323) lead the Panthers.
C-L (6-2) at Curwensville (6-2)
It's a key game in the playoff standings for both teams, who haven't met on the field since the D9 Class 1A Championship game in 2004 when the Tide beat the Lions, 41-8.
The Lions shook off a loss to Elk County Catholic two weeks ago with a rout of Port Allegany. Austin Newcomb returned to the lineup and hiked his season rushing yardage to 1,382 yards and 17 TDs. Teammate Ayden Wiles is closing in on 1,000 yards as well with 822 to go along with 13 TDs.
For Curwensville, Blake Passarelli (134-672, 6 TDs) along with Cole Bressler (79-482, 7 TDs) and Avery Francisco (53-303, 4 TDs) lead the running game with quarterback Noah VonGunden (33-for-81, 394 yards, 4 TDs, 3 Ints.) and his top target Jake McCracken (13-128, 2 TDs) making up most of the passing game.
SMALL SCHOOL NORTH
Cameron County (1-7) at Port Allegany (1-7)
Both teams have beaten Sheffield for their only win, so it'll be a matchup of teams who have been beaten up quite a bit this year.
The Gators beat Sheffield 30-12 two weeks ago and have scored 36 points in their other seven games, 24 of them coming in a loss to Keystone. They've been shut out four times while giving up 43.6 points per game.
Cameron County beat Sheffield 6-0 for its only win and in the other seven games, the Red Raiders have scored two touchdowns with five shutout losses. They're yielding 51.6 points per game.
Otto-Eldred (3-5) at Sheffield (0-8), Saturday, 1:30 p.m.
The Terrors start their climb to a .500 record Saturday afternoon in Warren County. They'll take on the winless Wolverines before next week's trip to Cowanesque Valley, another 0-8 team at the moment.
Otto has dropped four straight games after starting the year 3-1 and all four of those teams are playoff-bound — Smethport, C-L, Coudersport and Curwensville. Quarterback Cole Sebastian has thrown for 1,506 yards with 16 TDs and 11 interceptions while leading the team in rushing with 204 yards. Chris Connelly (25-453, 2 TDs) and brother Chase Sebastian (27-312, 5 TDs) are his top receiving targets.
The Wolverines, in their season finale at 18 straight losses, have scored 36 points all season, yielding 43.1 points per game. Their lone score in last week's 36-6 loss to Elk County Catholic came on Christian Richetti's 85-yard run.
MOUNTAIN LEAGUE
Philipsburg-Osceola (1-7) at Clearfield (8-0)
The unbeaten Bison host the Mounties, who they've beaten six straight times and 17 of 18 since 1996. The Mounties are coming off a 60-7 loss to Huntingdon and their lone win was a 49-0 shutout win over Vincentian in a non-league game two weeks ago.
The Bison, who beat Huntingdon 42-21 back in September, notched a convincing 42-7 win at unbeaten Bald Eagle Area last week. Quarterback Isaac Rumery (85-for-123, 1,692 yards, 18 TDs, 1 Int.) went his seventh straight game without throwing an interception.
The Bison aren't just Rumery as they're averaging 229 yards rushing and 212 passing per game. Brett Zattoni (113-620, 9 TDs), Caleb Freeland (83-616, 13 TDs) and Rumery (65-406, 7 TDs) make up most of the running game while Jake Lezzer (35-783, 8 TDs) and Taye Lynch (27-595, 8 TDs) are Rumery's leading receivers.
NON-LEAGUE
DuBois (3-5) at Hollidaysburg (4-4)
If a .500 mark is necessary for a decision to go to the playoffs, or if they need two wins to finish the year just to get into the postseason, it's the first of two must-wins for the Beavers.
The Golden Tigers, after a 21-17 loss to McDowell for their fourth straight loss, won two straight games to get back to .500 themselves. Last week, they beat Tyrone 28-13 after a 56-12 rout of Central Mountain.
Hollidaysburg's offense is balanced with quarterback Brady Walters (93-for-166, 1,274 yards, 11 TDs, 9 Ints.; 484 yards rushing, 6 TDs), running backs Hunter Barr (76-486, 3 TDs) and Nate Fisher (90-449, 12 TDs) and receiver Jacob Sensenig (25-411, 5 TDs).
The Beavers ended a three-game losing streak with a 27-12 win at Meadville last week. Eric Schneider (82-386, 2 TDs) ran for over 100 yards. Dylan McCluskey (70-307, 5 TDs) also gets carries while Alex Kovalyak (64-for-138, 1,024 yards, 8 TDs, 8 Ints.) just went over 1,000 yards for the season.
Hollidaysburg beat the Beavers the past two years in their first matchups since 2009, 34-7 last year and 35-21 in 2016.