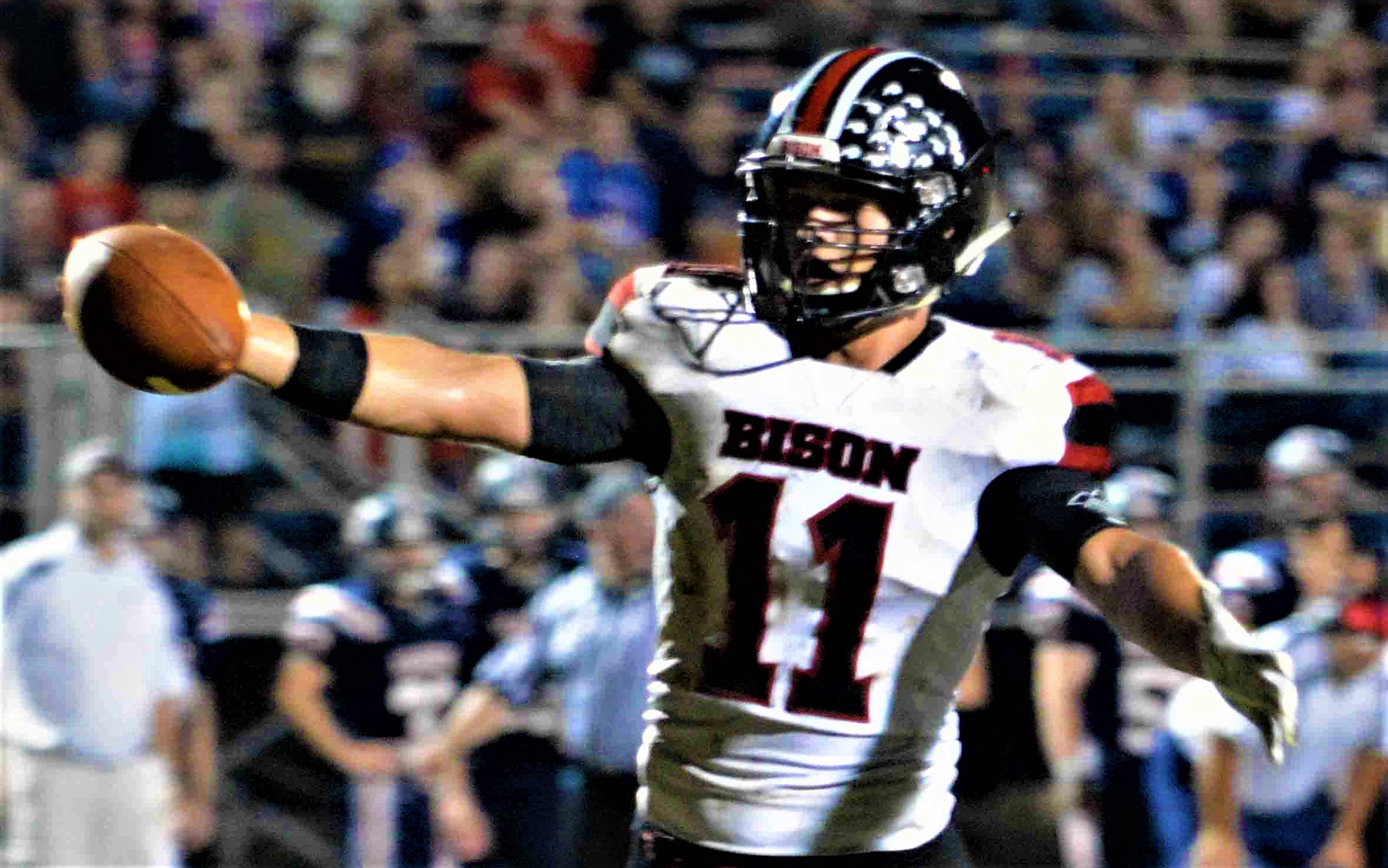 It's a battle of unbeatens in the Mountain League Friday night.
And more specifically, at the Bison Sports Complex where Clearfield hosts Bellefonte in a battle of 5-0 teams as the season heads into the sixth week of games. Of the 13 games, 11 are Friday night with two scheduled for Saturday.
Clearfield's Isaac Rumery leads the Bison into Friday night's Mountain League showdown against Bellefonte. (Photo by Logan Cramer III)
Bellefonte beat the Bison twice last year, both in Centre County — 55-28 during the regular season and 66-21 in the first round of the District 6-9 Class 4A playoffs — on its way to a district title before finishing 10-3.
The Red Raiders ran for 825 yards and 13 touchdowns in their two wins over the Bison, but key players have graduated, including quarterback Dylan Dietrich who ran for 356 yards and eight TDs in those games. This year, the Red Raiders are run-heavy again with running back C.J. Funk (71-717, 10 TDs) averaging over 10 yards per carry.
Clearfield's dynamic offense averages 429 yards per game — 222 rushing, 208 passing — as senior quarterback Isaac Rumery is now over 1,000 passing yards (56-for-83, 1,028 yards, 9 TDs, 1 Int.) while rushing for 299 yards and six TDs. Brett Zattoni (64-366, 3 TDs) and Caleb Freeland (55-346, 11 TDs) make up the balanced running game out of the backfield.
Rumery's top receiving targets are Jake Lezzer (26-636, 6 TDs) and Taye Lynch (16-229, 3 TDs).
It's the 62nd meeting between the teams. Bellefonte's sweep last year ended an eight-game losing streak to the Bison, who beat the Red Raiders twice in 2016. Clearfield leads the all-time series, 34-26-1.
Elsewhere, it's another week, of course, of Large School Division play where the lone unbeatens are at home Friday night. Clarion (5-0) hosts Kane (1-4) while Ridgway (5-0) hosts Punxsutawney (2-3). Perhaps the most intriguing matchups have Brookville (2-3) hosting Moniteau (3-2) and Brockway (4-1) traveling to Bradford (2-3). Karns City (1-4) hosts St. Marys.
It's a crossover week between the two small school divisions and there are a couple of interesting matchups with Class 1A playoff implications. Redbank Valley (4-1) visits unbeaten Smethport (5-0) Friday night while Clarion-Limestone (4-1) travels to Otto-Eldred (3-2) Saturday night.
In other crossover matchups, Coudersport (4-1) hosts Curwensville (3-2), Cameron County (0-5) visits Elk County Catholic (3-2), Port Allegany (0-5) visits Union/A-C Valley (1-4) in Rimersburg and in the other Saturday game, Keystone (2-3) visits Sheffield (0-5).
In a non-league game, DuBois (2-3) hosts Royal Imperial Collegiate (0-4), a private school based out of St. Catharines in Canada.
Here's a closer look at this week's games:
LARGE SCHOOL DIVISION
Kane (1-4) at Clarion (5-0)
The Wolves notched their first win of the year last week at home against Punxsutawney in a 22-0 shutout. The unbeaten Bobcats routed the Chucks, 40-6, in the season-opener.
It's been a strong run for Clarion, which blanked St. Marys 42-0 last week as quarterback Archer Mills claimed a share of the D9Sports.Com Player of the Week award with Brookville's Robert Keth. For the season, Mills has completed 42 of 63 passes for 678 yards and 10 touchdowns to go along with three interceptions.
The Bobcats have three backs over 200 yards rushing in what's a balanced mix so far — Logan Minich (40-274, 2 TDs in 3 games), Cutter Boggess (55-239, 2 TDs) and Sam Minich (23-257, 4 TDs). Sam Minich caught all four of Mills' TD passes last week and leads the team with 20 catches for 369 yards and eight TDs.
Aiden Hulings had a big game for the Wolves against the Chucks, rushing for 131 yards on a workhorse-like 37 carries.
Punxsutawney (2-3) at Ridgway (5-0)
The Elkers try to keep pace with the Bobcats as they gear up for next week's showdown in Clarion. They'll host a Chucks team that was blanked by previously winless Kane last Saturday.
The Elkers have allowed five touchdowns thus far, limiting Brockway to 190 yards in a 20-7 win last week. Daunte Allegretto had two of his now four interceptions against the Rovers while Evan Furlong led the team with eight tackles and Damon Kelley had 2 1/2 sacks. For the season, Furlong leads in tackles per game (8.6) while Kelley leads in sacks (6 1/2).
The Elkers have four backs over 200 yards rushing, led by Gabe Watts (32-309, 3 TDs) and Cole Secco (25-251, 1 TD). Quarterback Paul Gresco has completed 44 of 60 passes for 614 yards with six TDs and one interception.
The Chucks managed just 103 yards of offense against Kane last week. Quarterback Dylan Ishman (42-for-91, 561 yards, 7 TDs, 4 Ints.), running back Connor Giavedoni (34-162, 1 TD), and receivers Carter Newcome (15-217) and Alex Gianvito (12-198, 4 TDs).
Brockway (4-1) at Bradford (2-3)
Both teams are coming off losses, including the Rovers' first loss of the year last week at home against Ridgway. The Owls lost on the road at Moniteau.
For Brockway, running back Tyler Serafini (94-548, 1 TD) and quarterback Peter Downer (36-for-80, 624 yards, 7 TDs, 4 Ints.) lead the offense.
The Owls, who didn't complete a pass against Moniteau, average 261 yards rushing a game, led by Donny Pattison (59-623, 8 TDs) and Jaren Ambrose (30-209, 3 TDs). Derek Sunafrank (36-290, 3 TDs) didn't play last week.
Moniteau (3-2) at Brookville (2-3)
It's homecoming for the Raiders, who host the Warriors. Both teams are coming off wins, the Raiders ending a three-game losing streak with a 35-28 win over Karns City. Two weeks ago, the Warriors beat the Gremlins, 20-14. Moniteau beat Bradford, 12-7. The Raiders beat the Owls, 69-60, in the season-opener.
Quarterback Chance Nagy runs a run-heavy offensive attack for Moniteau, ranking second behind Cody Wise in rushing with 273 yards and four TDs. Wise has rushed for 398 yards on 62 carries with two TDs. Nagy has thrown just 47 passes, completing 16 for 282 yards.
Robert Keth, the fourth Raider to take a snap this year, shared last week's D9Sports.Com Player of the Week honor after throwing for 446 yards and three touchdowns in his second start. In his second game back, Bryan Dworek caught a team-record 17 passes for 240 yards. He's caught 25 passes for 305 yards in his two games while Cabe Park (33-582, 8 TDs) and Ian Thrush (16-348, 5 TDs) have posted solid receiving numbers as well.
Dworek went over 2,100 career receiving yards.
St. Marys (0-5) at Karns City (1-4)
The Gremlins look to end a three-game losing streak when they host the winless Dutch. Three of their four losses are by a combined total of 16 points. Hunter Jones (71-530) ran for 191 yards against Brookville last week.
St. Marys' run-heavy offense is led by Cody Ritter and Devin McGrath.
SMALL SCHOOL CROSSOVER
Redbank Valley (4-1) at Smethport (5-0)
The Hubbers are 5-0 for the first time since 2001 when they finished the regular season 9-0 then lost to Curwensville in the D9 playoffs. Since then, they've won five or more games in a season just twice — 5-5 in 2013 and 6-4 in 2004.
They've never played the Bulldogs. The two were supposed to play in Week 10 of the 2013 season, but both teams agreed to cancel the game.
Running backs Blake Kinner (48-515, 7 TDs) and Nathan Hollowell (73-331, 4 TDs) lead the Hubbers' run-oriented offense. The two combined to run in 43 of the team's 52 plays from scrimmage in last week's 22-20 win over Otto-Eldred. Quarterback Grant Ognen (23-for-40, 6 TDs, 1 Int.) did not throw a pass against the Terrors. Hollowell completed the only pass for three yards.
The Bulldogs, who beat Otto-Eldred 31-8 earlier this year at home, try to bounce back from their first loss in a 42-16 rout to Clarion-Limestone last week. Quarterback Keaton Kahle (47-for-76, 624 yards, 7 TDs, 4 Ints. passing; 35-324, 2 TDs rushing) leads the Bulldogs offense. Hunter Wiles (48-368, 2 TDs) leads the team in rushing while Ethan Hetrick (10-184, 3 TDs) and Hunter Martz (15-182, 3 TDs) are the top receivers.
C-L (4-1) at Otto-Eldred (3-2), Saturday, 6 p.m.
It's a key matchup in the Class 1A playoff standings as the Lions and Terrors square off in a Saturday 6 p.m. kickoff basically because the lack of available officials for a Friday night game.
The last time these teams met, the Lions knocked the Terrors out of the 2016 playoffs at the C-L Sports Complex in a 26-16 win. That was Otto's first-ever playoff game.
Lions starting quarterback Colby Himes made an interception in that game. This time around, he's running an offense that features the running game led by Austin Newcomb (106-905, 8 TDs rushing; 14-422, 3 TDs receiving) and Ayden Wiles (67-405, 6 TDs rushing; 14-131 receiving). Himes has completed 31 of 60 passes for 595 yards and eight TDs with two interceptions.
For Otto-Eldred, Cole Sebastion has completed 79 of 123 passes for 1,006 yards and 12 TDs. He was also the team's leading rusher (50-178, 1 TD) going into last week's 22-20 loss to Smethport. Cameron Magee (27-303, 6 TDs) and Chris Connelly (16-323, 2 TDs) are the top receivers.
Curwensville (3-2) at Coudersport (4-1)
Another interesting crossover matchup, the Falcons and Tide meet for the first time since the Tide knocked them out of the Class 1A playoffs in 2016 with a 33-6 win.
Both focus on running the ball offensively, the Tide averaging 209 yards per game with Blake Passarelli (67-293, 1 TD), Cole Bressler (39-286, 3 TDs) and Avery Francisco (35-218, 4 TDs) leading the way.
The team's common opponents thus far are Elk County Catholic and Cameron County. The Tide lost to ECC (34-14) and beat Cameron County (58-6) the first two weeks.
Coudersport is coming off a 61-0 rout of Port Allegany and they've turned in three easy wins against Cameron County (71-0), Sheffield (61-6) and Port Allegany with a solid win over Elk County Catholic (28-6). The Falcons' lone loss is to C-L (34-22) two weeks ago.
Quarterback Hayden Keck has thrown just 16 passes in five games and he's the second-leading rusher (38-255, 8 TDs) behind Stephen Kelly (54-531, 9 TDs), who went for 210 yards and three TDs against Port Allegany.
Cameron County (1-4) at Elk County Catholic (3-2)
The Crusaders host the Red Raiders, who are coming off their first win of the season in a 6-0 win at home last week against Sheffield.
Meanwhile, the Crusaders routed Union/ACV as Stephen Bobby again put up big rushing numbers with 197 yards on 29 carries. For the year, he's rushed for 674 yards on 108 carries with nine touchdowns.
The Red Raiders' lone score in last week's win came on Damien Erickson's recovery of a blocked punt in the end zone. Ebon Jackson ran for 88 yards on 17 carries.
Port Allegany (0-5) at Union/ACV (1-4)
The Falcon Knights play their second straight homecoming game at home, last week at A-C Valley and this time at Union in Rimersburg against the winless Gators. Port, which lost 61-0 to Coudersport last week, has a 16-quarter scoreless streak going into Friday.
The Falcon Knights' offense is led by running back Nolan Cumberland (51-292, 5 TDs), quarterback Luke Bowser (22-for-66, 302 yards, 2 TDs, 6 Ints.), and receivers Caden Rainey (4-109, 2 TDs) and Tanner Merwin (7-99, 1 TD).
The Gators have been outscored, 237-30, this year, with other losses coming against Otto-Eldred (34-6), Keystone (42-24), Smethport (40-0), Elk County Catholic (60-0). Union/ACV just lost last week to ECC, 42-6.
Keystone (2-3) at Sheffield (0-5), Saturday, 1:30 p.m.
The Panthers and Wolverines meet Saturday afternoon as Keystone tries to even its record to the .500 mark. It's a been a reverse split for the Panthers, who are 2-0 on the road and 0-3 at home this year.
Keystone is nearly perfectly balanced offensively. Quarterback Isaak Jones (42-for-86, 662 yards, 6 TDs, 5 Ints.) is a big part of the offense, also leading the team in rushing with 225 yards and three touchdowns. His top receiver is Jayden Blazosky (14-175, 2 TDs).
The Wolverines outgained Cameron County in last week's 6-0 loss, 170-105. Christian Richetti ran for 105 yards on 24 carries.
NON-CONFERENCE
Royal Imperial Collegiate (Canada) (0-4) at DuBois (2-3)
The Beavers host a private school out of St. Catharines in Ontario, Canada, a team that tours the country playing a full schedule.
The RIC Knights definitely play an ambitious schedule and have lost to three teams in Ohio and another in Anderson, S.C. Last week, they dropped a 52-0 decision to La Salle of Cincinnati. The Knights, 1-9 last year, have been outscored 181-40 in their four losses this year.
Roughed up in a 55-12 loss to Oil City last week, the Beavers look to rebound. Dylan McCluskey (61-271, 4 TDs) and Eric Schneider (56-269) lead the team's running game with quarterback Alex Kovalyak (37-for-75, 6 TDs, 3 Ints.) taking the snaps.