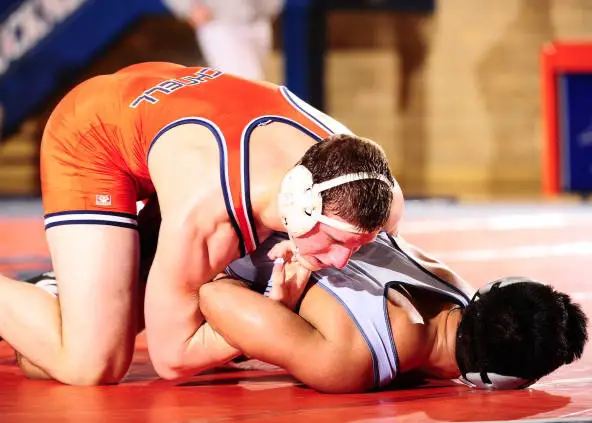 NEW YORK – Three District 9 wrestlers have reached the pinnacle of the collegiate wrestling world and will wrestle at the NCAA Division I championships this weekend at Madison Square Garden in New York.
See the full NCAA Division I wrestling brackets –  Follow live results here
Representing District 9 will be a pair of DuBois grapplers – Geno Morelli of Penn State at 165 pounds and Tom Sleigh of Bucknell at 184 pounds – and a Brookville wrestler – Brock Zacherl of Clarion at 141 pounds.
Zacherl, a redshirt freshman and the EWL champion who is 27-1 with a 20-bout win streak, is the only one of the three seeded getting a 15th seed at 141 pounds. He will face Tyler Smith of Bucknell in the opening round Thursday. Smith is 22-11. If Zacherl wins that bout, he could be facing the No. 2 seed, Joey McKenna of Stanford in the second round.
"It feel great," Zacherl said in a Clarion University athletics media release. "It's a testament to the things we do in our program. It shows you the quality of the people we have here and that we can compete with anyone. To have the chance to compete for a champions, it's all I've wanted."
Morelli, a junior, is also making his first appearance at the NCAA Tournament. He is 19-10 on the year and received an at-large bid after taking eighth at the Big Ten championships. He will face No. 11 seed John Staudenmayer of North Carolina in the opening round Thursday.
Sleigh (26-8), a sophomore, enters the field as an automatic qualifier after taking seventh at the EIWA Championships. He will face Penn State's Matt McCutcheon in the opening round Thursday. McCutcheon, 16-6, was fifth at the Big Ten Championships after entering the tournament as the No. 2 seed. He went 2-2 at nationals a year ago in St. Louis. The two wrestlers met last year at the East Stroudsburg Open with McCutcheon posting an 8-2 decision. The winner of their bout gets top-seeded Gabriel Dean of Cornell (29-1) who has a bye into the second round.
Wrestling gets underway Thursday and the entire championships will be broadcast on the ESPN family of stations. Thursday's first session will air starting at Noon on ESPNU and ESPN3 with the second sessions to air at 7 p.m. on the same channels. Then, on Friday, the quarterfinals will air at 11 a.m. on ESPNU/ESPN3 with the semifinals on the same channels at 8 p.m. The medal round will air at 11 a.m. Saturday on the same channels with the finals airing at 8 p.m. Saturday on ESPN and ESPN3.