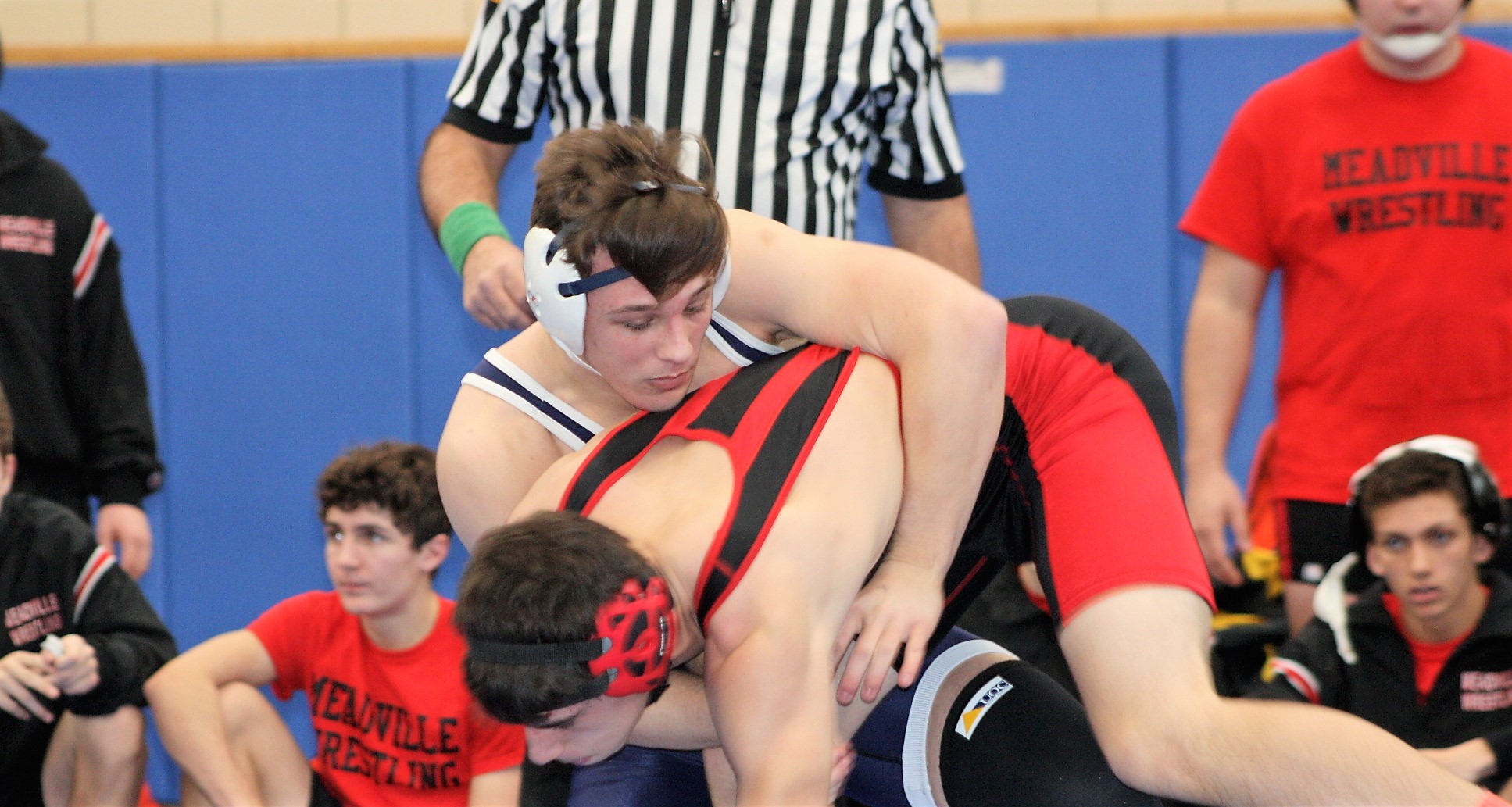 With one month in the books, District 9 wrestling heads into a busy month of January. Check out the odds and ends below:
Brookville's Caleb Hetrick is one of three returning state medalists back in District 9 this year, all of them wear Raiders uniforms.
The latest
The Brookville Raiders, defending PIAA Class AA Dual Meet and Tournament champions, medaled five wrestlers at last weekend's prestigious Powerade Tournament held at Canon-McMillan High School.
All finished seventh or eighth. Xavier Molnar and Tyler Cook were seventh at 195 and 220 pounds respectively while Keelan Kunselman (113), Gavin Park (120) and Caleb Hetrick (152) each finished eighth.
The Raiders finished 27th in the 50-team event.
They opened the dual meet schedule for the month with a 69-12 win over Redbank Valley Tuesday night, extending their dual meet winning streak to 38 matches.
For complete results from the Powered Tournament, go to www.poweradewrestling.com.
State Rankings
According to papowerwrestling.com, 31 wrestlers — 20 in Class AA and 11 in Class AAA — from District 9 schools are worthy of state rankings. For complete rankings, subscribe at the site listed above. Regional and state rankings are available on a somewhat regular basis. According to the Dec. 21 rankings and before the two-pound allowance was enacted. Several wrestlers will move down a weight class, which will affect future rankings.
Dual Team: Brookville is the No. 2 team in Class AA behind Reynolds. The Raiders are the only dual team from D9 ranked in either class. Bradford is now in Class AA.
Individual (D9 listed only)
Class AA
106 pounds: 17. Dylan Pesock, Oswayo Valley, Jr.
113: 17. Kyle Bush, Ridgway, Jr.
120: 3. Keelan Kunselman, Brookville, Sr.; 11. Blake Passarelli, Curwensville, So.
126: 2. Gavin Park, Brookville, Sr.; 21. Bryce Barclay, Ridgway, Jr.
132: 20. Aidan Thompson, Bradford, Jr.
138: 20. Tyler Thompson, Bradford, Jr.
145: 17. Dillon Keane, Bradford, So.; 18. Logan McClain, Ridgway, Jr.
152: 3. Julian Smith, Coudersport, Jr.
160: 7. Caleb Hetrick, Brookville, Jr.; 11. Gage Arnold, Coudersport, Sr.; 20. Colton Rapp, Clarion, Jr.
182: 5. Noah Cieleski, Brookville, Sr.
195: 16. Xavier Molnar, Brookville, Jr.; 23. Tyler Vantassel, Keystone, So.
220: 5. Tyler Cook, Brookville, Jr.
HWT: 9. Colton McClain, Ridgway, Sr.; 21. Timmy McCauley, Cranberry, Jr.
Class AAA
106: 17. Trenton Donahue, DuBois, Fr.
120: 17. Ed Scott, DuBois, Fr.; 19. Tyler Dilley, St. Marys, So.
132: 8. Kolby Ho, DuBois, Jr.
138: 24. Alec Bittler, St. Marys, So.
145: 19. Cameron Resch, St. Marys, Sr.; 21. Brock Adams, DuBois, Sr.
152: 22. Garret Cook, St. Marys, Sr.
160: 24. Carson Hanna, DuBois, Sr.
182: 4. Luke McGonigal, Clearfield, Jr.
220: 21. Christian Steffan, St. Marys, Sr.
Returning Standouts
State Medalists
Class AA
106-Keelan Kunselman, Brookville, Sr., 5th place
113-Gavin Park, Brookville, Sr., 7th place
152-Caleb Hetrick, Brookville, Jr., 8th place
Class AAA
None
Regional Placewinners
(Top four qualified for states in Class AA, top three in Class AAA)
(This year's grade listed)
Class AA
106-Keelan Kunselman, Brookville, Sr., 2nd place
106-Blake Passarelli, Curwensville, So., 3rd place
113-Gavin Park, Brookville, Sr., Champion
152-Caleb Hetrick, Brookville Jr., 2nd place
152-Gage Arnold, Coudersport, Sr., 4th place
182-Noah Cieleski, Brookville, Sr., 3rd place
220-Tyler Cook, Brookville, Jr., 4th place
HWT-Colton McClain, Ridgway, Sr., 4th place
Class AAA
106-Tyler Dilley, St. Marys, So., 4th place
113-Dalton Woodrow, DuBois, So., Champion
138-Brock Adams, DuBois, Sr., 4th place
152-Carson Hanna, DuBois, Sr., 4th place
170-Luke McGonigal, Clearfield, Jr., 3rd place
District Placewinners
(Top four qualified for regionals)
(This year's grade listed)
Class AA
106-Keelan Kunselman, Brookville, Sr., Champion
106-Blake Passarelli, Curwensville, So., 2nd place
106-Kyle Bush, Ridgway, Jr., 3rd place
106-Dylan Pesock, Oswayo Valley, Jr., 4th place
113-Gavin Park, Brookville, Sr., Champion
113-Bryce Barclay, Ridgway, Jr., 3rd place
113-Trevor Olney, Coudersport, Sr., 4th place
120-Lukas McClain, Ridgway, Jr., 2nd place
120-Trey Stiles, Port Allegany, Jr., 3rd place
120-Kai Sorbin, Brookville, Jr., 4th place
126-Drew Baumgratz, Ridgway, Sr., 3rd place
126-Dustin Kudrick, Coudersport, Jr., 4th place
132-Logan McClain, Ridgway, Jr., 2nd place
132-Josh Hancock, Cranberry, Sr., 3rd place
132-Devon Norlin, Johnsonburg, Jr., 4th place
138-Alec English, Kane, So., 3rd place
145-Julian Smith, Coudersport, Jr., 2nd place
145-Colton Rapp, Clarion, Jr., 3rd place
145-Jacob Kallenborn, Port Allegany, Jr., 4th place
152-Caleb Hetrick, Brookville, Jr., Champion
152-Terrel Williams, Sheffield, Sr., 3rd place
152-Gage Arnold, Coudersport, Sr., 4th place
170-Xavier Molnar, Brookville, Jr., Champion
170-Mike LeFay, Clarion, Sr., 4th place
182-Noah Cieleski, Brookville, Sr., Champion
182-Grant West, Oswayo Valley, Sr., 3rd place
182-Garrett McClintick, Brockway, So., 4th place
195-Tyler Vantassel, Keystone, So., 3rd place
195-Pierce Yahner, Brockway, Jr., 4th place
220-Tyler Cook, Brookville, Jr., Champion
220-Steven McClure, Curwensville, Jr., 3rd place
220-Mark Latuska, Brockway, Sr., 4th place
HWT-Colton McClain, Ridgway, Sr., 3rd place
Class AAA
106-Tyler Dilley, St. Marys, So., Champion
106-Matt Ryan, Clearfield, Jr., 2nd place
113-Dalton Woodrow, DuBois, So., Champion
113-Jude Pallo, Clearfield, So., 4th place
120-Kolby Ho, DuBois, Jr., 2nd place
126-Tyler Thompson, Bradford, Jr., 2nd place
132-Cameron Resch, St. Marys, Sr., Champion
138-Brock Adams, DuBois, Sr., Champion
138-Garrett Cook, St. Marys, Sr., 3rd place
138-Dillon Keane, Bradford, So., 4th place
152-Carson Hanna, DuBois, Sr., 2nd place
160-Brandon Cherry, St. Marys, Jr., 3rd place
160-Hunter Wright, Clearfield, Jr., 4th place
170-Luke McGonigal, Clearfield, Jr., Champion
182-Christian Steffan, St. Marys, Sr., Champion
195-Mitchell Cashmer, St. Marys, Sr., 2nd place
220-Hunter Bumbarger, Clearfield, Sr., 4th place
HWT-Gage Arrington, Punxsutawney, Jr., 3rd place