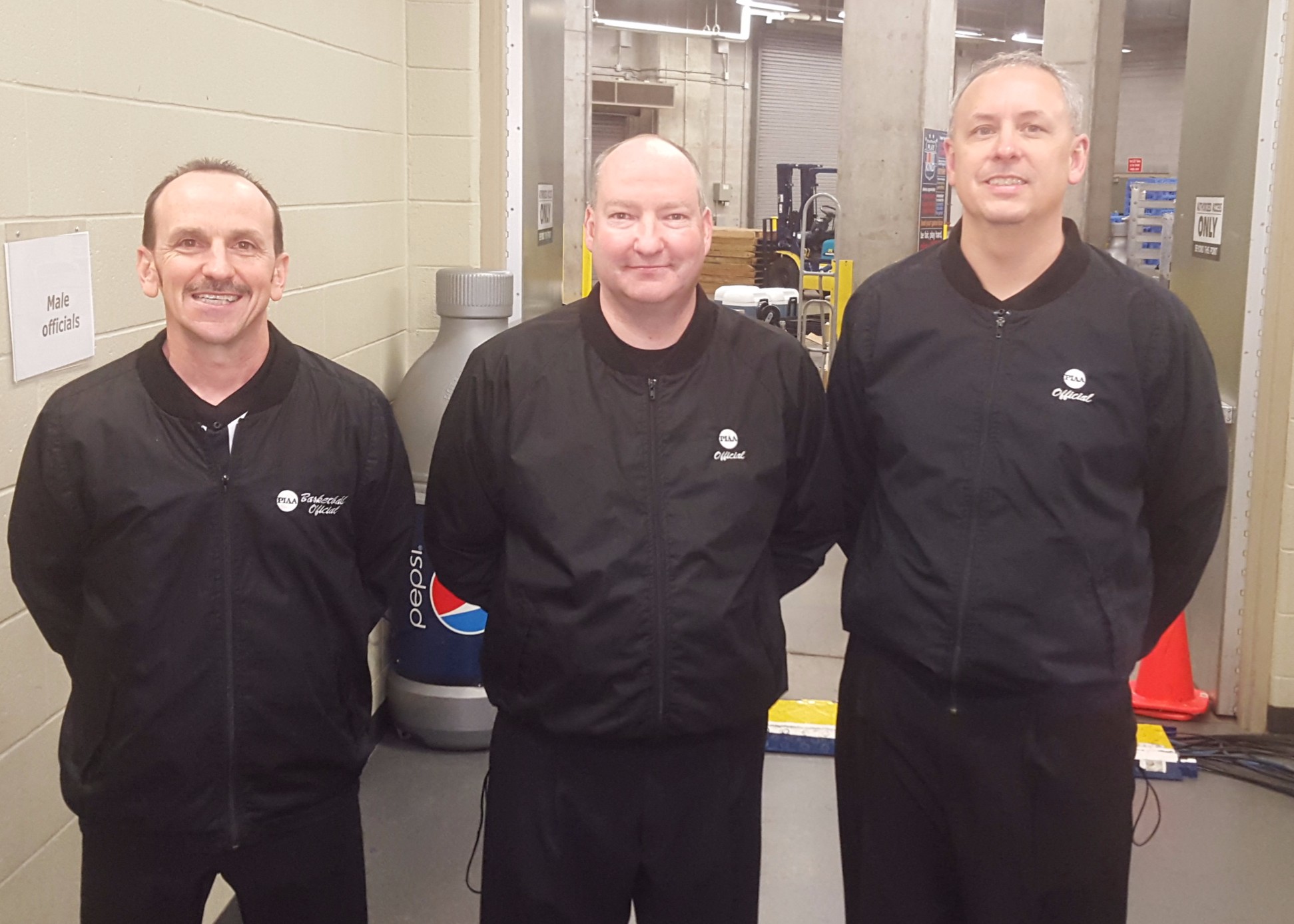 HERSHEY, Pa. – One team from District 9 made it to Hershey, Pa., and the PIAA basketball championships this weekend.
And no, you didn't miss the run they made because it was done in obscurity. Just the way they like it.
Because that team was a team of District 9 officials – Dave Wright, Jamie Evens and Scott Sullivan – who officiated the Class AAA boys' title game won by Neumann-Goretti over Mars.
For Wright and Sullivan it was their second trips to the big stage, while Evens was making his first appearance at a PIAA title game.
All three officials have been referring basketball for over 20 years with Sullivan starting in 1990, Wright in 1991 and Evens in 1994.
Sullivan, a Health and Wellness teacher in the DuBois School District, belong to the Southern Section Chapter of PIAA Officials and has served time as the chapter's rules interpreter. He's worked numerous District 9 championship tournaments and interdistrict contests in the state tournament and was one of the officials for the 2000 girls' Class A championship game.
Listen to Sullivan talk about his experience
Wright, a Special Education teacher at Clearfield HIgh School, belongs to the Clear-Center Chapter of PIAA basketball officials. He is the statewide basketball rules interpreter after holding similar positions in both his chapter and District 9. He has worked PIAA interdistrict tournaments for more than 20 straight seasons including reffing the 2007 Class AAA boys' title game. He also worked at the collegiate level for 13 seasons in numerous conferences including the PIAA before stepping away when he took the statewide interpreters spot.
Watch Wright in action during the game
A story on Wright and his role as officials observer will appear soon on our sites. 
Evens, who works at Cole Memorial Hospital in Coudersport, is a member of the Northern Allegheny Chapter of PIAA basketball officials and serves as the chapter rules interpreter. He also has collegiate officiating experience and has worked numerous district and interdistrict championship contests.
Evens discusses experience
"Officials selected to work a championship contest must consistently rate among the top officials in the PIAA tournament to be selected," Wright said. "Every district championship contest and all interdistrict contests are evaluated by PIAA observers. All officials who wish to be considered for an interdistrict contest assignment must also have attended the PIAA official's convention at least once in a five-year period for professional development and training and work a minimum number of district contests. In addition, they must attend a minimum of six annual chapter rules meetings and the annual statewide interpretation meeting."