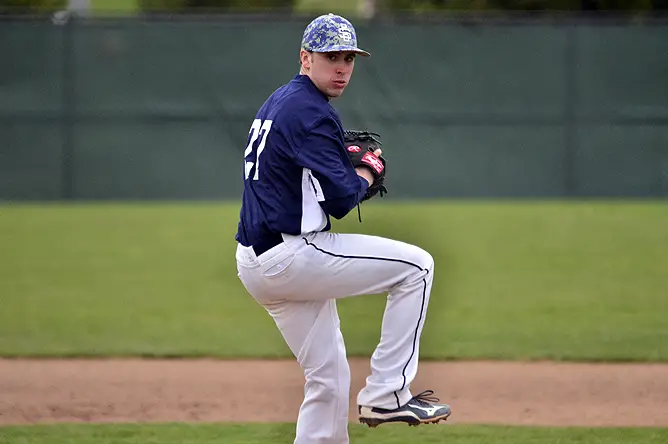 DUBOIS, Pa.  – It will be a homecoming for DuBois Central Catholic graduate Phil Myers Saturday when his Penn State Behrend baseball team meets Penn State Altoona at Showers Field in DuBois.
Myers, a freshman pitcher for the Lions, is slated to start Game one of the doubleheader. The first game is set for 2 p.m. with the nightcap slated for 5 p.m.
On the year, Myers has been exceptional with a 2-1 record and a 2.15 ERA in six appearances with four starts. In 29 ⅓ innings of work he has struck out 13 and walked 10 while putting together a WHIP of 1.22
Two additional District 9 alums – Elk County Catholic graduates Jonathan Dippold and Jack Herzing – are on Penn State Behrend's roster.
Dippold is a freshman infielder who has had limited playing time in four games going 3-for-5 a the plate with an RBI.
Herzing is a junior pitcher who has pitched 6 ⅓ innings over two appearances giving up nine earned runs.
On the year, PSU Behrend is 16-7 overall and 5-1 in AMCC action.
Penn State Altoona's roster consists of a pair of District 9 graduates, both from Clearfield.
Jarrett Fulmer is a sophomore infielder, while Kurtis Krise is a junior pitcher.
Fulmer has yet to play this season, while Krise has pitched in four games making one start. He has given up 10 earned runs.
PSU Altoona is 8-20 overall and 1-5 in AMCC action.