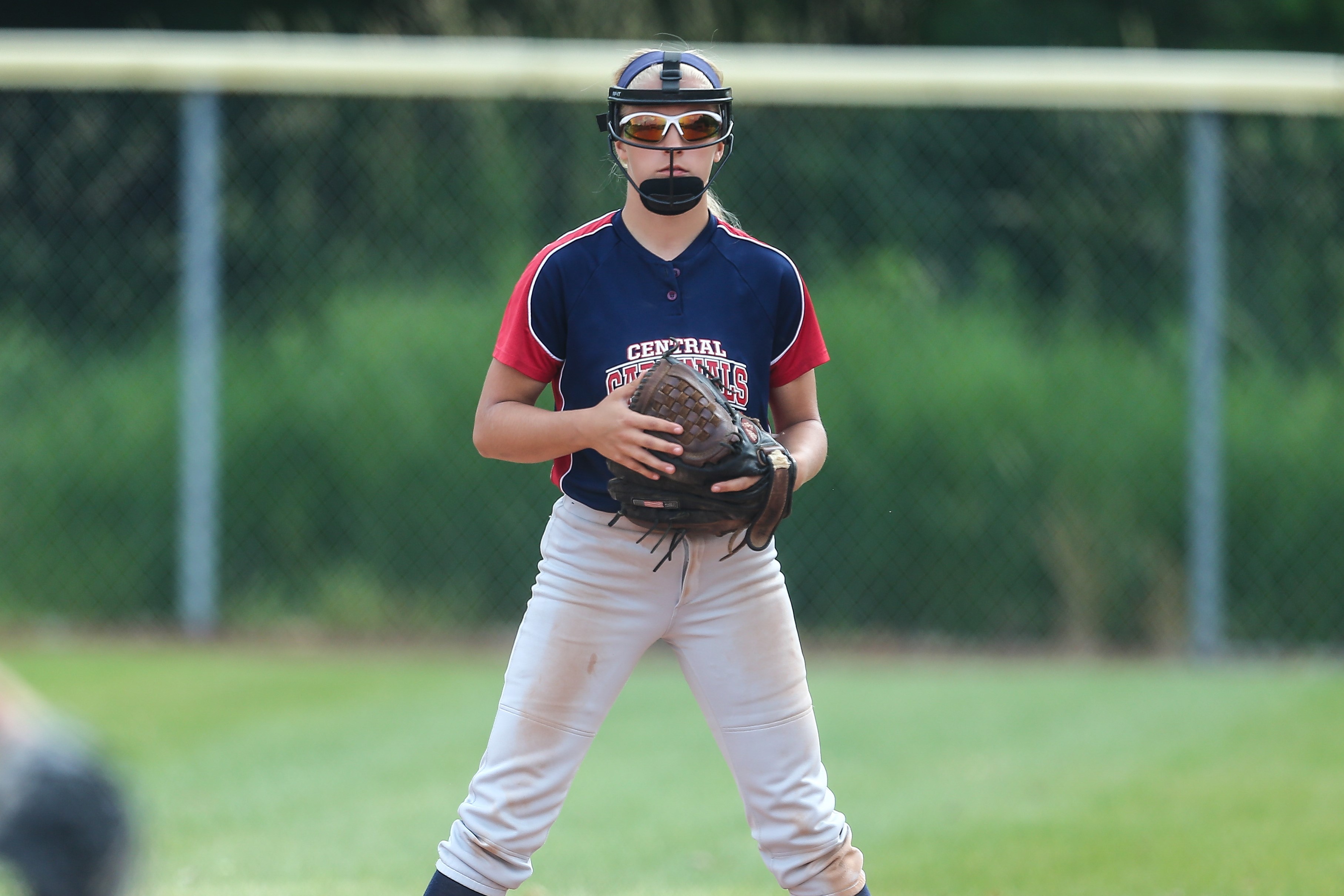 DUBOIS, Pa. – It's the matchup everyone has been waiting for nearly 365 days.
(Cover photo of Ashley Wruble. Photo by Mike Schnelle. Check out more of Schnelle's work here)
DuBois Central Catholic vs. West Greene for the right to go to the PIAA Class 1A softball championship.
These two teams, which played in the semifinals a year ago with West Greene coming out on top 5-2 thanks to a four-run fifth inning, will meet again at North Allegheny High School in Wexford, Pa., with the game set for 5 p.m. Monday, June 12, one day shy of a full calendar year from their last matchup.
"We've been following them all year," DCC head coach George Heigel said. "And we saw them play (Thursday) and got video. But, we are just taking them like any other team. The girls don't focus on a particular team. We just are doing the same things we have been doing. Nothing is different. But (this game) is a challenge. They are good."
West Greene, the WPIAL champion, beat Claysburg-Kimmel, 3-1, in the quarterfinals Thursday scoring two times in the bottom of the sixth to break a 1-all tie. The Pioneers are 24-1 on the year with the lone loss coming April 19, 7-6, Waynesburg Central.
DCC, the District 9 champion, also has one loss going 23-1 following a 9-3 come-from-behind win over Commodore Perry in the quarterfinals Thursday. That lone defeat came to Punxsutawney and Penn State recruit Kylee Lingenfelter, 5-1 May 16.
"We have played a number of better teams this year and have had challenges through the season more so than last year," Heigel said. "I think we are more ready (for this game), more prepared."
DCC has become somewhat of the comeback kids in the PIAA playoffs spotting 3-0 early leads to both of their opponents – Carmichaels in the opening round and Commodore Perry in the quarterfinals – before their bats overcame both deficits to pound out 27 runs in two PIAA games.
"Our goal is to not get down 3-0 in this game," Heigel said. "It would be nice to break out and score first for once. I feel better taking chances on the base paths when you are up."
Heigel believes his team is hitting the ball better this year than it was heading into the PIAA semifinals a year ago, and the numbers would bear out.
Last season, DCC scored 25 runs between the District 9 semifinals and the PIAA quarterfinals with 16 of those coming in a first-round PIAA win over Windber, and the Lady Cards had just 18 total hits from the D9 title game through the PIAA quarterfinals with 11 of those coming in the win against Windber.
This year it has been a different story.
The Lady Card have scored 44 runs since the D9 semifinals and have 39 totals hits from the D9 title game scoring at least nine runs in every game from the champion contest on and having double-digit hits in all three of those contests.
"The things we have this year is we are hitting the ball better than at this point last year," Heigel said.
Senior catcher Jordy Frank, who is headed to St. Francis (Pa.) next season, leads the way batting .562 with nine home runs, eight triples and seven doubles while driving in 54 runs, which is over two per game.
Frank, who bats second, is part of a senior-laden top three in the DCC lineup that has been keys to the success all season long.
Leadoff hitter Macey Hanes, the center fielder, is hitting .591 with a team-leading 56 runs scored, and No. 3 hitter, Riley Assalone, the pitcher, is stroking at a .487 clip with 18 doubles, a home run and 35 RBIs.
Those three are able to do their thing because the rest of the Lady Cardinals lineup is no joke.
Sophomore second baseman Ashley Wruble, the cleanup hitter, adds a .400 average with four homers, 12 doubles, two triples and 20 RBIs, while freshman shortstop Shay Gulvas, who bats fifth, his hitting .377 with two homers, six doubles and 28 RBIs.
In fact, one through eight in the order for DCC no one is hitting below .343, and the team is so talented offensively that Heigel has been able to use sophomore Carly Semanick in a pinch-hit role in each of the last two games with her delivering a pair of clutch hits.
"It's an amazing problem to have," Heigel said of his wealth of riches on offense. "Obviously, it's helpful to turn over the lineup and get back to your big sticks. We become pretty effective when we turn the lineup over. I like our changes, especially when we get the bottom of the order on base."
The DCC lineup will be facing a freshman hurler for West Greene, as lefty Jade Renner has stepped into the circle that was occupied by her older sister, Madison Renner, a junior is now the shortstop. Madison Renner shutdown DCC a year ago allowing two runs on six hits and two walks while striking out three.
This season, Jade Renner sports a 17-1 record with a 1.30 ERA. In 102.1 innings of work, she has struck out 80 and walked just 11.
"She throws hard and has a great changeup," Heigel said. "She spins the ball real good. As I've been saying, the pitching gets better as you get deeper into the playoffs."
Heigel said he doesn't believe the fact Jade Renner is left handed will have much effect on his team.
"Unlike in baseball, because girls can back the ball up with a screwball there is not a whole lot of difference (between right-handed and left-handed pitchers)," Heigel said. "I would think the curveball (from a lefty) would be less effective against right-handed batters, but the screwball neutralizes all of that."
Offensively, the Pioneers present problems for any opponent, especially with their power.
West Greene has smacked 32 home runs and 100 total extra-base hits this season (57 doubles, 11 triples) led by Madison Renner, who is hitting .500 with 12 homers and eight doubles to go with 55 RBIs.
Madison Renner is one of four regulars hitting .500 or above for the Pioneers.
Sophomore McKenna Lampe leads the way at .667 with seven homers 10 doubles and 32 RBIs, while her twin sister Madison Lampe is hitting .573 with seven homers, seven triples, 11 doubles and 49 RBIs and sophomore Kaitlyn Rizor is hitting .526 with five homers, four triples, eight doubles and 28 RBIs.
They will be going up against Assalone, who hasn't been as efficient as she was heading into last year's semifinal game when she had allowed just one earned runs in her previous 70 innings of work going into the game with an ERA of 0.51 and a WHIP of 0.79 while striking out 131 in 109 ⅔ innings of work.
This year as been more of an up-and-down season for Assalone, who 17-1 but with a 2.16 ERA. She has still struck out 123 in 107 innings of work and has locked it down in each of the PIAA playoff games after giving up some early hits and runs including retiring 14 of the final 15 she faces against Commodore Perry Thursday.
"Even when Riley is not on the top of her game, she is still able to reach back," Heigel said.
The winner meets the winner of Monday's other semifinal game between defending PIAA champion Williams Valley, the District 11 champion, and District 5 champion, Meyersdale, at 11 a.m. Friday, June 16, at Penn State.
"I think there is a quiet confidence," Heigel said. "They have no doubt they can beat them. We played Punxsutawney, DuBois and a whole bunch of good teams this year. We don't have to take a back seat to anyone in single A."
EXTRA BASES
DCC will try to become the fifth D9 PIAA Class 1A team to reach the title game since 2007. In 2007, Curwensville beat Upper Dauphin, 7-3. Then in 2009, Curwensville again won the championship topping Old Forge 1-0. In 2011, Clarion lost to Minersville, 6-1, and in 2015, Elk County Catholic beat Conemaugh Valley, 7-0.
This marks the seventh time in the past 14 years a District 9 teams has reached the semifinals with Smethport doing it in 2004 and 2006, Curwensville doing so in 2007 and 2009, Clarion in 2011, ECC in 2015 and DCC in 2016 and 2017.
This game marks the first time since the PIAA expanded its playoffs to at least three classifications in 1999 adding Class 1A that year that the same two teams have met in the PIAA Class 1A semifinals in back-to-back years.
Williams Valley, which beat West Greene, 3-2, in last year's title game, also won the 2013 Class 1A championship.
West Greene and Williams Valley are trying to do something that has never happened in Class 1A – have a rematch of the previous year's title game. It has only happened twice in PIAA history regardless of classification. In 2002 and 2003 North Allegheny and Neshaminy met in Class 4A with North Allegheny winning in 2002 and Neshaminy in 2003 and in 1983 and 1984, when there were only two classifications – 2A and 3A – Kutztown and Iroquois met in back-to-back years with Iroquois winning in 1983 and Kutztown in 1984.