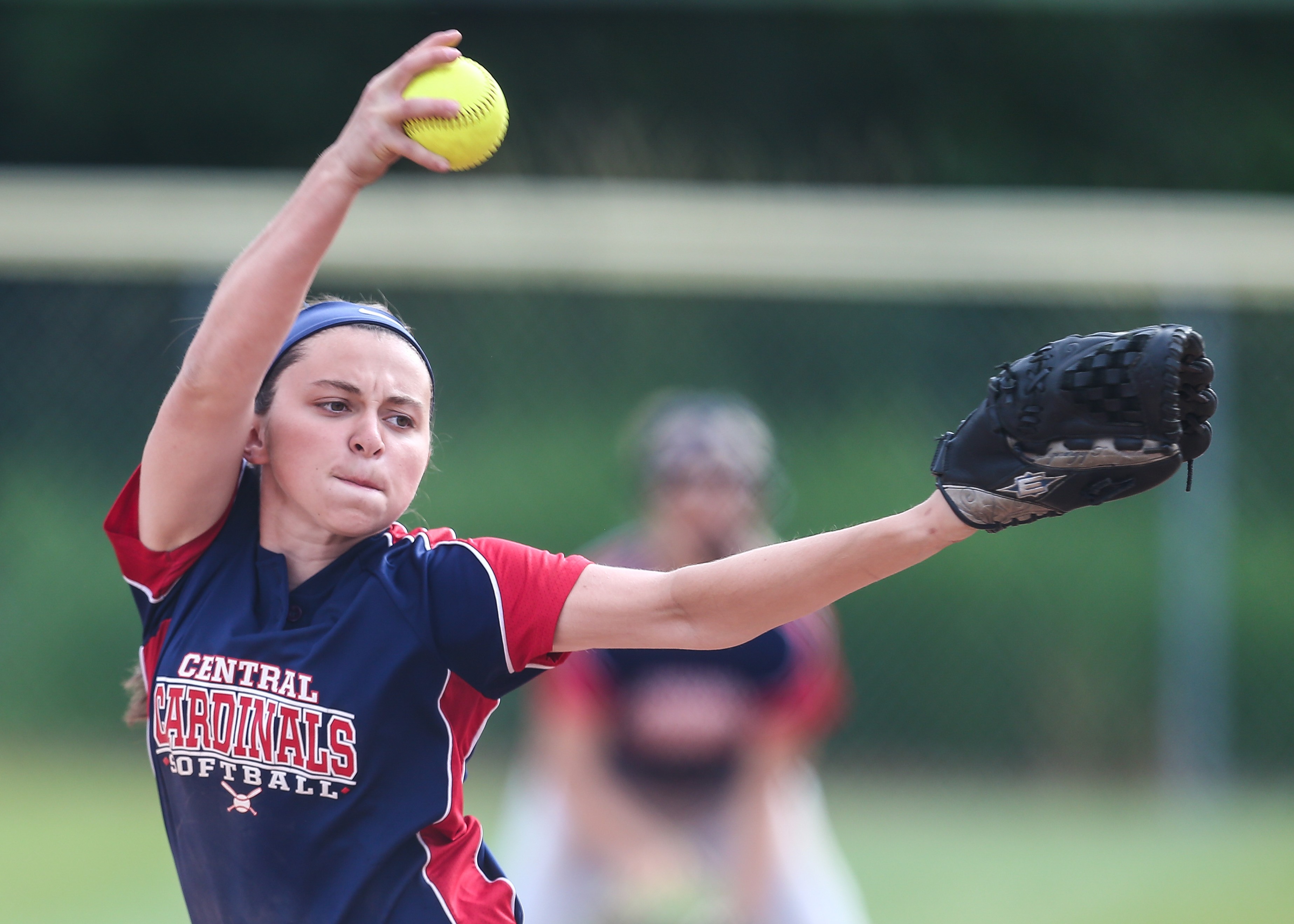 HERMITAGE, Pa. – Note to future DuBois Central Catholic softball opponents: a three-run lead is not enough against these heavy hitting Lady Cardinals.
(Cover photo of Riley Assalone. Photo by Mike Schnelle. Check out more of Schnelle's work here)
For the second straight PIAA playoff game, DCC spotted an opponent a three-run lead, and for the second straight game, the Lady Cardinals had the last laugh.
DCC scored nine unanswered runs after a three-run home run by Brittany Shrock in the third inning gave District 10 champion Commodore Perry a 3-0 lead, as the Lady Cards moved into the PIAA Class 1A semifinals for the second straight season with a 9-3 win at Hickory High School Thursday afternoon.
"Obviously, it's a little nerve-racking (when you get done)," senior pitcher Riley Assalone said. "But our whole thought the season is two or three runs is not going to beat us, two or three people aren't going to beat us. So we just knew we were going to have to chip away, and we knew because they were a really good team, we knew it wasn't going to happen in one inning."
Watch Assalone's complete interview.
Well, actually it did pretty much happen in one inning.
After getting a run back in the top of the fourth, DCC sent nine batters to the plate in the fifth scoring five times on five hits to take control of the game.
"We continue to get production all of the way up through the order again," DCC head coach George Heigel said.
Some of that production again came from sophomore Carly Semancik, who Heigel inserted as a pinch hitter for Sabrina Spencer to lead off the fifth, and Semancik kept her hands back on a two-strike off-speed pitch from Brittany Shrock and punched a single into left field.
"She waited on that changeup," Heigel said. "I think if the pitcher had that pitch back, she wouldn't throw it again, obviously. That was a big hit to start that inning off."
After Hanes moved Spencer, who ran for Semancik, to second, Jordy Frank roped a triple to right, and Assalone and Ashley Wruble followed with back-to-back run-scoring doubles to all of a sudden put the Lady Cardinals ahead, 4-3.
"It got to be the third inning, and I was starting to wonder," Heigel said. "I got back to playing those better schools, bigger schools during the season. We got down in situation and we didn't panic today/ We knew we could come back. We came back earlier in the year on a couple of teams. You talk about those things. When you have good players, the coaching is pretty easy. You just remind them of things you work on. Most of the time it's reflex, especially with the seniors."
DCC tacked on two more runs in the inning when Shay Gulvas walked and her and Wruble moved up on a wild pitch. Wruble then scored on a groundout by Libby Maurer and then Alyssa Bittner singled home Gulvas making it 6-3.
Commodore Perry changed pitchers in the sixth going with Kate Wilkosz in place of Brittany Shrock.
That didn't bother the Lady Cardinals at all as they tacked on three more runs.
Assalone and Wruble again had back-to-back RBI doubles, and Wruble scored when Brittany Shrock, now at shortstop, dropped a routine pop fly in front of second base to make it 9-3.
"I've been struggling a little bit, pulling my head out," Assalone said of her hitting, which looked good with a 3-for-3 day with two double and two RBIs. "I knew I had to keep my head in there and help my team out on offense and on defense."
Assalone was also locking it down in the circle after surrendering the third-inning, three-run blast to left-center to Brittany Shrock, who had hit a grand slam in the first-round win over Monessen, which she said happened on a hanging curveball.
But after the homer, Assalone, who had allowed five hits in two-plus innings, locked it in and allowed just one hit the rest of the way retiring 14 of the last 15 she faced.
"I threw a curveball that kind of hung right in the middle, and she blasted it," Assalone said of Shrock's homer. "I figured I had to step it up from there."
Heigel said his senior ace was struggling early to the point where he considered removing her and had Wruble warming up before the five-run fifth.
"I was fairly convinced I was going to change pitcher," Heigel said. "I always hate to do that. But on the other hand, you have to do what's right for the rest of the team. I struggled with that. But when she is not at the top of the game, she is still able to reach back. Riley did what she needed to be done. She was not at her best but she was good enough to get us the win."
DCC is back in the semifinals against West Greene, the team that ended its season a year ago. That game is Monday at a site and time to be determined.
"It's been our goal this year, especially cause it was our senior year," Assalone said. "To just make it back and make another good run at states, and so far, so good."
DUBOIS CENTRAL CATHOLIC 9, COMMODORE PERRY 3
Score by Inning
DuBois Cen. Cath. 000 153 0 – 9
Commodore Perry 003 000 0 – 3
DCC – 9
Macey Hanes cf 3110, Jordy Frank c 5221, Riley Assalone p 3232, Ashley Wruble 2b 2222, Shay Gulvas ss 3111, Libby Maurer 3b 4001, Alyssa Bittner 1b4011, Jordy Kosko pr 0000, Maia Cogley dp 4010, Maddie Nasuti lf 0000, Sabrina Spencer rf/pr 3100, Carly Semancik ph 1010. Totals 32-9-12-8.
Commodore Perry – 3
Brooke Shrock 2b 3110, Mackenzie Larimer 3b 3120, Brittany Shrock p/ss 3113, Kate Wilkosz ss/p 3000, Victoria Zachrich 1b 3010, Kylee Bonnett c 3000, Aiyana Buynak rf 3010, Taylor Stringert cf 3000, Sarah May lf 3000. Totals 27-3-6-3.
LOB: DCC 8. Commodore Perry 3. Errors: DCC 0, Commodore Perry 1. 2B: Assalone (2), Wruble (2), Brooke Shrock. 3B: Frank. HR: Brittany Shrock. SAC: Hanes. SB: Hanes, Wruble. CS: Assalone. HBP: Assalone by Brittany Schrock
PITCHING
DCC
Riley Assalone – 7 IP, 6 H, 3 R, 3 ER, 0 BB, 2 K, 0 HP
Commodore Perry
Brittany Shrock – 6 IP, 9 H, 6 R, 6 ER, 4 BB, 6 K, 1 HP
Kate Wilkosz – 1 IP, 3 H, 3 R, 2 ER, 0 BB, 1 K, 0 HP
TOTALS – 7IP, 12 H, 9 R, 8 ER, 4 BB, 7 K, 1 HP
Note: Shrock pitched innings 1 through 5 and 7, while Wilkosz pitched the 6th)
Winning pitcher: Riley Assalone
Losing pitcher: Brittany Shrock