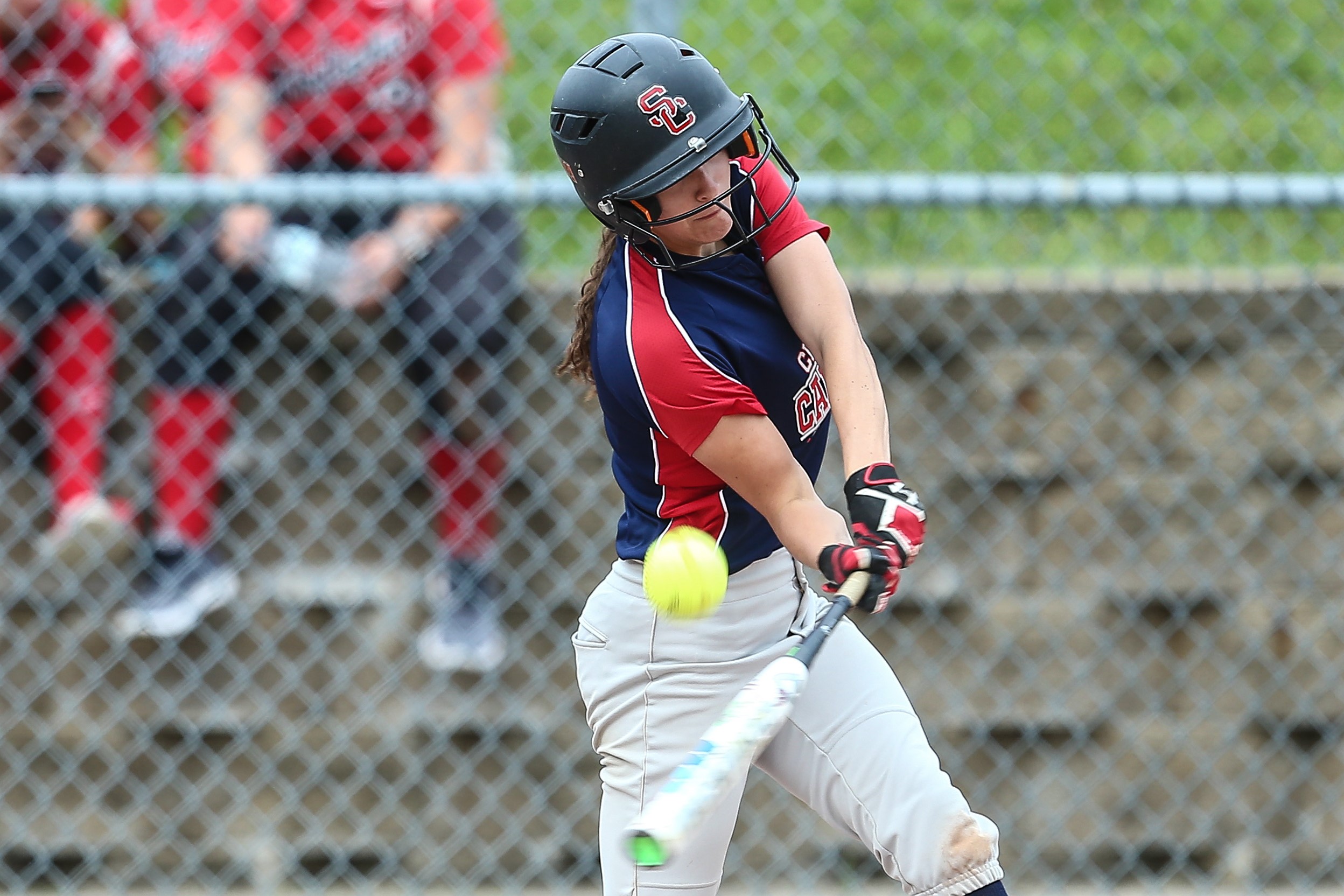 DUBOIS, Pa. – The DuBois Central Catholic softball team is a step away from returning to the PIAA Class 1A semifinals for the second straight year.
(Cover photo of DCC senior catcher Jordy Frank. Photo by Mike Schnelle. Check out more of Schnelle's work here)
Standing in the Lady Cardinals (22-1) way is District 10 champion Commodore Perry (15-3). The teams meet at 2 p.m. Thursday at Hickory High School in the quarterfinals.
DCC is coming off an easier-than-expected 18-3, four-inning victory over Carmichaels in the opening round Tuesday, while Commodore Perry scored late in a 7-2 win over Monessen, also Tuesday.
The Lady Cardinals like to hit the ball as evidence by averaging over 11 runs per game and a team batting average of .416.
Seniors Macey Hanes, Jordy Frank and Riley Assalone are the top three hitters, while freshmen Maia Cogley and Shay Gulvas and sophomore Ashley Wruble give DCC a good young-old mix in the lineup.
Hanes is hitting a team-leading .607 while scoring a team-best 51 runs out of the leadoff spot.
Frank, a catcher who is committed to St. Francis (Pa.) next year, has hit a team-high nine home runs to go with seven doubles and seven triples while hitting .566 with a team-leading 54 RBIs.
Assalone chimes in at a .467 clip with a team-leading 16 doubles to go with 33 RBIs.
The young guns are also having solid seasons.
Cogley is batting .394 on the year and has started to see more and more playing time as the season has gone on, while Gulvas has slid right into the five-hole in the lineup and is hitting .378 with 27 RBIs.
Wruble, a star as a freshman a year ago, is batting cleanup for the Lady Cardinals and is hitting .384 with four home runs and 10 doubles while driving in 18.
The offense will be challenged by Commodore Perry senior pitcher Brittany Schrock, who going into Tuesday's game with Monessen had a 1.41 ERA in 79 ⅓ innings of work while recording 127 strikeouts. She didn't disappoint against the Greyhounds allowing two runs on just two hits in the victory.
DCC has a pretty good pitcher of its own in Assalone.
Assalone, who struggled a bit early in the season with command, has seemed to lock it in during the stretch run and has a 2.10 ERA with 121 strikeouts in 100 innings of work this season. Those numbers have improved in four postseason games where she has a 1.82 ERA in 23 innings of work 36 strikeouts.
Assalone will be facing a Panthers lineup that has shown some pop this year with 51 extra-base hits in the regular season including 11 home runs and then added a game-deciding grand slam from Brittany Shrock, her fourth homer of the season, in the win over Monessen.
Brittany Shrock is hitting .468 on the year with 28 RBIs, while freshman Brooke Schrock comes in at .484 with 16 RBIs. Also for Commodore Perry, Kate Wilkosz is hitting .308 with 21 RBIs.
The winner moves into the PIAA semifinals Monday against the winner of the game against West Greene, which beat DCC in last year's semifinals, and Claysburg-Kimmel, which is at 4 p.m. at Somerset High School.
Note: A full preview with quotes will be available on our sister site ExploreJeffersonpa.com around 12:30 a.m. June 8.