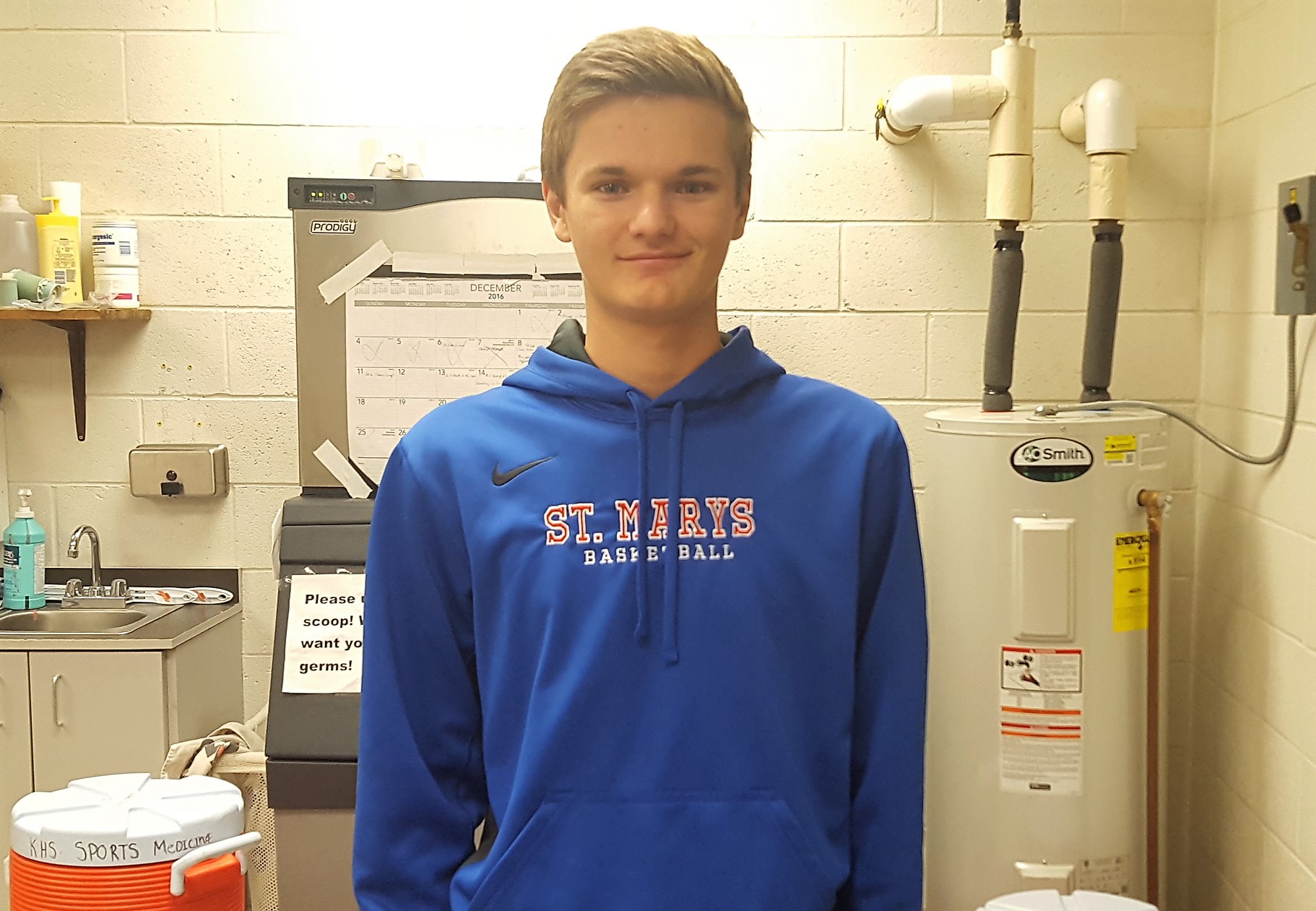 Dec. 10 District 9 boys' basketball roundup.
Click here for the girls' round
(Cover photo of St. Marys' Nathan Schneider)
ST. MARYS 59, CLARION 57
KNOX, Pa. – Nathan Schneider's fast-break layup with 1.7 seconds left lifted St. Marys to a 59-57 win over Clarion in the championship game of the Keystone Tip-off Tournament.
Schneider talked about the winning play
With the score tied at 57, Clarion took time out with 13.8 seconds to play. But instead of playing for the last shot, Cam Craig, who finished with a game-high 23 points for the Bobcats, drove the lane with about 10 seconds to play.
His runner was too strong, and Anthony Cortina hauled down the rebound for the Dutch.
Cortina then threw an outlet pass to Jeff Wehler, who found a streaking Schneider for the game-winning basket.
Watch the game-winning sequence
Schneider's game winner capped a back-and-forth fourth quarter that saw the lead change hands six times with a tie.
Clarion led 47-54 following a Reed Anthony basket with 41.3 seconds to play, but Jackson Lindemuth nailed a 3-pointer with 33.2 left to tie the contest at 57.
Wehler finished with 22 points and 10 rebounds for St. Marys, while Schneider had 15 points and six rebounds.
Reed Anthony chipped in 11 points for Clarion with Austin Hummell scoring nine points and gathering nine rebounds, eight offensive. Ty Burford had eight points and five boards.
KEYSTONE 45, DUBOIS 41
KNOX, Pa. – Tanner Wilson and Austin Ion combined to score 16 fourth-quarter points to help Keystone rally past DuBois, 45-41, in the consolation game of the Keystone Tip-off Tournament.
Wilson and Ion each scored eight points in the quarter to help Keystone overcome a 26-25 deficit entering the quarter. Wilson's 3-pointer just under two minutes into the quarter started a 9-1 run that turned a 28-27 deficit into a 36-29. DuBois never got closer than four the rest of the way.
Wilson talked about the win
Ion finished with a team-best 16 points to go with five rebounds, while Wilson added 11 points and a team-high nine rebounds.
That helped offset a monster night from DuBois' Nick LaBrasca who scored 25 points to go with 15 rebounds. LaBrasca had 14 of his points and five of his rebounds in the fourth quarter trying to will the Beavers to victory.
Bryce Bright added eight points for DuBois with Kenny Garvey collecting a game-high 18 rebounds, including nine on the offensive glass, to go with six points. The Beavers out rebounded Keystone 52-29.
NORTH CLARION 56, SHEFFIELD 44
SHEFFIELD, Pa. – Chase Schmader and Nathan Banner combined to score 31 points, as visiting North Clarion took home the Sheffield Boosters Tip-off Tournament title with a 56-44 win over Sheffield.
Schmader led the Wolves with 18 points, while Banner added 13.
Roger Dunham paced Sheffield with 14 points.
The game was tied at 25 at halftime but North Clarion outscored the Wolverines 32-19 in the second half including 11-4 in the third quarter.
PORT ALLEGANY 57, JAMESTOWN (PA) 51
SHEFFIELD, Pa. – Thanks to the play of Howard Stuckey, David Talkington and Brandon McCaslin, Port Allegany claimed the consolation game of the Sheffield Boosters Tip-off Tournament with a 57-51 win over Jamestown (Pa.).
Stuckey led the Gators, who gave head coach Jeff Stuckey his first win, with 22 points. Talkington had a double-double with 10 points and 12 rebounds and McCaslin added 15 points.
UNION CITY 65, FOREST AREA 30
MARIENVILLE, Pa. – Andrew Hoban scored a game-high 12 points, as Union City won the Forest Area Tip-off Tournament with a 65-30 win over the host Fires at East Forest.
Seth Berlin led Forest Area with nine points with Martin Ralston adding seven.
COWANESQUE VALLEY 45, OSWAYO VALLEY 41
WESTFIELD, Pa. – Tyler Vargeson scored 18 points, as host Cowanesque Valley outlasted Oswayo Valley, 45-41, to take home the Cowanesque Valley Tip-off Tournament title.
The game was tied at 16 at halftime, but CowValley grabbed a four-point, 31-27, lead at the end of three.
Theo Henry led the Green Wave with 15 points and three steals, while Garrett Babcock had 14 points, seven rebounds, four steals and two assists.
NORTHERN POTTER 58, BUCKTAIL 55
WESTFIELD, Pa. – Tucker Kosa scored a game-high 20 points to lead Northern Potter to a 58-55 win over Bucktail in the consolation game of the Cowanesque Valley Tournament.
Austin Outman added 11 points for the Panthers, who led 27-23 at halftime.
Mitchell Intallaure led Bucktail with 14 points, while Liam Dwyer added 13.
KARNS CITY 68, SAEGERTOWN 26
FOXBURG, Pa. – Thanks in part to 20 points from Chandler Turner, Karns City rolled to its first win of the year, 68-26, over Saegertown in the Hoops for Heroes Crossover at A-C Valley.
Ian McElroy added 14 points and seven assists for the Gremlins, while Jacob Friel had 11 points and Eric Dodd five points and a team-best 10 rebounds.
PURCHASE LINE 80, A-C VALLEY 51
FOXBURG, Pa. – Micay Kurka and Melvin Sanchez each scored 18 points, as Purchase Line topped host A-C Valley, 80-51, in the Hoops for Heroes Crossover.
Joe Manculich led A-C Valley with 13 points and six rebounds with Kody Wolfe adding 10 points, five steals and five rebounds.
PUNXSUTAWNEY 63, DUBOIS CENTRAL CATHOLIC 43
DUBOIS, Pa. – Tournament MVP Devin Kelly netted a game-high 20 points, as Punxsutawney cruised to a 63-43 win over DuBois Central Catholic in the DCC Tip-off Tournament.
Jake Horner added 12 points for the Chucks, who had 12 different players score.
Noah Pettenati led DCC with 10 points.
RIDGWAY 59, MONITEAU 25
NEW BETHLEHEM, Pa. – Justin Kasmierski filled the nets with a game-high 20 points to lead Ridgway to a 59-25 win over Moniteau in the championship game of the Redbank Valley Tip-off Tournament.
Aaron Shilk and Johnny Mitchell each added 10 points for the Elkers.
Nathan Sosigian paced Moniteau with 11 points, while Lake Pry added 10. The Warriors only had three players score.
BRADFORD 56, REDBANK VALLEY 29
NEW BETHLEHEM, Pa. – Nate Higbie scored 15 points and grabbed five rebounds to lead Bradford to a 56-29 win over Redbank Valley in the consolation game of the Redbank Valley Tip-off Tournament.
Freshman Tyler Gigliotti added 13 points for the Owls, who also got 11 points and seven assists from Deondre Terwilliger.
Ethan Hetrick paced Redbank Valley with eight points.
VENANGO CATHOLIC 35, CRANBERRY 29
FRANKLIN, Pa. – Behind 12 points from Tim Wagner and nine from Josh Puleo, Venango Catholic claimed the consolation game of the Roy Sanner Memorial Tip-off Tournament at Rocky Grove with a 35-29 win over Cranberry.
Dan McQuaide led Cranberry with 10 points.
BROCKWAY 64, CLARION-LIMESTONE 40
BROOKVILLE, Pa. – Eleven different players found the scoring column and Brockway opened the season with a Brookville Tip-off Tournament championship thanks to a 64-40 win over three-time defending champion Clarion-Limestone.
Andrew Trunzo scored 12 points while Jarrett Esposito finished with 10 points and seven rebounds, one night after five Rovers reached double figures in a win over Brookville. This time, all but two of their dressed players scored points.
The Rovers led 23-6 after the first quarter and by as many as 35 points early in the fourth quarter as they forced 23 C-L turnovers.
Esposito, Jake Wineberg and tournament MVP Carter Adams made the all-tourney team. Adams scored six points while Winberg added five points in Saturday's win.
Christian Smith scored 12 points for C-L while Deion Deas, the Lions' all-tourney player, scored nine points. The Lions lost 1,000-point senior Dan Callen to an apparent shoulder injury in the second quarter and did not return. He finished with two points.
BROOKVILLE 54, UNION 39
BROOKVILLE, Pa. – Claiming third place in its own tournament, Brookville beat Union, 54-39, in the consolation game.
Jimmy Moore came off the bench to score 16 points while all-tournament selection Trenton Gilhousen scored 15 points and grabbed nine rebounds. Aaron Park and Colton Singleton scored six points apiece with Park, a freshman, leading the team's rebounding dominance with 13 boards. The Raiders out rebounded the Golden Knights, 45-25.
Lucas Bowser scored 16 points to lead Union. Gavin Hawk had 11 points.
WILLIAMSON 65, AUSTIN 29
AUSTIN, Pa. – Collin Heilbrun dropped 26 points, including 16 in the second quarter, to lead visiting Williamson to a 65-29 win at Austin.
Blake Burgett paced Austin with 11 tallies.