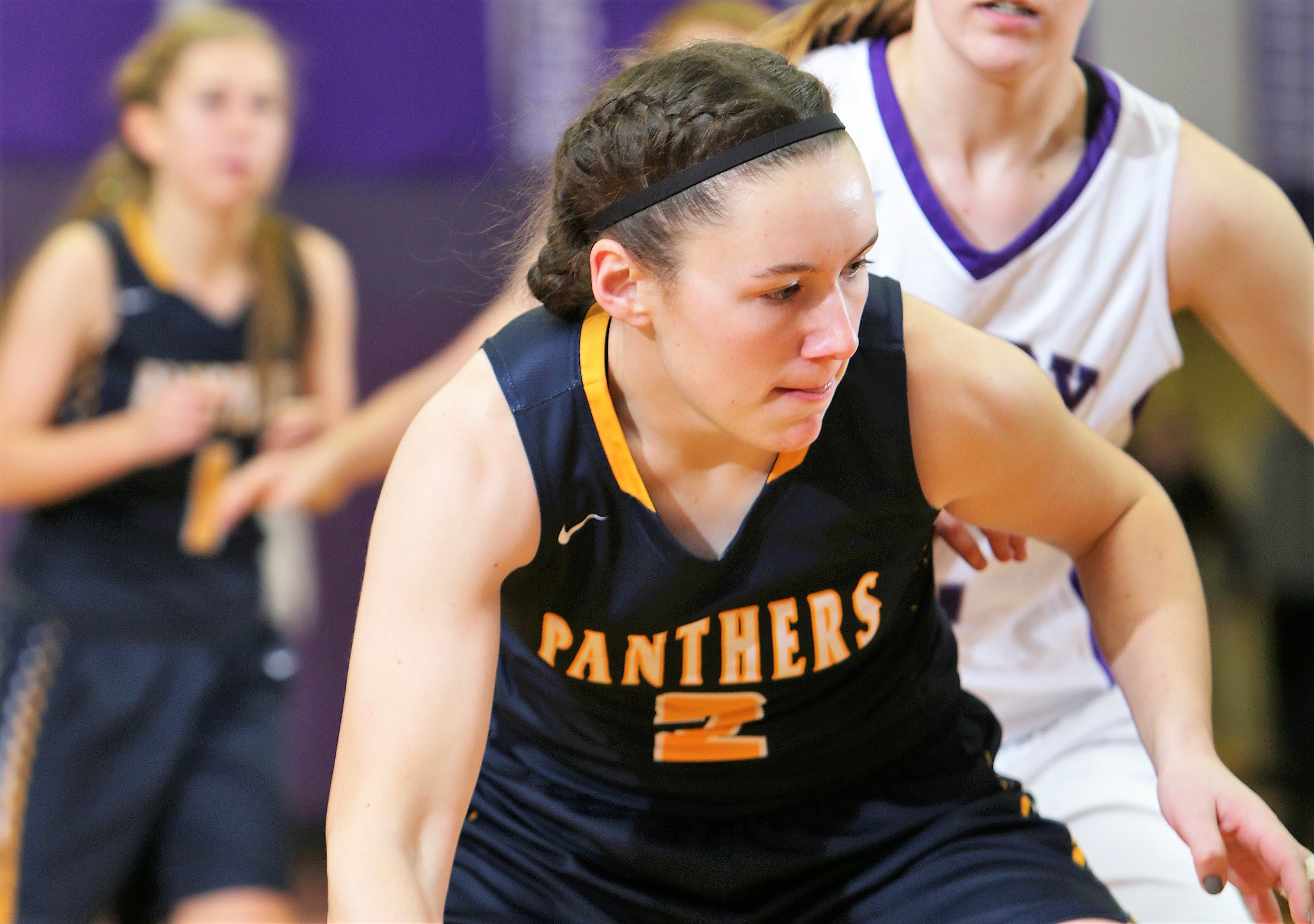 Dec. 10 boys' and girls' basketball recaps.
(Photo of Northern Potter's Abbi Anderson. Anderson had 11 points in the Lady Panthers win over Smethport Monday. Photo by Paul Burdick. Check out more of Burdick's work here)
BOYS' RECAPS
ST. MARYS 65, WARREN 56
ST. MARYS, Pa. – Trailing by three at halftime, St. Marys outscored Warren by 12 in the second half to get a 65-56 win over the visiting Dragos.
The Dutch were down 30-27 at halftime but took the lead, 47-44 at the end of three quarters.
Cahil Parrish tickled the twine for a career-best 29 points for St. Marys, 21 in the second half, with Mitch Reiter adding 12 tallies and Nick Catalone 10.
Jake Kupchella led a trio of Warren players in double digits with 16 points. Calen Ei added 12 points and Griffin Suppa 10.
DUBOIS 61, BROCKWAY 42
DUBOIS, Pa. – Justin Manduley's 19 points helped DuBois roll past visiting Brockway, 61-42.
Jonathan Cruz added 12 points for the Beavers with Lennon Lindholm chipping in eight and Alex Beers seven.
Jon Wood paced Brockway with 12 points with Alec Freemer and Zane Puhala each scoring 11.
RIDGWAY 69, KANE 57
KANE, Pa. – Jake Reynolds led four Ridgway players in double digits with 22 points, as the visiting Elkers beat Kane, 69-57.
Reynolds hit four 3-pointers on his way to a career high.
Will Thompson added 12 points for Ridgway with Daunte Allegretto contributing 11 points and Zach Zameroski chipping in 10.
Alex Rezzelle paced Kane with 18 points. Chad Greville added 14 and Carson Whiteman 13.
CLEARFIELD 57, WEST BRANCH 33
HYDE, Pa. – Cade Walker and Karson Rumsky each scored 16 points to lead Clearfield to a 57-33 win over visiting West Branch.
Walker completed a double-double with 10 rebounds. Andrew Lopez just missed a double-double finishing with nine points and 11 boards. Taye Lynch contributed eight tallies.
Larry Cowder's 15 points paced West Branch.
TIDIOUTE CHARTER 44, AUSTIN 40
TIDIOUTE, Pa. – Jared Veasey and Patrick Shields teamed up to score 38 points to lead Tidioute Charter to a 44-40 win over visiting Austin.
Veasey scored a game-high 21 points with Shields adding 17.
Jackson Glover and Dempsey Glover each scored 11 points for Austin with Blake Burgett adding nine tallies.
WELLSVILLE (N.Y.) 55, BRAFORD 49
WELLSVILLE, N.Y. – Max Jusianiec scored 15 points, 12 in the second half, to rally Wellsville (N.Y.) to a 55-49 win over visiting Bradford.
The Owls led 22-19 at halftime but were outscored, 18-9, in the third quarter.
Tyler Gigliotti paced Bradford with 22 points and six assists.
MOSHANNON VALLEY 56, CURWENSVILLE 26
HOUTZDALE, Pa. – Alex Kitko and Joe Bacher each scored 21 points to pace a 56-26 Moshannon Valley win over visiting Curwensville in Mo Valley League action.
Christian Bakaysa had a team-high eight points for Curwensville with Avery Francisco adding seven.
GIRLS RECAPS
NORTHERN POTTER 52, SMETHPORT 16
SMETHPORT, Pa. – Behind 23 points from Mirissa Bliss visiting Northern Potter won its North Tier League opener, 52-16, at Smethport.
Courtney Martin added 17 points for the Lady Panthers with Abbi Anderson chipping in with 11.
Erin Herzog paced Smethport with eight points with Sabrina Tanner adding six rebounds.
OTTO-ELDRED 66, GALETON 32
DUKE CENTER, Pa. – Autumn Smith and Reilly Raught combined for 31 points to lead Otto-Eldred to a North Tier League opening win, 66-32, over visiting Galeton.
Smith had 17 points while adding seven rebounds, two steals and an assist with Raught coming off the bench to chip in 14 points, seven rebounds, two steals and two assists.
Also for the Lady Terrors, Kayley Heller had nine points, seven rebounds and six assists and Hayley Cousins added nine points, four assists and two steals. Lauren Cousins also scored nine points in the win.
Kately Pagano and Brielle Kalacinski each scored eight points to pace Galeton.
MOSHANNON VALLEY 62, CURWENSVILLE 54
CURWENSVILLE, Pa. – Despite a game-high 31 points from Madi Weber, Curwensville dropped a 62-52 decision to visiting Moshannon Valley in Mo Valley League action.
Weber hit seven 3-pointers on her way to the 31 points and was the only Lady Tide in double digits. Brianna Swindell, who hit two 3-pointers, and Alyssa Bakaysa each added six points.
Leading the way for Moshannon Valley was Emma Kitko with 22 points with Chloe Blake adding 16 points.
CAMERON COUNTY 60, OSWAYO VALLEY 17
EMPORIUM, Pa. – Behind all-around strong games from Hailey Hilfiger and Kaelee Bresslin, Cameron County took care of business in its North Tier League opener with a 60-17 win over visiting Oswayo Valley.
Bresslin had 10 points, six steals and five assists with Hilfiger adding seven points, seven rebounds, five assists and three blocked shots.
Alyvia McKimm paced the Lady Raiders with 14 points with Lana Smith adding 11.
McKenzie Gross led Oswayo Valley with 10 points.
WEST SHAMOKIN 58, BROCKWAY 24
RURAL VALLEY, Pa. – Mattie Fusaro scored a game-high 15 points to lead West Shamokin to a 58-24 win over visiting Brockway.
Shelby Cessna added 11 points and Abby Oesterling 10.
Morgan Lindemuth paced Brockway with 11 points and six rebounds with Selena Buttery adding two points and 11 boards.