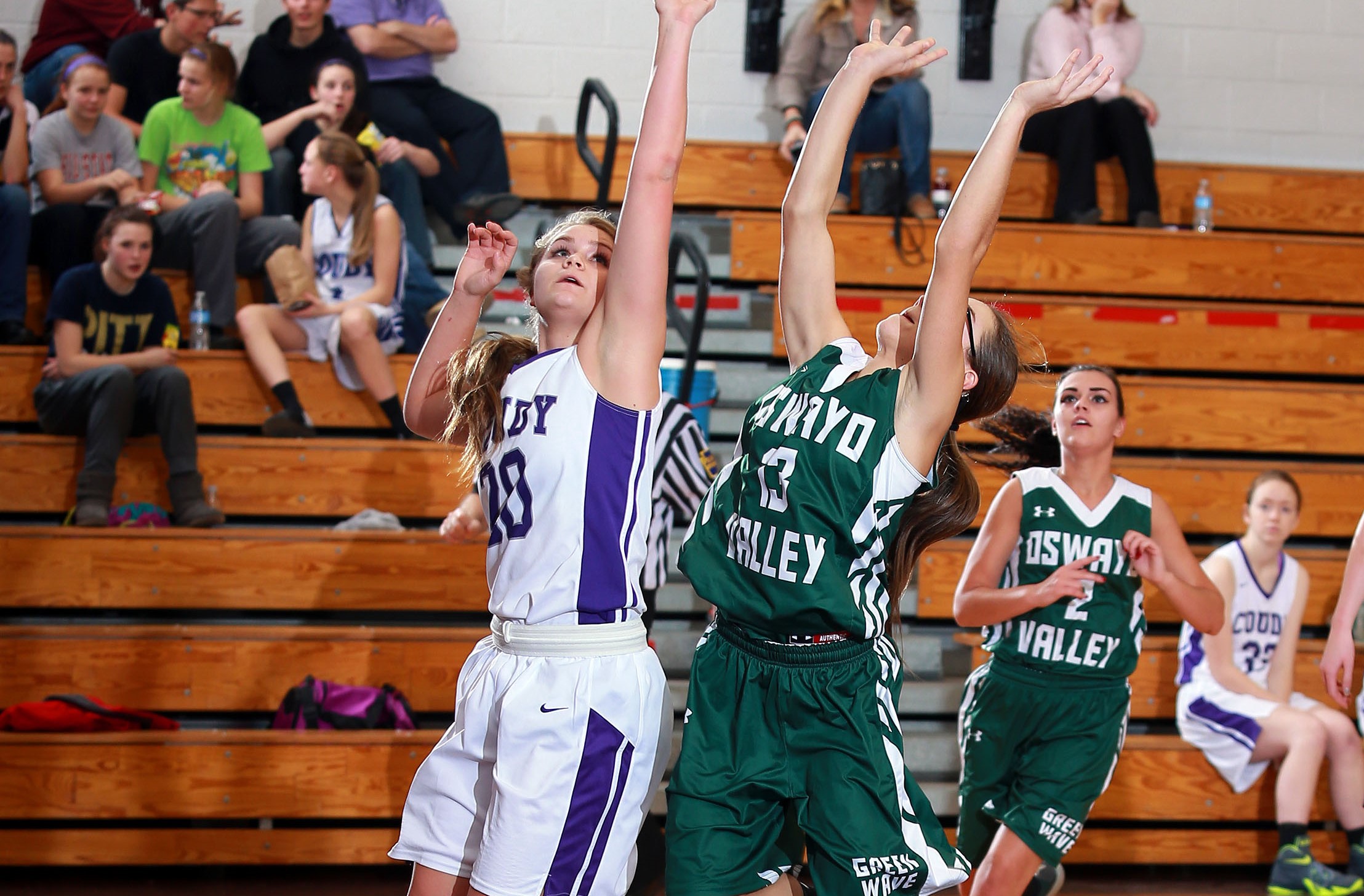 Dec. 12 girls' basketball recaps:
(Cover photo by Paul Burdick. Check out more of Burdick's work here)
OSWAYO VALLEY 39, FRIENDSHIP CENTRAL (NY) 27
FRIENDSHIP, N.Y. – Sarah Malogrino had a double-double, as visiting Oswayo Valley beat Friendship Central (N.Y.), 39-27.
Malogrino scored 16 points and added 10 rebounds and four steals for the Green Wave, who also got 12 points and three steals from Shayla Bickel and 10 rebounds from Abby Matthews.
CURWENSVILLE 52, MOSHANNON VALLEY 46
HOUTZDALE, Pa. – Madison Weber poured in 26 points to lead Curwensville to its first win of the season and the first win for head coach Jocelyn Bash with a 52-46 Moshannon Valley League victory of Moshannon Valley.
Weber hit five 3-pointers on her way to the game-high performance, while Hannah Dixon added 13 points for the Lady Tide.
Chloe Blake led Mo Valley with 14 points with Emma Kitko adding 13 points.
CAMERON COUNTY 42, RIDGWAY 39
RIDGWAY, Pa. – Madison Harrier and Maddi Guisto combined to score 23 points to pace a 42-39 win for visiting Cameron County over Ridgway.
Harrier scored a team-best 13 tallies with Guisto adding 10 for the Lady Raiders.
Emily Fullem led Ridgway with a game-high 17 points.
ST. MARYS 59, PORT ALLEGANY 39
ST. MARYS, Pa. – Bekka Bauer scored all eight of her points in a game-changing third quarter, as St. Marys turned a 5-point halftime lead into a 59-39 win over visiting Port Allegany.
The Lady Dutch led 28-23 at the break but outscored the Lady Gators 23-6 in the third quarter to pull away.
Caitlyn Bankovich had a game-best 17 points for St. Marys with freshman Megan Quesenberry adding 10 tallies.
Autumn Buchsenschutz paced Port with 14 points.
OTTO-ELDRED 55, EISENHOWER 27
DUKE CENTER, Pa. – Tiffany Bair recorded a double-double to help Otto-Eldred to a 55-27 win over visiting Eisenhower.
Bair had 10 points and 10 rebounds for the Lady Terrors who also got 15 points and eight boards from Camryn Thomas.
Kirsten Baran paced Eisenhower with 12 points.
CRANBERRY 59, SAEGERTOWN 44
SAEGERTOWN, Pa. – Erin Merryman and Malliah Schreck tallied a combined 36 points to give visiting Cranberry a 59-44 win at Saegertown.
Merryman led all scorers with 20 points with Schreck adding 16 for the Berries, who scored 59 points without the benefit of a 3-pointer.
Courtney Hess led Saegertown with 11 points.
COUDERSPORT 50, WELLSBORO 42
WELLSBORO, Pa. – Thanks in part to 17 points and five steals from Haley Keck, visiting Coudersport opened its season with a 50-42 win over Wellsboro.
Kiara Perkins added eight points and 11 boards for the Lady Falcons, who also got 11 points from Ally Easton and seven points and nine boards from Emma Rae Easton.
Lizzie Poirier paced Wellsboro with a game-high 21 points.