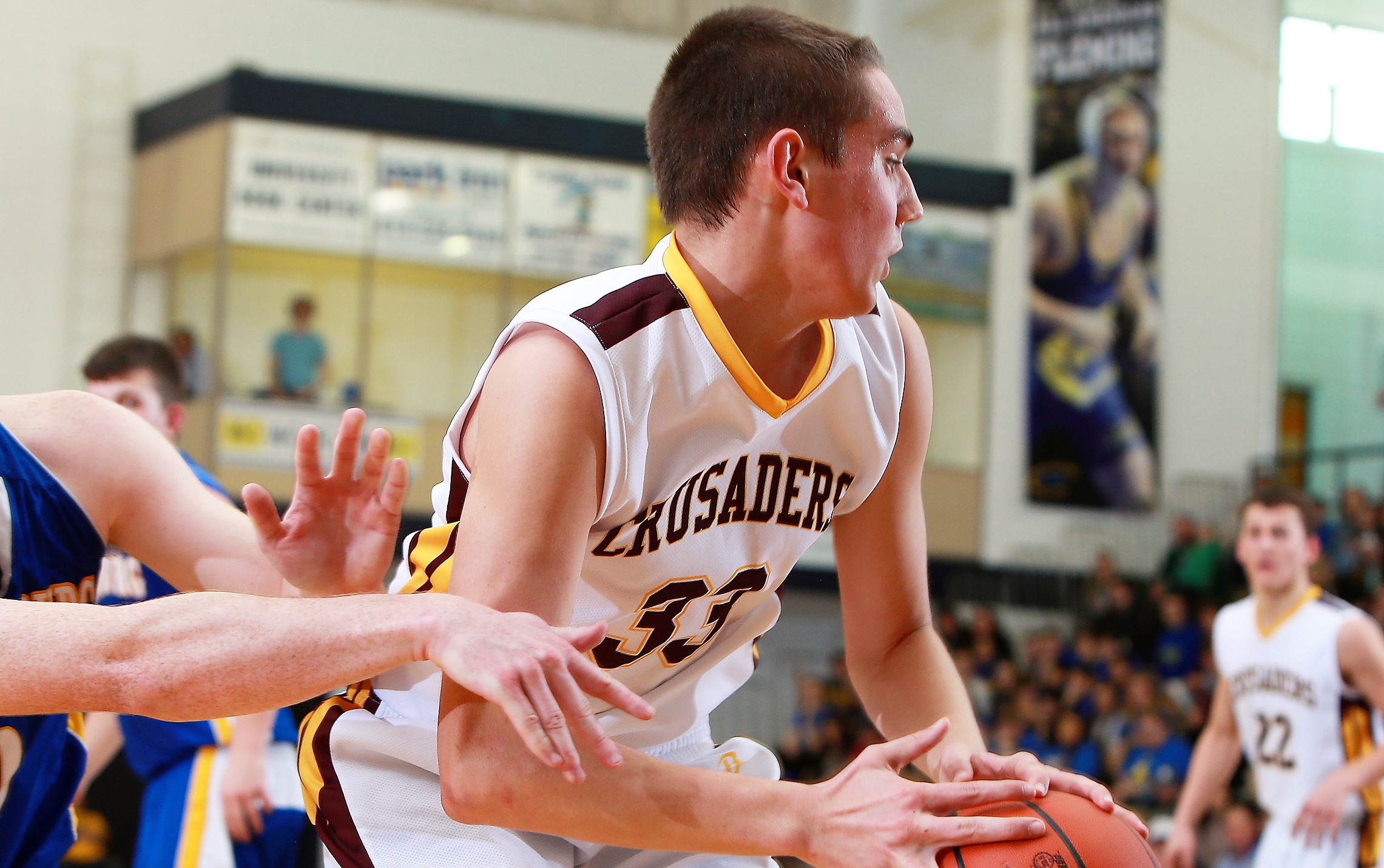 Dec. 12 boys' basketball recaps.
(Photo of ECC's Ryan Newton. Photo by Paul Burdick. Check out more of Burdick's work here)
ELK COUNTY CATHOLIC 55, JOHNSONBURG 38
JOHNSONBURG, Pa. – Visiting Elk County Catholic overcame a slow start to knock off Johnsonburg, 55-38, in the AML opener for both teams.
The Crusaders trailed, 19-13, early in the second quarter and 21-17 late in the first half before outscoring the Rams 17-4 over the next 10-plus minutes.
Ryan Newton had a big night for ECC with a game-high 23 points with Brady Schneider adding seven points.
Kacey Raubenstrauch paced Johnsonburg with 13 points with Austin Green adding 12.
KEYSTONE 70, A-C VALLEY 41
KNOX, Pa. – Brooks LaVan's 14 points led a foursome of Keystone players in double digits, as the Panthers rolled to a 70-41 KSAC South win over visiting A-C Valley.
Nate Wingard added 13 points, nine rebounds and five assists for Keystone with Dalton Jones chipping in 11 points and five helpers and Corey Rapp 12 points.
Russ Carr paced A-C Valley with 15 points. Jeff Ginn added six points and eight boards and Eddie Stevanus six points.
MONITEAU 49, UNION 35
WEST SUNBURY, Pa. – Three days after losing to Union in the consolation game of the Brookville Tip-Off Tournament, Moniteau turned the tide of the visiting Knights with a 49-35 win in the KSAC South opener for both teams.
Moniteau led 30-11 at halftime on its way to the 14-point win.
Ethan McDeavitt paced the Warriors with 17 points, including nine in the first half, while Jared Lominski chipped in with 14 points and Ross Tenney with 10.
Lucas Bowser led Union with 11 points.
CLARION-LIMESTONE 57, CLARION 42
CLARION, Pa. – A 15-3 run to close out the third quarter helped visiting Clarion-Limestone erase a one-point deficit and pick up a 57-42 win at Clarion in the KSAC North lid-lifter for both teams.
The Lions trailed 31-30 following a 3-pointer by Cam Craig two minutes into the second half but took control from there with a Christian Smith basketball giving C-L the lead for good.
Freshman Hayden Callen had a double-double with 12 points and 12 rebounds and was one of four Lions in double digits in scoring.
Ian Callen led C-L with 14 points and six rebounds, Christian Smith added 11 points and Julian Laugand chipped in 10 points and six boards.
Laugand, who was named the ExploreClarion.com Hager Paving Player of the Game, talked about the victory.
Cam Craig paced Clarion with 15 points and five rebounds.
CRANBERRY 54, VENANGO CATHOLIC 44
SENECA, Pa. – Dan McQuaide exploded for 29 points to lift Cranberry to a 54-44 win over visiting Venango Catholic in the KSAC North opener for both squads.
Brandon Forrest chipped in 15 points for the Berries, who beat the Vikings for the second time since Saturday.
Ben Gillispie paced Venango Catholic with 14 points with Josh Puleo adding 13.
KARNS CITY 55, REDBANK VALLEY 41
NEW BETHLEHEM, Pa. – Austin Fahlor and Chase Beighley combined to score 29 points, as visiting Karns City started KSAC South action with a 55-41 win over Redbank Valley.
Fahlor led all scorers with 15 points with Beighley right behind him with 14. Jacob Friel chipped in nine points and eight rebounds for the Gremlins with Nolan Riley adding seven points and eight boards.
Nick Smith led Redbank Valley with 10 points, Ethan Hetrick added nine, Keaton Kahle eight and Clye Bowser seven.
OSWAYO VALLEY 71, FRIENDSHIP CENTRAL (N.Y.) 25
FRIENDSHIP, N.Y. – Theo Henry enjoyed his trip across the state line netting 22 points to help Oswayo Valley to a 71-25 road win over Friendship Central (N.Y.).
Gavin Babcock added 16 points for the Green wave with Nathan Prouty chipping in with 13 tallies.
RIDGWAY 73, PORT ALLEGANY 26
PORT ALLEGANY, Pa. – A 29-point first quarter helped visiting Ridgway open its season with a convincing, 73-26, win over Port Allegany.
Ten different Elkers scored in the contest led by 12 points from Neil MacDonald. Parker Rohr chipped in with 11 tallies and Johnny Mitchell with 10. Ridgway led 51-14 at halftime,
Howie Stuckey paced all scorers with 14 points for Port Allegany.