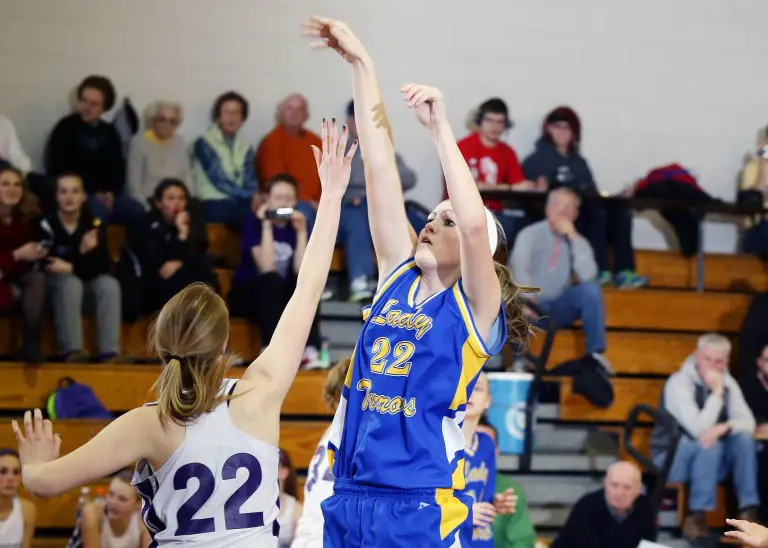 Dec. 12 girls' basketball recaps.
(Photo of Otto-Eldred's Camryn Thomas. Photo by Paul Burdick. Check out more of Burdick's work here)
OTTO-ELDRED 37, BRADFORD 26
BRADFORD, Pa. – Thanks to 16 points and eight rebounds from Camryn Thomas visiting Otto-Eldred topped Bradford, 37-26.
Brittney Greeley added four points and eight boards for the Lady Terrors, who also got seven points from Ali Cousins.
Erica Marshall paced Bradford with 10 points with Hannah Lary adding nine.
MOSHANNON VALLEY 62, CURWENSVILLE 32
CURWENSVILLE, Pa. – Emma Kitko netted 23 points to help visiting Moshannon Valley to a 62-32 win over Curwensville in Mo Valley League play.
Chloe Blaker and Alexis Knepp each added 10 points for Mo Valley.
Madi Weber paced Curwensville with 13 points.
WELLSBORO 62, COUDERSPORT 54
COUDERSPORT, Pa. – Emma Poirie scored 22 points to lead visiting Wellsboro to a 62-54 win at Coudersport.
Tory Self chipped in 14 points and Lizzie Poirie and Cathryn Brought each had 12 points for the victors.
Haley Keck and Shaelyn Black paced Coudersport with 19 points each with EmmaRae Easton adding nine tallies.