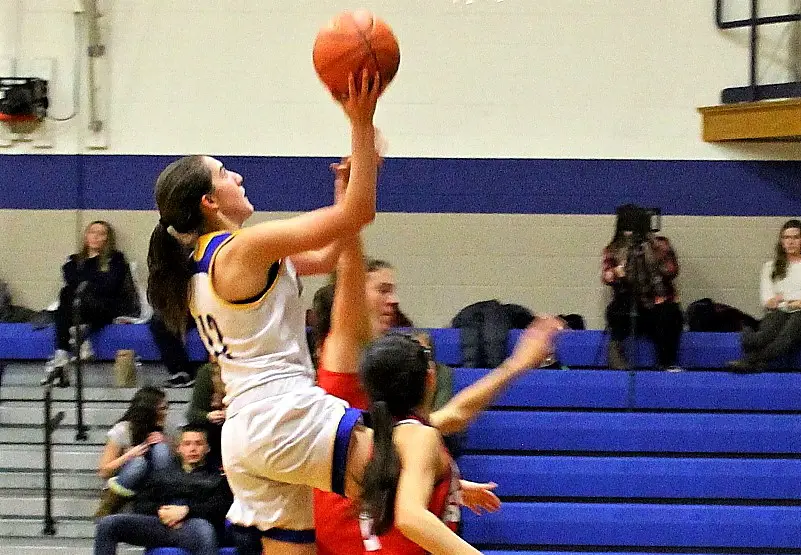 Dec. 12 girls' basketball recaps.
(Photo: Cassidy King scored 17 points for Johnsonburg in a win over ECC Wednesday. Photo by Rich Quiggle)
JOHNSONBURG 32, ELK COUNTY CATHOLIC 22
JOHNSONBURG, Pa. – Cassidy King and Rylee Casilio combined to score all but one of Johnsonburg's 32 points in a 32-22 AML victory over visiting Elk County Catholic.
King led the Ramettes with a game-high 17 points with Casilio adding 14.
Taylor Newton had 14 points and 12 rebounds for ECC.
MONITEAU 39, UNION 20
WEST SUNBURY, Pa. – Behind 21 points, eight rebounds and five blocked shots from Kristin Auvil, Moniteau picked up a home KSAC South win, 39-20, over Union.
Haley Pry added nine points for the Lady Warriors with Aslyn Pry contributing three points and nine rebounds.
Dominika Logue's seven points led Union.
COUDERSPORT 47, NORTHERN POTTER 23
ULYSSES, Pa. – Roselyn Page and Shae Black combined for 31 points to give visiting Coudersport a 47-23 NTL win over Northern Potter.
Page led the Lady Falcons with 17 points with Black adding 14.
Abbi Anderson scored 10 points for Northern Potter.
OTTO-ELDRED 44, AUSTIN 15
AUSTIN, Pa. – Autumn Smith scored 12 points, grabbed six rebounds and came away with six steals to lead visiting Otto-Eldred to a 44-15 win over Austin in NTL action.
Reilly Raught added 10 points and eight rebounds for the Lady Terrors with Britney Greeley adding seven points, six rebounds, three steals and two assists and Lauren Cousins seven points, five steals and four helpers.
Taylor Brewer led Austin with eight points
GALETON 38, SMETHPORT 17
GALETON, Pa. – Behind 13 points from Katelyn Pagano and 10 from Brittney Kalacinski, Galeton topped visiting Smethport, 38-17, in NTL action.
Sabrina Tanner led Smethport with six points.
CAMERON COUNTY 42, PORT ALLEGANY 39
PORT ALLEGANY, Pa. – Alyvia McKimm scored a game-high 20 points to lift visiting Cameron County to a 42-39 win over Port Allegany in NTL play.
The Lady Raiders, who also got nine points from Kaelee Bresslin, used a strong first half to secure the victory. Cameron County led 25-14 at the break.
Cailey Barnett (12 points) and Erin Stauffer (11) combined to score 23 points for Port Allegany.