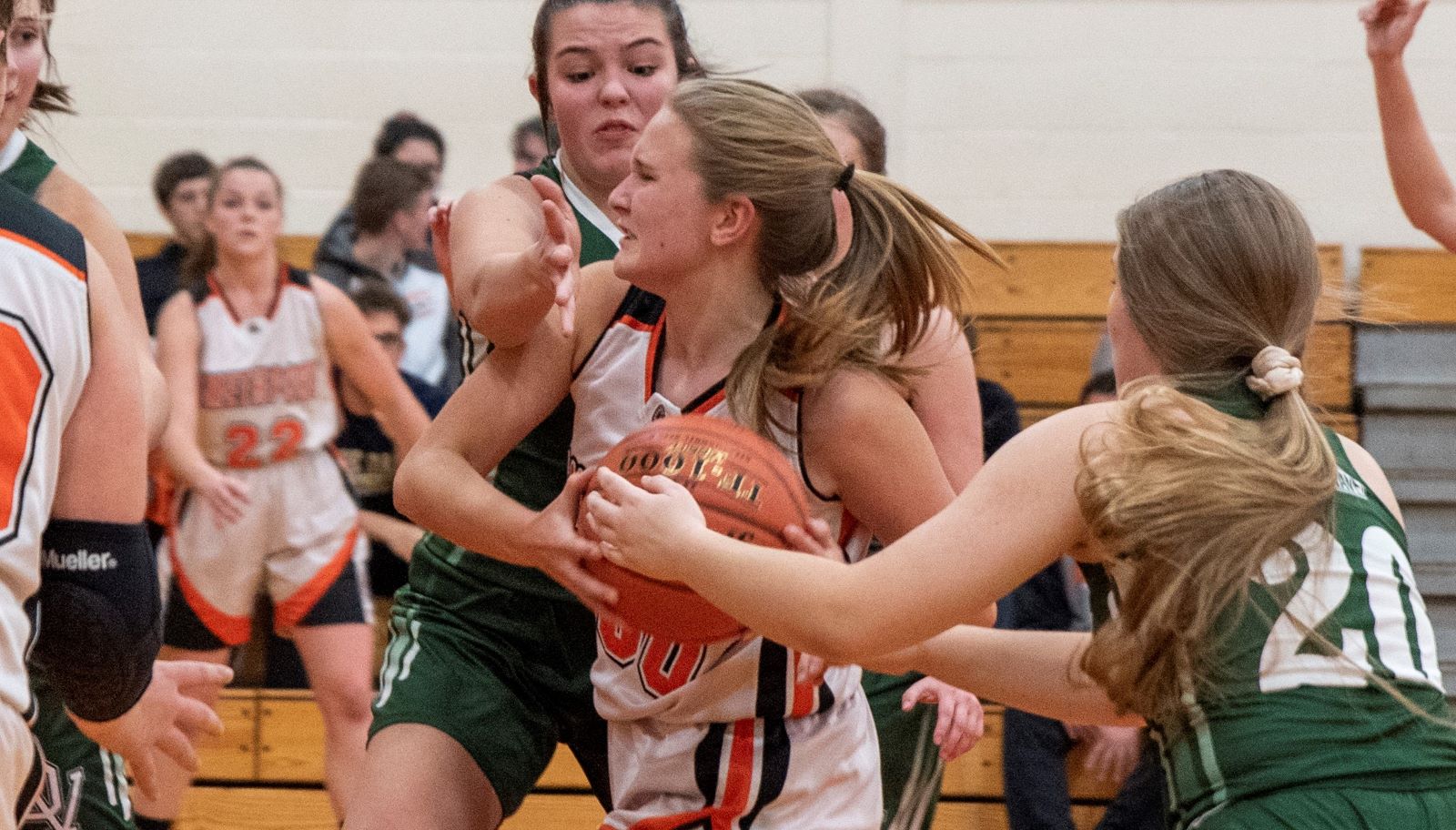 Dec. 12 girls' and boys' recaps.
(Photo of Smethport's Sabrina Tanner, who had four points, seven rebounds and four steals in the Lady Hubbers win over Oswayo Valley Thursday night. Photo by Barb Davis. See more of Davis' work here)
GIRLS
SMETHPORT 30, OSWAYO VALLEY 13
SMETHPORT, Pa. – Erin Herzog scored 17 points, including 13 in the third quarter, to lead Smethport to a 30-13 win over visiting Oswayo Valley.
Herzog's big third quarter helped the Lady Hubbers outscored the Green Wave 15-0 in the quarter and expand a 15-8 halftime lead into a 30-8 advantage. Herzog added six rebounds and a steal.
MyKayla Deyarmin added three points, five assists, two steals, four rebounds and a blocked shot for the Smethport, while Abby Lutz chipped in two points seven rebounds and four steals and Sabrina Tanner had four points, seven rebounds and four steals.
Jadyn Brabham paced Oswayo Valley with five points.
PORT ALLEGANY 46, CAMERON COUNTY 26
EMPORIUM, Pa. – Cailey Barnett scored 20 points and grabbed five rebounds to lead visiting Port Allegany to a 46-26 win over Cameron County.
Bree Garzel added 16 points, seven rebounds, four assists for the Lady Gators while Erin Stauffer (4 steals, 3 assists) and Jade Evens (6 rebounds) played supporting roles.
Hailey Hilfiger paced Cameron County with nine points and 14 rebounds with Kaelee Bresslin adding eight points.
SHEFFIELD 36, AUSTIN 18
AUSTIN, Pa. – Allison Schmader hit a pair of second-half 3-pointers on her way to a game-high 10 points, as Sheffield rallied for a 36-18 road win over Austin.
The Lady Wolverines trailed 11-4 after one quarter and 11-8 at halftime but outscored the Lady Panthers 28-7 in the second half.
Lily Lauffenburger added seven points for Sheffield with Marissa Grubbs and Alyssa Dunham each scoring six.
Kylie Welsh and Kendra Valenti each scored five points for Austin, which led 11-4 after one quarter and 11-8 at halftime. Welsh added eight rebounds, three steals and a block.
DUBOIS 30, RIDGWAY 27
RIDGWAY, Pa. – Abby Guiher scored 16 points while hitting three 3-pointers to help DuBois hold off Ridgway for a 30-27 road win.
The Lady Beavers led 20-13 at halftime but watched Ridgway cut the deficit to two, 24-22, going to the fourth quarter.
Gabby Rohr pace the Lady Elkers with 10 points with Christina Fullem scoring seven.
BOYS
COUDERSPORT 43, JOHNSONBURG 41
JOHNSONBURG, Pa. – Rallying from a nine-point halftime deficit and a three-point deficit heading to the fourth quarter, visiting Coudersport stole a 43-41 win at Johnsonburg.
The Falcons trailed 23-14 at the break and 33-30 going to the fourth quarter but hit three 3-pointers in the final eight minutes to rally from the win.
The biggest triple may have come late from Kolby VanWhy, whose 3-pointer extended the Coudersport lead to 41-37.
Hayden Keck led the Falcons with 12 points, Derek Easton added eight points and five assists, Daniel Frame and VanWhy each had seven points and Dillon Keglovits added six points and a team-high 11 rebounds.
Gabe Watts paced Johnsonburg with a game-high 14 points with Austin Green adding 10 points.
KANE 58, EISENHOWER 37
KANE, Pa. – Mason Zuzek scored 17 points to lead Kane to a 58-37 win over visiting Eisenhower.
Carson Whiteman added 12 points for the Wolves with Chad Greville scoring nine and Bryce Bizzak eight while hitting a pair of 3-pointers.
Jared Martone paced Eisenhower with 15 points.