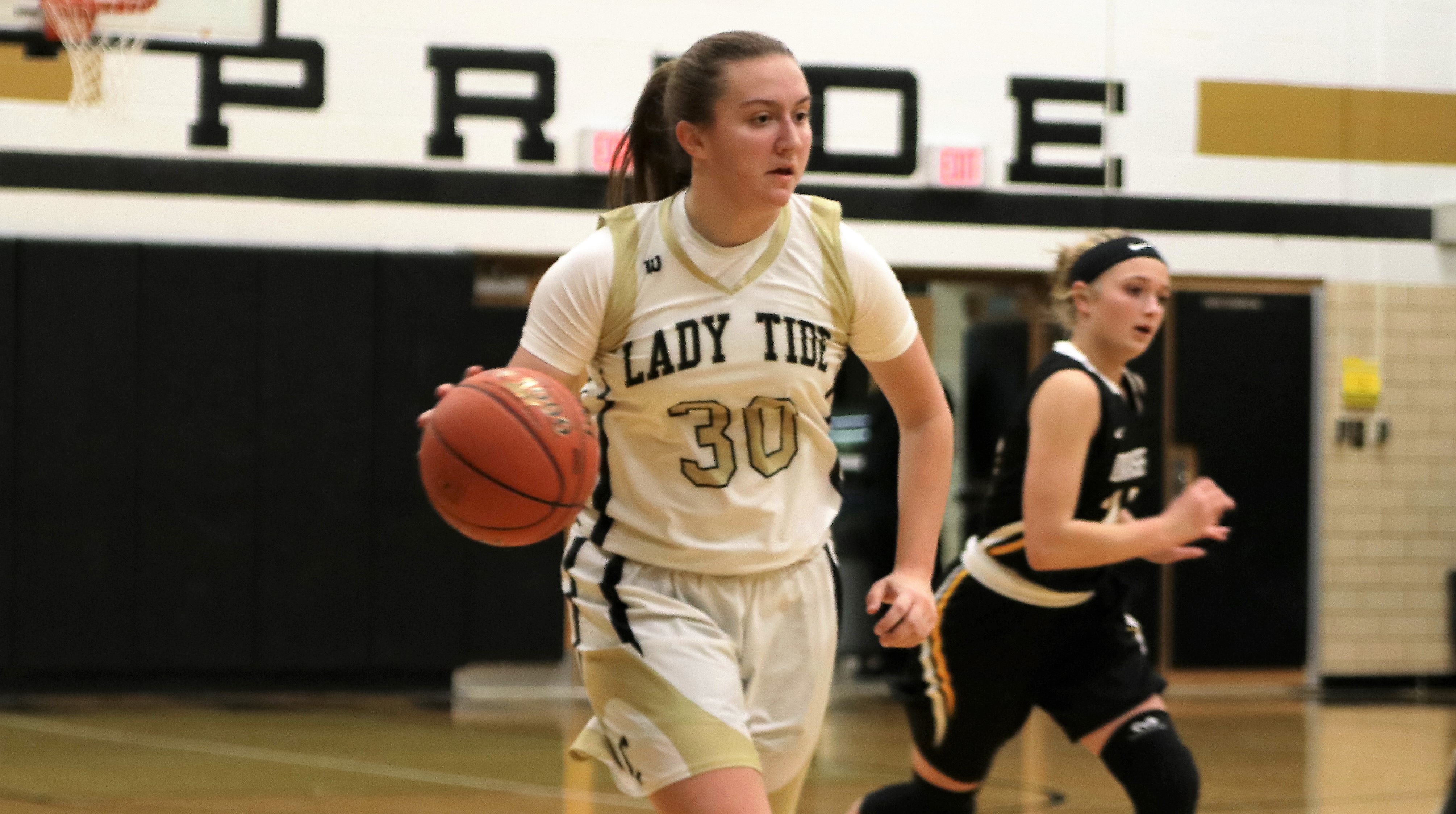 Dec. 13 girls' and boys' basketball recaps.
(Photo of Curwensville's Madi Weber, who scored 26 points in a come-from-behind win by the Lady Tide Thursday. Photo by Jared Bakaysa of JB Graphics. See more of Bakaysa's work here)
GIRLS
CURWENSVILLE 47, HARMONY 40
WESTOVER, Pa. – Madi Weber exploded for 26 points, including 17 in the second half, to lead visiting Curwensville to a 47-40 win over Harmony in Mo Valley League action.
Weber scored 11 of her points in the fourth quarter alone rallying the Lady Tide from a 33-29 deficit heading to the fourth.
Briana Swindell and Tarah Jacobson each added seven points in the victory for Curwensville.
Macy Fry had 12 points for Harmony with Traci Hauser adding 10.
DUBOIS 51, RIDGWAY 27
DUBOIS, Pa. – Chelsea DeSalve and Maddie Smith combined to score 25 points, as DuBois rolled past visiting Ridgway, 51-27.
DeSalve scored 13 points to lead the Lady Beavers with Smith adding 12.
Olivia Johnson and Taylor Smith each added eight tallies for DuBois.
Alyssa Kasmerski paced Ridgway with eight points, two rebounds, three blocks, two assists and a steal with Casey Woodford adding six points, six rebounds and two steals. Christine Fullem chipped in two points, seven rebounds, five steals and three blocks and Eve Cobaugh had four points and four rebounds.
ST. MARYS 55, CLARION 42
CLARION, Pa. – Visiting St. Marys got 21 points from Megan Quesenberry on its way to a 55-42 win over Clarion.
The final was closer than the game, as the Lady Dutch led 48-22 at the end of three quarters.
Kaylee Muccio added 10 points for St. Marys with Maria Chiappelli and Samantha Hayes each scoring seven.
Kait Constantino had a team-high 19 points for Clarion with Wendy Beveridge chipping in eight points and KK Girvan seven. Constantino added seven rebounds and three assists and Beveridge had six blocked shots.
BOYS
AUSTIN 57, OTTO-ELDRED 47
DUKE CENTER – Thanks to 23 points and seven rebounds from Dempsey Glover Austin recorded a 57-47 road NTL win over Otto-Eldred.
Jackson Glover added 11 points for the Panthers with Garrett Rees contributing four points and nine boards.
Andrew Sheeler's 14 points paced Otto-Eldred.
SMETHPORT 39, GALETON 35
SMETHPORT, Pa. – Smethport used a balanced effort to hold off visiting Galeton, 39-35, in NTL action.
Caleb Lutz led the Hubbers, who led 36-24 going to the fourth quarter, with 10 points, Eric Szarowicz added nine points and Conner Alfieri had eight.
Evan Brooks had a game-high 15 points for Galeton with Isaiah Shuemaker adding 11.
CAMERON COUNTY 68, PORT ALLEGANY 48
EMPORIUM, Pa. – Jake Walters had 24 points and 13 rebounds to lead Cameron County to a 68-48 win over visiting Port Allegany in NTL action.
Cadeb Beldin hit four 3-pointers on his way to 20 points as well for the Red Raiders while Marcus Brown scored 16 points and Ty Bauer eight.
Jordan Card and Howie Stuckey combined for 37 of Port Allegany's 48 points. Card had 20 and Stuckey 17.
KANE 73, EISENHOWER 31
RUSSELL, Pa. – Carson Whiteman hit eight 3-pointers and scored a career-high 30 points to lead visiting Kane to a 73-31 win over Eisenhower.
Mason Zuzek added 10 points for the Wolves with Alex Rezzelle chipping in nine.
Jared Martone led Eisenhower with 13 points.
BETHEL BAPTIST CHRISTIAN ACADEMY (N.Y.) 64, SHEFFIELD 60
SHEFFIELD, Pa. – Jerecho Johnson and Jared Younger combined to score 35 points to lead visiting Bethel Baptist Christian Academy from Jamestown, N.Y., to a 64-60 win over Sheffield.
Zach Rohlin added 13 points for the Defenders.
Tyler Hepinger paced Sheffield with 23 points with Tony Richards adding 12.