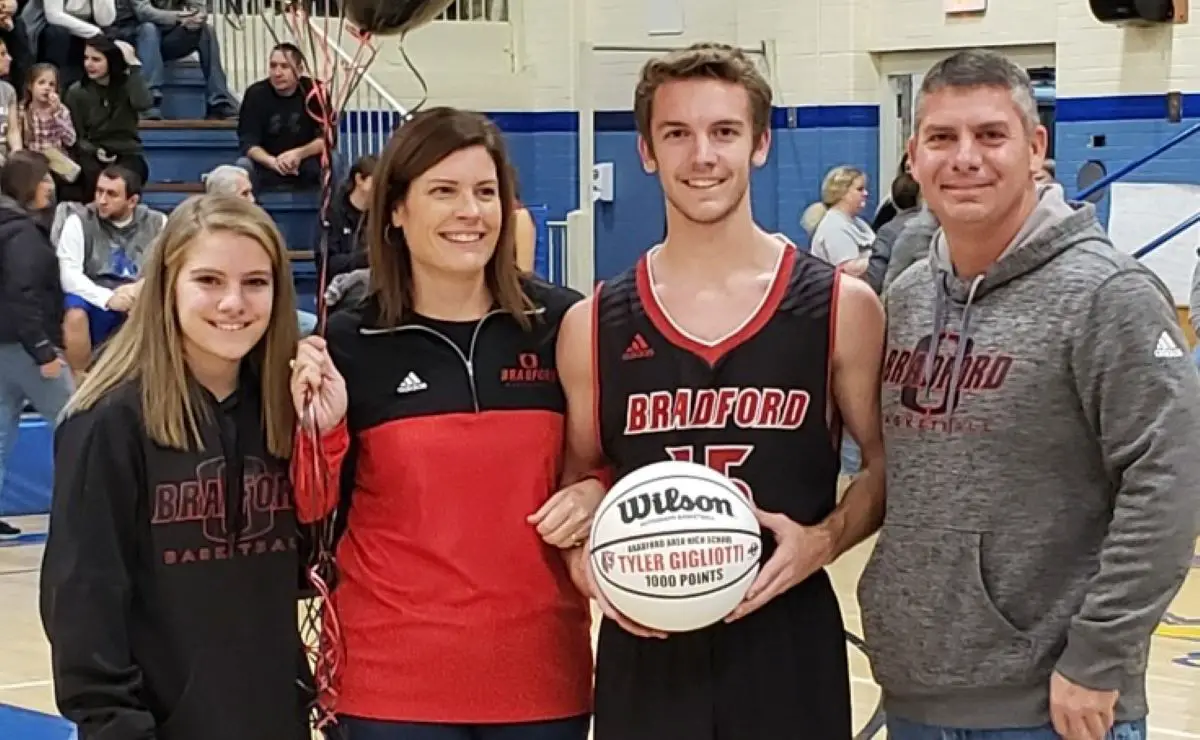 Dec. 13 boys' basketball recaps.
(Photo: Tyler Gigliotti of Bradford scored his 1,000th career point Friday. Submitted photo)
BRADFORD 59, BOLIVAR-RICHBURG (N.Y.) 29; GIGLIOTTI SCORES 1,000TH CAREER POINT
DUKE CENTER, Pa. – Needing four points to reach 1,000 in his career, Tyler Gigliotti of Bradford wasted little time netting six in the first quarter and 21 in the game, as Bradford rolled past Bolivar-Richburg (N.Y.), 59-29, in the opening round of the Randy Stebbins Memorial Tournament at Otto-Eldred.
Gigliotti, who was joined in double figures by Cam Austin (11 points), now has 1,017 career tallies.
Jerid Wilmoth added eight points in the win while Peyton Manion and Evan Schmitt each had six rebounds. Manion also scored four points with Schmitt adding a pair of tallies.
Landon Danaher had 16 points to pace Bolivar-Richburg with Camden MacDonell adding 10 tallies.
Bradford will play Eisenhower in the title game Saturday.
KEYSTONE 71, KARNS CITY 41
KARNS CITY, Pa. – Using a 21-1 run in the first half, visiting Keystone rolled past Karns City, 71-41.
The Panthers trailed 2-0 early but then took control of the game scoring 21 of the next 22 points to go ahead by 18, 21-3, 20 seconds into the second quarter.
After making its first shot, Karns City proceeded to miss 13 shots in a row in the first half and went nine minutes between field goals. The Gremlins shot just 27.3 percent (15 of 55) for the game and were just 10 of 22 from the free-throw line.
Keystone, meanwhile, had a hot shooting night hitting on 32 of 62 shots (51.6 percent) and scoring all 71 of its points from the floor, as the Panthers shot just one free throw all night and missed it.
Four Keystone players reached double digits led by 16 points from Mark Rearick, who hit four 3-pointers in the second quarter. Brandon Pierce added 15 points, Andrew Lauer had 12 points and seven rebounds and Troy Johnson had a double-double with 10 points and 10 rebounds.
Lauer was named the Hager Paving Player of the Game and talked about the victory.
Chase Beighley led Karns City with 19 points with freshman Micah Rupp adding 15 points and 12 rebounds. Beighley and Rupp combined to score all 15 of the Gremlins baskets.
D9Sports.com's Chris Rossetti and Jess Quinn broke down the game after the contest on "The Coach and the Scribe" segment.
ELK COUNTY CATHOLIC 52, BROOKVILLE 42
BROOKVILLE, Pa. – Regis Wortman scored 14 points and grabbed nine rebounds to lead Elk County Catholic to a 52-42 D9 League win over Brookville Friday night.
The Crusaders trailed 22-20 with 3:58 left in the second quarter but closed the half on a 10-0 run then scored the first five points of the third quarter for their biggest lead at 35-22. The Raiders got as close as six points the rest of the way at 45-39 with 3:10 left in the fourth quarter.
Eight different Crusaders found the scoring column. Mark Kraus came off the bench to score nine points with three 3-pointers. Carter Lindemuth finished with eight points.
Jack Krug had 10 points for the Raiders. Aaron Park finished with eight points and six rebounds.
The win inched ECC head coach Aaron Straub closer to 875 in his career. Straub, who is in his 40th year as a head coach and 38th as the boys' coach at ECC – he coached the ECC girls for two years – has a career mark of 872-259 including 845-238 as the boys' head man.
DUBOIS CENTRAL CATHOLIC 43, BROCKWAY 41
DUBOIS, Pa. – Dante Armenini had 15 points and 10 rebounds as DuBois Central Catholic hung on to defeat Brockway, 43-41.
Zach Spellen sealed the win when he drew a charge with a second to play.
Ethan Kness and Damon Foster each added seven points for the Cardinals while Harrison Starr chipped in six.
Jon Wood paced the Rovers with 12 points, including a pair of 3-pointers, and Alec Freemer had nine tallies.
RIDGWAY 66, CURWENSVILLE 16
RIDGWAY, Pa. – Matt Dush exploded for 25 points, all in the first three quarters, to help lift Ridgway over visiting Curwensville, 66-16.
Dan Park added 16 tallies for the Elkers with Zack Zameroski chipping in 14. Park and Zameroski each had a pair of 3-pointers.
Ty Terry hit three 3-pointers and scored nine of the Tide's 16 points.
REDBANK VALLEY 53, CRANBERRY 46
NEW BETHLEHEM, Pa. – Bryson Bain hit five 3-pointers on his way to a game-high 20 points, as Redbank Valley topped visiting Cranberry, 53-46.
Chris Marshall added 11 tallies for the Bulldogs. Declan Fricko and Owen Magagnotti each netted seven points.
Cam Rossell and JT Stahwell each had 12 points to pace the Berries.
MONITEAU 55, CLARION 52
WEST SUNBURY, Pa. – Kyle Pry and Quinton Scoven combined for 31 points as Moniteau outlasted Clarion, 55-52.
Pry led the Warriors offense with 16 points and hit two free throws with five seconds left to put Moniteau up by three while Scoven netted 15 points. Ethan McDeavitt finished with nine points, nine rebounds and six assists with Gage Neal grabbing nine boards and scoring 10 points.
Cal German paced the Bobcats with a game-high 31 points, but a game-tying 3-pointer by the Clarion junior at the horn wouldn't fall.
NORTH CLARION 75, UNION 67
FRILLS CORNER, Pa. – Matson Higgins and Jacob Bauer each recorded a double-double to help North Clarion upend visiting Union, 75-67.
Bauer had a career-high 19 points and 10 boards to lead the Wolves offense while Higgins dropped 16 points and added 10 assists. Devon Walters chipped in 15 tallies and Drew Gatesman had 11 points and eight rebounds.
Karter Vogle paced the Golden Knights with 18 points. Truman Vereb had a double-double with 16 points and 12 rebounds. Caden Rainey and Luke Bowser each had 11 tallies.
A-C VALLEY 77, FOREST AREA 35
TIONESTA, Pa. – Levi Orton and Eddie Stevanus each had a triple-double in A-C Valley's 77-35 road victory over Forest Area.
Orton led the Falcons offense with 33 points, 12 rebounds and 10 assists while Stevanus had 16 points, 11 rebounds and 10 steals. Tanner Merwin added 12 tallies.
Noah Burke and Allen Johnston each netted 10 points to pace the Fires.
CLARION-LIMESTONE 73, VENANGO CATHOLIC 27
STRATTANVILLE, Pa. – Curvin Goheen's 20 points led a balanced offensive attack to lead Clarion-Limestone past Venango Catholic, 73-27.
Hayden Callen netted 17 points while Deon Deas added 13 for the Lions.
The Vikings were paced by Andrew Burden's 13 points.
HUNTINGDON 67, CLEARFIELD 48
HUNTINGDON, Pa. – Despite 23 points and seven rebounds from Cade Walker, Clearfield fell to Huntingdon, 67-48, on the road.
Jackson Ritchey led the Bearcats offense with 22 points. Nick Gearhart had 14 points while Alex Cooper chipped in 13.
Karson Rumsky netted nine points for the Bison with Matt Pallo adding six.
AUSTIN 59, NORTHERN POTTER 46
ULYSSES, Pa. – Jackson Glover recorded a double-double with 18 points and 10 rebounds as visiting Austin topped Northern Potter, 59-46.
Parker Glover and Skylar Crawford each added 15 points for the Panthers. Crawford also grabbed nine rebounds and Aydan Nicka recorded six points.
Carter Anderson led Northern Potter with a game-high 20 points. Tre Slawson added 10 tallies.
SMETHPORT 65, OSWAYO VALLEY 35
SHINGLEHOUSE, Pa. – Layne Shall and Connor Alfieri combined for 36 points to help Smethport defeat Oswayo Valley, 65-35, on the road.
Shall and Alfieri each had 18 points to lead the Hubbers offense. Richie McDowell added eight tallies and Hunter Helsley finished with seven.
Cayden Black was the Green Waves leading scorer with nine points.
YOUNGSVILLE 67, SHEFFIELD 51
YOUNGSVILLE, Pa. – Gage Hendrickson scored 21 points to lead Youngsville to a 67-51 win over visiting Sheffield.
Hendrickson was a perfect 8 of 8 from the free-throw line.
Brady Olewine added 16 points for the Eagles.
Tyler Hepinger had a game-high 27 points while adding seven rebounds for Sheffield.