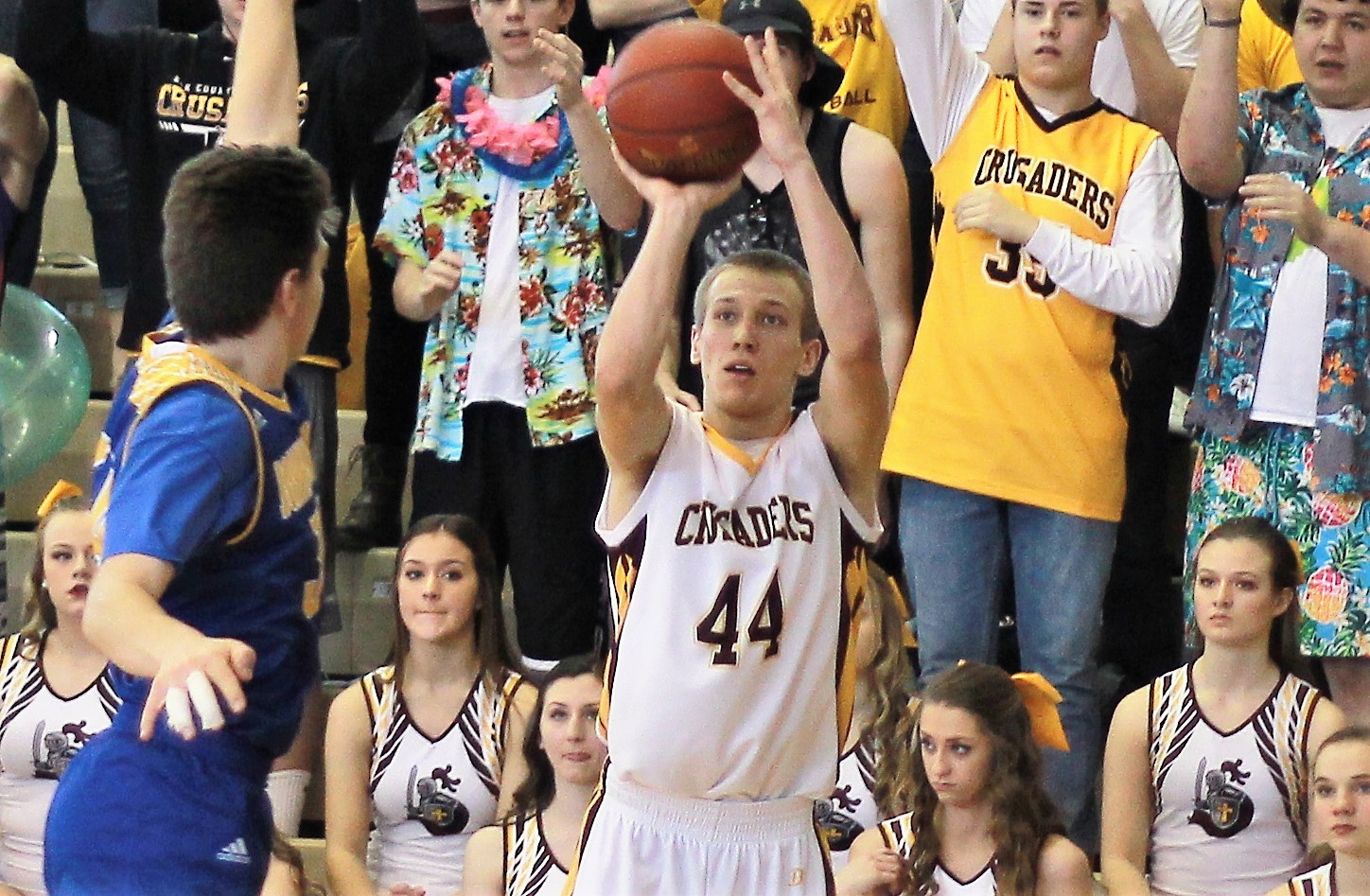 Dec. 14 boys' basketball recaps.
(Photo of ECC's Alex Breindel, who had 13 points in a win over Brookville Friday. Photo by Jared Bakaysa of JB Graphics. See more of Bakaysa's work here)
ELK COUNTY CATHOLIC 50, BROOKVILLE 41
ST. MARYS, Pa. – Elk County Catholic opened up a 15-point halftime lead on its way to a 50-41 win over visiting Brookville in D9 League action.
The Crusaders led 27-12 at the break after holding the Raiders to four first-quarter points.
Alex Breindel paced ECC with 13 points with Carter Lindemuth, Alec Wehler and Regis Wortman each scoring nine.
Aaron Park and Jack Krug both scored seven points for Brookville with Bryan Dworek and Jace Miller adding six apiece.
CLARION 87, VENANGO CATHOLIC 60
CLARION, Pa.- Cal German led Clarion with 21 points en route to a convincing 87-60 win over visiting Venango Catholic in KSAC North action.
The Bobcats also had multiple players in double digits with Nick Frederick adding 17 points, Josh Craig chipping in 12 points and Hunter Craddock finishing with 10 points.
For Venango Catholic, Andrew Burda (25 points) and Ben Gillispie (22 points) led the Vikings in scoring.
BRADFORD 66, PORTVILLE (N.Y.) 33
DUKE CENTER, Pa.- Tyler Gigliotti and Gage Babcock were each in double figures for the Bradford Owls in a 66-33 win over Portville (N.Y.) in the opening round of the Randy Stebbins Memorial Tournament at Otto-Eldred.
Gigliotti led Bradford with 15 points with Babcock chipping in 10. Donny Pattison contributed five points and seven rebounds with Caleb Nuzzo handing out seven assists.
The Owls were making shots from behind the arc going 7-for-15 from 3-point land nearly hitting half of their shots from that territory.
Portville's leading scorer was Dalton Tobola, finishing with 13 points. Zayne Terr also chipped in eight points for Portville.
RIDGWAY 65, CURWENSVILLE 26
CURWENSVILLE, Pa. – Jake Reynolds led a quartet of Ridgway players in double digits with 17 points, as the visiting Elkers beat Curwensville, 65-26, in AML action.
Will Thompson added 14 points for Ridgway with Matt Dush and Zack Zameroski each scoring 12 points.
Christian Bakaysa had a team-high nine points for Curwensville.
REDBANK VALLEY 55, UNION 49
NEW BETHLEHEM, Pa. – Tanner Kerle recorded a double-double to help Redbank Valley to a 55-49 home KSAC South win over Union.
Kerle had 10 points and 13 rebounds for the Bulldogs with Keaton Kahle adding 12 points and Nick Smith 13.
Luke Bowser paced Union with 13 points with Nolan Cumberland adding 11 points, four rebounds, three steals and three assists.
NORTH CLARION 76, CRANBERRY 39
FRILLS CORNERS, Pa. – Behind 23 points and seven rebounds from Kyle Mills, North Clarion rolled past visiting Cranberry, 76-39, in KSAC North play.
Tyler McCord-Wolbert chipped in 15 points for the Wolves with Logan Minich adding 13 points and four steals. Also for North Clarion, Sam Minich had six points and eight assists and Korey Mills added seven points and five helpers.
JT Stahlman's 16 points paced Cranberry with Matt McQuaide adding 11 tallies.
KARNS CITY 54, KEYSTONE 45
KARNS CITY, Pa. – Nathan Waltman had 11 points and 11 rebounds and was one of three Karns City players in double digits, as the Gremlins topped visiting Keystone, 54-45, in KSAC South action.
Chase Beighley led Karns City with 17 points with Ethan McElroy adding 14. Austin Fahlor also had seven points and 10 rebounds for the Gremlins.
Troy Johnson and Dawson Steele each scored 10 points for Keystone with Brooks LaVan adding nine and Andrew Lauer eight.
CLARION-LIMESTONE 83, FOREST AREA 38
MARIENVILLE, Pa. – Hayden Callen exploded for a career-high 35 points while adding seven blocked shots to lead visiting Clarion-Limestone to an 83-38 win over Forest Area at East Forest.
Curvin Goheen had his second consecutive double-double for the Lions with 10 points and 11 rebounds, and Deion Deas also went over 20 points with 25.
Noah Burke led Forest Area with Franklin Meals adding 14.
HUNTINGDON 63, CLEARFIELD 53
HYDE, Pa. – Jackson Ritchey's 13 points led a balanced Huntingdon attack, as the visiting Bearcats beat Clearfield, 63-53, in Mountain League action.
Nick Gearhart added nine points for Huntingdon with Owen Lane, Will Sulesky Nick Rigby each scoring eight.
Clearfield, which trailed 34-29 at halftime before being outscored 15-8 in the third quarter, got 13 points and seven rebounds from Karson Rumsky, 11 points and nine boards from Taye Lynch and 11 points and six rebounds from Cade Walker.
MONITEAU 54, A-C VALLEY 50
WEST SUNBURY, Pa.- Ethan McDeavitt's 15 points helped Moniteau edge out a close KSAC South win against A-C Valley at home.
Gage Neal nearly matched his teammate with 14 points and Jared Lominski was the third Moniteau player in double digits with 11 points.
Levi Orton scored a game-high 18 points for A-C Valley, and Eddie Stevanus also had 16 points and 11 rebounds for the Falcons with Tanner Merwin scoring 10 points.
OTTO-ELDRED 67, OSWAYO VALLEY 40
DUKE CENTER, Pa. – Cole Sebastian's 13 points led a balanced effort from Otto-Eldred in a 67-40 win over Oswayo Valley in the opening round of the Randy Stebbins Memorial Tournament at Otto-Eldred.
Jake Merry added 12 points for the Terrors with Andrew Sheeler scoring 11.
Daytona Tilley led Oswayo Valley with 17 points with Michael Welch adding nine.