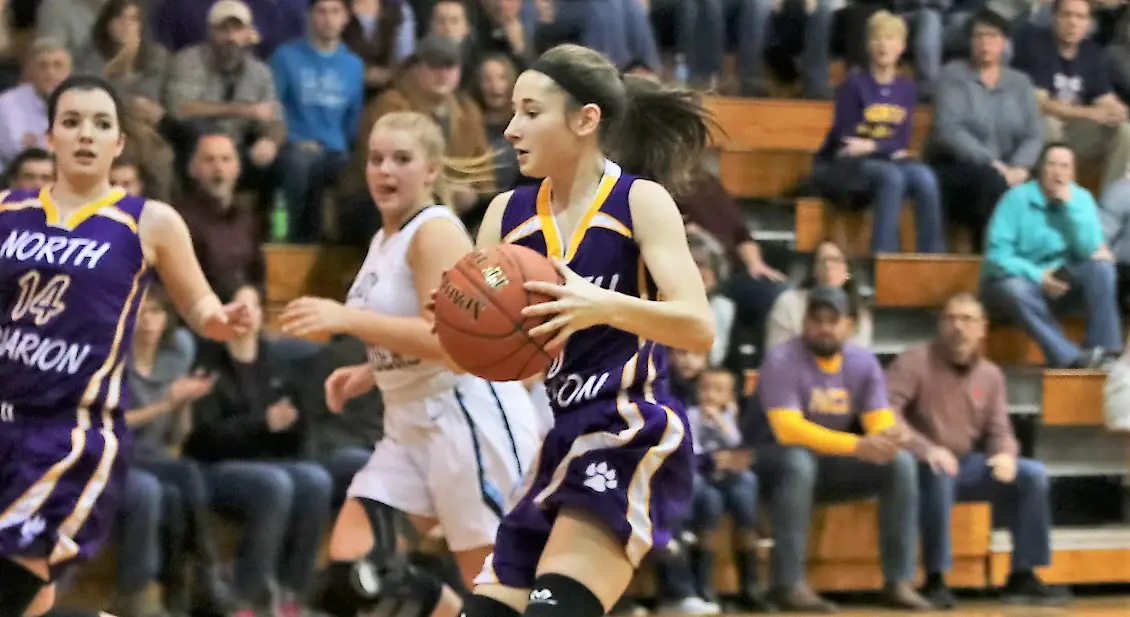 Dec. 14 girls' basketball recaps.
(Photo of North Clarion's Mackenzie Bauer, who scored seven points and had a strong defensive game for the She-Wolves in a win over Cranberry Friday. Photo by Jared Bakaysa of JB Graphics. See more of Bakaysa's work here)
NORTH CLARION 54, CRANBERRY 32
SENECA, Pa. – North Clarion used a strong defensive effort to pick up a key early-season KSAC North road win, 54-34, over Cranberry.
Relisten to the game:
The She-Wolves forced 21 Cranberry turnovers while limiting the Berries to 30.4 percent (14 of 46) shooting including 9 of 34 through the first three quarters.
Offensively, North Clarion used a 16-6 second-quarter advantage, made more impressive because two starters – Abby Gatesman and Haley Sherman – spent the entire quarter on the bench in foul trouble, to take a 27-15 halftime lead. The She-Wolves then utilized a 10-0 third-quarter run to push the lead to 46-23 going to the fourth quarter.
The leader of the defensive effort, Mackenzie Bauer, who scored seven points in addition to her great defense, talked about the victory.
Gatesman, despite the foul trouble, still led North Clarion in scoring with 13 points, 10 after halftime. She also had a team-high eight rebounds. Sherman also reached double digits with 11 points while adding seven boards, and Gabby Carll scored 11 points as well. Cierah Manross chipped in six points off the bench, and Gabby Schmader also scored six.
Malliah Schreck had a double-double for Cranberry with 19 points and 13 rebounds. Megan Hadden added six points. The Berries were hurt by the loss of second-leading scorer, Ava Ferringer, to a shoulder injury midway through the first quarter. Ferringer didn't return.
SMETHPORT 23, AUSTIN 18
SMETHPORT, Pa- MyKayla Deyarmin and Erin Herzog each had eight points to lead Smethport to a 23-18 win over visiting Austin in NTL play.
Patty Todd added to the Hubbers scoring total with four points.
Kendra Valenti was Austin's leading scorer on the night finishing with eight points.
COUDERSPORT 56, GALETON 24
COUDERSPORT, Pa- Sarah Chambers led Coudersport with 19 points guiding the Lady Falcons to a 56-24 victory over visiting Galeton in NTL action.
Roselyn Page was also in double figures for Coudersport, finishing the contest with 12 points.
Brielle Kalacinski led Galeton with eight points on the night. Katelyn Pagano also added seven points for the road team.
A-C VALLEY 53, MONITEAU 44
FOXBURG, Pa.- Olivia Boocks topped the stat sheet for A-C Valley with 20 points as the Lady Falcons pulled out a victory at home, 53-44, over Moniteau in KSAC South play.
Kylee Eaton contributed to the A-C Valley scoring total with 14 points.
Moniteau had a strong showing Friday night as well with two players finishing with double-digit points.
Izzy Bair had 13 points for Moniteau while Ashlyn Pry added 10 points and nine rebounds and Kristin Auvil chipped in eight points and six blocked shots.
PUNXSUTAWNEY 56, DUBOIS CENTRAL CATHOLIC 27
PUNXSUTAWNEY, Pa.- Sarah Weaver and Riley Presloid led Punxsutawney to a 56-27 win at home over DuBois Central Catholic.
Weaver had 17 points to lead the Lady Chucks, while Presloid had 10 points. Weaver also filled up the stat sheet with six steals.
Ashley Wruble led DCC in scoring with eight points.
KEYSTONE 50, KARNS CITY 7
KNOX, Pa. – Emily Lauer scored 21 points as Keystone cruised past visiting Karns City, 50-7, in KSAC South action.
McKenzie Hovis adding 13 points for the Lady Panthers.
Lizzie DeRose led Karns City with three points.
HUNTINGDON 72, CLEARFIELD 42
HUNTINGDON, Pa. – Kynnedy Miller hit six 3-pointers and scored 21 points to lead Huntingdon to a 72-42.
Allie Troup added 15 points with Kait McElroy adding 11 points.
Alayna Ryan led Clearfield with 19 points.
CAMERON COUNTY 42, NORTHERN POTTER 19
EMPORIUM, Pa. – Alyvia McKimm led a trio of Cameron County players in double digits with 14 points to lead Cameron County to a 42-19 win over visiting Northern Potter in NTL action.
McKimm added four rebounds and four steals for the Lady Raiders, while Kaelee Bresslin added 12 points, five steals and three assists and Kamme Guisto chipped in 10 points, six rebounds, two steals and two assists. Also for Cameron, Hailey Hilfiger added four points, eight rebounds, four steals and two blocked shots.
Courtney Martin had seven points to lead Northern Potter.
BROOKVILLE 54, ELK COUNTY CATHOLIC 50
BROOKVILLE, Pa. – Using a late second-quarter surge for a 13-point halftime lead, Brookville held off Elk County Catholic for a 54-50 D9 League win.
Morgan Johnson and Lauren Hergert scored 16 and 15 points respectively for the Lady Raiders. Johnson scored 13 of her points in the first half, including three 3-pointers in the second quarter that saw Brookville outscore ECC, 23-11. Hergert added eight rebounds.
Taylor Newton led the Lady Crusaders with 20 points and 13 rebounds and was the lone player in double-figure scoring.
UNION 42, REDBANK VALLEY 38
NEW BETHLEHEM, Pa. – Building an eight-point halftime lead, Union held off Redbank Valley for a 42-38 road win in the KSAC South Division.
Freshman Dominika Logue led the Golden Damsels with 17 points and Bryn Davis finished with 10. Union led 22-14 at halftime before Redbank Valley owned a 24-20 second-half edge.
Tara Hinderliter scored 12 of her game-high 18 points for Redbank Valley in the second half. Kelsie Elmer scored eight points for the Lady Bulldogs.
EISENHOWER 46, SHEFFIELD 23
RUSSELL, Pa. – Lydia Giannini scored a game-high 22 points to lead Eisenhower to a 46-23 win over its Warren County rival, Sheffield.
Emiley Wheeler added 11 points for the Lady Knights.
Mareena Bailey paced Sheffield with nine points.
PORTVILLE (N.Y.) 47, BRADFORD 33
DUKE CENTER, Pa. – Behind a game-best 20 points from Karly Welty, Portville (N.Y.) beat Bradford, 47-33, in the opening round of the Randy Stebbins Memorial Tournament at Otto-Eldred.
Mia Welty chipped in 13 points for Portville.
Hannah Lary and Erica Marshall each had 10 points for Bradford.
OTTO-ELDRED 43, OSWAYO VALLEY 24
DUKE CENTER, Pa. – Reilly Raught scored eight points and came away with three steals to pace a 43-24 Otto-Eldred victory over visiting Oswayo Valley in the opening round of the Randy Stebbins Memorial Tournament.
Morgan Dalton added seven points, four steals and four rebounds for the Lady Terrors with Jade Spinney chipping in four points, three rebounds, three steals and three assists and Lauren Cousins four points and six steals.
Karina West had a game-high 15 points for Oswayo Valley.