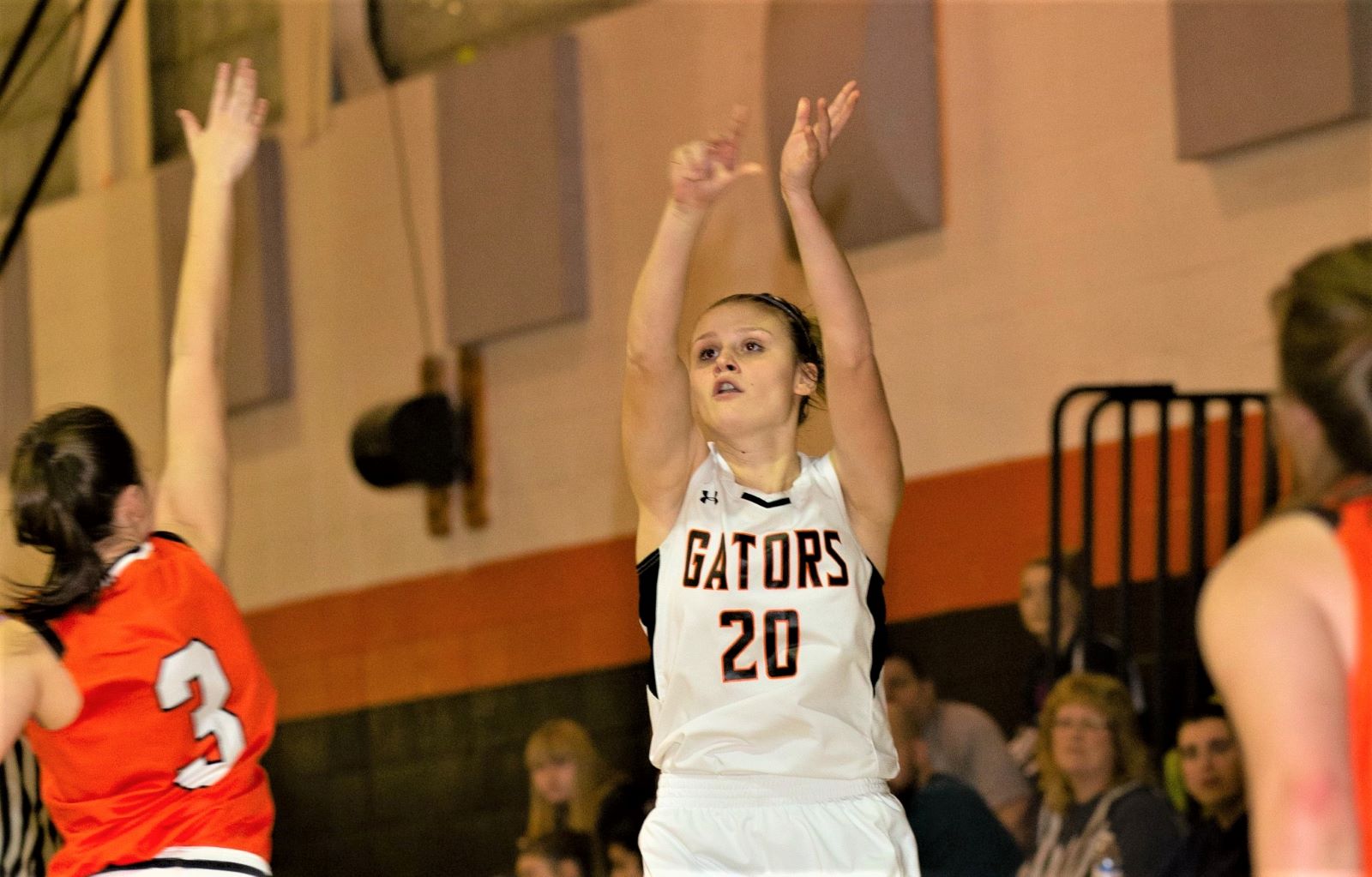 Dec. 14 girls' and boys' basketball recaps.
(Photo of Port Allegany's Cailey Barnett. Photo by Patrick Crants. See more of Crants work here.)
GIRLS
PORTVILLE (N.Y.) 47, OTTO-ELDRED 38
DUKE CENTER, Pa. – Karly Welty had 19 points to lead Portville (N.Y.) to a 47-38 win over host Otto-Eldred in the championship game of the Randy Stebbins Memorial Tournament.
Mallory Welty added nine points for the Lady Panthers with Shayla Wilhelm scoring eight.
Jadelyn Spinney paced Otto-Eldred with eight points and nine rebounds with Reilly Raught adding seven points and eight rebounds. Morgan Dalton had a team-best nine points, Kayley Heller chipped in eight points and Bri Heller had two points, seven rebounds and three steals.
BRADFORD 54, OSWAYO VALLEY 10
DUKE CENTER, Pa. – Hannah Lary scored 19 points to lead Bradford to a 54-10 win over Oswayo Valley in the consolation game of the Randy Stebbins Memorial Tournament at Otto-Eldred.
Alanna Benson chipped in eight points while Emily Warner and Sierra Taylor each scored six points for the Lady Owls, who had nine different players score.
Jadyn Brabham had four points to lead Oswayo Valley.
PORT ALLEGANY 93, ARCHBISHOP WALSH (N.Y.) 20
OLEAN, N.Y. – Cailey Barnett exploded for a career-high 42 points to lead Port Allegany to a 93-20 win at Archbishop Walsh (N.Y.).
Barnett, whose previous career high came during the 2018 season when she netted 27 against Youngsville, also added 12 steals and five assists and is now seven points shy of 1,000 in her career.
Bree Garzel added 17 points, nine rebounds, seven assists and six steals with Evin Stauffer chipping in 14 points, three assists, three steals and three rebounds. Shannon Curfman also added eight points and six rebounds with Gracie Archer scoring five points and adding five rebounds.
BOYS
BRADFORD 72, EISENHOWER 25
DUKE CENTER, Pa. – Behind Evan Schmitt and Tyler Gigliotti, Bradford cruised to the Randy Stebbins Memorial Tournament title with a 72-25 win over Eisenhower at Otto-Eldred.
Schmitt led all scorers with 19 points with Gigliotti adding 14 points. Cam Austin also had 10 points for the Owls, and Steven Knowlton chipped in nine points.
Curt Darling paced Eisenhower with eight points.
OTTO-ELDRED 61, BOLIVAR-RICHBURG (N.Y.) 37
DUKE CENTER, Pa. – Braden Maholic and Jake Merry combined for 34 points to help Otto-Eldred rebound from an opening-round loss to beat Bolivar-Richburg (N.Y.), 61-37, in the consolation game of the Randy Stebbins Memorial Tournament at Otto-Eldred.
Maholic tied for game-high honors with 18 points with Merry adding 16 points. Gavin Jimerson chipped in 11 points for the Terrors.
Landon Danaher hit four 3-pointers and scored 18 points for Bolivar-Richburg, while Camdyn MacDonell scored 12 for the Wolverines.
CAMERON COUNTY 69, PORT ALLEGANY 43
PORT ALLEGANY, Pa. – Caden Beldin and DIno Brown combined to score 46 points to lead visiting Cameron County to a 69-43 over Port Allegany in NTL action.
Beldin scored a game-high 26 points with Brown adding 20 points. Dylan Guisto also scored 10 points for the Red Raiders.
Ty Guilds scored 16 points for Port Allegany with Jordan Card adding 12 points.