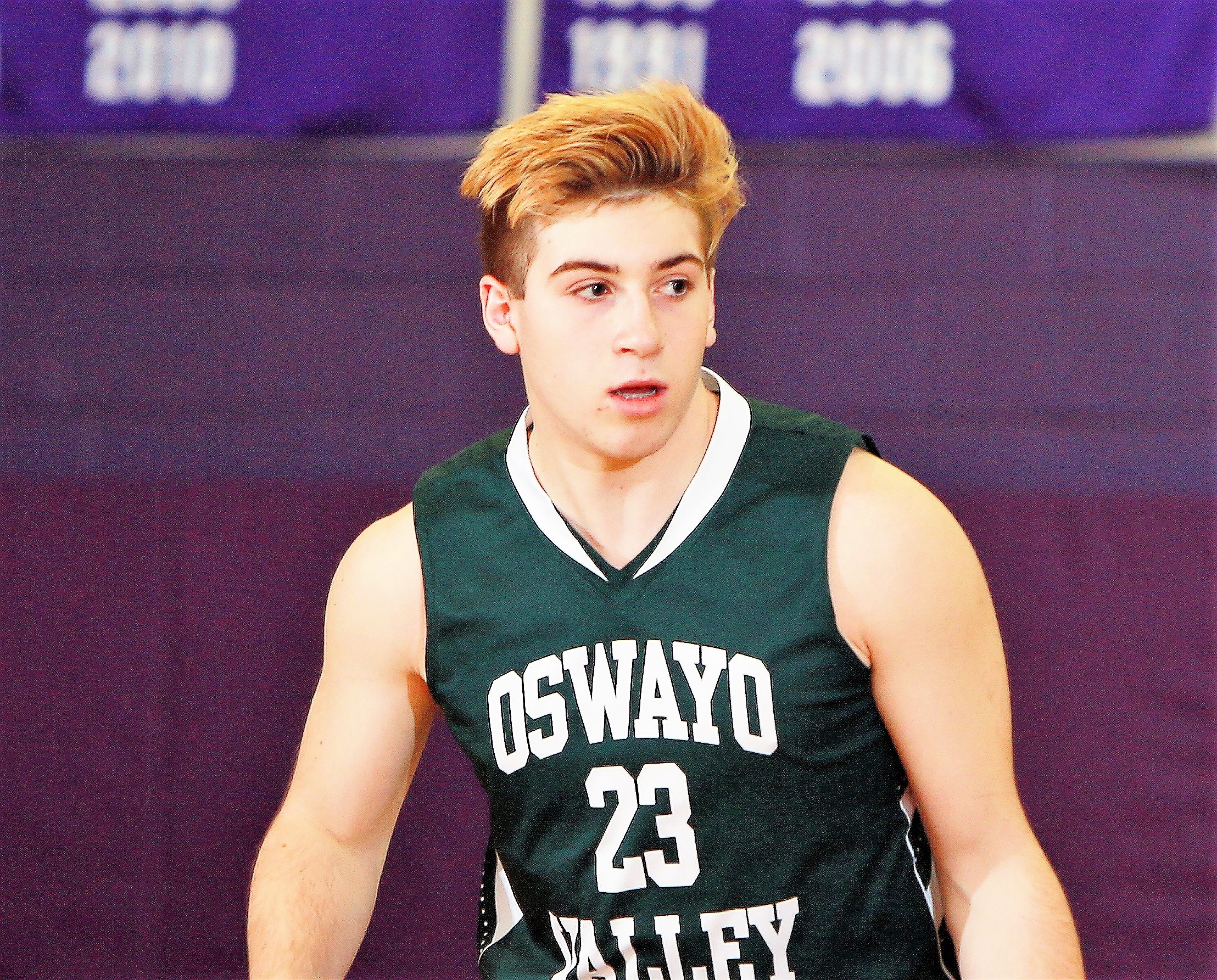 Dec. 15 boys' basketball recaps.
(Photo of Theo Henry. Photo by Paul Burdick. Check out more of Burdick's work here)
OSWAYO VALLEY 54, PORTVILLE (N.Y.) 52
DUKE CENTER, Pa. – Trailing by two with five seconds to play, Oswayo Valley scored four points in the final four seconds to stun Portville (N.Y.), 54-52, in the opening round of the Randy Stebbins Memorial Tournament at Otto-Eldred.
Garren Black tied the game at 52 with four seconds left and then the Green Wave stole the ball before Theo Henry got fouled with 1.1 seconds to play. Henry then hit both charity shots to win the game.
The late sequence helped Oswayo Valley stave off a strong comeback by the Panthers, who trailed 17-2 at the end of the first quarter before getting within seven, 25-18, at halftime.
But it was still a seven-point lead, 41-34, for the Green Wave heading into the fourth quarter before Caden Keim scored eight points and Brendan Tobola six to put Portville in the lead. Keim finished with 17 and Tobola 14.
Henry had a monster game for Oswayo Valley with a career-high 30 points including going 16 of 20 from the free-throw line. Black, Jacob Karr and Gavin Babcock scored the other 24 points for the Green Wave by each recording eight tallies. Karr added 11 rebounds.
UNION 49, REDBANK VALLEY 46
RIMERSBURG, Pa. – Using a fast start and then recovering late to hold off Redbank Valley, Union held on to beat the visiting Redbank Valley, 49-46, as Nolan Cumberland hit a 3-pointer with seven seconds left in regulation to win it.
The Knights led 21-11 after the first quarter, but Redbank Valley outscored them 28-14 over the next two quarters and took a 39-35 lead into the fourth quarter. Union outscored Redbank Valley, 14-7, over the final eight minutes, getting Cumberland's big shot at the end.
Cumberland led the Knights with 17 points while Lucas Bowser finished with 15 points and 14 rebounds.
Nick Smith scored 10 of his team-high 15 points to lead the Bulldogs. Cyle Bowser scored 13 points and Ethan Hetrick finished with 11.
OTTO-ELDRED 66, GALETON 40
DUKE CENTER, Pa. – Jordan Sherwood hit four 3-pointers on his way to 15 points, as Otto-Eldred used a balanced effort to knockoff Galeton, 66-40, in the opening round of the Randy Stebbins Memorial Tournament at Otto-Eldred.
Dylan Close chipped in 13 points, six rebounds and six assists for the Terrors with Cameron Grigsby scoring 12 points and Trey Dalton nine points. Sawyer Drummond added three points and 10 rebounds.
Joel Griffen and Evan Brooks both scored 10 for Galeton.
ELK COUNTY CATHOLIC 67, BROOKVILLE 45
BROOKVILLE, Pa. – Ryan Newton fueled a second-half surge as Elk County Catholic broke loose for a District 9 League road win, beating Brookville 67-45.
Newton scored 25 of his 30 points in the second half while completing a double-double with 10 rebounds. Alex Breindel added 10 points as the only other Crusader in double figures.
Brookville led 11-8 and owned a five-point lead in the second quarter before the teams were knotted at 21-21 at intermission. From there, ECC outscored Brookville 46-24, including 21-10 in the third quarter. The Crusaders made 18 of 22 free throws with Newton making 9 of 10 attempts. Leo Gregory and Logan Hoffman each scored eight points.
Aaron Park scored 16 points and grabbed seven rebounds to lead Brookville. A.J. Lachnicht scored nine points.
A-C VALLEY 64, MONITEAU 49
FOXBURG, Pa. – Behind 23 points, five rebounds and three assists from Russ Carr, A-C Valley knocked off visiting Moniteau, 64-49, in KSAC South action.
Levi Orton added 12 points and four boards for the Falcons with Dalton Callander scoring 10 points to go with five rebounds and Jeff Ginn adding four points and 10 boards.
Ethan McDeavitt led Moniteau with 18 points, Ross Tenney added 14 and Tyler McFadden 10.
NORTH CLARION 74, CRANBERRY 50
SENECA, Pa. – Thanks to four players scoring in double digits, North Clarion went on the road and picked up a 74-50 KSAC North victory over Cranberry.
Nathan Banner led the Wolves with 16 points and nine rebounds, Jesse Schmader added 14 points, Kyle Mills had 12 points and Matson Higgins 10 points. Keeven Weaver also contributed with seven points and seven rebounds.
Dan McQuaide had a game-high 22 points for Cranberry.
KEYSTONE 56, KARNS CITY 47
KNOX, Pa. – Dalton Jones went off for 20 points to help Keystone hold serve on its home court with a 56-47 win over Karns City.
Nate Wingard added 14 points for the Panthers with Corey Rapp chipping in 10 points, six steals and four assists.
Austin Fahlor had 17 points to pace Karns City with Nathan Waltman adding six points and eight rebounds.
CLARION 77, VENANGO CATHOLIC 46
OIL CITY, Pa. – Cam Craig netted 25 points to help Clarion to its first win of the season with a 77-46 road victory over Venango Catholic.
Austin Hummell added 15 points for the Bobcats who also got nine tallies from Nick Frederick and seven from Josh Craig.
Ben Gillispie led Venango Catholic with 20 points with Josh Puleo chipping in with 16 points and Andrew Burda eight.
CLARION-LIMESTONE 89, FOREST AREA 29
STRATTANVILLE, Pa. – Ian Callen recorded a triple-double to help Clarion-Limestone breeze past visiting Forest Area, 89-29.
Callen had 24 points, 16 rebounds and 10 steals while adding six assists for good measure.
Deion Deas chipped in 15 points and seven assists, Hayden Callen had 13 points and Julian Laugand seven points and seven assists for the Lions, who also got 14 points from Christian Smith.
Seth Berlin paced Forest Area with 14 points.
C-L scored 60 first-half points, including 38 in the second quarter, and led 60-10 at halftime.
HUNTINGDON 85, CLEARFIELD 62
HUNTINGDON, Pa. – Putting five players into double-figure scoring, Huntingdon outgunned visiting Clearfield, 85-62, in a Mountain League matchup.
The Bearcats led 15-10 after the first quarter before outscoring the Bison, 54-31, in the second and third quarters. They led 40-24 at halftime and extended the lead to 69-41 going into the fourth quarter. Owen Lane scored 21 points while Nick Rigby added 17 points.
For Clearfield, Wyatt Porter and Cade Walker scored 19 and 10 points respectively. Porter scored 17 of his 19 in the second half.
CURWENSVILLE 61, MOSHANNON VALLEY 49
AMESVILLE, Pa. – Jumping out to an 18-2 first-quarter lead, Curwensville notched a 61-49 win on the road in a Moshannon Valley League game against Moshannon Valley.
The Golden Tide led 26-18 at halftime, then stretched the lead with a 35-31 second-half advantage. Josh Terry scored 12 of his 16 points in the second half while Devan Barrett, Christian Bakaysa and Avery Francisco scored 14, 11 and 10 points respectively.
Alex Kitko and Ethan Reed hit double figures for Moshannon Valley with 16 and 15 points respectively.
COUDERSPORT 81, BRADFORD 46
COUDERSPORT, Pa. – Owen Chambers knocked down five 3-pointers on his way to a game-high 29 points, as Coudersport rolled past visiting Bradford, 81-46.
Jared Green chipped in 16 points for the Falcons who also go eight tallies from Hunter Ricke and seven from Dillon Keglovits.
Deondre Terwilliger paced Bradford with 12 points with Alec Kuzmeskas adding 10 points.
SMETHPORT 54, SHEFFIELD 37
SHEFFIELD, Pa. – Caleb Lutz netted a game-best 22 points to lift visiting Smethport to a 54-37 win at Sheffield.
Conner Alfieri also reached double digits for the Hubbers with 16 tallies.
Cale Albaugh's 17 points led Sheffield.
RIDGWAY 48, ST. JOSEPH'S CATHOLIC ACADEMY 32
BOALSBURG, Pa. – Ridgway outscored St. Joseph's Catholic Academy by 16 points in the second half to break a tie game at halftime and get a 48-32 road win.
The Elkers found themselves in a 16-all tie at the break but used a 19-10 third-quarter advantage to pull away.
Daunte Allegretto led Ridgway with 16 points while hitting five 3-pointers, Andy Breier added 10 and Johnny Mitchell eight.
Jack Mangene had 12 to pace St. Joseph's.
BROCKWAY 58, CAMERON COUNTY 42
BROCKWAY, Pa. – Carter Adams scored 12 of his 19 points in the second half as Brockway ran away with a 58-42 non-conference win over Cameron County.
The Rovers actually trailed 29-24 before outscoring the visitors 34-13 in the second half. Noah Vokes and Anthony Esposito also reached double figures in scoring with 15 and 11 points respectively.
Cameron County also put three players in double figures with Dino Brown, Adam Shaffer and Marcus Brown scoring 13, 12 and 11 points respectively.