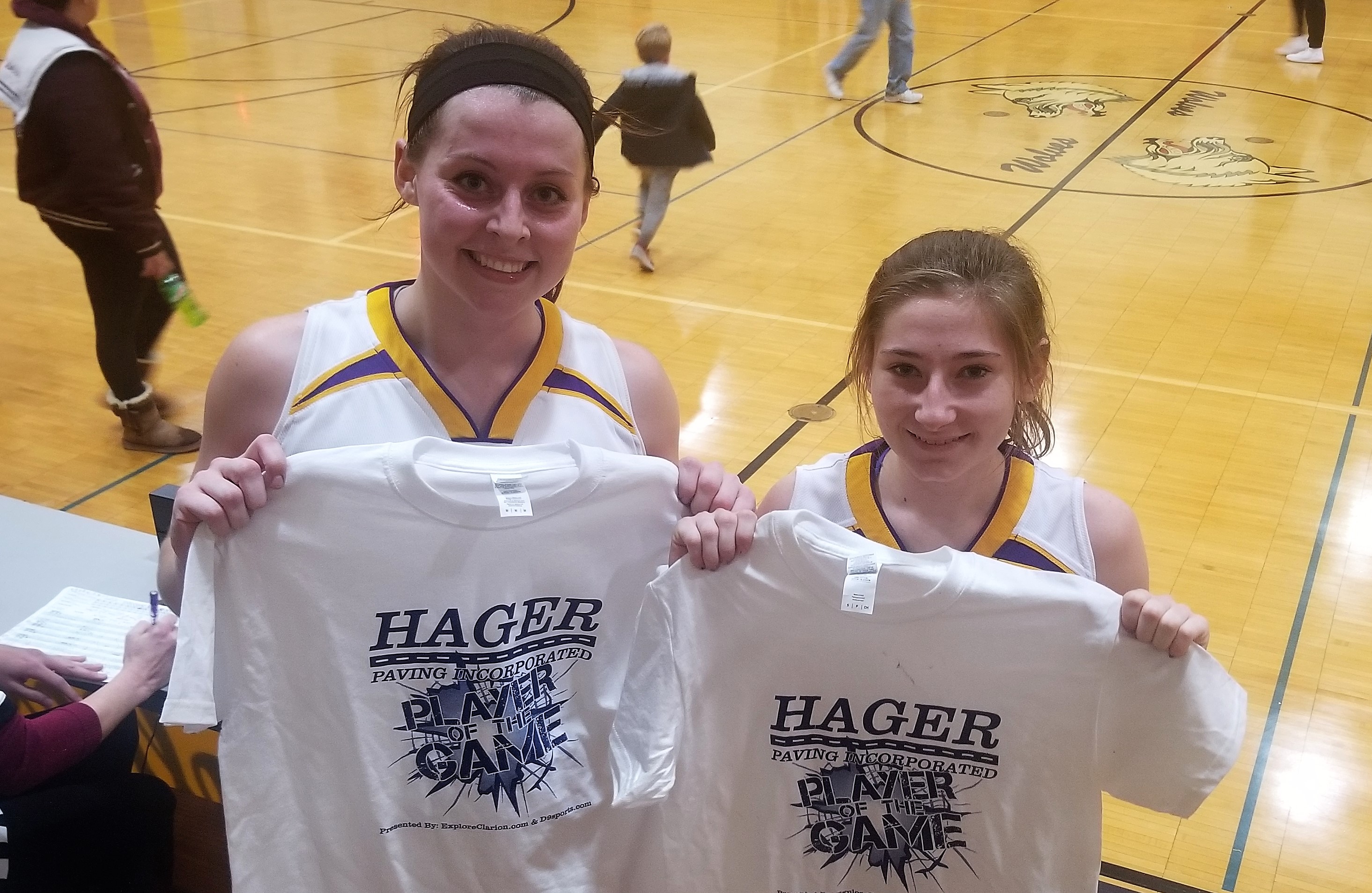 Dec. 15 girls' basketball roundup.
(Photo: Tori Obenrader, left, and Mackenzie Bauer of North Clarion)
NORTH CLARION 52, CRANBERRY 46, OVERTIME
FRILLS CORNERS, Pa. – Tori Obenrader hit 3-pointer, her only made three of the game, with 3:13 left in overtime to give North Clarion the lead for good and Mackenzie Bauer went 4 of 4 from the free-throw line in the final 30 seconds to lead North Clarion to a 52-46 overtime win against visiting Cranberry.
The She-Wolves had used a 13-0 second-half run to take a 39-30 lead in the fourth quarter, but Cranberry finished regulation on a 13-4 spurt and tied the game on an Erin Merryman 3-pointer with about seven seconds to play. Malliah Schreck, who fouled out with 26.7 seconds to go in regulation, hit two monster threes during the run, which started with a Schreck three with 2:29 to play.
Abby Gatesman had a chance to win the game at the end of regulation but was too strong with a layup.
Obenrader finished with 22 points and 16 rebounds for North Clarion despite going to the fourth quarter which just nine points and 10 boards. Bauer and Gabby Carll each added eight points with Gatesman chipping in seven points and 10 rebounds.
Obenrader and Bauer talked about the victory.
Merryman paced Cranberry with 21 points and six rebounds. Schreck added 10 points and six boards, all on the offensive end.
UNION 53, REDBANK VALLEY 51, OVERTIME
RIMERSBURG, Pa. – Bryn Davis 3-pointer with 34 seconds left in overtime gave Union the lead for good, as the Golden Damsels beat visiting Redbank Valley, 53-51.
Redbank Valley had taken a 50-49 lead on a pair of Lauren Smith free throws before Davis, whose three-pointer followed by a steal and two free throws with just under a minute to play in the extra session had given Union a 49-48 lead.
After Davis second three made it 52-50, Smith hit one of two free throws to cut the lead to 52-51 before Jade Zitzman hit a free throw to put Union back up two, 53-51.
Smith then missed a shot with 10 seconds left, but Union turned it over on the inbound play, and Kelsie Elmer had a chance to win the game when she took a three with two seconds to play. But a Union player got a hand on the ball partially blocking the shot.
Maddy Marshall forced the extra session for Redbank Valley with a layup to tie the game at 40 with 41 seconds to play.
Union started fast and led 20-12 at halftime, but the Lady Bulldogs used a 15-0 run at the start of the second half to take the lead, 27-20. The Golden Damsels answered again with a 7-0 run to go up 29-27 and the game stayed close from that point forward.
Frankee Remmick paced Union with 23 points with Davis adding 12, including eight in overtime.
Tara Hinderliter had a huge game for Redbank Valley with a game-high 26 points with Elmer adding 12 points.
A-C VALLEY 45, MONITEAU 37
WEST SUNBURY, Pa. – Behind 21 Ellie Thompson points visiting A-C Valley secured a 45-37 win over Moniteau.
Olivia Boocks chipped in 13 points for the Lady Falcons.
Emma Bair led Moniteau with 11 points, 10 rebounds and four blocked shots. Kristin Auvil also scored 11 points with Izzy Bair adding nine tallies.
KARNS CITY 51, KEYSTONE 46
KARNS CITY, Pa. – Emily Hegedus had 28 points and 18 rebounds to help Karns City to a 51-46 win over visiting Keystone.
Twenty of Hegedus' 28 came from the free-throw line where she was 20 of 22. Liv Andreassi added nine points and 10 rebounds for the Lady Gremlins.
Makenzie Byerley paced Keystone with 14 points with Taylor Geer adding 12.
FOREST AREA 36, CLARION-LIMESTONE 35
MARIENVILLE, Pa. – Forest Area survived three late shots by visiting Clarion-Limestone to pull out a 36-35 win over the Lady Lions at East Forest.
Up by the one, the Fires watched C-L get three cracks at taking the lead before Rose Trivett came away with a crucial steal that led to a jump ball with the possession arrow in Forest Area's favor.
Bianca Hetrick led the Fires with 10 points with Glory Wagner adding eight.
Maddy Craig had a game-high 18 for C-L, including going 8 of 10 from the line. Anna Kennemuth chipped in seven tallies.
ST. MARYS 33, CLARION 24
ST. MARYS, Pa. – Megan Quesenberry and Kaylee Muccio combined for 19 points to help St. Marys knock off visiting Clarion, 33-24.
Quesenberry netted 10 points for the Lady Dutch with Muccio adding nine.
Kaitlyn Constantino led Clarion with 14 points with KK Girvin scoring four points and grabbing eight rebounds.
OTTO-ELDRED 57, SHEFFIELD 11
DUKE CENTER, Pa. – Otto-Eldred used a stellar defensive effort to roll to a 57-11 win over Sheffield in the opening round of the Randy Stebbins Memorial Tournament at Otto-Eldred.
The Lady Terrors forced 26 steals led by five from Ali Cousins. Cousins also scored 12 points sharing game-high honors with Camryn Thomas. Emily Smith chipped in with nine points, freshman Kayley Heller had four points and nine rebounds and Brittney Greeley finished with eight points and six boards.
Destiny Wynn scored six points for Sheffield.
PORTVILLE (N.Y.) 50, OSWAYO VALLEY 33
DUKE CENTER, Pa. – Portville (N.Y.) raced out to an 18-1 lead after one quarter on its way to a 50-33 win over Oswayo Valley in the Randy Stebbins Memorial Tournament at Otto-Eldred.
Kara Howard led Portville with 13 points with Karly Welty adding 12.
Shayla Bickel scored 27 of Oswayo Valley's 33 points.
ELK COUNTY CATHOLIC 46, BROOKVILLE 25
ST. MARYS, Pa. – Putting three players in double figures, Elk County Catholic topped visiting Brookville, 46-25, in a D9 League game.
Taylor Newton led the way for the Lady Crusaders with 13 points, scoring seven in the third quarter on 7-of-8 shooting from the foul line. Sady VanAlstine and Josie Smith each scored 10 points.
ECC led 24-13 at halftime and 36-23 after three quarters before outscoring Brookville, 10-2, the final eight minutes.
Kira Powell scored seven points to lead Brookville.
HUNTINGDON 54, CLEARFIELD 32
HYDE, Pa. – Visiting Huntingdon limited Clearfield to just eight second-half points in a 54-32 win over the hosts in a Mountain League game.
Huntingdon led 28-24 at intermission before outscoring the Lady Bison 26-8 the rest of the way.
Three players led Huntingdon with nine points apiece as Kynnedy Miller, Maddie Gearhart and Cat Miller shared the scoring lead.
Alayna Ryan scored 11 points to lead Clearfield, 10 coming in the first half.
JOHNSONBURG 59, CAMERON COUNTY 20
JOHNSONBURG, Pa. – Cassidy King netted 21 points to help Johnsonburg roll past visiting Cameron County, 59-20.
Rylee Casilio chipped in with 12 points with Lindsey Kocjancic scoring 10.
Alyvia McKimm hit a three 3-pointers and scored 11 points for Cameron County.
KANE 41, RIDGWAY 32
KANE, Pa. – Thanks to 23 points and 10 rebounds from Ella Marconi, Kane toppled visiting Ridgway, 41-32.
Hanna Buhl added eight points for the Lady Wolves, who also got four points, five assists and six rebounds from Trinity Clark, eight points and six rebounds from Rachael Morgan.
Emily Fullem had 13 points, 12 rebounds, seven blocked shots, five steals and an assist for Ridgway with Casey Woodford adding nine points and three rebounds and Alyssa Kasmerski eight points, four rebounds and three assists.