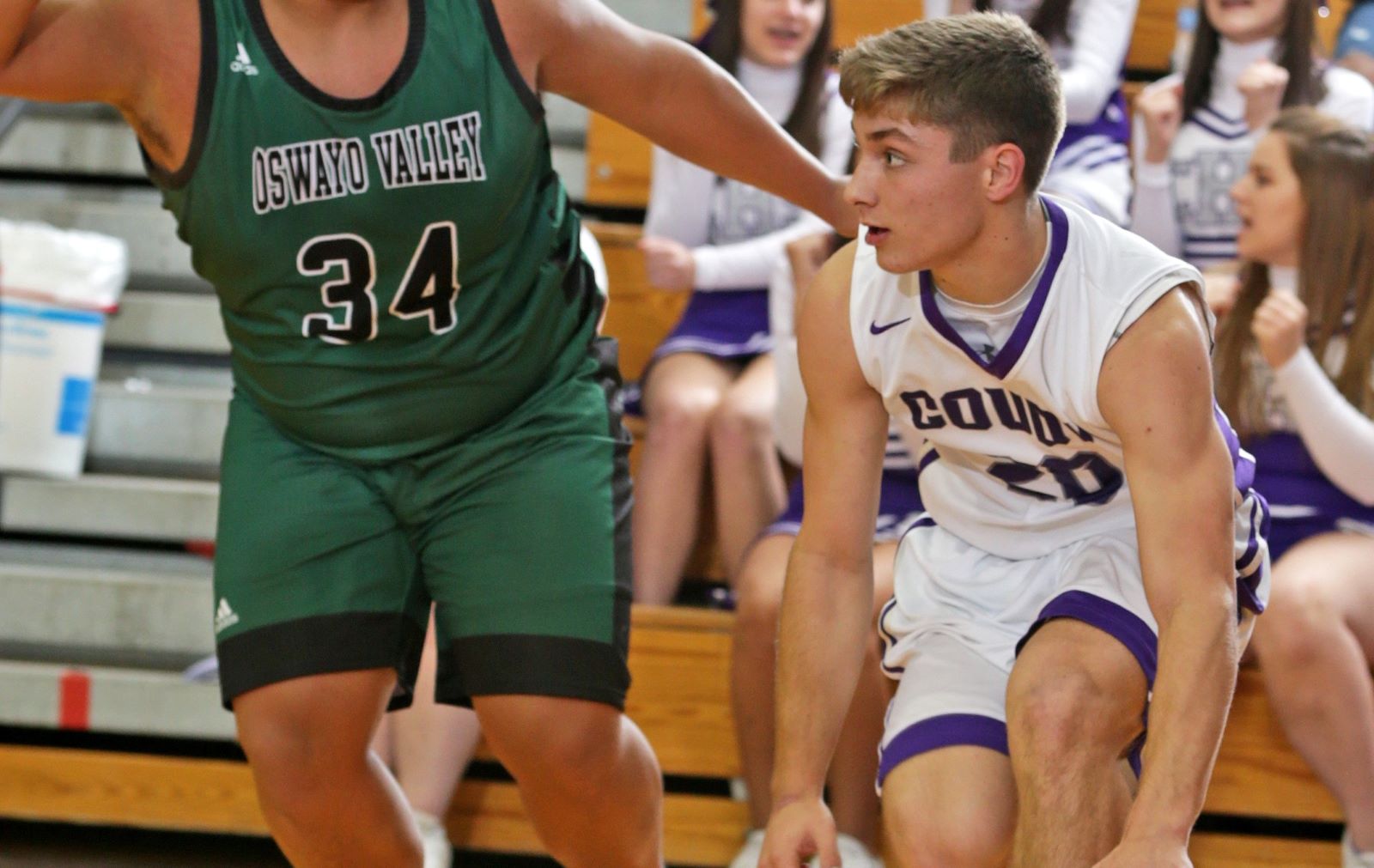 Dec. 16 boys' recaps.
(Photo of Coudersport's Hayden Keck. Photo by Paul Burdick. Check out more of Burdick's work here)
COUDERSPORT 80, OSWAYO VALLEY 16
COUDERSPORT, Pa. – Hayden Keck exploded for 25 points to lead Coudersport over visiting Oswayo Valley, 80-16.
Kolby VanWhy netted 17 points for the Falcons with Dalton Keglovits adding 10. Derek Easton had a pair of 3-pointers and finished with eight points and Daniel Frame chipped in nine tallies.
The Green Wave were paced by Honor Gross' six points.
OTTO-ELDRED 67, SHEFFIELD 60
SHEFFIELD, Pa. – Cole Sebastian and Braden Maholic each recorded a double-double as visiting Otto-Eldred outlasted Sheffield, 67-60.
Sebastian and Maholic each had 11 points and 10 rebounds for the Terrors. Jake Merry was the leading scorer with a team-high 19 points while Gavin Jimerson added 16 tallies that included three 3-pointers.
Tyler Hepinger was 11-for-14 from the charity stripe and finished with a team-high 19 points to lead the Wolverines. Jake Vinopal chipped in 13 tallies and Tony Richards netted four 3-pointers and finished with 12 points while adding five assists.
PORT ALLEGANY 42, AUSTIN 36
AUSTIN, Pa. – Howie Stuckey scored six of his 12 points in the fourth quarter as Port Allegany topped Austin, 42-36, on the road.
Jordan Card also netted 12 points for the Gators and AJ Edgell added seven tallies.
Jackson Glover paced the Panthers with 13 points and seven rebounds. Skylar Crawford had 11 tallies and six rebounds with Parker Glover chipping in 10 points.
JAMESTOWN 77, VENANGO CATHOLIC 53
JAMESTOWN, Pa. – Darian Keyser tallied 21 points, including three 3-pointers, to help Jamestown past visiting Venango Catholic, 77-53.
Cameron Keyser netted 19 points for the Muskies with Peyton McElhinny adding 11. Sean McElhinny scored nine points, all on three-pointers.
The Vikings were paced by Andrew Burda, who had a game-high 26 points. Brady Cientella added 10 points.
JOHNSONBURG 53, SMETHPORT 28
JOHNSONBURG, Pa. – Austin Green's 16 points led a trio of Johnsonburg double-digit scorers en route to a 53-28 victory over visiting Smethport.
Gabe Watts added 12 points for the Rams while Cameron Stelen chipped in 10.
Layne Shell paced the Hubbers with 10 points that included a pair of 3-pointers.