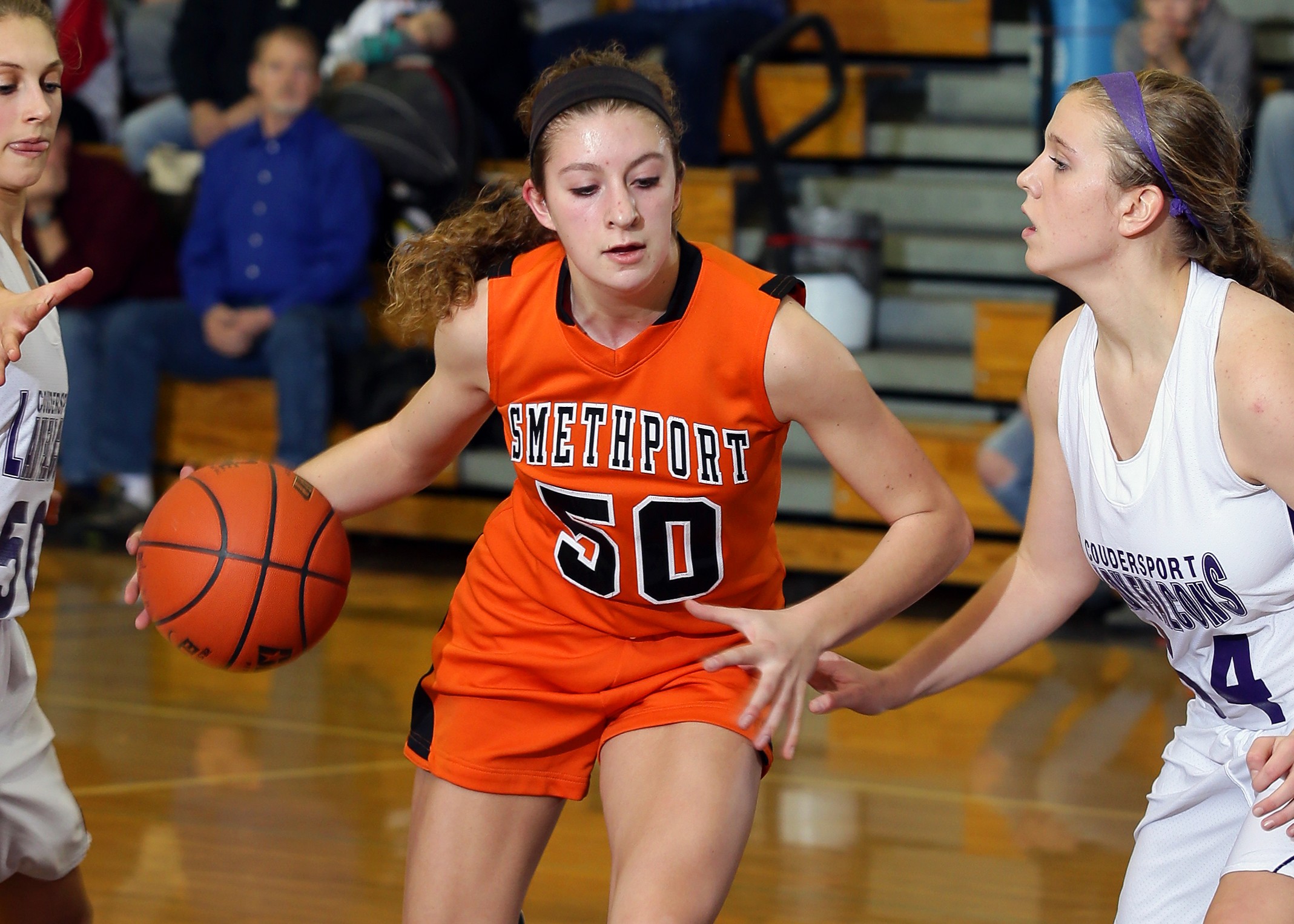 SMETHPORT 57, OTTO-ELDRED 41
SMETHPORT, Pa. – Emma Stratton and Katie Treat combined to score 36 points to lead Smethport to a 57-41 win over visiting Otto-Eldred in North Tier League action Wednesday.
Stratton had a game-high 20 points with Treat adding 16 for the Lady Hubbers.
Both were instrumental in helping Smethport grab a 22-14 lead after one quarter with Stratton netting 12 of her points in the first quarter and Treat eight of hers.
Smethport built the lead to 37-20 by halftime.
Ali Cousins led Otto-Eldred with 16 points, and Tiffany Bair added 10. Smethport held Otto's leading scorer, Camryn Thomas, to just four points.
DUBOIS 39, ELK COUNTY CATHOLIC 33
DUBOIS, Pa. – Courtney Chandler scored 12 points to help DuBois end a decade-long-home-losing streak to Elk County Catholic with a 39-33 win over the visiting Lady Crusaders Wednesday.
In a week that has seen a pair of streaks come to an end against DuBois teams, ECC had won nine straight over the Lady Beavers dating back to Feb. 2010 and 11 in a row in DuBois since dropping a game Jan. 16, 2004. In all, ECC had beaten DuBois 21 of 22 times since 2004-05.   
Dayna DeSalve added eight points for DuBois, which led 26-12 at halftime and 31-15 going to the fourth quarter.
Cassidy Cunningham kept ECC close scoring 13 of her 18 points in the fourth quarter including hitting a buzzer-beating shot from across halfcourt as time ran out to set the final score.
A-C VALLEY 67, UNION 52
RIMERSBURG, Pa. – Ellie Thompson netted a season-best 21 points and added 11 rebounds to help A-C Valley to a 67-52 win at Union Wednesday night.
Morgan Cratty added 16 points and six boards for the Falcons, while Lauren McNany added 14 points. Oliva Boocks dished out 10 rebounds and added nine points.
Lexey Shick paced Union with 19 points, eight rebounds and seven assists.  Kali Flick added 16 points for the Golden Damsels.
BROOKVILLE 48, RIDGWAY 35
BROOKVILLE, Pa. – Hali Olson had 14 points and 17 rebounds, 12 on the offensive end, to lead Brookville to a 48-35 win over visiting Ridgway in non-conference action Wednesday.
Mackenzie Ganoe added five points, five assists and six steals for the victors. Kara Wonderling and Elaina Powell each chipped in 10 points for the Lady Raiders.  
Jessica Kifer led Ridgway with 13 points, and Emily Fullem added 11 points.
BRADFORD 46, JOHNSONBURG 21
BRADFORD, Pa. – Lee Woodmnsee scored 11 points and Bri Wells 10 to help Bradford beat visiting Johnsonburg 46-21 Wednesday night.
Abby Burgess chipped in four points and nine boards for the Lady Owls, who led 24-9 at halftime.
Nicole Myers and Cassidy King each scored seven points for Johnsonburg.
PUNXSUTAWNEY 61, DUBOIS CENTRAL CATHOLIC 59
DUBOIS, Pa. – Punxsutawney rallied from a 10-point deficit midway through the fourth quarter to beat DuBois Central Catholic, 61-59, at DCC Wednesday.
With the game tied at 45 to start the fourth quarter, DCC surged first to go up 10 before Punxsutawney fought back to get the win.
"We started to pressure full court, and we calmed down against their pressure," Punxsutawney head coach Mike Carlson said. "They had us rattled until then."
The Lady Chucks led 21-10 at the end of the first quarter before DCC fought back and got within three, 34-31 at halftime and then tied the game after three.
"We got down big early," DCC head coach Mike Nesbit said. "The girls have heart and play so hard."
Leah Miller led Punxsutawney with 23 points with Alli Lunger adding 11 points, including six in the fourth quarter.
Jordy Frank led DCC with 17 points, while Stephanie Rossi added 12 points and Riley Assalone nine.
ST. MARYS 59, CAMERON COUNTY 49
ST. MARYS, Pa. – Rachel Bauer, Caitlyn Bankovich and Rachel Armanini combined to score 39 points to lead St. Marys to  59-49 win over visiting Cameron County.
Bauer scored 15, Bankovich added 14 and Armanini 10 for the Lady Dutch.
Maddison Harrier and Madi Guisto combined to score 35 of Cameron's 49 points with Harrier leading all scorers with 20 and Guisto adding 15.