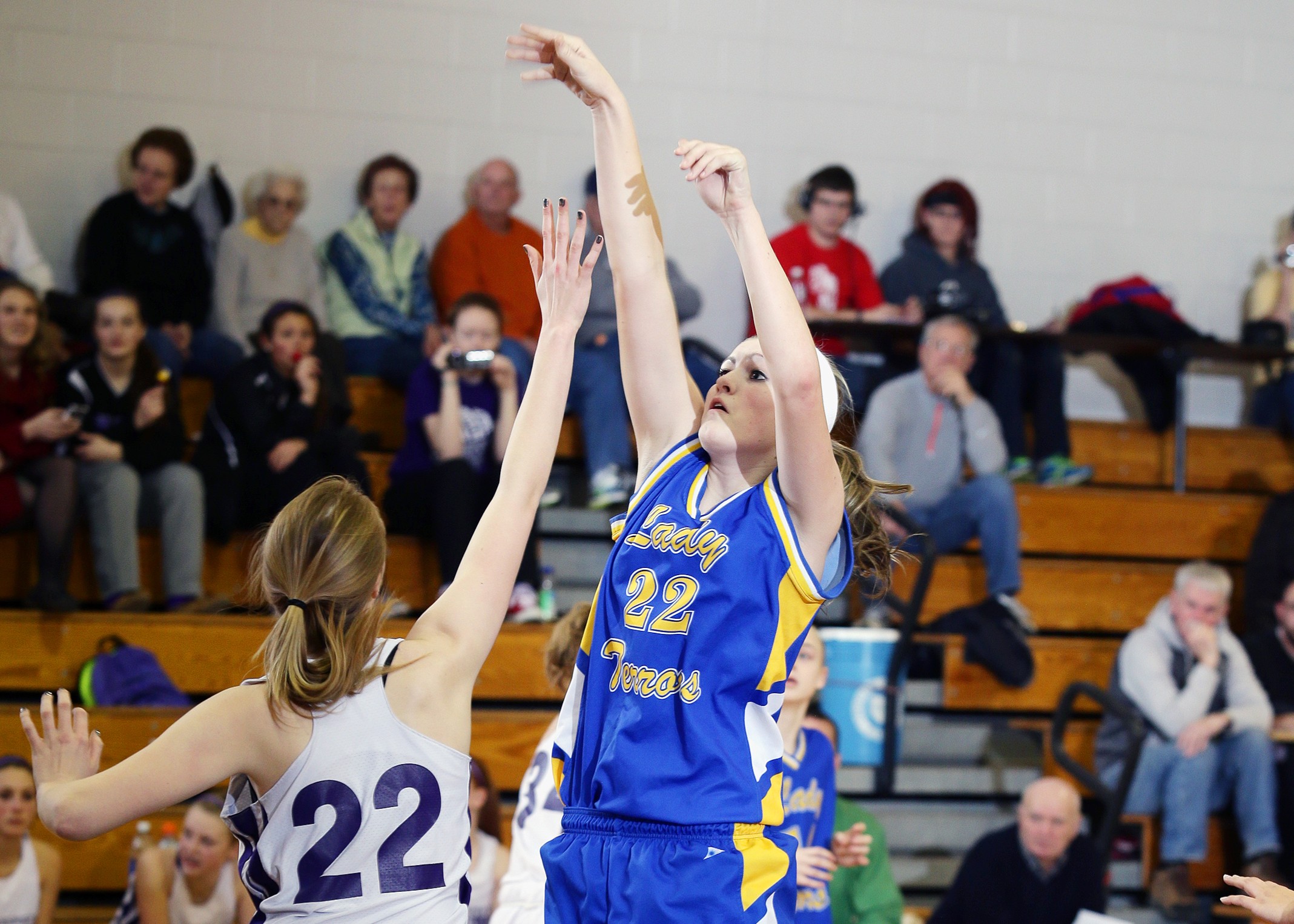 Dec. 16 girls' basketball roundup.
(Cover photo of Camryn Thomas of Otto-Eldred. Photo by Paul Burdick. Check out more of Burdick's work here)
OTTO-ELDRED 75, OSWAYO VALLEY 23
DUKE CENTER, Pa. – Camryn Thomas had a double-double and Ali Cousins and Emily Smith also reached double figures in points to help Otto-Eldred cruise to a 75-23 win over visiting Oswayo Valley in the opening round of the Randy Stebbins Memorial Tournament at Otto-Eldred.
Thomas finished with 12 points, 12 rebounds and five steals, while Cousins had a game-high 15 points and Smith 10 points. In all, 11 different Lady Terrors scored.
Shayla Bickel paced Oswayo Valley with 14 points.
Otto will take on Portville (N.Y.) in Saturday's title game with Sheffield and Oswayo Valley facing off in the consolation game.
PORTVILLE (NY) 49, SHEFFIELD 8
DUKE CENTER, Pa. – Karly Welty and Sydney Colligan combined for 21 points to lead Portville (N.Y.) to a 49-8 win over Sheffield in the opening round of the Randy Stebbins Memorial Tournament at Otto-Eldred.
Welty led the Lady Panthers with 11 points with Colligan adding 10.
Mya Grubbs had three points on a 3-pointer to pace Sheffield.
Portville battles Otto-Eldred in Saturday's title game with Sheffield taking on Oswayo Valley in the consolation contest.
COUDERSPORT 67, JOHNSONBURG 44
ST. MARYS, Pa. – Haley Keck connected for 28 points to help Coudersport earn a finals berth in in the St. Marys Winter Tip-Off Tournament with a 67-44 win over Johnsonburg.
Keck scored 14 points in each half while Macy Gleason finished with 10 points. Coudersport, which plays St. Marys in Saturday's final, led 30-16 by halftime and took a 50-24 lead into the fourth quarter.
Nicole Myers and Skylar Sherry scored 16 and 11 points respectively for Johnsonburg, which plays Kane in Saturday's consolation game.
ST. MARYS 47, KANE 39
ST. MARYS, Pa. – Led by 13 points from Michelle Bauer St. Marys had three players reach double digits in a 47-39 win over Kane in the opening round of the St. Marys Winter Classic.
Bekka Bauer added 12 points for the Lady Dutch, who face Coudersport in Saturday's title game, with Rachelle Armanini chipping in 11 points.
Trinity Clark and Ella Marconi each scored 13 points for Kane, which trailed by just two, 29-27, going to the fourth quarter.
ELK COUNTY CATHOLIC 44, BROOKVILLE 23
ST. MARYS, Pa. – Reilly Herzing was the lone player in double-figure scoring with 16 points to lead Elk County Catholic to a District 9 League win over visiting Brookville.
Cassidy Cunningham had seven points for the Lady Crusaders, who led 24-15 at halftime and extended their lead to 37-17 after a 13-2 third-quarter advantage.
Laken Hergert scored nine points to lead Brookville.
CRANBERRY 58, CLARION 42
CLARION, Pa. – Thanks to 20 points from Erin Merryman and 19 from Malliah Schreck, Cranberry rebounded from its first loss of the season with a 58-42 road win over Clarion.
Wendy Beveridge led Clarion with 20 points, while Alexis Constantino added 16.
MONITEAU 37, KEYSTONE 34
WEST SUNBURY, Pa. – Izzy Bair's long rebound and basket with a few ticks of the clock left sealed a 37-34 win for Moniteau over visiting Keystone.
The Lady Warriors were clinging to a 35-34 lead when Bair got the board and the hoop to close the deal. It was her only basket of the game.
The basket capped a great fourth quarter for Moniteau, which trailed 28-22 going to the final eight minutes but scored 15 points in the quarter including all six of Emma Bair's points on the night.
Emma Bair added 11 rebounds and five steals, while Alazia Greaves had a team-high 12 points followed by Kristina DeMatteis with 11.
Keystone, which dropped to 0-4 on the young season, got a game-high 16 points from Taylor Geer including all six of the Lady Panthers fourth-quarter points.
NORTH CLARION 58, CLARION-LIMESTONE 13
FRILLS CORNERS, Pa. – Tori Obenrader and Cassie Wagner both had double-doubles, as North Clarion cruised past visiting Clarion-Limestone, 58-13.
Obenrader had a game-high 17 points to go with 10 rebounds, while Wagner added 10 points and 10 boards for the unbeaten She-Wolves, who led 30-3 at halftime.
Abby Gatesman also added eight points for North Clarion, which had 10 players score.
Jess Ball paced C-L with six tallies.
A-C VALLEY 57, REDBANK VALLEY 40
FOXBURG, Pa. – Behind big second halves from Ellie Thompson and Cami McNany, A-C Valley overcame a nine-point halftime deficit to top visiting Redbank Valley, 57-40.
The Lady Falcons trailed 27-19 at the break after scoring just three second-quarter points but outscored the Lady Bulldogs 38-13 in the second half thanks to Thompson scoring 15 of her game-high 18 points after halftime and McNany adding 12 of her 14 after the break.
Olivia Boocks also scored 13 points for A-C Valley, including nine in the first quarter, while Kylee Eaton had 11.
Lexi Holt led Redbank Valley with 12 points with Macy King adding nine.
CLEARFIELD 43, HUNTINGDON 35
HYDE, Pa. – Alayna Ryan poured in 20 points while teammate Brooke Cline scored 13 points to lead Clearfield to a 43-35 Mountain League win over visiting Huntingdon.
Clearfield led 21-14 at halftime and extended its lead to 35-20 after three quarters.
DUBOIS CENTRAL CATHOLIC 57, HARMONY 34
DUBOIS, Pa. – Riley Assalone scored 14 of her game-high 21 points in the first half to lead DuBois Central Catholic to a 57-34 non-league home win over Harmony.
Macy Hanes added 11 points.
DCC led 33-14 by halftime and outscored District 6's Harmony, 24-20, in the second half.
SMETHPORT 52, DUBOIS 48
SMETHPORT, Pa. – Abby Treat and Emily Woodard had big games to lead Smethport to a 52-49 non-league win at home against DuBois.
Treat scored 20 points while Woodard finished with 19. All five of Treat's field goals were 3-pointers while Woodard scored 14 of her points in the second half as the Lady Hubbers, trailing 31-27 at halftime, outscored DuBois 25-17 in the second half.
Ashley Hallowell scored 17 points, 13 in the first half, for DuBois.