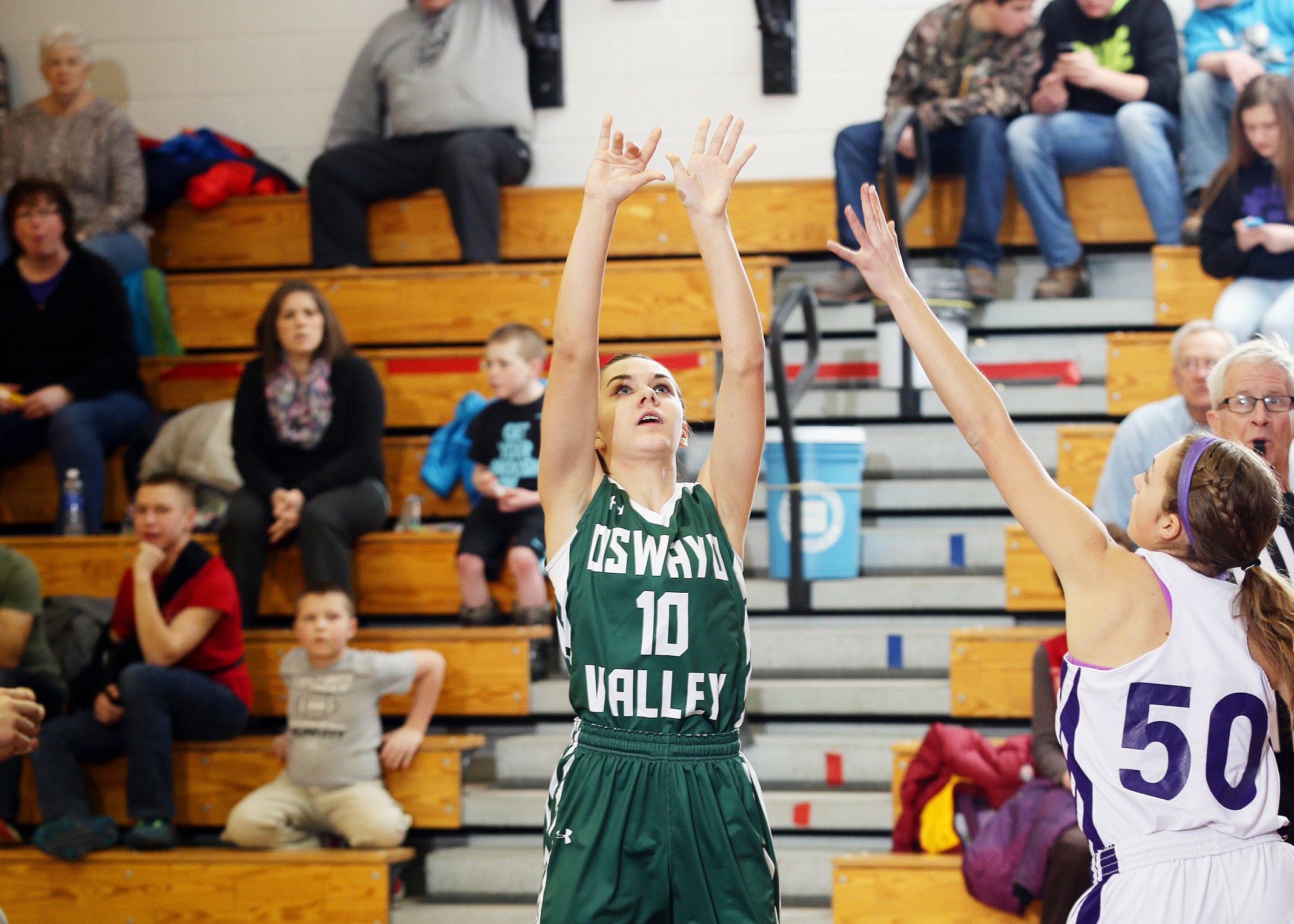 GIRLS
OSWAYO VALLEY 44, OLEAN-WALSH (NY) 24
OLEAN, N.Y. – Brianna Siebert scored 18 points to lead Oswayo Valley to a 44-24 road win at Olean-Walsh (NY) Thursday.
Jessica Edwards added 12 rebounds for the Green Wave, while Jade Swick paced Olean-Walsh with 10 points.
RIDGWAY 35, PORT ALLEGANY 20
RIDGWAY, Pa. – Emily Fullem's all-around game lifted Ridgway to a 35-20 non-conference victory over visiting Port Allegany Thursday.
Fullem had 16 points, 10 rebounds, five blocked shots and five steals for the Lady Elkers.
Autumn Buchsenschutz led Port Allegany with 10 points.
Ridgway led by only four, midway through the third quarter, 21-17, but finished the quarter on a 10-0 run to pull away from the Lady Gators.
BOYS
ELK COUNTY CATHOLIC 48, BROCKWAY 35
BROCKWAY, Pa. – Benji Hoffman and Kyle Huff both scored in double digits to lead a balanced Elk County Catholic attack in a 48-35 Crusaders win at Brockway in AML play Thursday.
Hoffman had a game-best 12 points with Huff chipping in with 11. Gabe Kraus and Nate DaCanal each added nine for ECC, which had eight different players score.
Jake Wineberg was the lone Brockway player in double digits with 11 points. Carter Adams added eight.
ECC led by six, 24-18, at halftime then outscored Brockway 16-6 in the third quarter behind seven points from Kraus to cushion the lead.
RIDGWAY 56, PORT ALLEGANY 23
PORT ALLEGANY, Pa. – Jeremy Breier's 18 points helped visiting Ridgway cruise past Port Allegany, 56-23, in non-conference action Thursday.
The Elkers used a 21-3 second-quarter advantage to build a 37-10 halftime lead.
Justin Kasmierski added 10 points for Ridgway, while Tre Garzel led Port Allegany with seven.