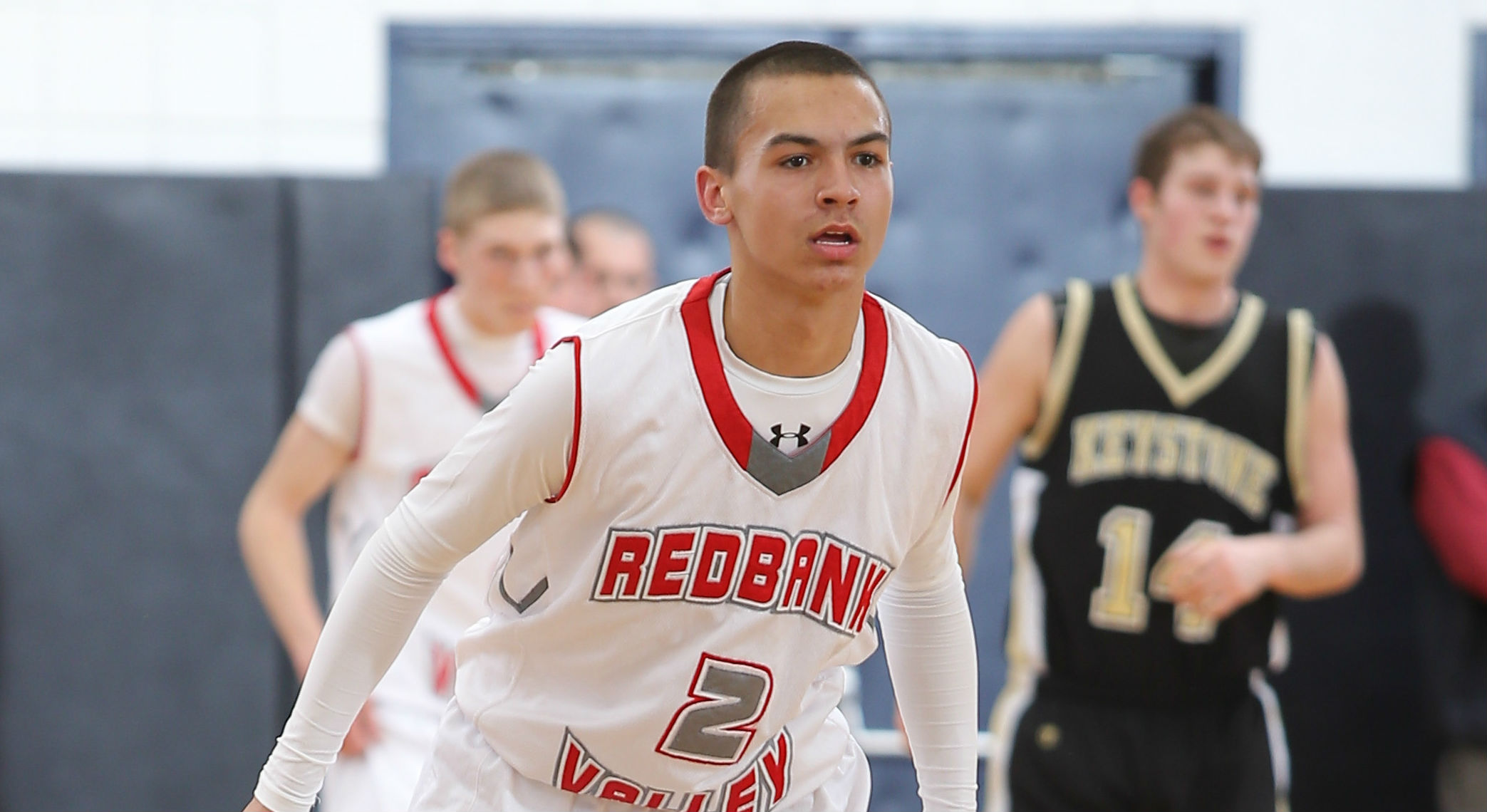 REDBANK VALLEY 50, MONITEAU 48, 2 OVERTIMES
NEW BETHLEHEM, Pa. – Sam Heeter scored eight of his game-high 26 points after regulation, as Redbank Valley inched past visiting Moniteau, 50-48, in double overtime Friday night.
Aaron Marterella forced overtime when he banked home a 3-pointer with just under five second to play in regulation to tie the game at 40.
Grayson Harmon had chance to win the game with a runner from just inside half court near the bench as time ran out in regulation, but the shot hit the front of the rim.
Neither team did much in the first four-minute overtime with Heeter scoring Redbank Valley's only two points of the first extra session and Josh Adamson picking up a bucket for the Warriors.
But in the second overtime, the senior, one of just a handful of players from last year's PIAA Class AA quarterfinal team, took over scoring six points to get the Bulldogs the win.
Dalton Dougherty added a double-double for Redbank Valley with 10 points and 10 rebounds while also blocking seven shots.
JJ Waid had a team-high 20 points for Moniteau, while Jake Jewart had 12, including all six in the second overtime on a pair of 3-pointers.  
BRADFORD 38, CAMERON COUNTY 35
BRADFORD, Pa. – Andrew Bacha scored eight of his team-high 11 points in the fourth quarter to help Bradford hold off visiting Cameron County, 38-35, in non-league action Friday night.
The Owls led 22-17 at halftime but by only two, 27-25, going to the fourth quarter.
John Eakin added nine points and 13 rebounds and Deondre Terwilliger seven points for Bradford, which shot just 38 percent (14 of 37) for the game.
Marcus Brown led all scorers with 16 points for Cameron County including eight of the Red Raiders 10 fourth-quarter tallies. Trae Smith chipped in with 11 points.
CLARION 71, FOREST AREA 31
Read complete story on ExploreClarion.com
MARIENVILLE, Pa. – Jonathan Smith scored 23 points while shooting 11 of 12 from the floor to lead Clarion to a 71-31 road win over Forest Area at East Forest Friday night.
Clarion led 26-2 at the end of the first quarter and scored 34 points off 29 Forest Area turnovers in getting the victory.
Cam Craig added 13 points for the Bobcats with Bo Miller adding eight and Ceventh Lynch-Skunda seven.
Seth Berlin had a solid night for the Fires with 16 points on 7 of 11 shooting.
ST. MARYS 68, BROOKVILLE 44
BROOKVILLE, Pa. – Brady Bauer and Parker Housler scored 14 and 11 points respectively and 11 different players scored as the St. Marys Flying Dutchmen had their way with Brookville in a 68-44 D9 League win Friday night.
St. Marys led 41-20 at halftime and cruised to the win.
Ben Reitz scored nine points for the Raiders.
KARNS CITY 71, A-C VALLEY 42
KARNS CITY, Pa. – In McElroy scored 17 points, Noah Pollock added 12 and Ben Ealy 10, as Karns City used a big first half to beat visiting A-C Valley, 71-49, Friday night in KSAC South action.
The Gremlins led 25-7 at the end of the first quarter and 42-20 at halftime.
Chandler Turner added 10 rebounds and seven points for KC with Ealy grabbing eight boards.
Austin Heeter led A-C Valley with 14 points, all in the second half, while Zach Muhl chipped in with 10.
KANE 67, CURWENSVILLE 45
Information submitted by Pete Sirianni
KANE, Pa. – Andrew Bucheit continued his early season dominance as Kane moved above the .500 mark for the first time since Dec. 2012 with a 67-45 win over Curwensville Friday.
Bucheit scored 28 points and grabbed 10 rebounds as the Wolves' big man was no match for a much smaller Golden Tide front line. Through three games, the junior is averaging just over 25 points per game.
The Wolves jumped out to a 47-25 halftime lead in part due to a defensive pressure that never let Curwensville get settled in a halfcourt offense.
Shane Rolick and Chris Udovich also scored in double figures with 12 and 11 points respectively.
"We've only had seven practices," Kane head coach Matt Gasbarre said referring to the fact half his team was playing football two weeks ago. "We had some tired guys, but they rose up to the occasion."
Zach Marshall's 17 points led Curwensville.
CLEARFIELD 59, TYRONE 50
TYRONE, Pa. – Will Myers led a trio of Clearfield players in double figures with 20 points and added eight boards, as the visiting Bison got past Tyrone, 59-50, in Mountain League play Friday.
Myers was 7 of 9 from the free-throw line in the fourth quarter, 9 of 13 for the game, to help Clearfield keep Tyrone at bay.
Evan Brown chipped in 16 points, and Tommy Hazel had 13 points and eight rebounds for the Bison.
OTTO-ELDRED 79, GALETON 51
DUKE CENTER, Pa. – Behind 18 points and nine rebounds from Heath Stewart, Otto-Eldred topped the 75-point mark for the second straight game with a 79-51 win over visiting Galeton in the opening round of the Randy Stebbins Memorial Tournament Friday night.
Stewart was one of four Terrors in double digits, as Damen Palmer added 15 points, Trey Dalton 14 and Dylan Close 11. Close also had four steals.
McKinley Ward led Galeton with a game-high 24 points.
Otto-Eldred will face Portville (NY) in the championship game Saturday while Galeton will take on Oswayo Valley in the consolation game, also Saturday.
PORTVILLE (NY) 52, OSWAYO VALLEY 46
DUKE CENTER, Pa. – Nick Stein scored 19 points and Sean Harris 13 to lead Portville (NY) to a 52-46 win over Oswayo Valley in the opening round of the Randy Stebbins Memorial Tournament at Otto-Eldred Friday.
Brandon Brabham's 18 points led Oswayo Valley, which could never recover from falling behind 18-10 after one quarter. Ricardo Gross chipped in 16 points for the Green Wave.
Portville will take on host Otto-Eldred in the title game Saturday with Oswayo Valley facing Galeton in the consolation game.
UNION 55, KEYSTONE 36
RIMERSBURG, Pa. – Union outscored Keystone by 21 points in the second half to erase a four-point halftime deficit and a get a 55-36 win over the visiting Panthers Friday night.
The Golden Knights trailed 23-19 at the break but outscored Keystone 34-13 in the second half behind the play of Cole Morris, who scored 15 of his game-high 19 points after halftime.
Morris added six steals and four assists, while Lucas Bowser had 14 points and eight rebounds and Hank Murphy 13 points and nine boards for Union.
Mason Rearick tied Morris for game-high honors with 19 points, including 11 in the first quarter and 15 in the first half, to lead Keystone.
CLARION-LIMESTONE 72, CRANBERRY 53
STRATTANVILLE, Pa. – The brotherly duo of Dan and Ian Callen combined to score 34 points and grab 24 rebounds to lead Clarion-Limestone to a 72-53 win over visiting Cranberry in KSAC North action Friday night.
Dan Callen, a junior, had a game-high 23 points to go with 12 rebounds, while his little brother Ian, a freshman, added 11 points and 12 boards. Another freshman, Julian Laugand also scored 11 points for the Lions, while Taylor Smith added 14.  
Brendan Zerbe led Cranberry with 19 points, and Evan Lutz added 14.
NORTH CLARION 46, VENANGO CATHOLIC 36
FRILLS CORNERS, Pa. – Joe Mays scored a career-high 17 points to help North Clarion get back on the winning track with a 46-36 win over visiting Venango Catholic Friday night.
Zayn Hargenrader added 16 points for the Wolves, who erased a 27-19 halftime deficit by outscoring the Viking 20-6 in the third quarter behind eight points from Mays.
Brady Kingston's 12 points led Venango Catholic with Noah Puleo adding 11.