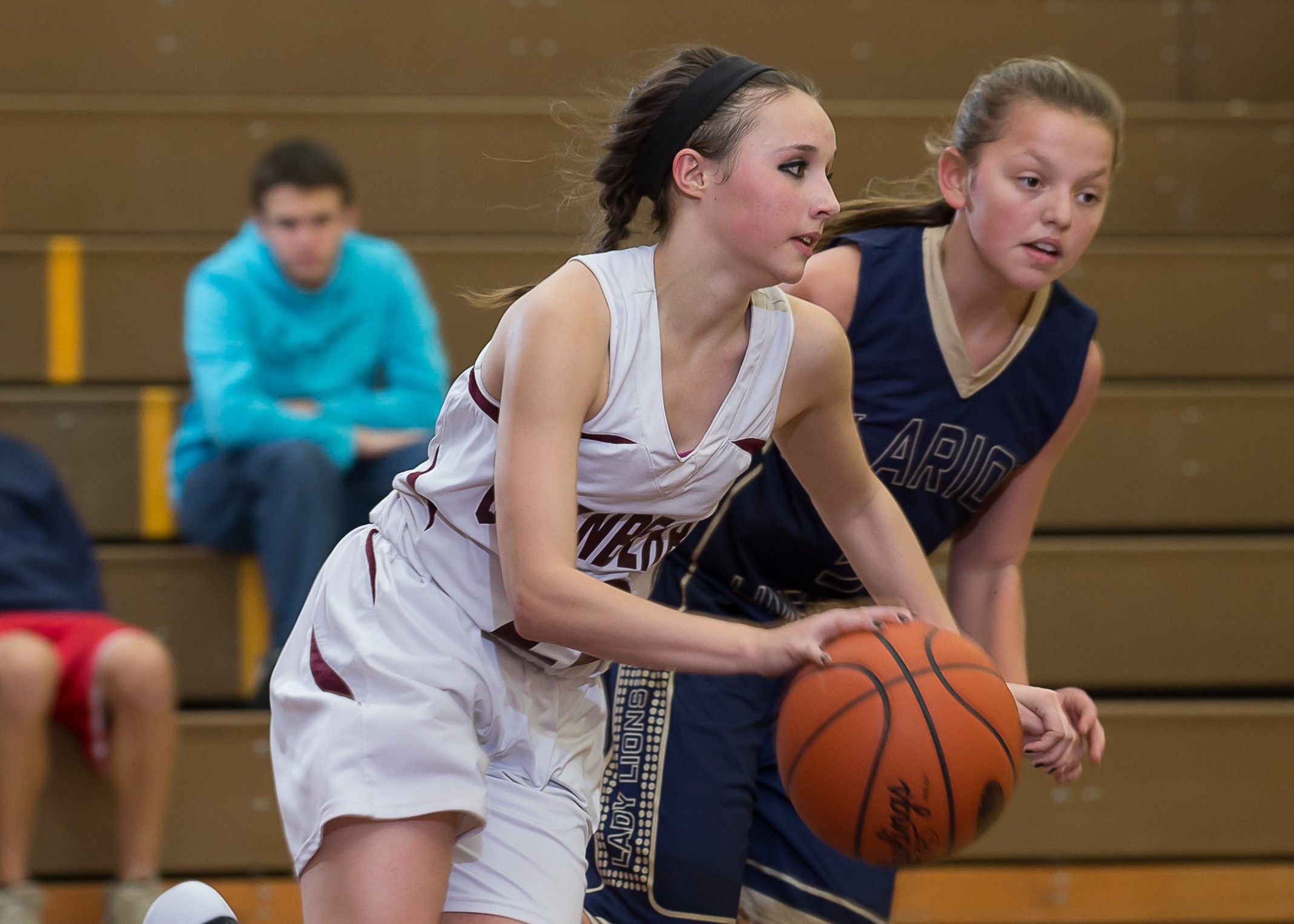 BRADFORD 48, COUDERSPORT 45, OVERTIME
COUDERSPORT, Pa. – Bri Wells scored 19 points to lead Bradford to a 48-45 overtime win at Coudersport Friday night.
Haley Keck's 15-foot jumper with eight seconds to play in regulation forced the extra session for Coudersport, but the Lady Owls got the better of the home team in the extra four minutes.
Macy Gleason paced the Lady Falcons with 13 points, Keck added 12 and Ally Easton 10.
CRANBERRY 64, CLARION-LIMESTONE 15
SENECA, Pa. — The host Cranberry Berries jumped out to a 24-point first-half lead on their way to a 64-15 win over visiting Clarion-Limestone Lady Lions in a Keystone Shortway Athletic Conference game Friday night.
Erin Merryman and Tamaria Flinspach scored 16 and 13 points respectively for Cranberry. Karleigh Aaron scored 6 points for C-L.
Cranberry led 35-11 at halftime and outscored C-L, 29-4, in the second half.
KEYSTONE 56, UNION 33
KNOX, Pa. — Riding a second-half surge, the Keystone Lady Panthers ran away from visiting Union for a 56-33 win Friday night.
With the scored tied 19-19 at halftime, Keystone outscored Union 37-14 in the second half.
Amber Hess scored 11 of her team-high 18 points in the second half while Josselin Geer scored all 10 of her points in the second half and added nine rebounds.
Hess grabbed 11 rebounds to complete her double-double and five blocks, four assists and three steals. Alyssa Beichner had 7 points 4 blocks, and 11 rebounds and Taylor Geer had nine points and 12 rebounds.
Shaley Shick scored 18 points and grabbed 7 rebounds for Union, which started the game with a 9-0 lead.
OTTO-ELDRED 62, SHEFIELD 13
DUKE CENTER, Pa. — Three players reach double figures in the scoring column and the host Otto-Eldred Lady Terrors cruised to an easy 62-13 rout of visiting Sheffield Friday night in the opening round of the Randy Stebbins Memorial Tournament.
Emily Smith scored a team-high 16 points while Camryn Thomas and Ali Cousins scored 15 and 12 points respectively for Otto-Eldred, which led 37-9 at halftime.
Lexi Lyon scored six points for Sheffield.
Otto-Eldred will face Portville (NY) in the championship game Saturday, while Sheffield will take on Oswayo Valley in the consolation game, also Saturday.
ELK COUNTY CATHOLIC 44, BROCKWAY 39
ST. MARYS, Pa. – Behind 10 points and 15 rebounds from Reilly Herzing, Elk County Catholic put a couple of tough losses earlier in the week behind it with a 44-39 win over visiting Brockway in AML action Friday night.
Cassidy Cunningham and Josie Smith each added 11 points for the Lady Crusaders.
Kaitlyn Morelli led Brockway with a game-high 21 points while adding seven rebounds and four steals. Leah Lindemuth chipped in with 10 points.  
KANE 49, CURWENSVILLE 23
CURWENSVILLE, Pa. – Trinity Clark and Camryn Cummings each recorded double-doubles to lead visiting Kane to a 49-23 non-league win at Curwensville Friday night.
Clark had 13 points, 10 rebounds and seven steals, while Cummings added 12 points and 12 steals.
Christine Limbert led Curwensville with 12 points and eight rebounds.
NORTH CLARION 54, VENANGO CATHOLIC 22
FRANKLIN, Pa. – Tori Obenrader and Abbie Schmader each had double-doubles led by Obenrader's 21 points and and 10 rebounds as North Clarion cruised to a 54-22 road win at Venango Catholic Friday night.
Schmader added 12 points and 10 rebounds for the She-Wolves, who led 30-8 at halftime.
Ava Homan's 10 points paced the Lady Vikings.
KARNS CITY 73, A-C VALLEY 26
FOXBURG, Pa. – LeeAnn Gibson led a three-some of Karns City players in double figures with 27 points, as the visiting Lady Gremlins had no problems on the road at A-C Valley Friday night picking up a 73-26 win.
Emily Hegedus added 17 points and Alyssa Gibson 12 for the victors.
LeeAnn Gibson hit four 3-pointers in the contest and scored 20 of her points after halftime, while Hegedus had 12 first-half points.
Ellie Thompson scored 11 to pace the home squad with Lauren McNany added 10 for the Lady Falcons.
CLARION 48, FOREST AREA 23
CLARION, Pa. – Kelly Beveridge had 13 points and 12 steals to help Clarion to a 48-23 win over visiting Forest Area Friday night.
Anna Reed also scored 11 points for the Lady Cats, who broke open a close game at the half by outscoring the Fires 30-9 in the second half after Forest was within four, 18-14, at halftime.
Alexis Constantino added 10 points for Clarion with Gloria Kroh grabbing six rebounds to go with seven points.  
Morgan Silvis had a game-high 13 points for Forest Area.
ST. MARYS 67, BROOKVILLE 42
ST. MARYS, Pa. – Rachel Armanini scored 18 points and Rachel Bauer added 16 to lift St. Marys to a 67-42 win over visiting Brookville in D9 League action Friday night.
Brooke Shattenberg paced Brookville with 10 points.