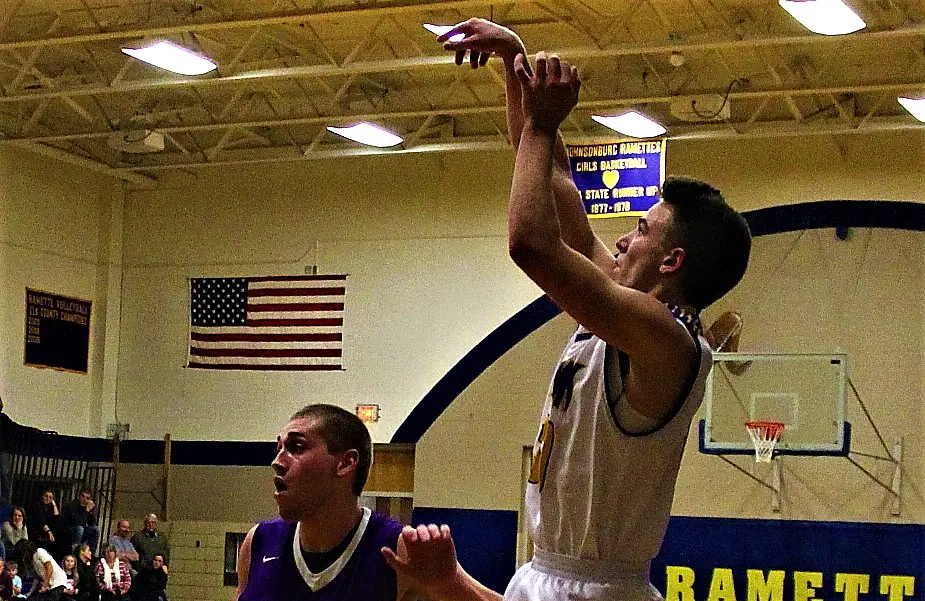 Dec. 18 recaps.
(Photo: Dilen Surra, Johnsonburg. Photo by Rich Quiggle)
JOHNSONBURG 49, COUDERSPORT 46
JOHNSONBURG, Pa. – Johnsonburg used a balanced attack and a quick start to pick up a big win over visiting Coudersport, 49-46.
Austin Green had 16 points, Dilen Surra 14 and Kacey Raubenstrauch 12 for the Rams, who led 12-6 after a quarter and a 22-17 at halftime.
Owen Chambers paced Coudersport with 19 points with Jared Green adding 18.
SLIPPERY ROCK 46, KEYSTONE 45, OVERTIME
SLIPPERY ROCK, Pa. – Nick Wherthey hit a long 3-pointer at the end of regulation and then outscored visiting Keystone, 4-3, in overtime to pull out a 46-45 win.
Wherthey had 12 points to lead the Rockets while Mitch Houston and Logan Croll each added nine points.
Dalton Jones had a game-high 14 points for Keystone with Corey Rapp added nine points, nine rebounds, four assists, four steals.
DUBOIS CENTRAL CATHOLIC 70, A-C VALLEY 61
DUBOIS, Pa. – Justin Miknis exploded for 33 points on 13 made shots to lead DuBois Central Catholic to a 70-61 win over visiting A-C Valley.
Brandon Walker added nine points for the Cardinals with Thomas Grecco added eight points.
Dalton Callander scored 17 points to led A-C Valley with Russ Carr adding 11 points and Eddie Stevanus 10 points.
CAMERON COUNTY 55, OSWAYO VALLEY 49
SHINGLEHOUSE, Pa. – Marcus Brown netted a game-high 25 points to lead visiting Cameron County to a 55-49 win at Oswayo Valley.
Adam Shaffer added 14 points for the Red Raiders.
Gavin Babcock led Oswayo Valley with 28 points with Theo Henry adding nine points.
WARREN 62, BRADFORD 45
WARREN, Pa. – Andrew Davidson hit four 3-pointers and scored 18 points to lead Warren to a 62-45 win over visiting Bradford.
Steven Knowlton led Bradford with 14 points with Danny Manion adding 10 points.
JASPER-TROUPSBURG (N.Y.) 54, NORTHERN POTTER 43
ULYSSES, Pa. – Conner Van Gorden scored 21 points to help Jasper-Troupsburg to a 54-43 win at Northern Potter.
Foster Kosa 15 led Northern Potter with 15 points with Carter Anderson adding 14 points.
MONITEAU 49, COMMODORE PERRY 28
WEST SUNBURY, Pa. – Jared Lomenski netted 17 points and Ross Tenney scored 13 points to lead Moniteau to a 49-28 win over visiting Commodore Perry.
Ethan McDeavitt added 10 points for the Warriors.