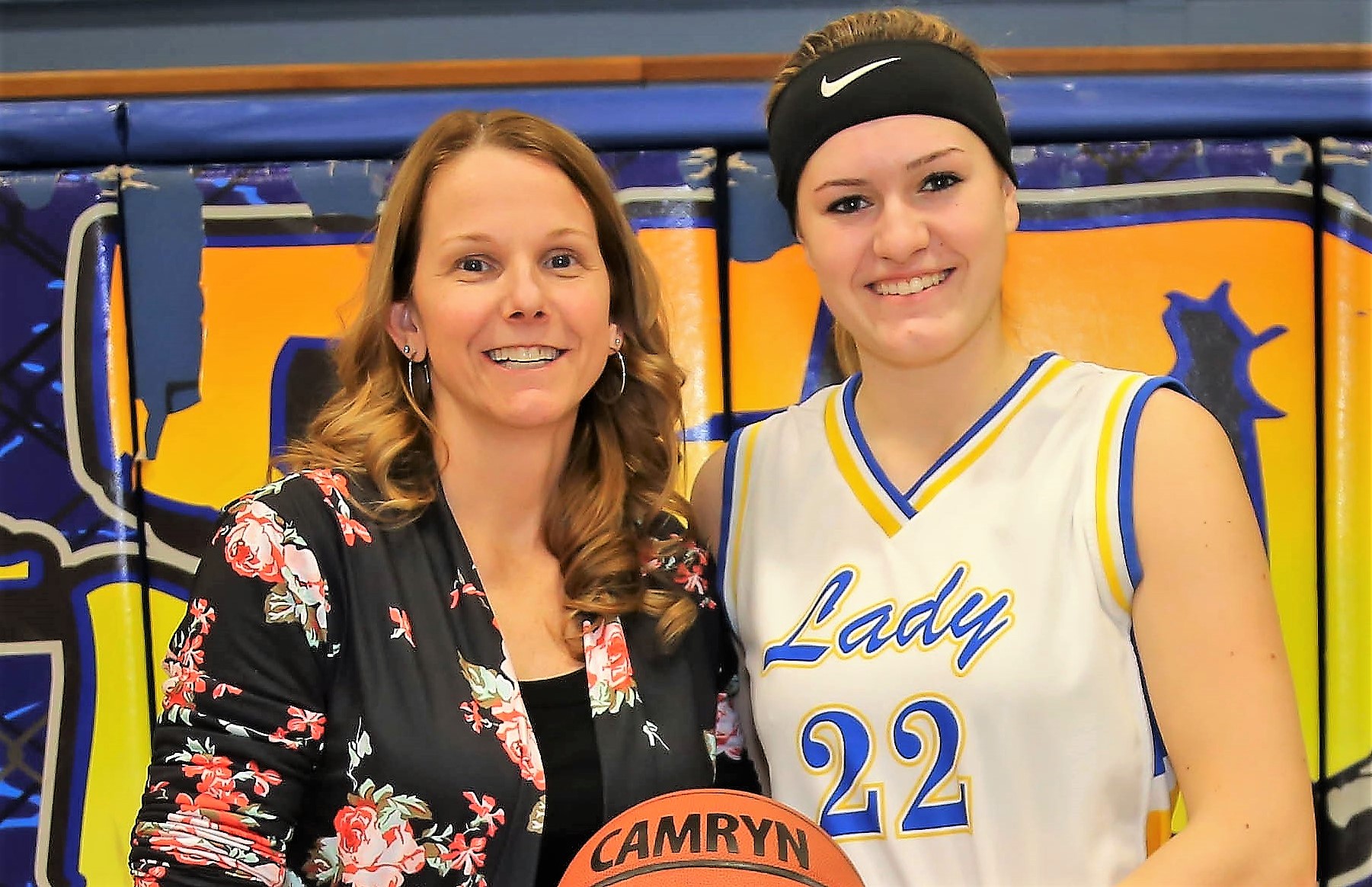 Dec. 18 recaps.
(Cameryn Thomas with her coach Barb Close after scoring her 1,000th point Monday)
OTTO-ELDRED 64, GALETON 46
DUKE CENTER, Pa. – Needing 15 points for 1,000 in her career Otto-Eldred's Camryn Thomas reached the mark with her first basket of the second half and went on to score a game-high 27 points to help Otto-Eldred to a 64-46 win over visiting Galeton.
Nine of Thomas' 27 tallies came in the fourth quarter helping the Lady Terrors turn a five-point game midway through the fourth quarter into the 18-point victory.
Watch Thomas score her 1,000 and 1,001 points. Twitter video courtesy of Jeannie Gray.
@D9Sports O-E's @Cam_thomas2 scores her 1000th point tonight in the #Terrordome pic.twitter.com/McUp2mecAH

— Jeannine Gray (@neengray) December 19, 2017
Ali Cousins chipped in 14 points for Otto-Eldred.
Makaya Shadle scored a game-high 28 points for Galeton and is now just 11 points shy of 1,000 herself. Katelyn Pagano added 12 points for the Lady Tigers.
CAMERON COUNTY 50, OSWAYO VALLEY 27
EMPORIUM, Pa. – Kamme Guisto had seven points, five steals, three assists and three blocked shots to help Cameron County to a 50-27 win over visiting Oswayo Valley in North Tier League action.
Laila Smith led the Lady Raiders on offense with 12 points with Hailey Hilfiger adding 10 points and Amily Schatz seven.
Shayla Bickel paced all scorers with 15 for Oswayo Valley.
NORTHERN POTTER 44, SMETHPORT 37
SMETHPORT, Pa. – Mikayla Lewis had a double-double with 10 points and 10 rebounds and Kalie Cowburn netted 21 points to lead Northern Potter to a 44-37 road North Tier League win over Smethport.
Rebecca Morgan chipped in four points, nine rebounds and seven assists for the Lady Panthers.
Abbey Woodard led Smethport with 19 points.
COUDERSPORT 59, PORT ALLEGANY 31
COUDERSPORT, Pa. – Haley Keck recorded another 20-point game with 21 to lead Coudersport to a 59-31 win over visiting Port Allegany in North Tier League play.
EmmaRae Easton chipped in 11 points for the Lady Falcons with Shaelyn Black scoring six points and grabbing 12 rebounds and Sarah Chambers netting eight points.
Cailey Barnett paced Port Allegany with 11 points and Bree Garzel added eight.
JOHNSONBURG 50, BRADFORD 38
BRADFORD, Pa. – Cassidy King exploded for 23 points to help visiting Johnsonburg to a 50-38 win at Bradford.
Lindsay Kocjancic and Amanda Williams each added 10 points for the Ramettes.
Hannah Lary once again led Bradford with 14 points with Kelcie Moffett adding 11 points.
A-C VALLEY 56, BROCKWAY 41
BROCKWAY, Pa. – Behind 26 points from Ellie Thompson A-C Valley picked up a 56-41 road win over Brockway.
Kylee Eaton added 13 points for the Lady Falcons with Olivia Boocks chipping in with eight.
Leah Lindemuth had a double-double for Brockway with 18 points and 11 rebounds. Kaitlyn Morelli and Morgan Lindemuth each added eight points for the Lady Rovers.
PUNXSUTAWNEY 67, REDBANK VALLEY 36
PUNXSUTAWNEY, Pa. – Leah Miller had a monster game with 26 points, 15 rebounds, six blocked shots and four steals to lead Punxsutawney to a 67-36 win over visiting Redbank Valley.
Sarah Weaver chipped in 10 points and five assists for the Lady Chucks with Riley Presloid scoring nine points and Elyse White eight. Mia Lingenfelter added four points and seven assists.
Tara Hinderliter scored 24 to pace Redbank Valley.
BROOKVILLE 65, CLEARFIELD 48
BROOKVILLE, Pa. – Forcing 35 turnovers, Brookville pulled away with a 14-0 run to start the second half on its way to a 65-48 win over visiting Clearfield.
The Lady Raiders led 30-27 at halftime but went on its run until Clearfield's Megan Durandetta 3-pointer made it 44-30 with 41 seconds left in the third.
Kira Powell scored 14 points to lead Brookville, 12 of them coming on four first-half 3-pointers. Madison Johnson scored 10 points.
Alayna Ryan, Megan Durandetta and Brooke Cline scored 15, 12 and 10 points respectively for Clearfield.
HOLLIDAYSBURG 55, DUBOIS 24
HOLLIDAYSBURG, Pa. – Despite 12 points from Chelsea DeSalve Dubois dropped a 55-24 road decision to Hollidaysburg.
Ashley Hallowell added four points as nd 14 rebounds for the Lady Beavers.