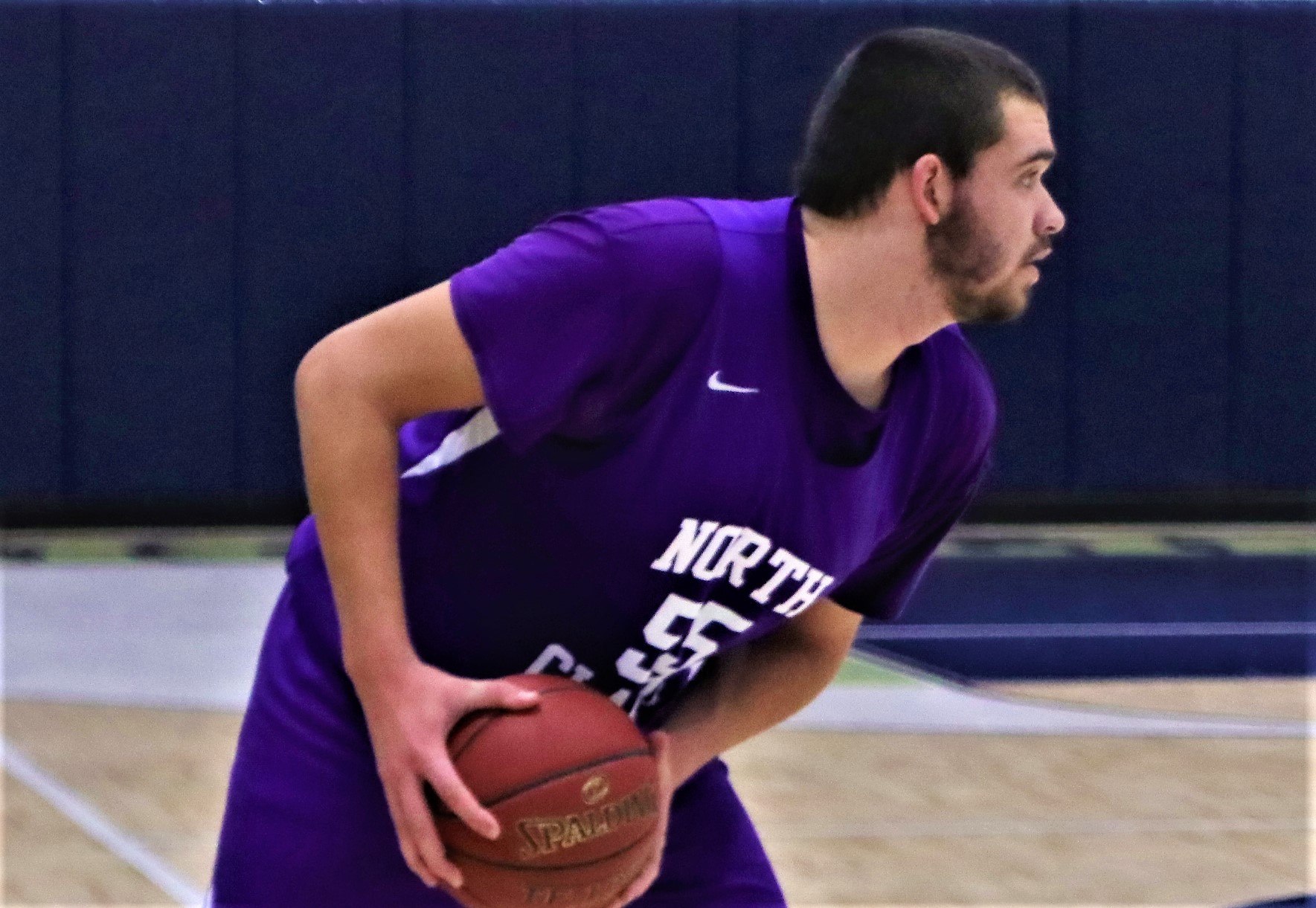 Dec. 18 boys' basketball recaps.
(Photo: North Clarion's Kyle Mills had 20 points and 10 rebounds in a win over C-L Tuesday. Photo by Jared Bakaysa of JB Graphics. See more of Bakaysa's work here)
NORTH CLARION 79, CLARION-LIMESTONE 47
STRATTANVILLE, Pa. – Outscoring Clarion-Limestone by 18 points in the first quarter, visiting North Clarion used a fast start to make a statement in the KSAC North with a 79-47 win over five-time defending division champion Clarion-Limestone.
Relisten to the game:
The Wolves, who have beaten C-L at C-L two straight years now, led 29-11 at the end of the first quarter and built the lead to 43-21 by halftime.
Kyle Mills had a strong game for North Clarion with 20 points and 10 rebounds.
Mills, who was named the exploreClarion Hager Paving Player of the Game, talked about the victory.
Also reaching double digits for the Wolves were Devin Walters, who scored 12 points on four 3-pointers, Sam Minich, who hit three 3-pointers on his way to 11 points and Tyler McCord-Wolbert, who had 10 points. Korey Mills chipped in with nine tallies and Logan Minich had eight.
Curvin Goheen had his third straight double-double for C-L with 15 points and a game-high 13 rebounds, nine on the offensive glass. Deion Deas led the Lions with 16 points and Hayden Callen added 13 points and seven rebounds.
ELK COUNTY CATHOLIC 51, DUBOIS 43
DUBOIS, Pa. – Strong first and third quarters helped visiting Elk County Catholic snag a key early-season D9 League victory, 51-43, over DuBois.
The Crusaders raced out to a 21-9 lead at the end of the first quarter and then clung to a 23-20 halftime lead after being outscored by the Beavers, 11-2, in the second quarter.
But out of the break, ECC was stronger again outscoring DuBois, 18-14, to take a 41-34 lead into the fourth quarter.
Alex Breindel and Regis Wortman combined to score 35 points for the Crusaders led by 18 from Breindel with Wortman adding 17. Worthman was strong in the first quarter scoring eight points while hitting a pair of 3-pointers while Breindel added seven first-quarter tallies. Breindel then hit a pair of threes and scored eight points in the third quarter.
Alec Wheeler chipped in nine points.
Alex Beers paced DuBois with 16 points with Chase Husted, playing for the first time this season, adding 12 points and Jonathan Cruz 10.
BRADFORD 47, DUBOIS CENTRAL CATHOLIC 37
BRADFORD, Pa. – Gavin Babcock netted 21 points to lead Bradford to a 47-37 home win over DuBois Central Catholic.
Tyler Gigliotti added 13 points for the Owls, including going 9 of 10 from the free-throw line and scoring eight points in the fourth quarter when he was 6 of 7 from the line. Gigliotti also had a team-best six assists, while Caleb Nuzzo had seven steals and Blake Bryant eight rebounds and two points
Justin Miknis scored 18 points to lead DCC.
HOLLIDAYSBURG 45, ST. MARYS 40
ST. MARYS, Pa. – Behind 18 points from Jaden Delerme visiting Hollidaysburg rallied to beat St. Marys, 45-40.
The Tigers trailed by three, 33-30, going to the fourth quarter but outscored the Dutch 15-7 in the final eight minutes including going 6 of 6 from the free-throw line.
Nick Catalone led St. Marys with 10 points with Mitchell Reiter adding nine.
KEYSTONE 49, MONITEAU 34
KNOX, Pa. – Isaak Jones scored 15 points to pace a 49-34 Keystone win over visiting Moniteau in KSAC South action.
Troy Johnson chipped in 10 points for the Panthers.
Jared Lominski and Gage Neal each scored 10 points for Moniteau with Ethan McDeavitt adding eight.
KARNS CITY 71, UNION 51
RIMERSBURG, Pa. – Nathan Waltman had a double-double to help visiting Karns City roll to a 71-51 win over UNion in KSAC South play.
Waltman scored 15 points and collected 10 rebounds in the victory.
Also for Karns city, Chase Beighly scored a game-high 18 points with Austin Fahlor adding 15 points and six assists. Josh Wimer and Ethan McElroy each added nine tallies.
Caden Rainey paced Union with 14 points with Truman Vereb adding nine points, Quintin Weaver eight points and eight rebounds and Nolan Cumberland eight points.
REDBANK VALLEY 56, A-C VALLEY 49
FOXBURG, Pa. – Tanner Kerle had 11 points and 10 rebounds to help lift Redbank Valley to a 56-49 KSAC South road win over A-C Valley.
Nick Smith scored a team-best 13 points for the Bulldogs with Keaton Kahle adding 11 tallies and Chris Marshall nine.
Levi Orton netted a game-high 15 points to go with eight rebounds for A-C Valley. Eddie Stevanus had a double-double with 10 points and 10 rebounds, Cole Dehart chipped in eight points and seven boards and Tanner Merwin had eight points.
VENANGO CATHOLIC 80, FOREST AREA 48
OIL CITY, Pa. – Andrew Burda and Ben Gillispie combined for 53 points and 22 rebounds to lead Venango Catholic to an 80-48 KSAC North win over visiting Forest Area.
Burda had a game-high 28 points while adding eight rebounds and four assists, while Gillispie contributed 25 points, 14 rebounds and three steals.
Parker Slagle also had a good game for the Vikings with 18 points, five steals and four assists.
Franklin Meals led a balanced Forest Area offensive effort with 11 points, Aiden Quinn and Noah Burke each chipped in 10 points.
CLARION 75, CRANBERRY 64
SENECA, Pa. – Cal German scored 13 of his 20 points in the first quarter, as Clarion used a fast start to pick up a 75-64 road win over Cranberry in KSAC North play.
The Bobcats led 24-10 at the end of a quarter thanks to the hot shooting of German, who buried five shots, including a 3-pointer, and two free throws in the first eight minutes.
The lead grew to 46-28 at halftime and 62-41 at the end of three quarters before Cranberry found some traction in the fourth quarter.
Nick Frederick netted a game-high 21 points for Clarion with Archer Mills adding 12.
Matt McQuaide and JT Stahlman each scored 20 for Cranberry with Brandon Forrest and Preston Forrest contributing 11 points apiece.