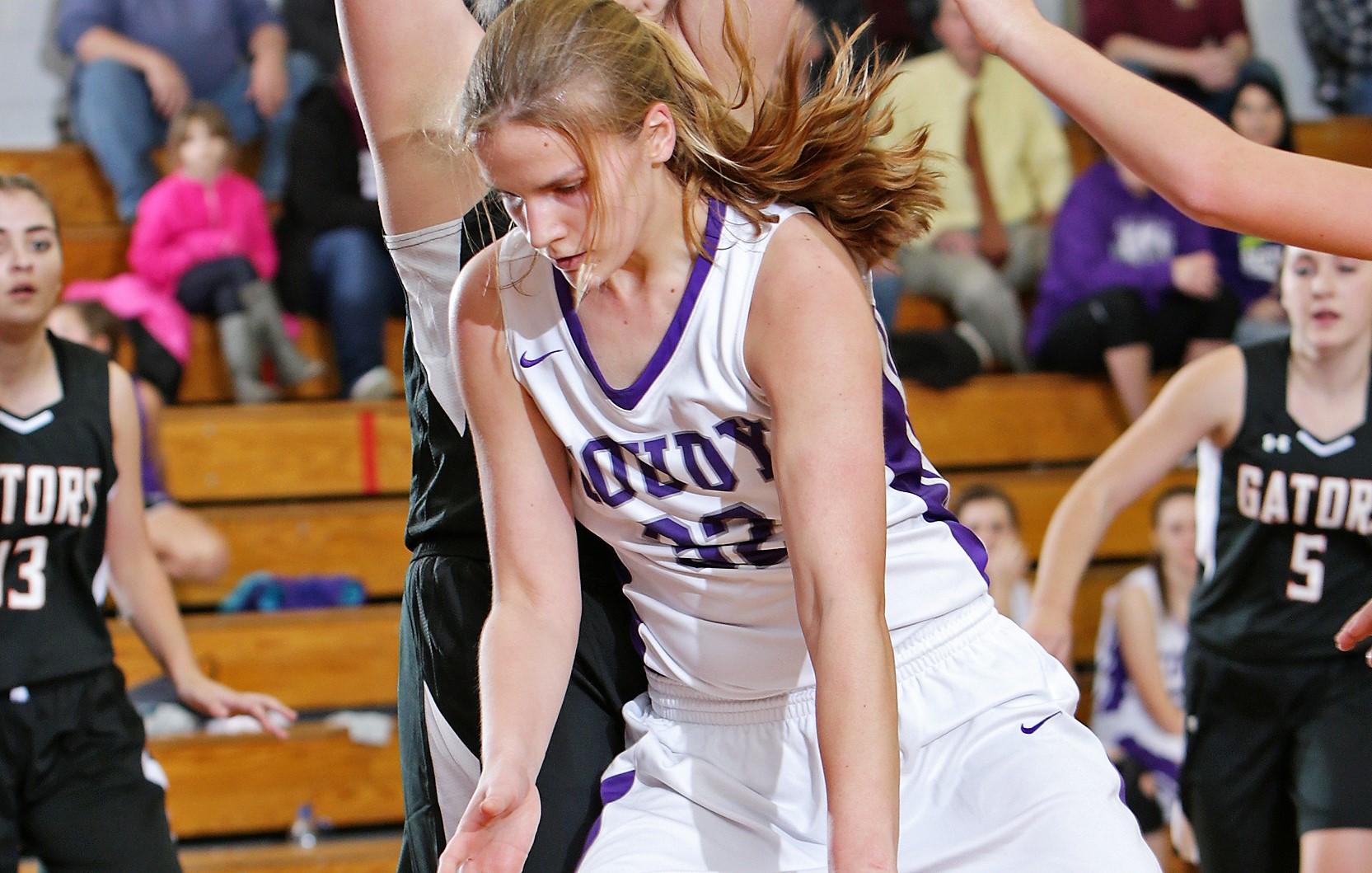 Dec. 18 girls' basketball recaps.
(Photo of Shay Black who scored 27 points in Coudersport's win over Austin Tuesday. Photo by Paul Burdick. Check out more of Burdick's work here)
COUDERSPORT 61, AUSTIN 16
AUSTIN, Pa. – Shae Black had a breakout night for Coudersport finishing with 27 points resulting in a 61-16 win over Austin in Northern Tier League action.
Sarah Chambers and Roselyn Page were the second- and third-leading scorers for the Lady Falcons with Chambers posting 16 points and Page finishing with 12.
Austin's Kendra Valenti was the leading scorer with five points while Kylie Welsh and Angie Watson each had four points.
PORT ALLEGANY 51, RIDGWAY 30
PORT ALLEGANY, Pa. – Caley Barnett filled up the stat sheet for Port Allegany positing 15 points and nine rebounds to lead the Lady Gators to a convincing 51-30 win over visiting Ridgway.
Bree Garzel also had a great night for Port Allegany finishing with 11 points, seven rebounds and five assists. Cierra Lannager pulled down 10 rebounds to contribute to the Lady Gators victory as well.
For Ridgway, Casey Woodford paced the way with 10 points, eight rebounds and two blocks. Lindsay Steis also added six points, six rebounds and two assists on the night.
OTTO-ELDRED 60, SMETHPORT 16
DUKE CENTER, Pa. – Reilly Raught led Otto-Eldred with 14 points as the Lady Terrors picked up a 60-16 home win over NTL foe Smethport.
Jadelyn Spiney and Haley Cousins were also in double figures for Otto-Eldred with Spinney finishing with 13 points and Cousins 10.
For the Lady Hubbers, Erin Herzog led the way with six points. Sabrina Tanner and Danielle Nelson each had four points.
CAMERON COUNTY 57, GALETON 18
EMPORIUM, Pa. – Laila Smith and Kaylee Bresslin were a powerful tandem for Cameron County Tuesday night, as Smith had 17 points and Bresslin added 16 points leading to a 57-18 win over Galeton in NTL play.
Galeton's Brielle Kalacinski led the way with six points and Katelyn Pagano also added four points on the night.
HOLLIDAYSBURG 61, ST. MARYS 58, OVERTIME
HOLLIDAYSBURG, Pa. – Scoring all seven of its overtime points from the free-throw line, Hollidaysburg rallied to edged visiting St. Marys, 61-58.
St. Marys led by 10, 42-32, going to the fourth quarter before the Lady Tigers got hot from the outside hitting six fourth-quarter 3-pointers, including one late, to knot the game at 54 at the end of regulation.
Janessa Goins and Morgan O'Neil, who hit two fourth-quarter three each, led Hollidaysburg with 14 points each. Allison Hileman and Alyssa Bell each added 11 points.
Kyla Johnson had a game-high 21 points for St. Marys with Megan Quesenberry adding 13 and Allison Schlimm nine.
UNION 33, KARNS CITY 26
KARNS CITY, Pa. – Dominika Logue, Bryn Davis and Hailey Kriebel combined to score 23 points to give Union second-year head coach Ally Kepple her first win over her alma mater Karns City, 33-26, at Karns City.
Logue led the Golden Damsels who led 16-15 at halftime, with nine points with Davis and Kriebel each scoring seven points apiece.
Kate Slaughenhaup and Alyssa Stitt each scored six points for Karns City.
CLARION 52, CRANBERRY 44
CLARION, Pa. – Kait Constantino, Wendy Beveridge and KK Girvan stepped to the front to help Clarion to a 52-44 win over visiting Cranberry, giving head coach Roger Walters an early-season KSAC North win in his return to the Lady Cats bench.
Constantino had a team-high 14 points and seven rebounds, Beveridge added 11 points, five rebounds and five blocked shots and Girvin chipped in nine points, six rebounds, four steals and three assists.
Clarion used a quick start to get the win taking an 18-7 lead at the end of the first quarter behind six points from Girvin and five from Constantino before watching Cranberry win the rest of the game, 37-34.
Malliah Schreck had a monster game for Cranberry scoring a game-high 32 points, but the Berries missed the services of second-leading Ava Ferringer, who was injured in Friday's loss to North Clarion, with the rest of the team combining to score 12 points.
NORTH CLARION 62, CLARION-LIMESTONE 41
FRILLS CORNERS, Pa. – Abby Gatesman came within a rebound of a triple-double, and Hayley Sherman joined her with a double-double to lead North Clarion to a 62-41 win over visiting Clarion-Limestone in KSAC North action.
Gatesman had 13 points, 10 assists and nine rebounds for her double-double with Sherman adding 14 points and 10 rebounds for hers. Mackenzie Bauer paced the She-Wolves with 16 points and added eight steals.
Maddy Craig led C-L with 13 points with Anna Kennemuth adding 10 and Anan Burns nine.
KEYSTONE 43, MONITEAU 39
WEST SUNBURY, Pa. – Emily Lauer, McKenzie Hovis, Alyssa Dunlap combined to score 33 points to help Keystone edge Moniteau, 43-39, in KSAC South action.
Lauer led the visiting Lady Panthers with 13 points with Hovis and Dunlap each scoring 10.
Kristin Auvil was the leading scorer for Moniteau with 17 points.
A-C VALLEY 47, REDBANK VALLEY 17
FOXBURG, Pa – Cami McNany had 16 points to guide A-C Valley to a 47-17 win over visiting Redbank Valley in KSAC South action.
Kylee Eaton and Andrea Meals also put the ball in the bucket with Eaton scoring 12 points and Meals scoring 10.
For Redbank Valley, Tara Hinderliter led the way with five points and Kelsey Elmer added four points.