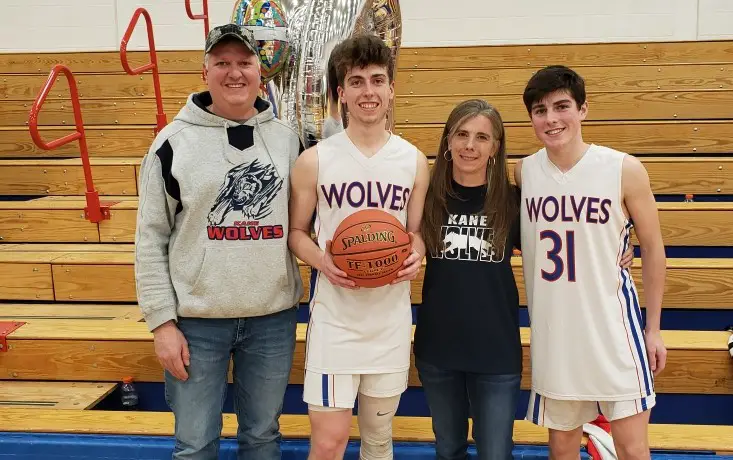 Dec. 18 boys' basketball recaps.
(Kane's Chad Greville (second from left) scored his 1,000th-career point Wednesday night. Submitted photo)
KANE 63, PORT ALLEGANY 55
KANE, Pa. – Needing 14 points to hit the 1,000-point career mark, Kane's Chad Greville wrote his name into school history on his first made basket of the second half.
Greville went on to scored 17 points giving him 1,003 in his career while helping the Wolves to a 63-55 win over visiting Port Allegany.
"Chad has been a tremendous player and an even better teammate and person over his basketball career," Kane second-year head coach Caleb Landmesser said. "He has been one if not the most coachable kids I've ever been around. I'm extremely proud of him and his accomplishment."
Greville hit three 3-pointers while scoring 11 first-half points to help Kane to a 30-16 halftime lead. Then, after going 1-for-2 from the line to start the second half, he hit the 1,000-point mark.
Zuke Smith added 16 points in the win for Kane with Carson Whiteman adding 11.
Howie Stuckey and Jordan Card each scored 17 points to lead Port Allegany with Ty Guilds adding 13 points.
WEST BRANCH 71, CURWENSVILLE 29
MORRISDALE, Pa. – Behind 30 points, including four 3-pointers from Trenton Bellomy, West Branch took down Curwensville, 71-29, in Mo Valley League action.
Bellomy scored 26 points in the first half for the Warriors. Travis Rothrock added 10 points with Chance Eboch chipping in seven.
Ty Terry paced the Tide with eight points. Scott Condon, Trevor Lansberry and Adam Miller each scored six points.
CLEARFIELD 55, PHILIPSBURG-OSCEOLA 32
HYDE, Pa. – Cade Walker and Matt Pallo combined for 30 points as Clearfield earned a 55-32 Mountain League victory over visiting Philipsburg-Osceola.
Walker had a game-high 17 points and six boards to lead the Bison offense while Pallo netted 13. Karson Rumsky grabbed six boards while scoring nine and Andrew Lopez chipped in four points and seven assists.
Ryan Whitehead, Kaleb Richardson, and Jacob Desimone each scored six points to pace the Mounties.